Are you getting ready for the summer? Here's a new free pattern for a crochet summer top that you can make yourself.
If you're not in the mood for stories and just want the pattern, here you go. I hope you enjoy it.
It was a gloomy morning when I was packing my big suitcase all over again, trying to squeeze as much yarn as possible in the smallest bits of space left inside.
I had to rearrange everything because I decided then that I would take something more with me back home (hairdryer with seven accessories, and I don't even use one!) and there was no space left for these three balls of yarn.
Green like pine needles in winter, pretty heavy at 155 meters per 100 grams, but smooth and elegant nevertheless. Why did I buy this yarn in the first place? I hadn't the faintest idea about what could be made out of it when I plopped the pack of yarn on the counter in the local Kik store.
Still, they were glaring, staring at me in their subdued greenness. I had a long weekend ahead of me and then a flight home to see my family (yes, it was stupid of me to not buy my ticket for a flight a few days earlier, don't rub it in).
I haven't the faintest idea how I decided that I needed a summer top, but I did start searching for a granny square that would suit my fancy. Not too see-through, not to heavy, not too complex, so I found it in Hubert Margaret's book, The granny square book (what a surprise!).
It was too small and I didn't like the construction (slip stitches over chains? not my cup of tea), so I made my own version with unicorns and sprinkles. I'm kidding, it's only slightly different, but you will enjoy it, I'm sure of it. Once you go chainless double crochet, you never go back.
Once I had one square and knowing my own measurements (around the waist, mostly), it was really easy to put them together. I'm sure I've seen the diamond construction for garments several times before, but I can't tell you where, since I only have vague memories of those.
I discovered a similarly constructed bag today, by one of my favorite designers (later edit: the page no longer exists). You can use these two free patterns together and make a sturdier bag, for example. The possibilities are limitless.
It took me two days to make the whole top, one day for the squares and one for the sewing, edging and fringe, with approximately 4-5 hours of work on this project alone each day. I listened to Jane Eyre while making it, so my mind was mildly entertained.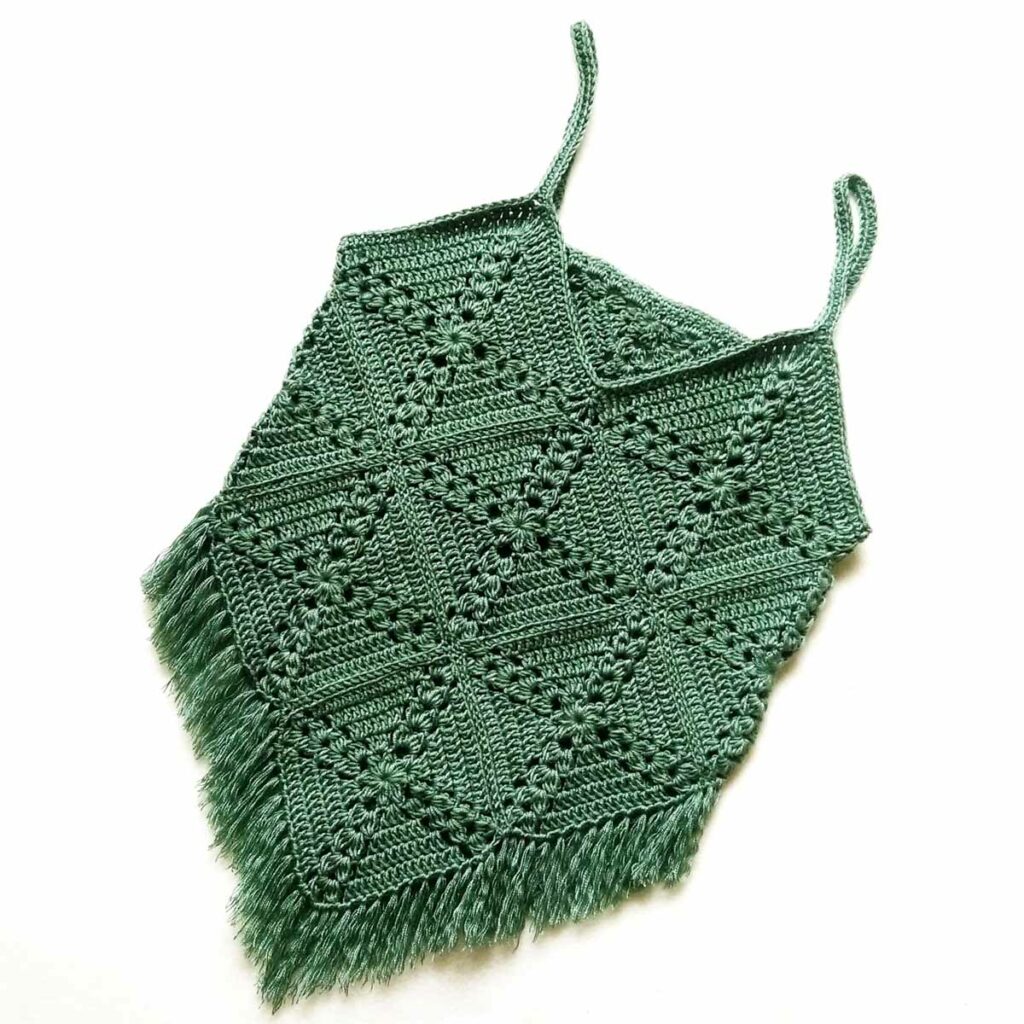 I tried it on before making and attaching the straps, to make sure I get the right length. I recommend you do the same, if you plan on making it for yourself. If you want to make this for someone else, ask for measurements, it will not ruin the surprise.
Once you make the first square, it's straightforward and should work pretty quickly.
Since there are three sizes and I made this two weeks ago, I'm sure you realized that I didn't make all three sizes. I used the medium size to calculate the sizes for S and L and I hope they are small or large enough. When in doubt, use math.
I provided a chart which you can use to calculate exactly how big or small each square should be based on your measurements. When making the swatch, try to get those measurements. Keep in mind that the sewing will add some extra space between the squares.
Here is the download link again for the pattern.
If you'd like me to tell you when I publish new patterns, just sign up for my updates and I'll let you know.
Thank you so much for your kindness and I hope I'll see you around here!
Hugs,
Andrea