If you've ever read one of my reviews on Goodreads, you know I don't hold back when writing my opinions about the books I read.
It might be because I'm autistic or because I just get a lot of pleasure out of criticizing and pointing out things that are uncomfortable for others to point out (because they are not autistic…), but either way, it's beneficial for people to read reviews that are not only a synopsis or several paragraphs of praise.
Now that you know the tone of this review, let's get into it.
The author of "Crochet Your Way to a Buyer's Heart with Amigurumi", Elisa Rose, requested a review of her newest book, so I didn't buy it, I was gifted a watermarked PDF version for review purposes.
Here's an affiliate link (US link) of where you can buy the book from Amazon, and if you do I get a small commission, without any extra cost to you.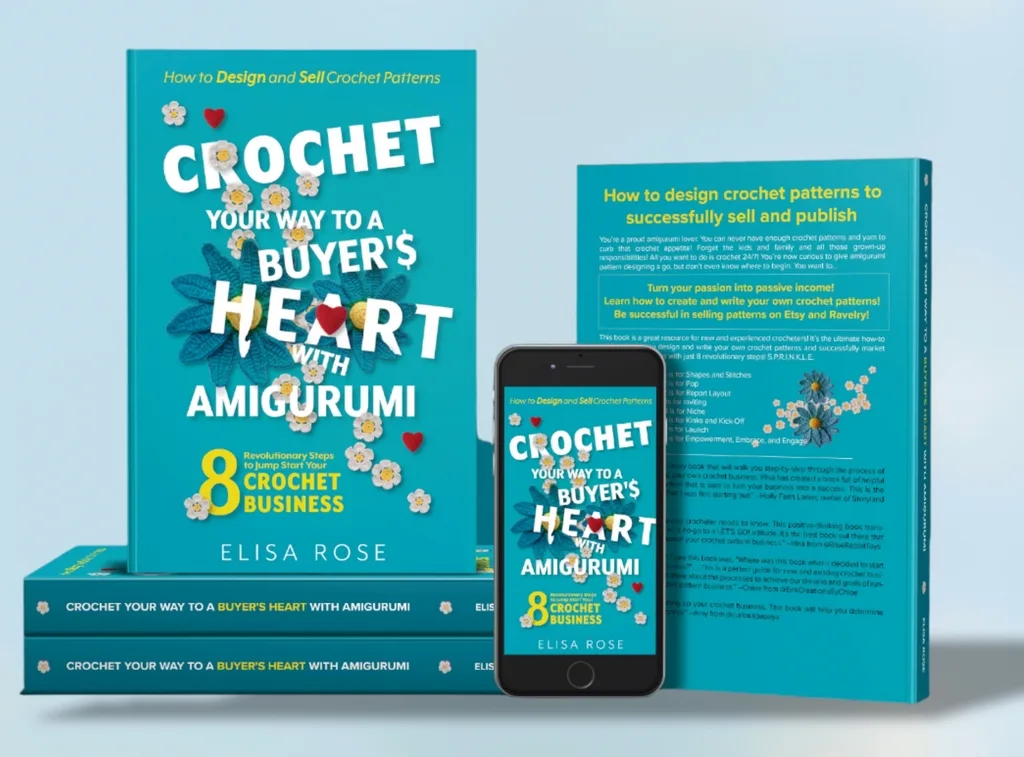 It took me a while to get to it because the very dense watermark interfered with my ability to read the text (meaning that it gives me a headache to read more than a few words at a time), so I just kept putting it off. Thankfully, the for sale version is probably highly legible.
I did get to it eventually when one day I discovered that my PDF reader (Foxit Reader) also has an inbuilt "read aloud" component and I could use that to listen to the book while crocheting.
Of course, it's not perfect and it doesn't do hyphenated words, nor does it know how to read certain common words in English, but it was good enough to get through the book in two sessions of a couple of hours or less each.
Now for the content of the book.
As you can see even from the title, this book is dedicated to beginner crochet designers who want to design, publish and sell amigurumi patterns.
The focus of several sections is specific to amigurumi, but most of the content can be applied to other types of crochet or even knit designs as well.
A lot of the information, such as the one relating to color selection, sketching, shaping, formatting, testing and marketing, is important for crochet designers of all kinds.
So if you're not sure if the book applies to you because it has "amigurumi" in the title, but you design blankets, now you know you'll get some good information from this book.
I would rather focus on the beginner aspect here.
The book is structured around an acronym, SPRINKLE, which is explained throughout, one chapter for each letter, going from the very basics of shaping the design and formatting your pattern, to testing and launching your resulting patterns.
It starts from the assumption that you have very basic (or nonexistent) knowledge about everything, including crochet, building you up through improving your skills and getting to your first finished and published pattern.
If you are already an advanced crocheter and have some patterns already published, or you already have a system for designing, publishing and selling your patterns, the later chapters might be of more interest to you, where the author discusses finding your niche, testing, launching and creating long-term relationships with your customers.
Assuming you are good with traditional marketing and are not as socially inadequate as myself, there's a lot of actionable guidance in there to help make your patterns known and increase your sales.
For me personally, the approach outlined in the book doesn't work because I hate telling people what to do and am very reactive (not in a good way) when people presume to tell me what to do, but I know that's a me thing, not a general thing.
But if you're comfortable with using your relationships with testers and customers to bring more eyes on your work, go for it!
Besides this aspect, I did not find a lot of new (for me) information in the book, simply because I have been doing this (writing and publishing patterns) for about 8 years at this point and have stumbled upon or learned the hard way everything that is mentioned in the book.
That is not to say that this book will not be useful for a lot of folks, many just starting out, but also many with a few years of designing under their belt.
I also didn't find any mention of an email list, which I would have assumed should be a whole chapter in a book about selling digital products online.
That's your cue that if you do buy the book to learn more about designing crochet patterns to also check out info about building your email list, so you can apply the lessons learned from this book while building your list.
There's more than one way to grow a crochet business, but if you want a blueprint to start from, you might as well follow the one set out in "Crochet Your Way to a Buyer's Heart with Amigurumi".
You can pace yourself as you go through the chapters and build your first pattern and use the tips in each chapter to glide over some learning curves that some of us had to struggle through.
So if you're interested in trying out this system, get the book here (US link) and let me know how it goes. I'm always glad to support budding crochet designers, as we can all use some support, especially as we start out.
Other links for different parts of the world:
That's it from me. If you want to check out other resources I've created for designers, see below some examples or check out the entire category for crochet designers.
If you've also read this book, let me know in the comments something new that you learned from it.
If you want to keep up with my updates, make sure to sign up to my weekly emails (see below how).
Hugs,
Andrea