In this flower granny square pattern, you'll find full video instructions that will show you how to make a wonderful granny square with a plump peony in the middle. To get written instructions and all the other parts of the pattern, please buy a PDF copy of this pattern.
This article includes affiliate links to some recommended yarns. They may make me a small commission if you buy yarn using the links, without changing anything for you.
About the Dear Peony flower granny square pattern
Have you ever seen a photo of a project that makes you think instantly "I need to make this now!" and then started searching and searching and finding only photos, no pattern, no author, not even an inkling of an idea?
Well, this was me with this pattern.
Someone posted a pretty photo in a crochet group and asked for a pattern.
I loved it instantly (no idea why, as I don't like pink, nor roses) and started searching to help the person, right?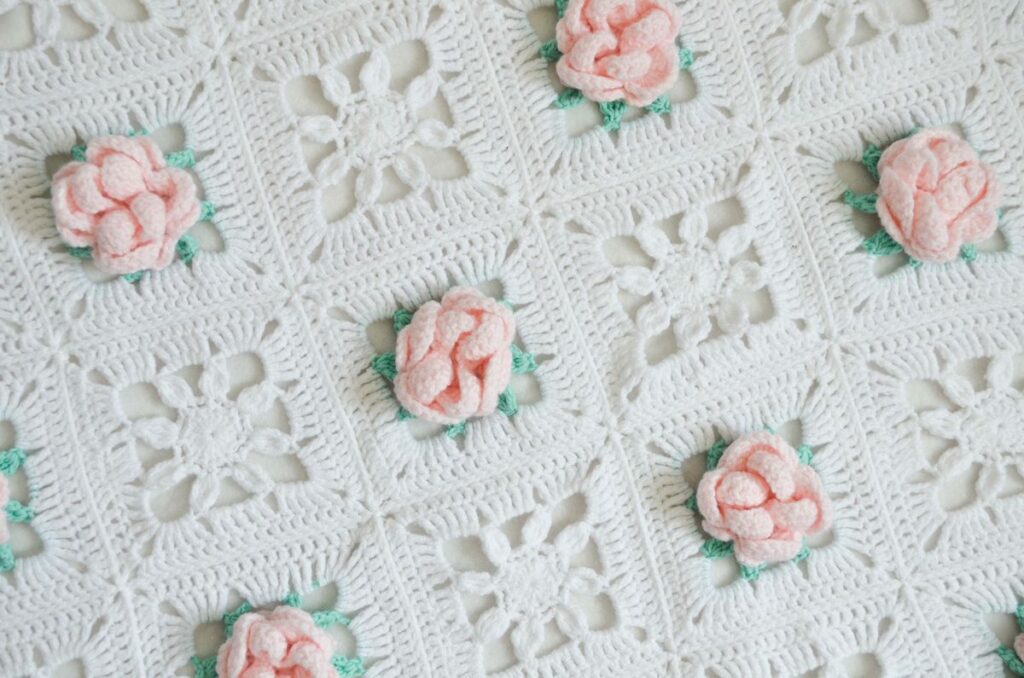 I'm pretty good at searching for things on the internet, I've gotten the technique down for years, but for this one, the best I got was a blurry and shaky video in Turkish on the Instagram account of someone who made up a pattern by looking at the photo I had also gotten.
The original photo is still on Flickr, by the way, and there are several more of pillows, all using the same motif (which, ha ha, looks nothing like the version I got to, but that's even better!).
Urgh, this is not helpful!
This is the egg carton rose all over again. Wherever I look, I find photos of patterns that look similar (not quite enough, though) and no actual pattern!
So you know what? I decided to make my own and enjoy it too.
How the Dear peony blanket came to life
It took a lot of trial and error to get it to the current state and even though it looks somewhat like the original, it's definitely another pattern entirely.
So I have no qualms about publishing it here on the blog for you to enjoy as well, since you too may have been searching for the same pattern, just to be disappointed that it doesn't exist.
And all the other rose granny square patterns with leaves are miles away from this.
About the pattern itself
This pattern will result in one granny square with a glorious peony or rose in the middle, surrounded by green leaves.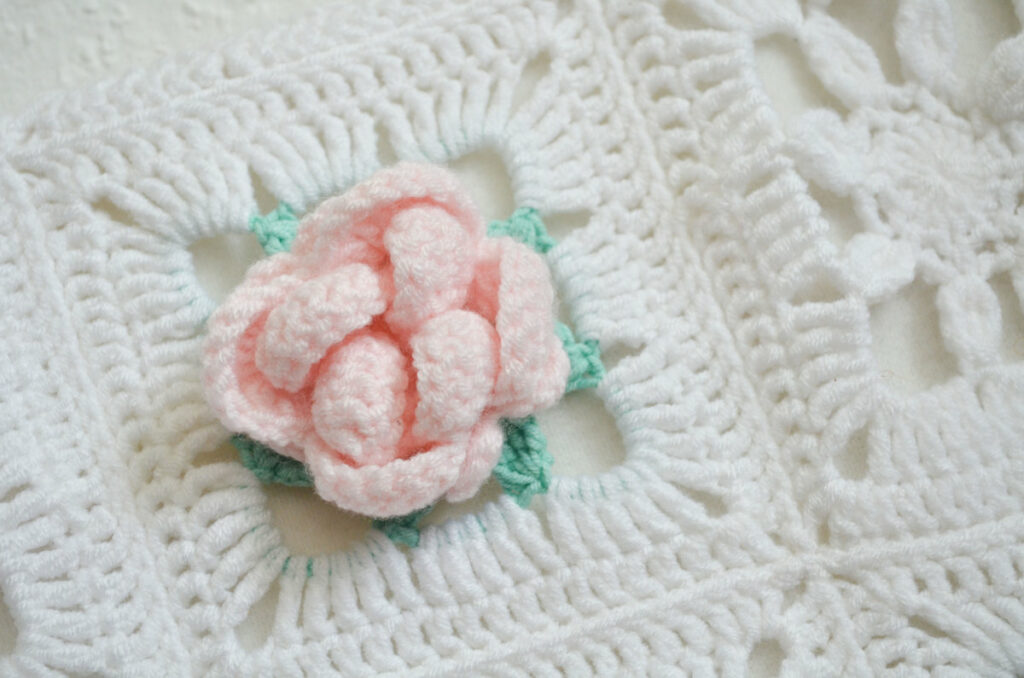 Since I was so infatuated with this pattern, I needed to get started right away, so I bought yarn that looked good to me and was available instantly at the local store.
I got only one skein of pink and one of a mint green that isn't the same yarn. The white I bought later on, thinking that I'd need more for the edges than for the flowers, so I got two skeins.
After making up the pattern, I realized that the amount of pink and white needed for one square is equal, so I've got one extra skein of white.
I'll use the extra white yarn to make simple squares that I'll put in another blog post and into the PDF version of this pattern.
Just keep in mind that the amounts listed in this pattern may differ for you, based on your tension, the yarn itself, how big you want your blanket.
Where to buy the PDF of the whole Dear peony blanket pattern
The PDF includes full instructions on making this flowery granny square blanket and links to videos, charts and sizing instructions.
You will find a PDF version of this pattern in multiple places, including my shop, Ravelry and Etsy.
Notions for the flower granny square blanket
Yarn for one flower square (here's one yarn that would work with this pattern, here's another one):

Himalaya Enjoy yarn – 300 meters per 100 grams, 50% bamboo, 50% acrylic;
Alize Cotton Gold – 400 meters per 100 grams, 50% cotton, 50% acrylic;
C1 – pink or another flower color – a bit over 6 grams or about 20 meters;
C2 – green – 1-2 grams or about 3-6 meters;
C3– white or another background color – around 6 grams or 20 meters;
These values may change, depending on your tension and the yarn itself.
If you use thicker yarn with a larger hook, the amounts per square will increase and so will the size of the square.

Yarn for a simple square: Himalaya Enjoy yarn, 8 grams or about 24-25 meters.
Hook: 4 mm hook or hook that works for your yarn.
Tapestry needle.
Scissors.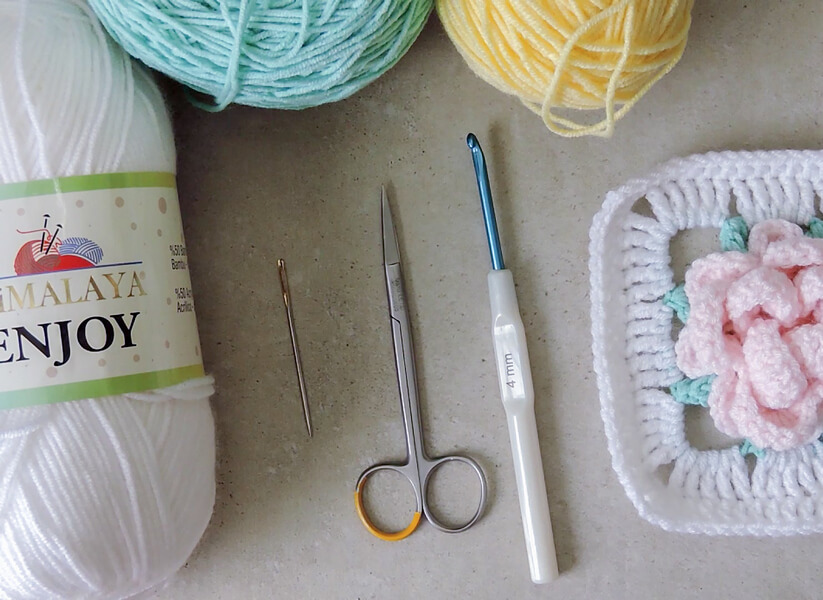 Stitches and other abbreviations
BLO – back loop only;
Ch – chain;
Dc – double crochet;
FLO – front loop only;
MR – magic ring;
Sc – single crochet;
Sk – skip stitch;
Sl St – slip stitch;
St – stitch;
Tr – treble crochet – YO, pull up a loop, repeat [YO and pull through 2 loops on hook] 3 times;
YO – yarn-over
Difficulty
This pattern is not beginner friendly! It is rather for intermediate to advanced crocheters.
You need to know how to work in front and back loops of stitches, how to work multiple rows into stitches on the same row, how to make clusters and standing stitches (chains work too, but I don't recommend them).
Observations
The peony is made in essentially two rows. The first row is the foundation and all the other rows are worked into back and front loops of stitches on this row. Pay attention to which loop you need to work in for each row.
You should use standing stitches wherever possible (detailed in videos).
It's better to weave in the ends after you finish working with each color. It will make working with the new color much easier.
The video uses US terms. For US terms, please buy a copy of the PDF pattern.
Gauge and finished size
16 Dc across and 9 rows should give you a 10 cm by 10 cm or 4" by 4" square.
One square measures 13 cm or 5" across.
The blanket consisting of 30 squares, arranged in a 5 by 6 grid will measure 65 cm by 78 cm or 25" by 30", baby blanket size. Make more squares for a larger blanket.
Dear Peony flower granny square step by step video
To make the square, please follow along with the video tutorial.
Click on the thumbnail to go to YouTube and follow along with the tutorial.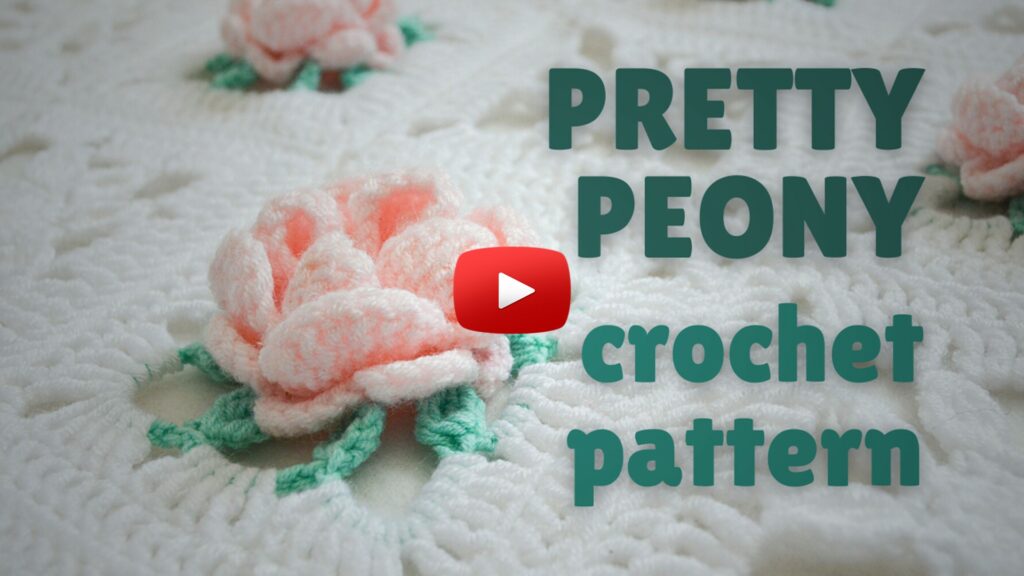 You can enable the manually created and edited closed captions by clicking on the CC button and you can even translate them into subtitles if you prefer watching the instructions in the video in another language.
Final thoughts
If you want to add a backing to this blanket, I'll have a separate blog post about backing blankets with fleece. I'll update this blog post once that one is published.
There will also be another pattern video for a simple square, plus one for the edging.
If you use Ravelry, you can add it to your project queue or make a project page and link it with the pattern page, so I can see what you make.
Keep close and sign up to my emails if you haven't already (you'll get a nice pattern too).
If you want more crochet blanket or flowery granny square patterns, some of them inspired by vintage granny squares, check these out:
I'll see you soon.
Hugs,
Andrea