Heavily textured, but simple in construction, this crescent shawl pattern will keep you entertained for days or weeks, resulting in a warm and beautiful shawl, perfect for late autumn.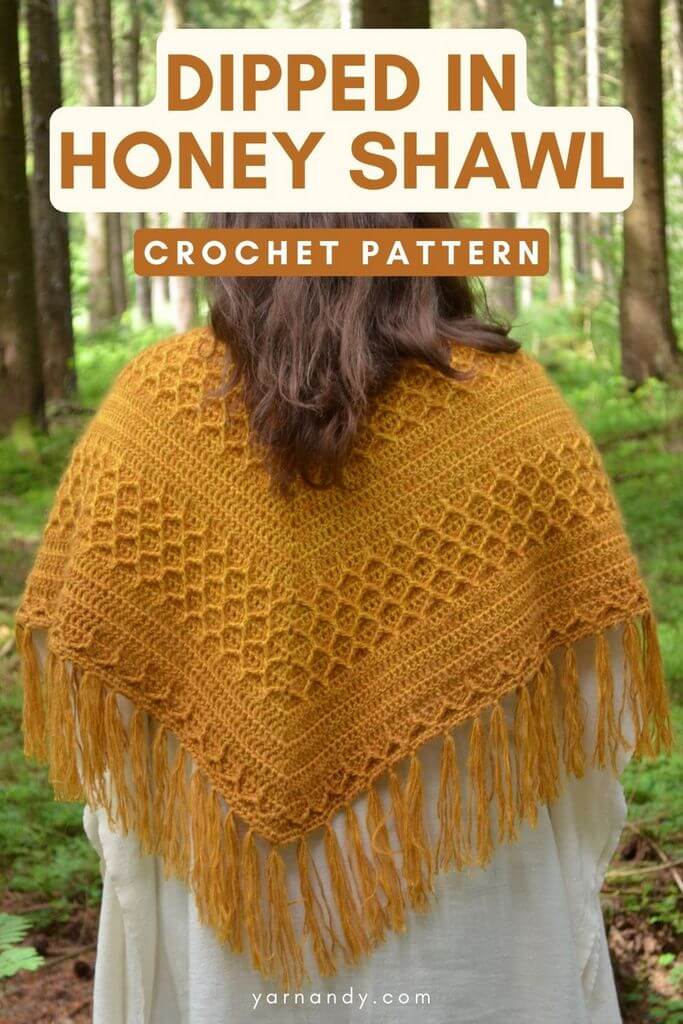 About this crochet crescent shawl pattern
Autumn is upon us and the honey harvesting is just about to begin.
Inspired by sweet slices of honeycomb dripping with honey, this symmetrical rounded triangle shawl pattern features textured bands alternating plain bands of stitches.
The texture is created using front post and back post stitches and looks like slices of honeycomb that embrace you.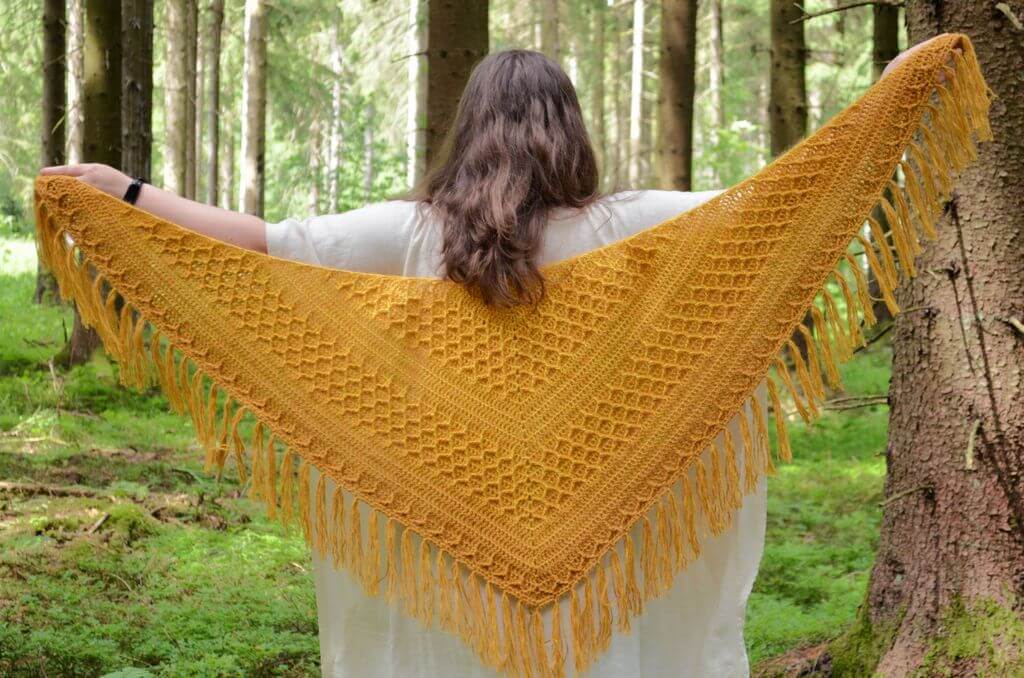 The shawl grows symmetrically from the center point of the top edge, with increases at the ends and middle of each row.
You can make the shawl longer by adding more pattern repeats or shorter by skipping a few, like the testers did with their projects.
You can add fringe, tassels or even twisted fringe to personalize your shawl. One tester added a sweet picot edging and tassels.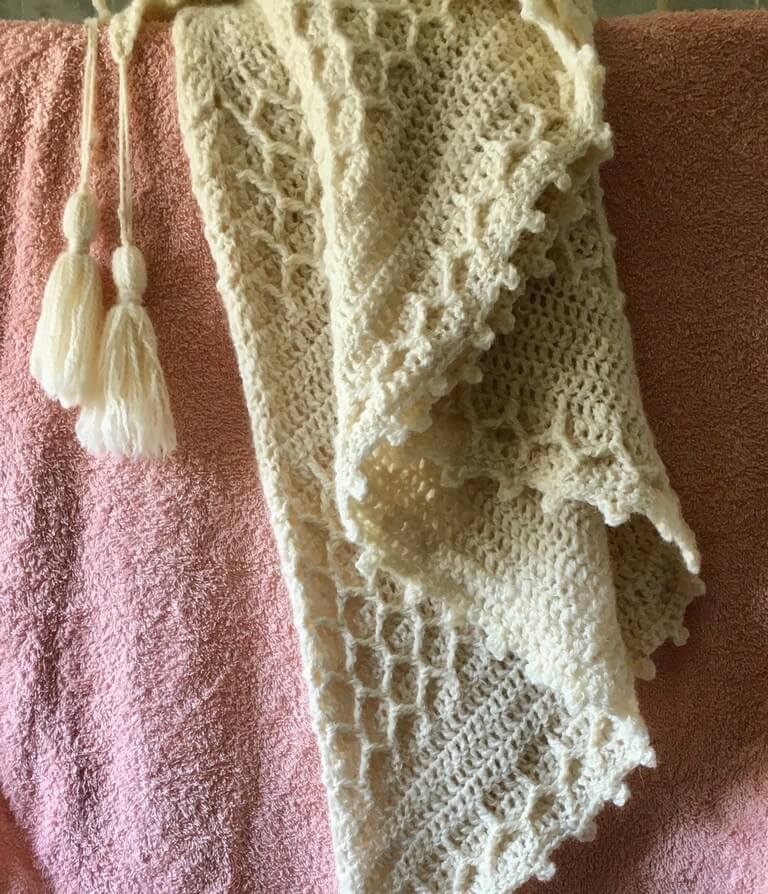 The pattern includes full written instructions, charts, US and UK terms, as well as an easy read version.
Size
The sample shawl measures 170 cm or 67" across the top and 55 cm or 21.5" in depth.
It can be made larger by adding more pattern repeats of 12 rows.
Testers have made their shawls between 160 and 270 cm or between 63″ and 106″ along the top edge (a), with a depth between 54 and 100 cm or between 21″ and 40″ in width (b).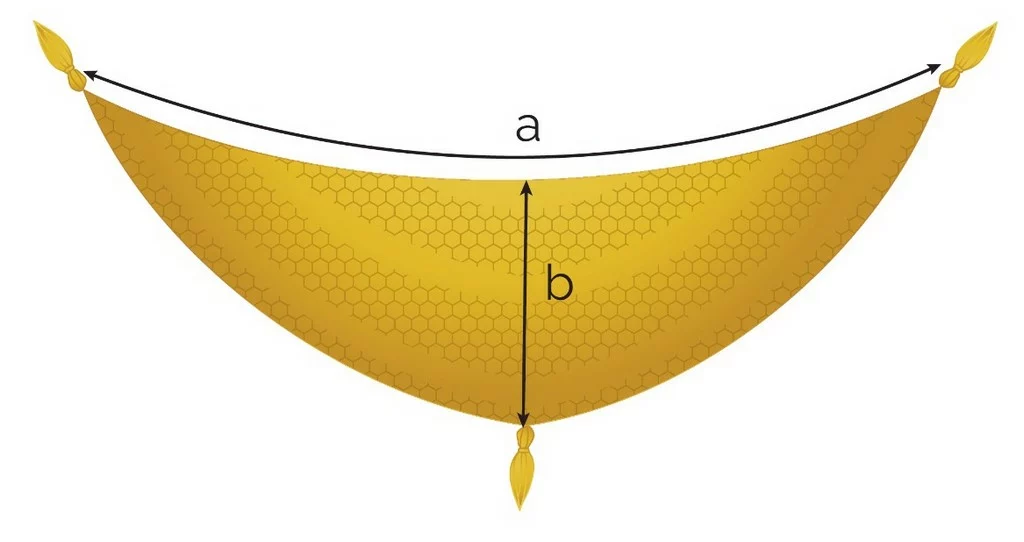 Skill level
Intermediate – you will work with front post, back post stitches, clusters increases, tall stitches. These are all demonstrated in the videos that show you how to make the gauge swatch.
Pattern details
The Dipped in honey shawl pattern includes full written instructions, a schematic, crochet charts for the swatch and for the shawl itself, access to videos showing how to make the swatch.
All of this available in both US and UK terms and an easy read version is included for both (which can also be used as a mobile version of the pattern).
Easy read
The easy read or mobile friendly version respects the following requirements:
24 point Arial font; 26 and 28 point and bold for headings;
black text, white background;
left justified, 1 inch margins;
no columns;
page numbers bottom left;
no charts;
all abbreviations explained in the list
all images have alt text. If you notice any issues in the file, please let me know, so I can fix them.
PDF version of this crescent shawl pattern
If you want to get the full written pattern, not just the videos, including charts and an easy to read or mobile friendly version, check out the buttons below to buy a PDF copy.
Here is where you will find the PDF pattern on different platforms. More platforms coming soon.
If you are subscribed to my email updates, you should have access to a coupon code to get 20% off the full price of this pattern (check the email from September 2nd 2022 in the newsletter archive if you subscribed later).
The coupon is available until the end of 2022.
In the PDF pattern, you get 4 files, two with regular instructions in US and UK terms, two with the same, but in easy read format, or mobile friendly.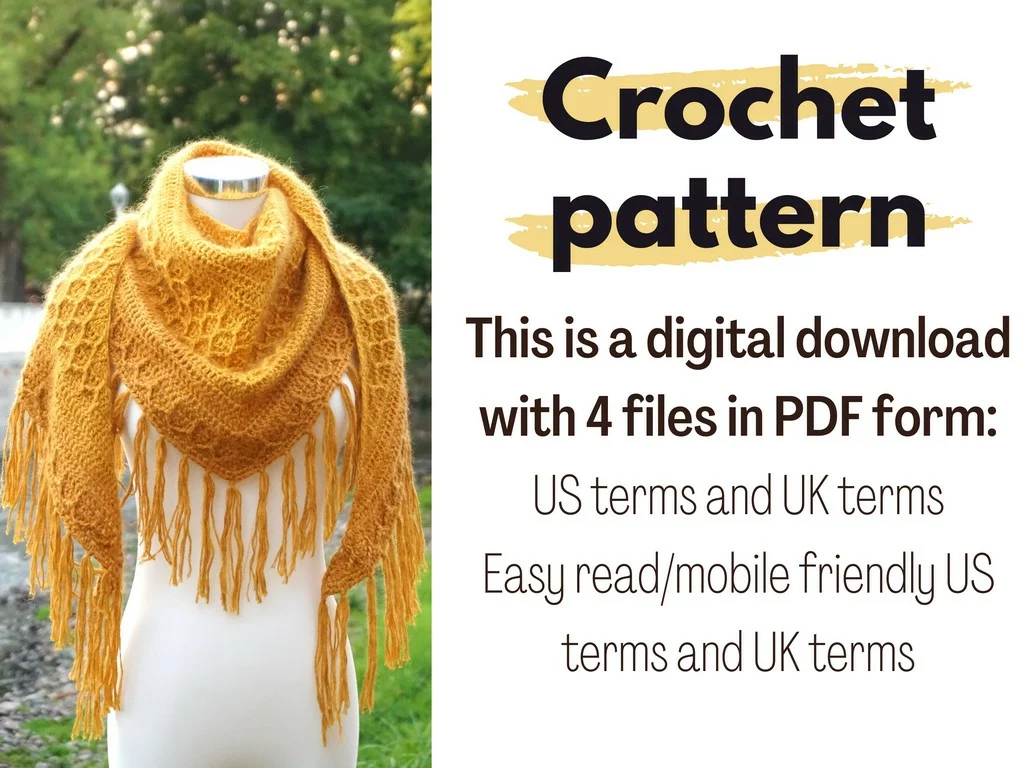 You can download the easy read version on your phone, tablet or e-reader and will have the instructions there large and easily legible.
Tester projects
This pattern was made so much better by being tested by talented people who not only made gorgeous projects, but also gave important feedback.
Here's a gallery of their projects:
Lots of thanks to all my testers who made this pattern so much better: Riley Edwards, Heather Passmore, Deepa Kulkarni, Eve Hoffenkamp, Michelle Foxworth, Melissa Maughan, Suci Indrati, Lisa Campbell.
You can see all their beautiful projects in the photos above and even more photos on the Ravelry page for the Dipped in honey crescent shawl if you visit their projects.
I hope you enjoy making this shawl if you give it a try.
It was a lot of fun to create and to see what testers made from it. I'd love to see your project as well.
If you make one, please use #Dippedinhoneyshawl on Instagram and tag me @yarnandy so I can see your beautiful work.
If you'd like to try out other shawl patterns, here's a selection for you from my collections:
See you soon with more patterns!
Hugs,
Andrea