Does crochet use more yarn than knitting or does Tunisian crochet use more yarn than knitting? Let's find out together which of these three crafts is fastest to work up and takes more yarn.
What started this exploration into the yarn consumption of different crafts
Recently, a member of one of the groups I'm part of asked us if we know how much yarn Tunisian crochet uses when compared to knitting, for an upcoming project in which they would use some knitting instructions translated into Tunisian crochet stitches.
This intrigued me, also taking into account the recent blog post by Aoibhe Ni about her own experiment, measuring the speed of regular crochet versus Tunisian crochet.
I didn't really agree with Aoibhe's findings because I know that she uses the throwing technique (like in knitting) for Tunisian crochet, but the more common method of picking is way faster.
So of course I had to do my own experiment with all three crafts to both answer the question from the group member and to answer my own curiosity regarding the speed for different stitches.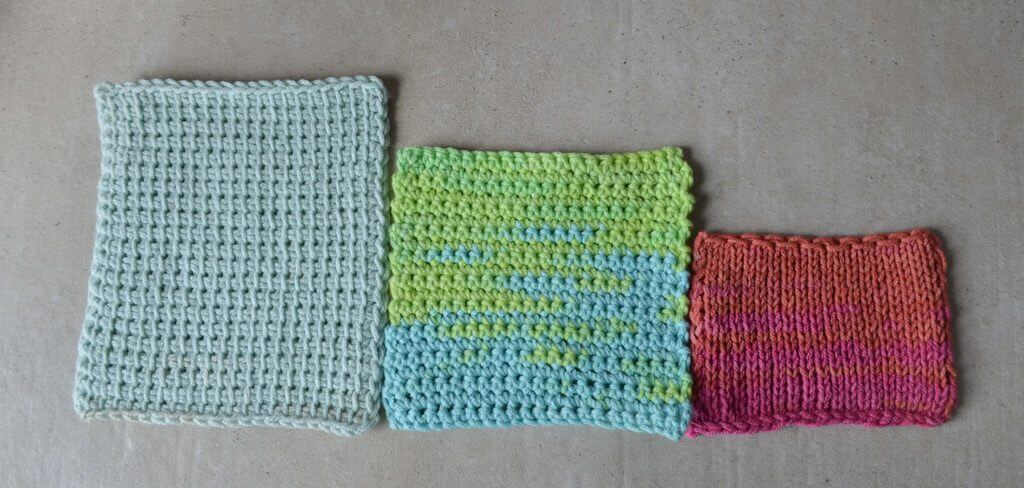 For the experiment, I used a yarn that I know well and use regularly in my videos. It's Alize Cotton gold, a 50% cotton, 50% acrylic yarn that's just a little stretchy, but also has good body and has a high twist.
These characteristics are important because I didn't want a stretchy yarn (like a wool or an acrylic) that would distort the various stitches, nor did I want a completely limp yarn (like cotton or linen), which would be very difficult to work with.
This yarn can also be slightly steamed to get it to lay flat, without distorting the stitches.
I chose to work with a 4 mm hook, 4 mm needles and a 4 mm Tunisian crochet hook.
I worked three samples, each with the same number of stitches (the knit one has an extra row because of the bind-off), since I didn't know how many stitches would be needed to make a 10 by 10 cm swatch.
Like this, it's easier to just use the rule of three to calculate the numbers of stitches needed for each craft to get a 10 by 10 cm square.
I did start from the recommendation on the label for a 10 by 10 cm square, that is 21 stitches and 35 rows for knitting.
I timed the making of each sample, including the cast on, but not the bind-off, since the bind-off is not a part of a stitch pattern that you'd regularly use in a large project.
I also weighed all the samples, but only have access to a kitchen scale, so unfortunately I can't vouch for the exact yarn consumption, as the increments are in grams.
Now let's see some results.
Regular crochet sample with weight and time
I started with the regular crochet sample.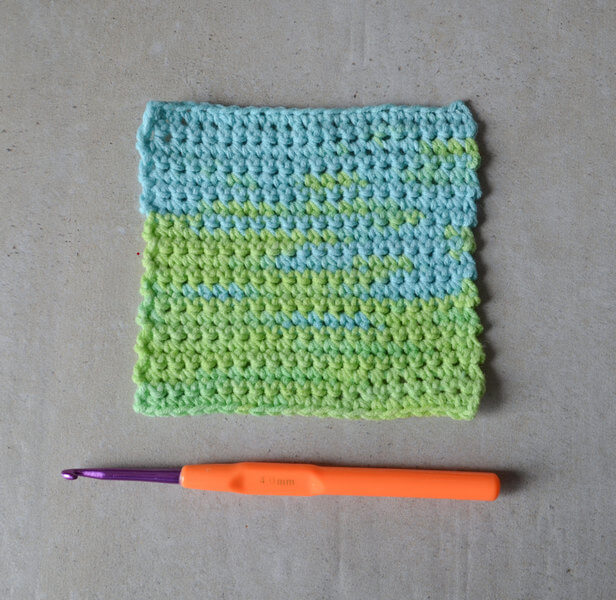 I did 21 foundation Sc stitches (Dc in UK terms) and 20 more rows of Sc across. There's no bind off in regular crochet, so I stopped when I reached 21 rows in total.
That's 441 stitches.
The sample measures 10.5 cm in width and 10 cm in height. That's 105 cm squared.
The sample weighs 6 grams.
It took me 18 minute and 37 seconds to make the sample. That's 2.5 seconds per stitch.
This means that a 10 by 10 cm sample would:
have 420 stitches;
weigh 5.7 g;
take 17 minutes and 40 seconds to make.
I will list all the other results and then we can compare them to each other in some fun graphs (I am a scientist, after all).
Knitting sample with the same size of needle
I continued with the knit sample.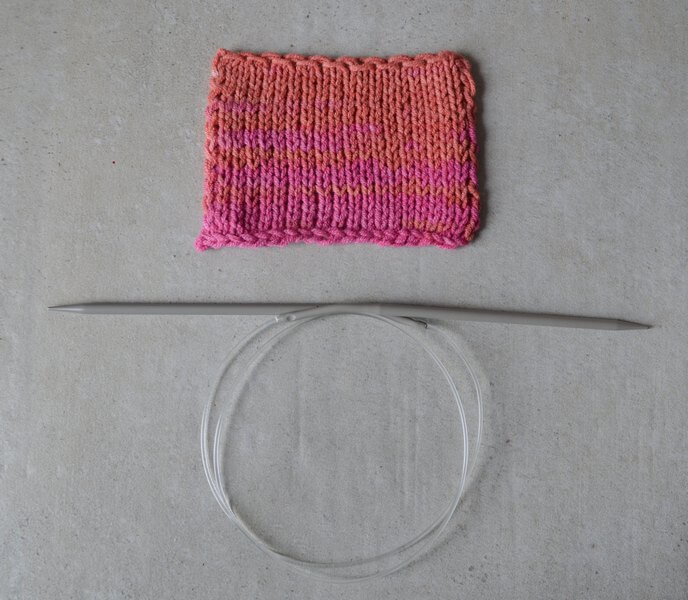 I cast on 21 stitches using a long tail cast-on. I worked 20 rows in stockinette stitch, but forgot I needed to cast off as well, so we have a total of 462 stitches (21 rows, plus 1 row of cast-off).
The sample measures 10 cm in width and 6.5 cm in height. That's 65 cm squared.
The sample weighs 3 grams.
It took me 13 minute and 24 seconds to make the sample. That's 1.7 seconds per stitch.
This means that a 10 by 10 cm sample would:
have 710 stitches;
weigh 4.6 g;
take 20 minutes and 36 seconds to make.
That's a lot longer, isn't it? Especially taking into account that a single stitch takes only 1.7 seconds to make. But these stitches are much smaller than the regular crochet ones.
Tunisian crochet sample with the same size of hook
This brings us to the Tunisian crochet sample, the largest of them, despite using the same size hook.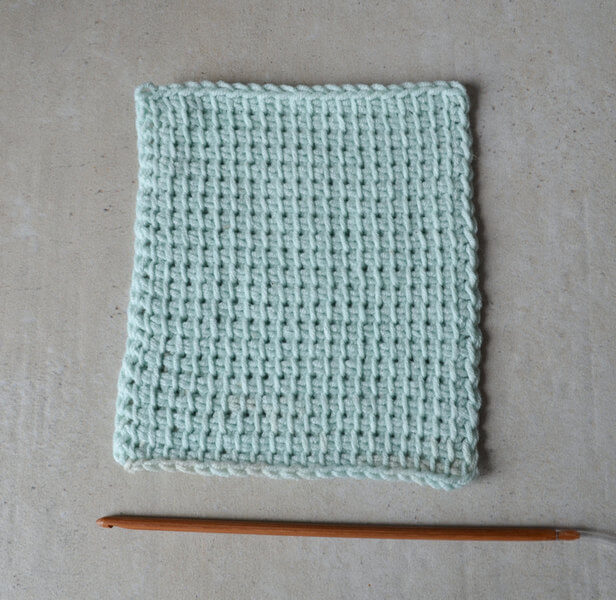 I started with Ch 21 and picked up the first row into the back bumps of the chains. I worked 21 rows of Tunisian simple stitches in total, including the first row.
I also cast of with slip stitches (there's no extra row created when you cast off in Tunisian crochet, as opposed to knitting).
That's 441 stitches in total.
The sample measures 11 cm in width and 12.5 cm in height. That's 137.5 cm squared.
The sample weighs 8 grams.
It took me 17 minute and 40 seconds to make the sample. That's 2.4 seconds per stitch.
This means that a 10 by 10 cm sample would:
have 320 stitches;
weigh 5.8 g;
take 13 minutes to make.
Now let's compare these results and see why they might have come out like this.
Discussion – does crochet use more yarn than knitting?
Before we interpret these results, we first need to see what the limitations are in this experiment.
I tested only one yarn type and weight. I would need to test at least 10 different yarn type/weight combinations, with their respective hook sizes, for a decent amount of data.
I am only one person with a specific amount of experience in each of these crafts. I know how to work all three techniques quite proficiently, which means that my results are very different from those of a person with very little experience in knitting or Tunisian crochet, for example.
I also use specific techniques for holding the yarn and for picking it up, in all three crafts. Different ways will influence the speed of the stitches in each craft.
For example, continental purl stitches seem extremely awkward to me and would take at least twice as long to make as the purl stitches I'm used to.
All this to say that there would be a very wide range in the world for the results of such an experiment and that these results are specific to myself and my own level of experience.
Also, different stitches will give different results. Some stitches in each craft take up a whole lot more time and yarn than these basic stitches that I used for the experiment.
Yarn consumption in knitting vs. crochet vs. Tunisian crochet
As expected, knitting takes up the least amount of yarn per given surface. That's because the stitches are quite flat, there are only two layers of yarn in any given spot.
Regular crochet comes next, with about 25% more yarn used per given surface. The fabric is much stiffer and slightly thicker, with about three layers of yarn in most places.
Tunisian crochet takes slightly more yarn than regular crochet and about 26% more than knitting for the same surface.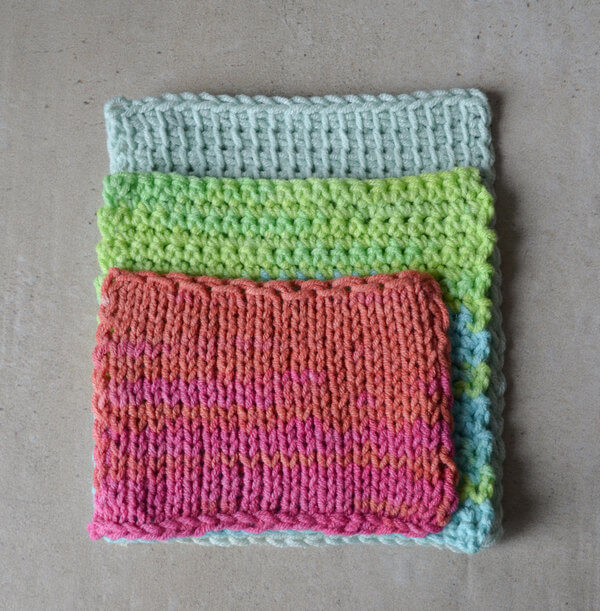 This was a surprise for me, because I'd expected the yarn consumption to be lower. I can explain that expectation.
Usually, I make Tunisian crochet with much larger hooks than the ones recommended for regular crochet for the specific yarn. That makes the fabric lighter and more malleable than fabric crocheted with the same yarn, but a smaller hook.
For this experiment, however, I decided to use the same hook for all three samples, which makes the Tunisian crochet sample more compact.
The Tunisian crochet fabric has four layers of yarn in about half the surface, two in the other half. This makes the fabric seem thicker overall than the regular crochet fabric.
I got curious and measured the thickness of each fabric with my electronic calipers: 2.3 mm for knitting, 3.2 mm for crochet, 4.3 mm for Tunisian crochet at the thicker parts (keep in mind that this is slightly steamed fabric, which makes it a bit flatter than it was initially).
If we put all this information together, it results that you do need more yarn for Tunisian crochet than for knitting (between 25-30% more by weight).
But you don't need more yarn if you want to convert a crochet pattern into a Tunisian crochet pattern, if you want to retain or increase the drape of the resulting fabric, which means your stitches will also be larger.
Time consumption in knitting vs. crochet vs. Tunisian crochet
From the results, you can see that, in my case, knitting is much faster per stitch, but much slower per surface. The discrepancy will only increase in the case of someone new to knitting or who throws the yarn or does continental knitting.
One of the reasons why Tunisian crochet is much faster than both the other crafts is the fact that you don't need to turn.
Of course, in a larger project where you have many stitches you will still have to slide stitches on the hook, but you also need to slide the stitches in knitting and you need to move the project along in a large crochet project as well.
I am certain that in a knitting project worked in the round the speed per surface will increase because there is no turning and you can get into a good rhythm.
Another reason for Tunisian being faster is the fact that Tunisian crochet stitches are much larger than knit and crochet stitches and you need fewer of them to make the same sized sample.
Just look at the numbers. You only need 320 stitches to make the same size of sample that you'd need 710 stitches for in knitting. It's obvious that fewer stitches equals a faster project. And, in this case, a thicker project too.
Conclusions
Let's see, after this whole experiment, does crochet use more yarn than knitting?
From this experiment, we can conclude that both crochet and Tunisian crochet take more yarn than knitting (between 25% and 30% by weight for the same size of tools), but Tunisian crochet is also faster than both knitting and crochet.
We can also conclude that we need more data. If you are willing to replicate this experiment with some of your yarn, I'd love to compile your results.
Please follow the same protocol (same size for tools, known number of stitches per sample, weight and size for each sample, basic stitches – Sc, stockinette and Tunisian simple stitch) and send me your results if you want to contribute to a larger study.
Then we can maybe trust these results more.
Now please let me know if this information was helpful to you and if you'd like me to repeat the experiment with other yarns, to get more data.
If you'd like to try some patterns with these techniques, here are some that are free on the blog, a mix of crochet and Tunisian crochet patterns:
Oh, and stick around for other experiments. I've already done a "translating knitting lace instructions into Tunisian crochet" experiment, but I would like to repeat it before I can publish any results.
Make sure you sign up to my email updates (see below) if you want to know when I publish that article.
Hugs,
Andrea