If you're looking for a quick crochet project for a last-minute gift or just for a cozy and elegant pattern, try out this cowl pattern with the timeless feather and fan design in Tunisian crochet. You can use the stitch pattern for much more than cowls – blankets, shawls, scarves are all possible.
About feather and fan designs
Have you ever wondered how to make a feather and fan design in Tunisian crochet? Here's one version.
Feather and fan designs are some of my favorites, both in crochet and knitting.
A few years ago I made a triangle shawl using the Old Shale shawl pattern that's free on Ravelry and while I love the stitch pattern, the shape doesn't exactly sit well on my square shoulders.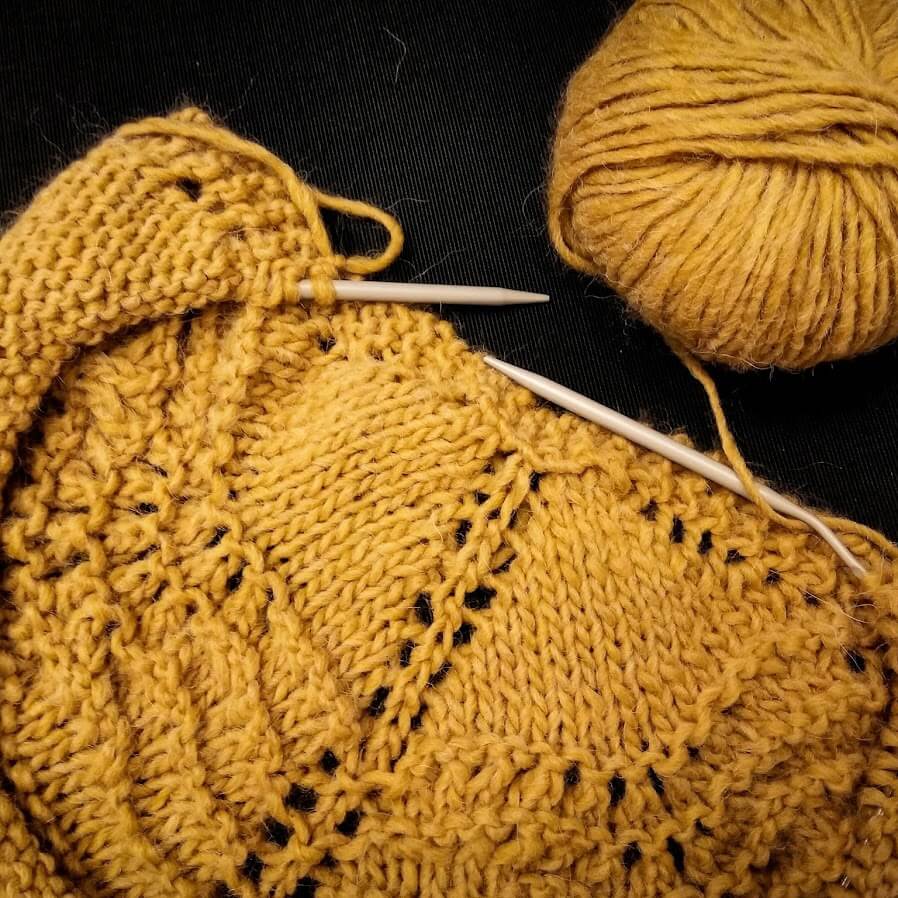 Apparently this stitch pattern was used in Shetland lace as a border and it originally meant "Old Shell", which makes a bit more sense, since shale is a very flat type of rock that has many layers, but no undulations. I learned this from the book The Magic of Shetland Lace Knitting by Elizabeth Lovick.
I also made a feather and fan wrap in lace-weight yarn and it's so fluffy and magical, I really fell in love with the pattern (also free on Ravelry here).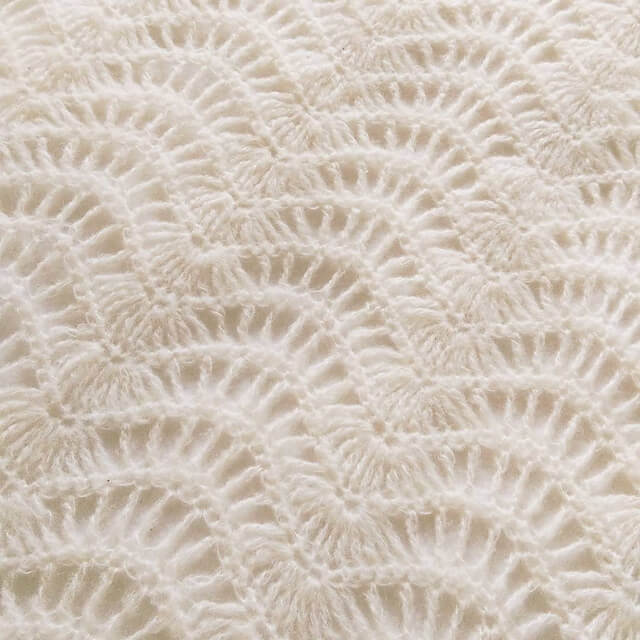 There are multiple ways of interpreting this type of pattern in Tunisian crochet.
I kept the multiple of 6 stitches from the knit patterns, but you could theoretically play with the numbers of stitches for each repeat.
You can increase or decrease the number of stitches in the "wave", just make sure that you have the same number of increases and decreases. With more stitches in the repeat, you'll have a more pronounced wave.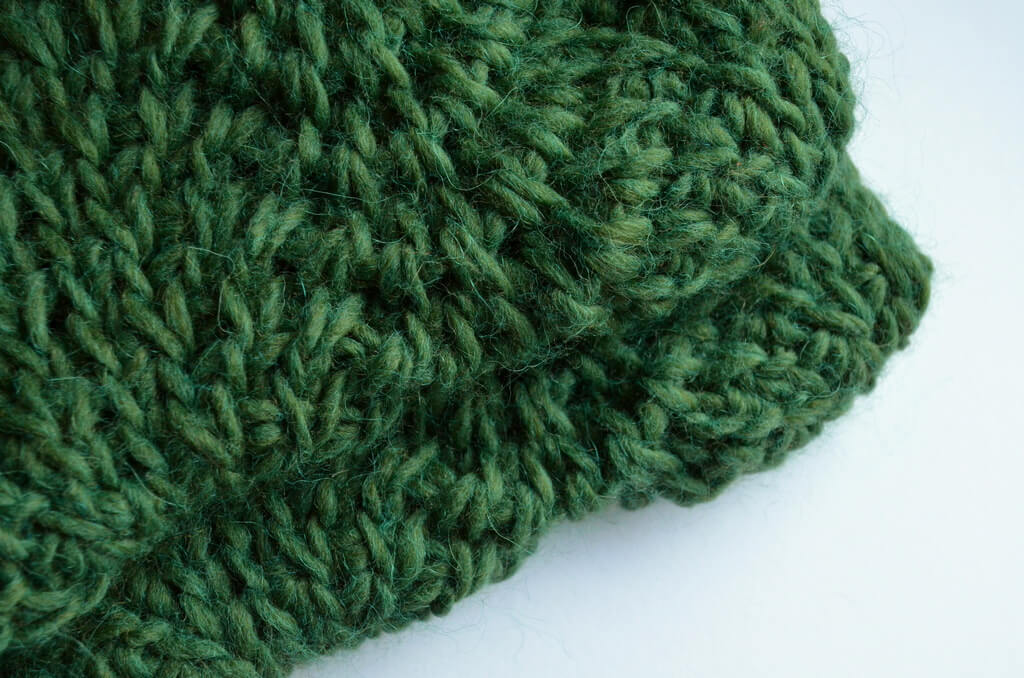 Skill level
Experienced beginner or intermediate, due to increases and decreases on each row.
Observations
You choose whether to make a cowl or a scarf, based on the amount of yarn you have.
A cowl is more practical for outdoor work or sports, as opposed to a scarf.
You may increase the number of repeats in the pattern and use it to make a blanket.
When working in the eyelets, insert the hook through the stitch and pull up a loop to make a Tss.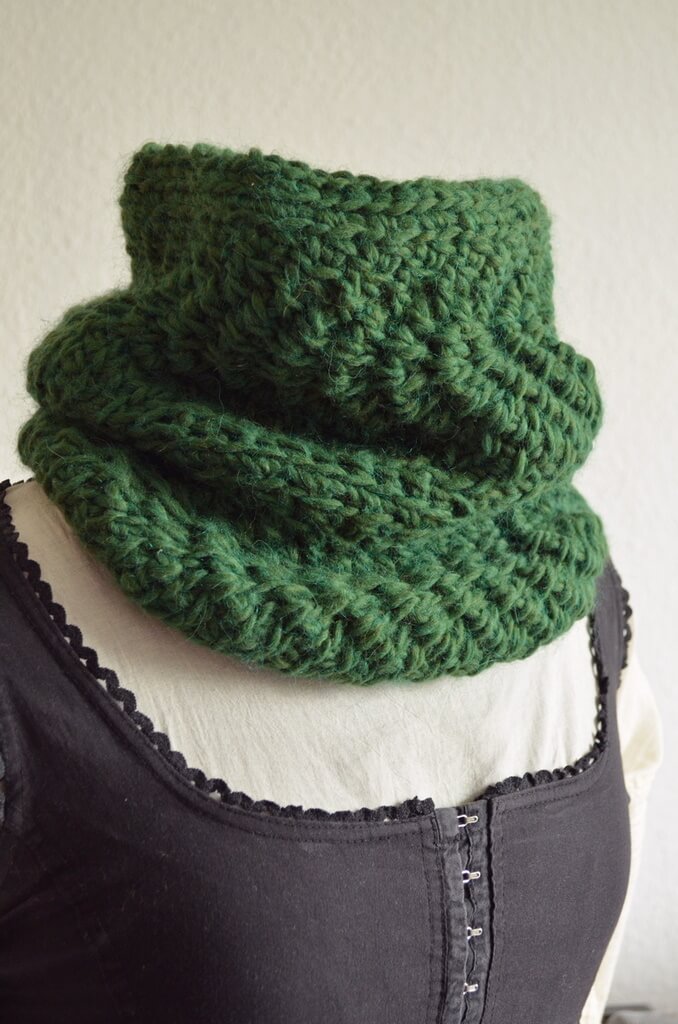 Size
The finished cowl measures 29 cm in height (11.5 inches) and about 29 cm in length – in two layers (11.5 inches).
Gauge swatch
You will need to swatch only if you want to reach the exact dimensions listed here. The swatch consists of 9 rows of 10Tss (including the last stitch). The resulting rectangle should be 10 cm by 10 cm or about 4 by 4 inches.
Notions
Yarn: worsted weight or size 4 yarn at about 65 meters per 50 grams – 120 grams or 160 meters for a cowl, 250-300 grams or 320-390 meters for a scarf;
Hook – 8- or 9-mm hook with a long shaft – either a regular hook without a handle or a Tunisian crochet hook;
Tapestry needle;
Scissors.
This pattern was part of the 24 Days of Quickies with Marly Bird and Friends event. Check it out if you want to get more free patterns until the 24th. Every day you have at least two crochet and one knit pattern for free, plus a chance to participate in giveaways for various prizes.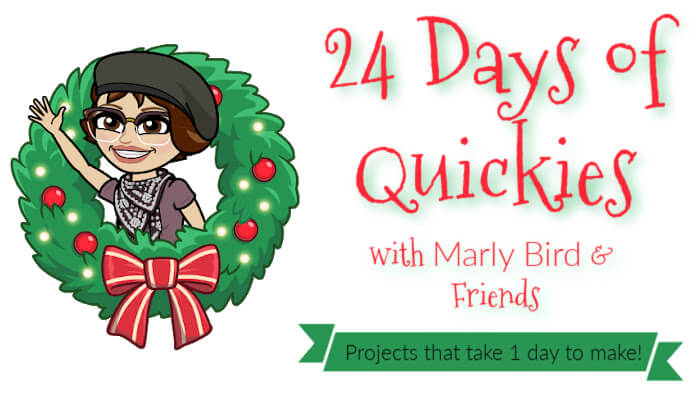 Low vision version available
This pattern comes with a low vision version, which I prepared specifically for crocheters who need a specific format in order to use crochet patterns.
Here are the specifications in case you want to try out this pattern:
the main text is written in 24 point Arial font; 28 point and bold is used for headings;
black text on white background;
left justified text, 1 inch margins;
no columns;
page numbers on the bottom left part of the page;
no charts;
all abbreviations are explained in the list.
If you have any feedback regarding the low vision version of this pattern, I'm always happy to receive it.
If you'd like another one of my patterns in a low vision format, please let me know which. I'm trying to go through them all, but it will take a while.
Where to get the pattern
Check out the graphic and the link above to get the PDF version of this pattern for free during December 11th 2021.
For now, the pattern is available in my shop and on Ravelry. If you want other options, please let me know and I'll upload the files in other shops as well.
There will soon be a video available for this pattern as well, so make sure you are subscribed to my YouTube channel if you want to know when I publish that video.
Please subscribe to my emails also if you want to know when I publish more patterns and blog posts, to participate in testing calls, or to participate in other events where you can win free patterns or crochet supplies.
Happy crocheting and happy holidays!
Andrea