Make yourself and your loved ones some Tunisian crochet beanies and contribute to a great cause in the process! Follow this easy step-by-step tutorial for a medium-sized adult beanie or buy the PDF version of pattern for multiple sizes, from toddler to adult.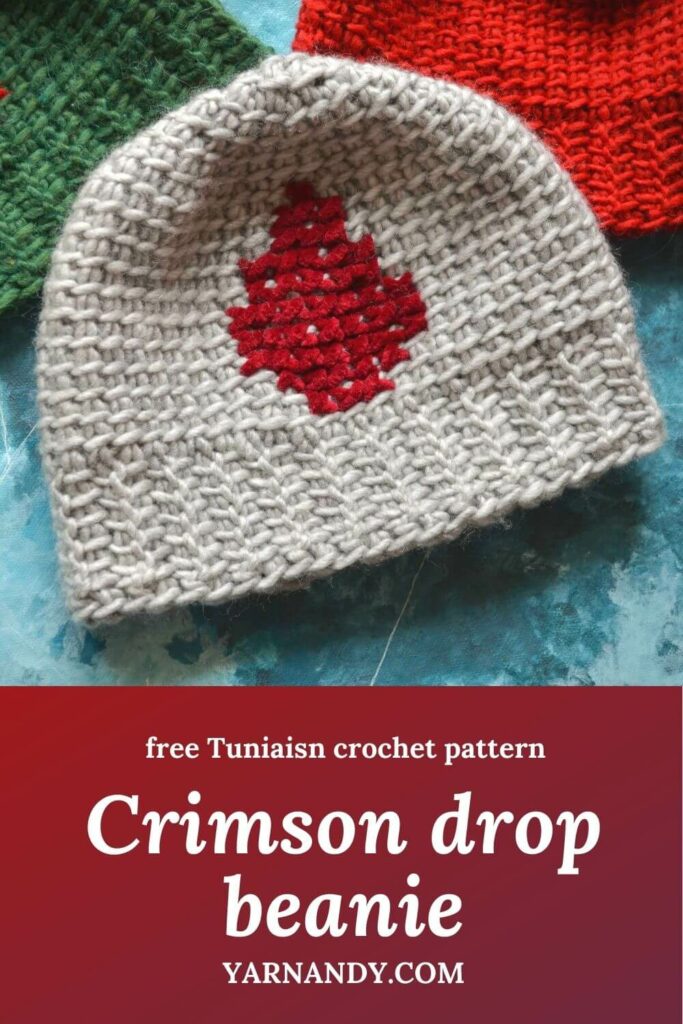 What's your menstrual story? Do you even have one?
Maybe some embarrassing moments in school, when you were caught unawares and got up from your chair to the chorus of laughter from fellow teenagers.
Or maybe a benevolent pharmacy sales assistant who gave you some pads and some pain medication because your cramps were so bad you couldn't even walk.
Or maybe you were too young to know what menstruation even is because everyone assumed you were too young to know about "those matters" and never told you anything and you got scared witless when it first happened.
These are not all my stories. I'll let you guess which one is mine.
But the point is that half of the world population has this in common and we should talk about this more often.
It should be something we do every day, as every day there are people around the world who are menstruating.
Unfortunately, having periods affects some people's lives more than others'. Some don't get to go to school for several days a month because they have no choice.
But there are great people out there trying to help as well. And I want to contribute, so I hope you will help me.
Half of the income from the sale of this pattern goes to the African Girl Foundation that aims to equip young people who menstruate in Kenya with reusable menstrual pads and soap that should last them for a year.
You can donate to the project directly as well, by going to their website.
So go find some chunky yarn in your stash, an 8 mm hook, and get busy. Make a quick and easy and super customizable hat or beanie using this easy pattern. Pick your size and whip it up.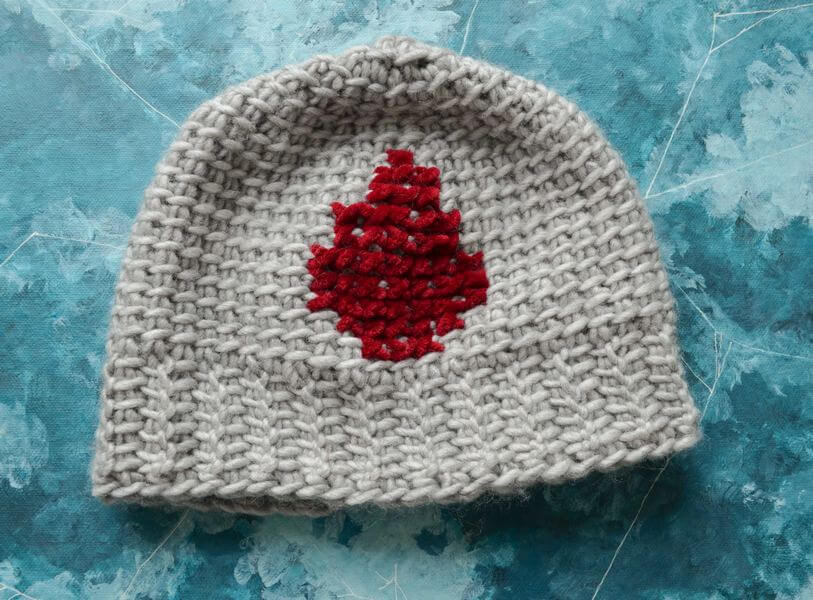 You can add cute embroidered motifs to the main section of the hat, or you could just skip the embroidery and use this as a regular hat.
You could even replace the simple stitches in the middle part of the hat with other stitch combinations that make a prettier fabric if you do not intend to embroider on it.
It is even possible to adapt this pattern to other yarn weights, by making more stitches in the main part and working more pattern repeats. Your imagination is the only limit.
You will find a PDF version of this pattern in my shop, on Etsy or on Ravelry (if Ravelry bothers you, but you want to use it, I came up with a workaround for the current themes that give people migraines).
Tunisian crochet beanie step by step video
You can also follow along with the video tutorial, if you prefer it. Click on the thumbnail to go to YouTube and follow along with the tutorial.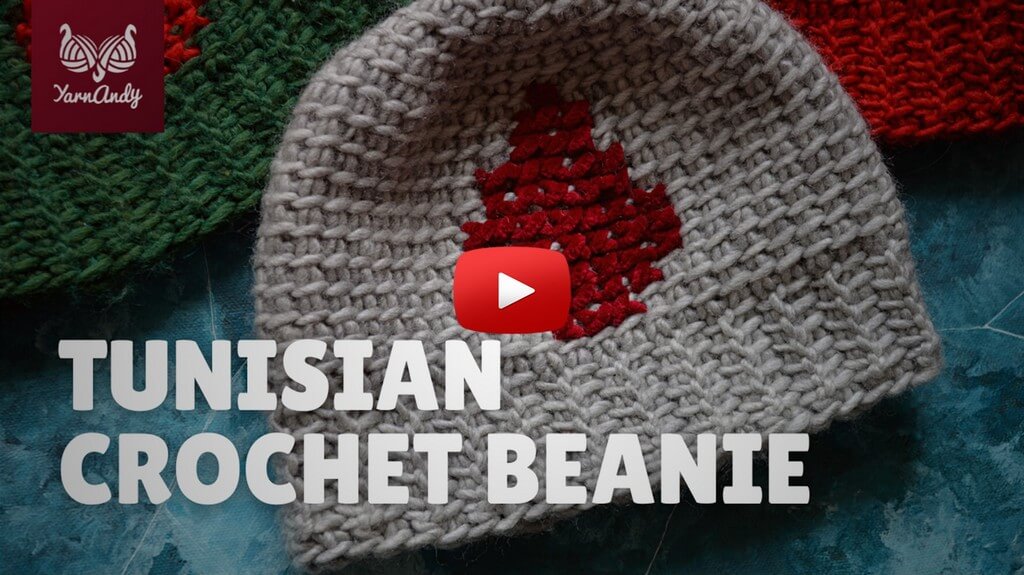 Full instructions for size G (57 cm or 22.5″)
To get instructions for all the other sizes, please buy the PDF version of this pattern.
Notions
Yarn – bulky/ chunky yarn or size 5 yarn at 60-80 meters per 50 grams – between 30 and 80 grams per hat, depending on size (here are some yarns that would work with this pattern);
8 mm hook – either Tunisian crochet hook, straight or with cable, or regular hook with a stopper on the end;
Tapestry needle;
Scissors.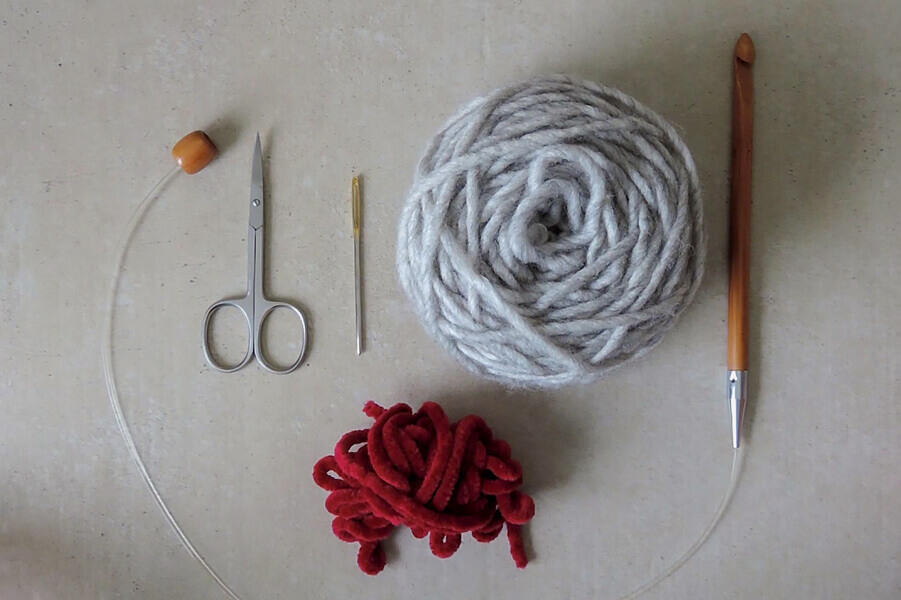 Stitches and other abbreviations
Ch – chain;
R – return pass – Ch1, repeat [YO and pull through 2 stitches on hook] until you are left with only one loop on the hook;
SR – short row – this marking tells you that you will be working a short row;
SRR – short row return – used for short rows: repeat [YO and pull through 2 stitches on hook] until you are left with only one loop on the hook;
Tss – Tunisian simple stitch – go behind the vertical post of the stitch, YO and pull up a loop.
Observations
Make a gauge swatch before you begin. Adjust the hook size until you reach gauge.
The number of loops on the hook at the end of the row is written in (round brackets) at the end of each row of instructions.
This pattern is made up of regular rows and short rows. Most rows are short rows and abbreviated with SR.
This hat is constructed sideways, with a brim and crown shaping incorporated in the row repeat.
To make the hat shorter or longer, adjust only the number of stitches in the main body of the hat – decrease or increase the number of stitches after the first 6 stitches on each row (the brim).
You can use the provided table and template to fill in the number of stitches required to make each size of hat. These numbers are calculated if you reach the gauge, but you can also adapt them to your gauge.
Gauge swatch
Make a gauge swatch using the following instructions and adapt your hook size to reach the recommended size.
The final square should measure 5 by 5 cm or 2 by 2 inches.
R1. Ch6, pick up loops in all back bumps of the chains, R (7)
Rows 2-5. 5Tss, Ls, R (7)
There is no need to bind off, just measure the width and height of your swatch. Change the hook size until you reach gauge.
Instructions
The following instructions are for size G or medium adult size.
R1. Ch24, pick up loops in all chains, R (25)
This row counts as 23Tss and 1Ls.
SR2. 6Ps, 16Tss, SRR (23)
SR3. 20Tss, SRR (21)
SR4. 6P, 12Tss, SRR (19)
R5. 23Tss, Ls, R (25)
SR6. 6Ps, 16Tss, SRR (23)
SR7. 20Tss, SRR (21)
SR8. 6P, 12Tss, SRR (19)
Repeat rows 5-8 10 more times, to reach a total row count of 48.
If you need the hat to be wider, continue increasing the width with multiples of 2 rows, in pattern.
When you are done, do not bind off, but cut the yarn, leaving a long tail – long enough to seam up the gap (about 30-40 cm).
Pass the yarn end through the eye of the tapestry needle and first create an invisible stitch seam on the brim, like in the photos below.
Then use the same tail to seam up the gap, making sure that you pick up corresponding stitches on both sides.
Insert the needle on the left side and pick up some loops. Repeat on the right side. Continue going back and forth, working in a ladder.
Pull on the yarn end to close the gap with an invisible seam. At the end, pull the tail to close the gap, then give it some slack, so it is not completely taut, but has the same give as the rest of the hat.
You can now close the top of the hat, or leave it open for a messy bun version, or add a pompom.
To close the hat, use the same tail and go through the front loops of the 12 edge stitches, going in a spiral, from front to back, until you reach the first stitch. Pull on the tail to close this gap, then weave in the two ends.
Embroidery
To create the embroidered motif, first cut a length of yarn and pass it through the eye of the tapestry needle. Then weave in one end and start making diagonal stitches going from left to right across the stitches in the middle part.
To finish the cross stitches, return from the end of the row by working through the same spaces, but this time from right towards the left.
After the last stitch, bring the needle out at the beginning of a new row.
In the PDF pattern, you will find the pattern for the embroidery as well.
Final thoughts
If you like this pattern and want to try out other sizes as well, please consider buying a PDF copy from the product page (or from Etsy or Ravelry).
If you use Ravelry, you can add it to your project queue or make a project page and link it with the pattern page, so I can see what you make.
Keep close and sign up to my emails if you haven't already (you'll get a nice pattern too).
If you want more Tunisian crochet patterns, check these out:
I'll see you soon.
Hugs,
Andrea