Did you know you can make Tunisian crochet earrings from thread and regular hooks? In this tutorial, I show you how to put together a pair of cute earrings with half sun motifs, citrus slices, leaves or hearts.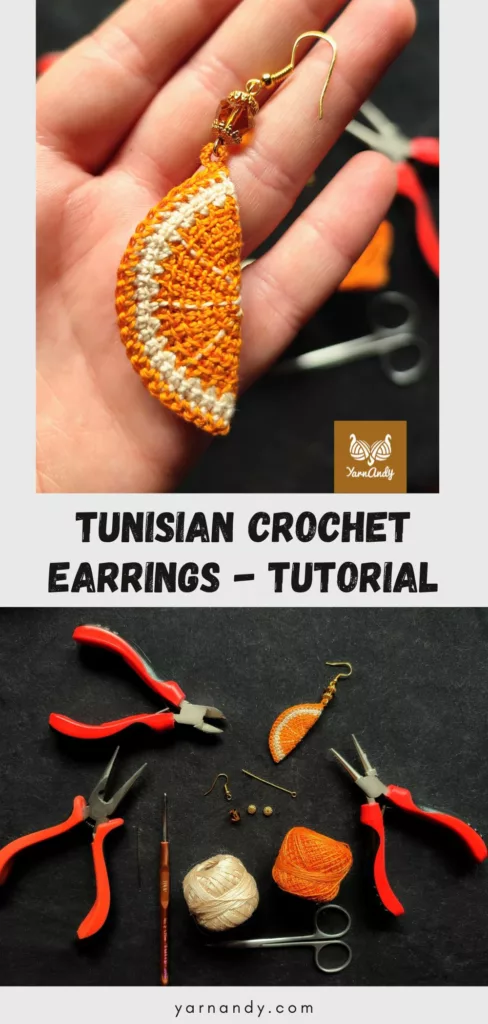 About this tutorial for Tunisian crochet earrings
Tunisian crochet can be used for lots of things. You can make blankets, clothes, hats and mittens, shawls and scarves, but you can also make jewlery.
Tunisian crochet jewelry is not as common as it could be, but it makes working with very thin yarns much easier than in regular crochet.
For the same size of cotton thread, regular crochet might need a 0.75mm to 1 mm hook, while in Tunisian crochet you can get a nice looking project with a 1.75 mm to 2 mm hook.
You only need to use a regular steel hook, as they usually have a long enough shaft to work with the patterns I'll be recommending below.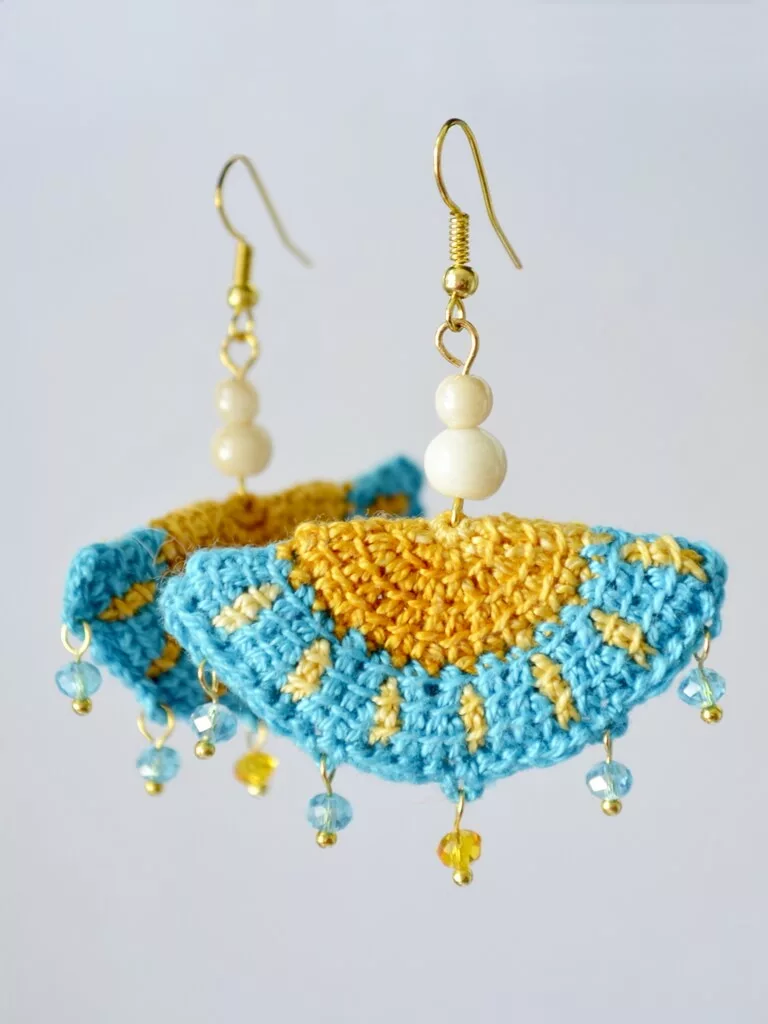 What patterns work for Tunisian crochet jewelry?
The best patterns to use are the ones that create interesting shapes, textures or colorwork. Patterns for coasters or garlands work great.
In the examples below, you have fun, summery patterns such as a citrus slice and a sunny disc, a fall leaf (which you can definitely make summery in green) and a heart.
The patterns for the original coasters and garlands are all available as free video tutorials and are linked below, next to their corresponding earring.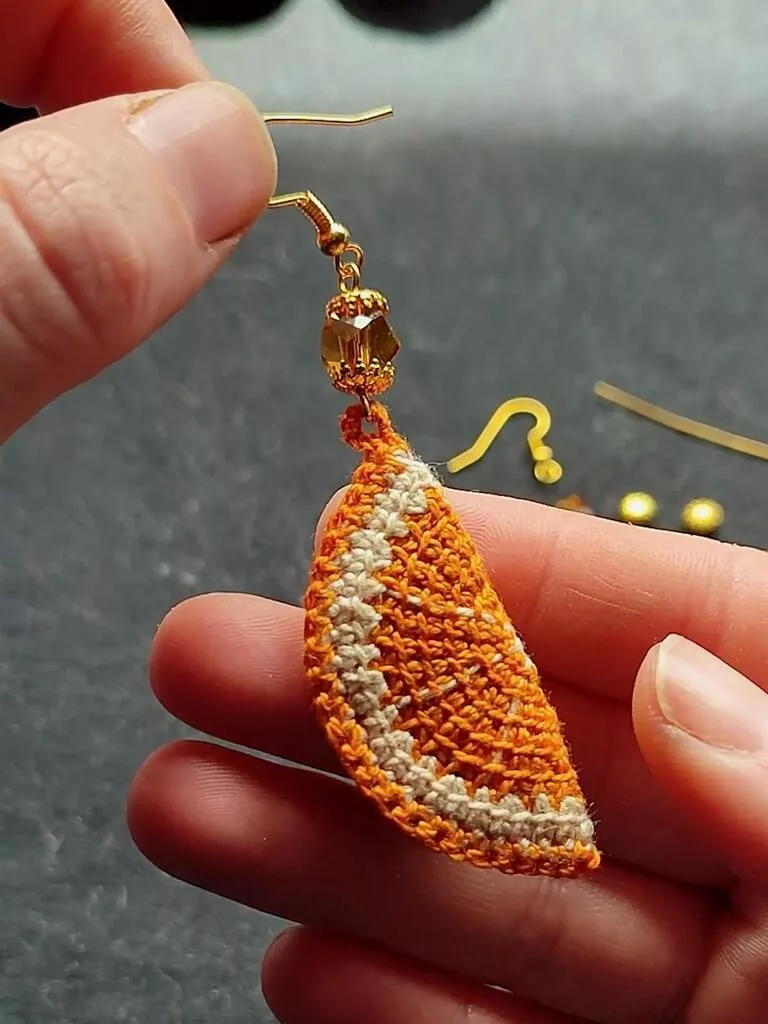 You can also come up with your own patterns, but ideally you'll test them out in full size first, before trying them in thread.
Materials and tools needed to make Tunisian crochet earrings
Yarn – size 8 cotton perle thread, also known as embroidery thread; different colors, 2-3 meters per earring;
Hook – 1.75 to 2 mm steel crochet hook;
Scissors and sewing needle for weaving in ends;
Optional: starch or PVA glue for stiffening the Tunisian crochet parts;
Beads, bead caps, eye or head pins, earring findings; different shapes and color, depending on what your desired design looks like;
Jewelry pliers – one flat, one round, one for cutting.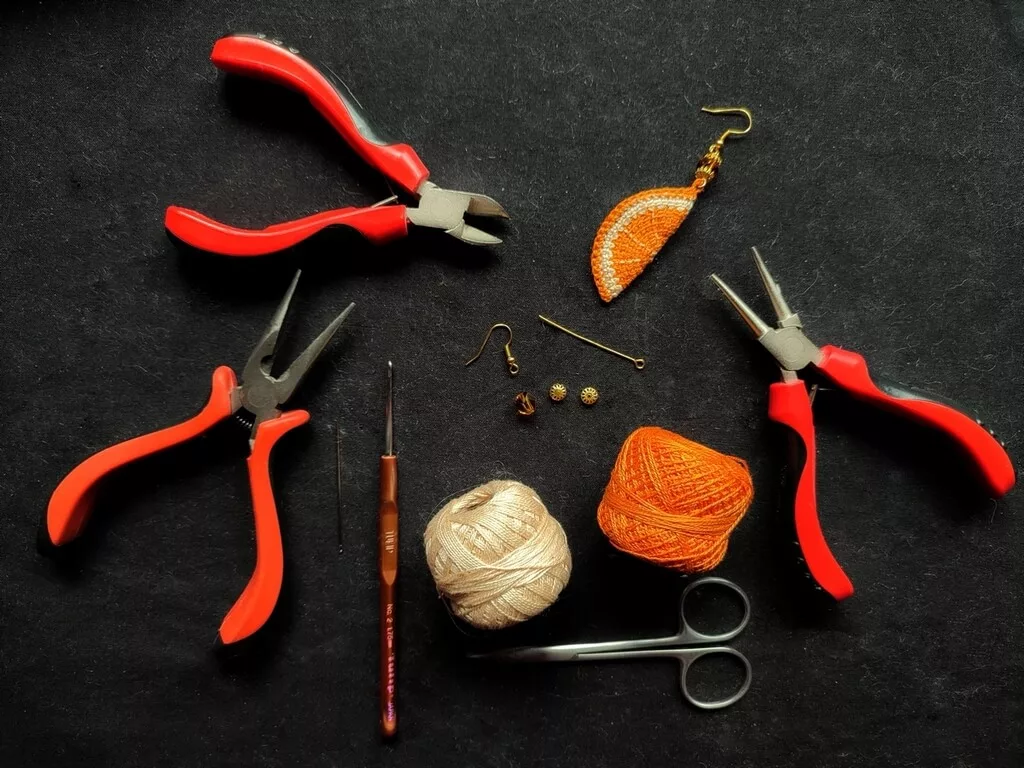 Skills required to make Tunisian crochet jewelry
To make these earrings, you need to know how to make simple Tunisian crochet stitches, such as Tss, color changes, short rows, increases, decreases and casting off, working in a magic ring, seaming.
I show all these in the tutorials linked below. If you're new to Tunisian crochet, first make a full size version of each pattern to familiarize yourself with the techniques.
You also need to be comfortable working with thin yarns or thread and with a small hook. You can use a magnifying glass for crafting, if it helps.
The third skill you need to have is knowing how to assemble jewelry findings. You need to be able to make loops, open them, close them.
Sizes and measurements
The earrings will vary in size depending on the size of thread, hook size and the number and type of beads you'll add.
When using the recommended thread and hook size, the resulting circles have 4-5 cm in diameter, the leaf is 5 cm long and the heart 4 cm long.
Step by step instructions
To make these earrings, you will first need to make the Tunisian crochet bases.
There are different shapes available.
Sun earring
One is the sun circle, based on the Little sun coaster pattern.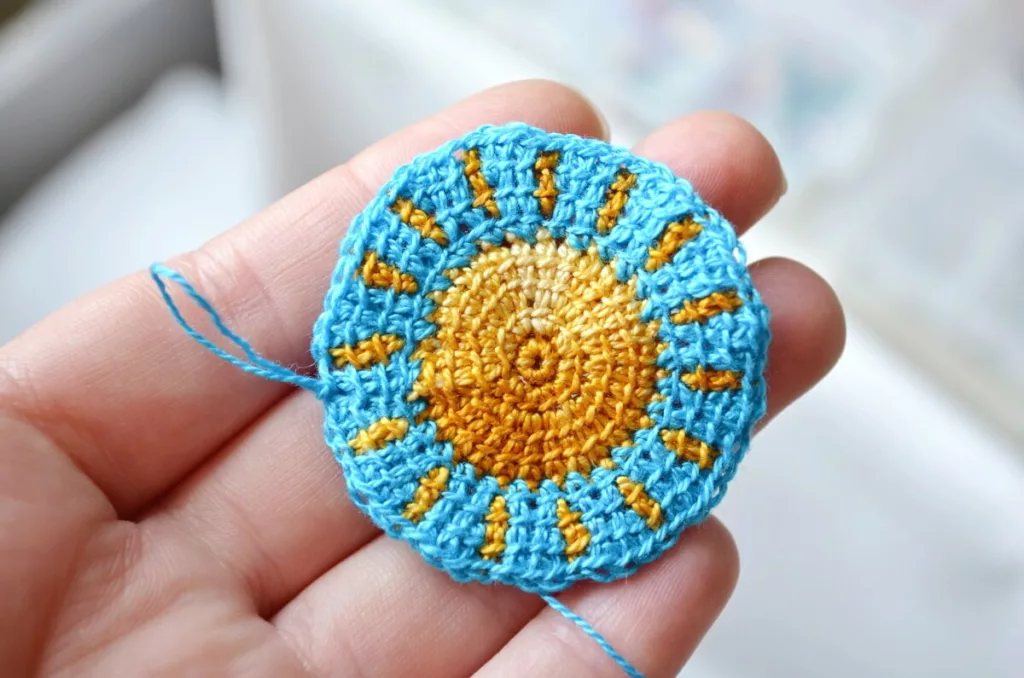 Video tutorial below.
Citrus slice earring
The other one is the citrus slice circle, based on the citrus slice coaster.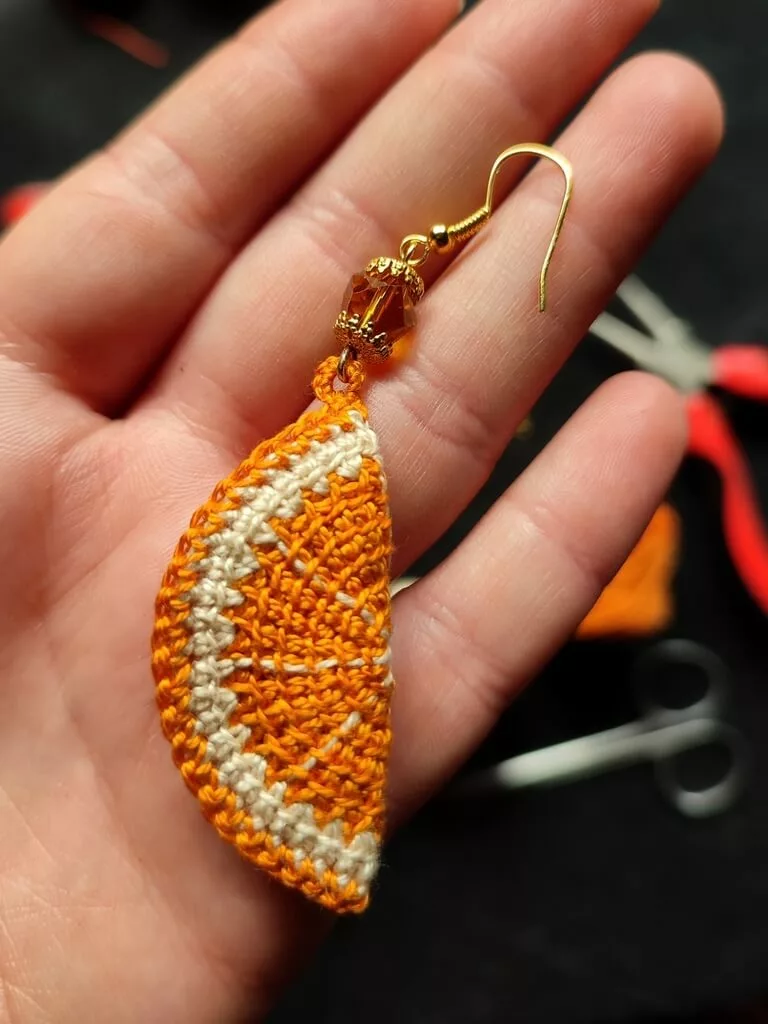 Video tutorial below.
Leaf earring
You can make this leaf in different colors for a summery or autumny effect. Use color-changing yarn for a transitional leaf.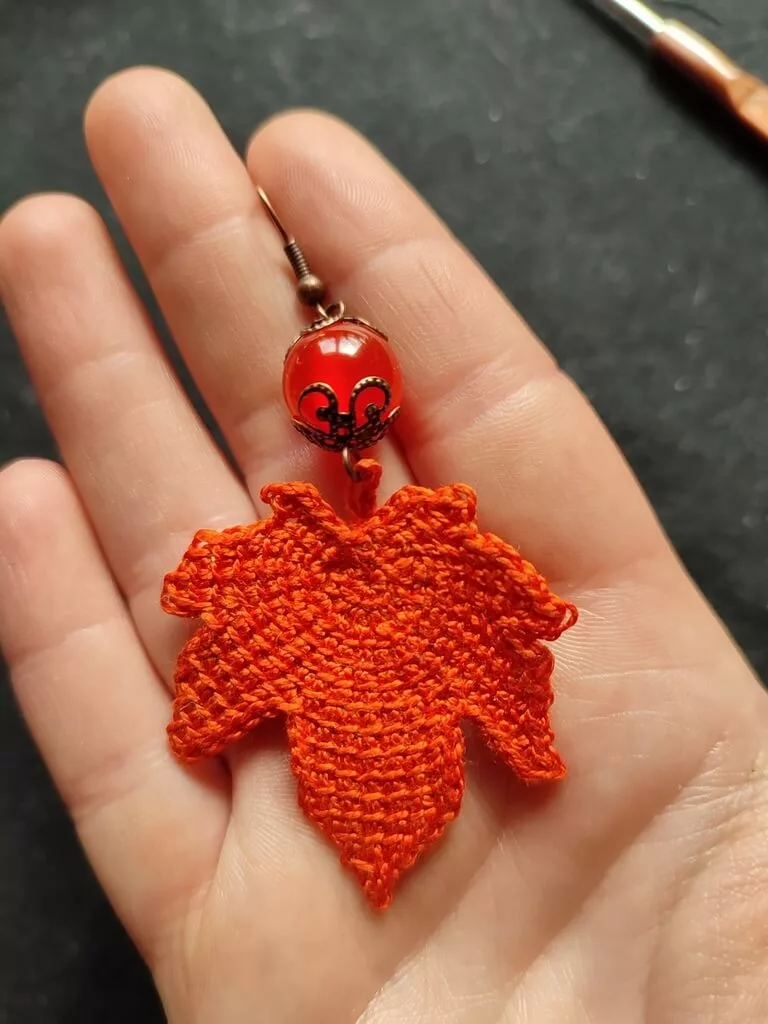 Video tutorial on making the full size leaf below. Left handed video here.
Heart earring
The final option is to make a heart earring using the heart garland pattern that is only available for now as a video tutorial.
See the tutorial below and the left handed version here.
Instructions for assembling the earring
Once the Tunisian crochet base is made, you have several options.
1. You can fold the piece in two and make slip stitches across, in the case of the citrus slice or the sun earring.
You can also make a second circle and make the earrings round and double-sided.
You can slip stitch around the two circles to attach them together, like in the tutorial for face scrubbies.
Go to 9:21 to see the seaming of the two sides.
Or you can weave in the ends and stiffen the piece to help it keep its shape.
I recommend stiffening the leaf and the heart shapes. Here's all the info you need to know about stiffening crochet decorations, including earrings.
You can use either starch or PVA glue, as they both dry transparent.
Once that step is complete, you prepare the beads and findings.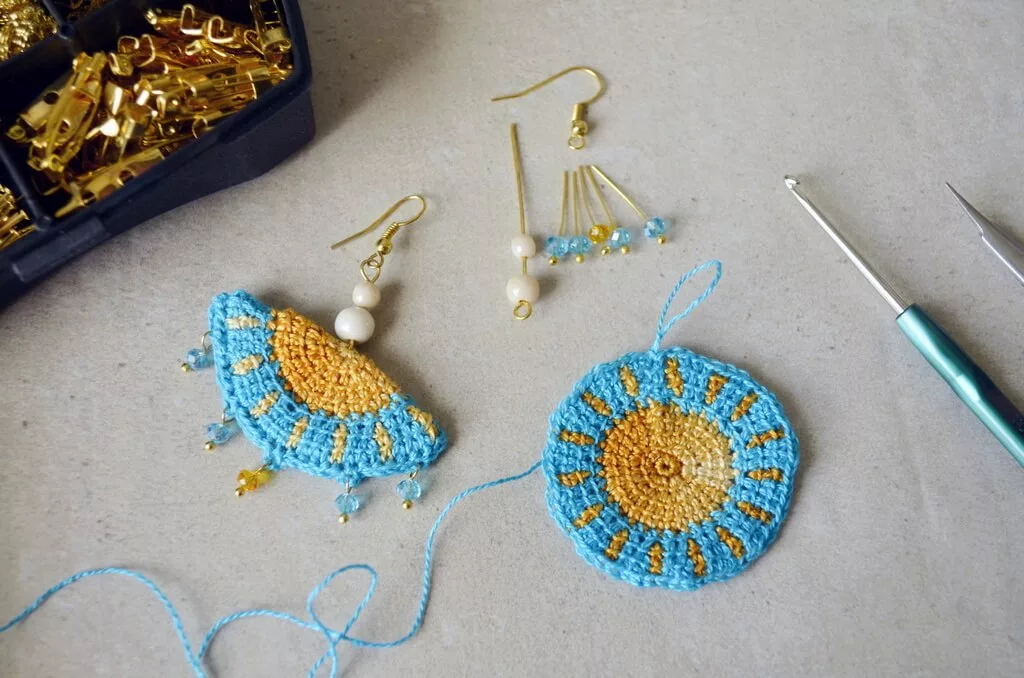 I usually put beads on eye pins and make a loop at the top. For some I also add bead caps.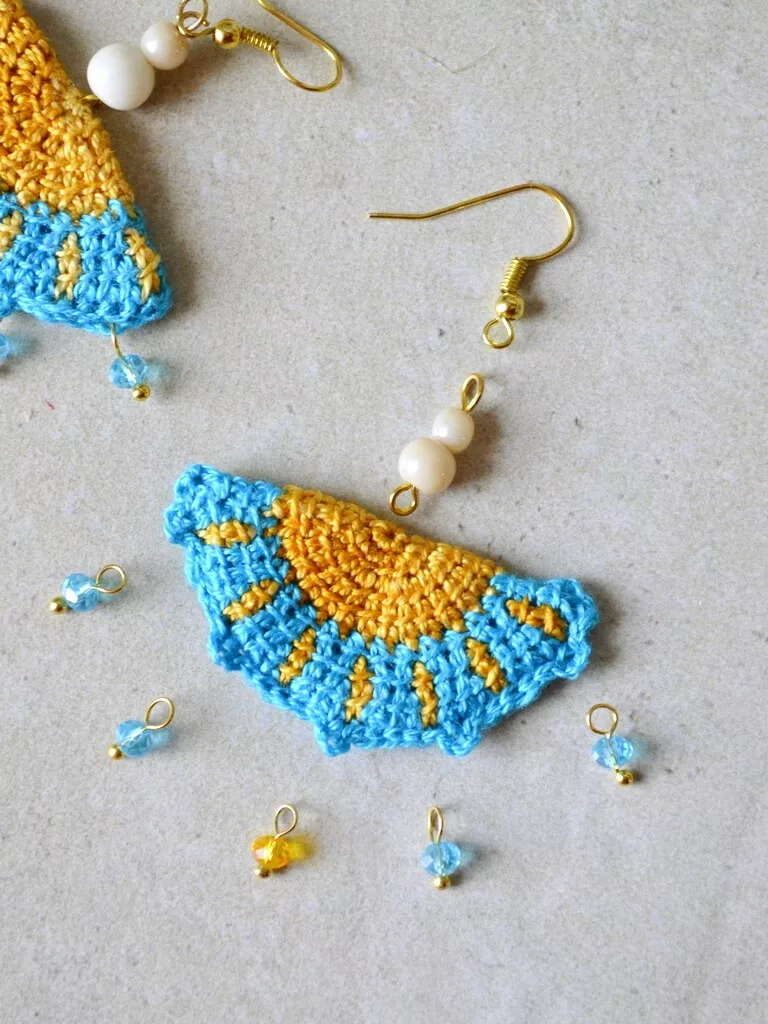 The last step is to attach all the pieces, ending with the earring loop, which will be put in so that the earring stays parallel with the neck or in the direction you are most comfortable with.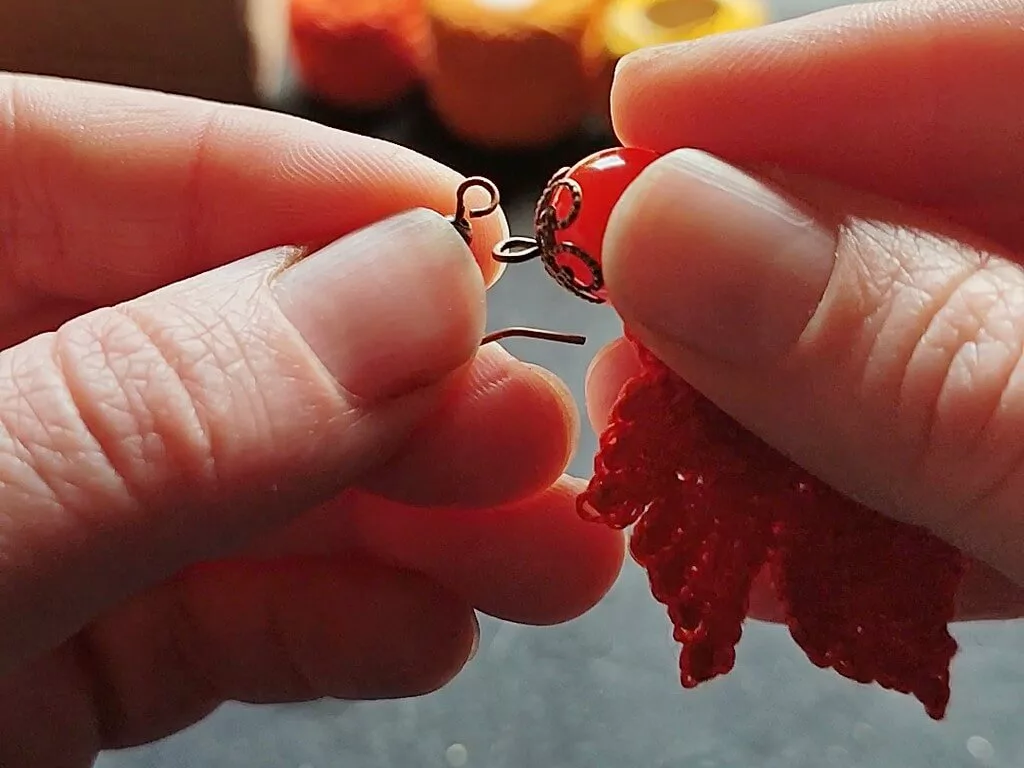 You can rotate the loops from the pins attached to the earring to get the best alignment for your earring.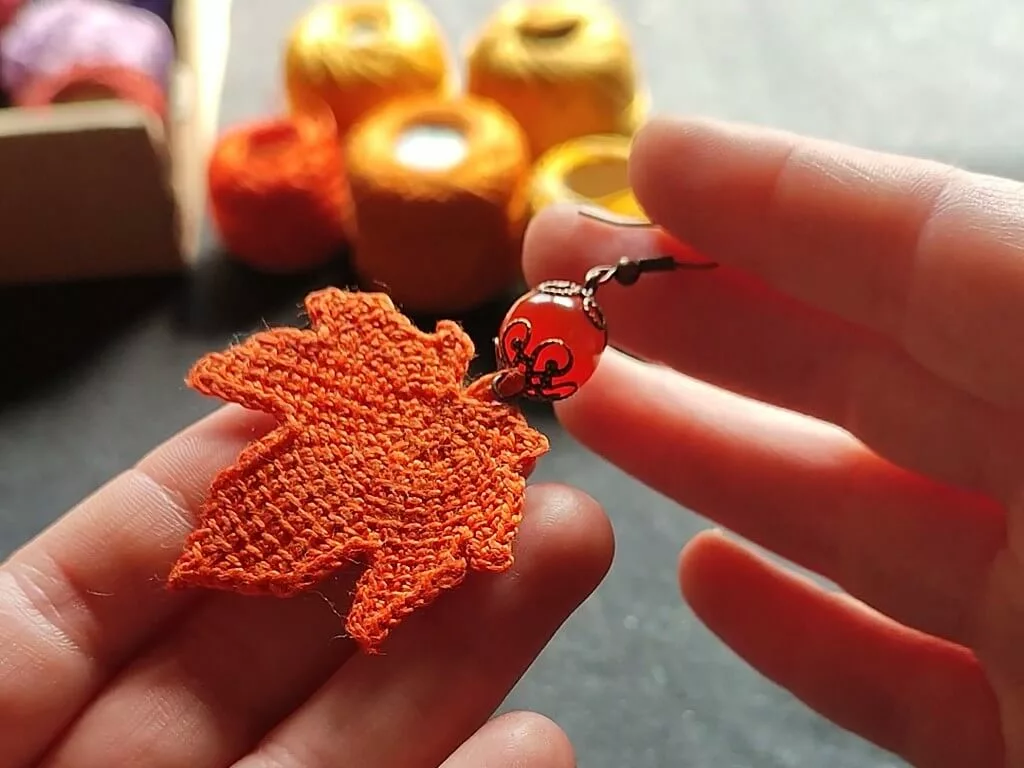 Finished Tunisian crochet earrings
Here are some examples of finished earrings.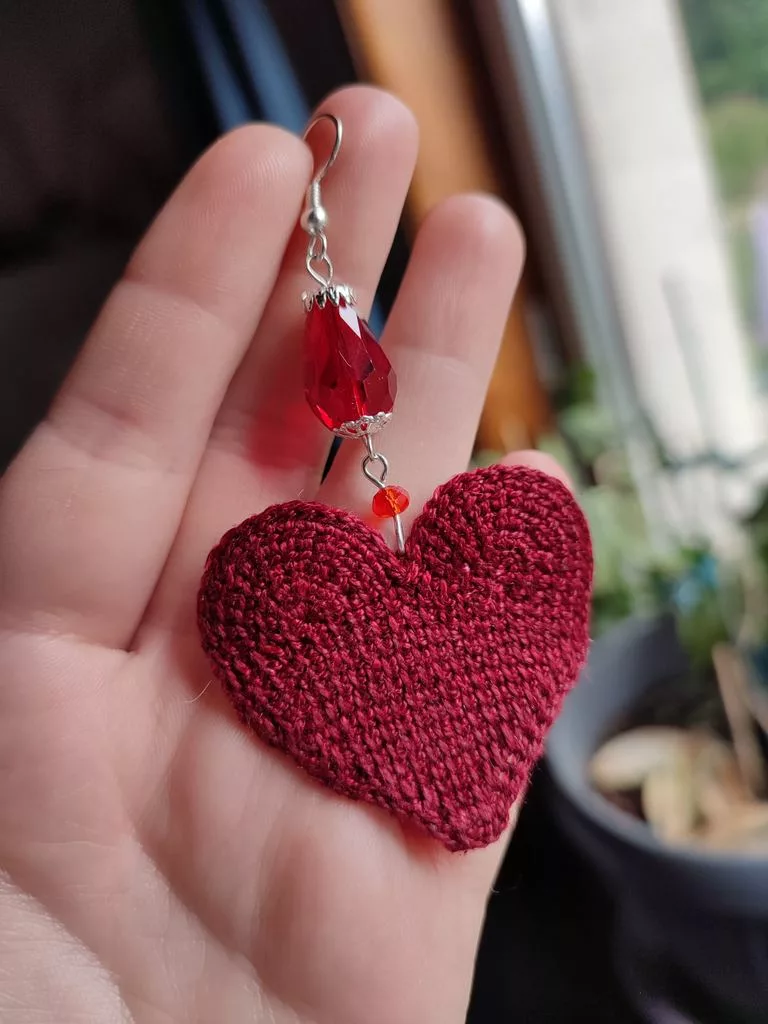 You can see there's a variety of ways in which you can add sparkly accents to the Tunisian crochet earrings, with beads, bead caps and loops.
Final remarks
I hope you enjoyed this little tutorial with examples of Tunisian crochet earrings you can create yourself.
If you want to share your project with me, I'm always glad to see it and give it a share at @yarnandy on Instagram. You can also tag me Andrea Crețu in groups, if you share the project in a group I'm in.
Here are some more Tunisian crochet patterns for you to try out and make sure you subscribe to my emails if you want to know when I publish new patterns, videos, testing calls and so on.
I hope you have a lot of fun wearing these earrings.
Hugs,
Andrea