In this Hobbii Diablo review, I present my personal experience with this yarn, its strengths, weaknesses, how it changes over time and what projects I recommend it for.
About this Hobbii Diablo review
This in honest review of Hobbii Diablo yarn as used in crochet and Tunisian crochet projects, which I have bought myself and all the content is based on my opinions only.
This article is part of a series of blog posts in which I will share my experience in working with various commercially available yarns.
Some I've bought, some I've been gifted (with specific intentions that I will reveal where applicable), but they are generally yarns you can buy yourself.
Today I want to talk about Hobbii Diablo, the alternative to kid silk yarn.
A couple of years ago, when I had more disposable income, I took advantage of one of Hobbii's many sales and got a few balls of Hobbii Diablo to use as a companion yarn, thinking that it would surely be worth it.
I'd been using some discontinued yarn from Ice Yarns as a companion for cotton gradient yarns to make them suitable for winter (for example in the Tomis shawl pattern or in the Aglaia shawl pattern, where I used it alongside Cotton Kings Twirls – now Sultan, also from Hobbii).
But since the nature of Ice Yarns is to make things once and then never have them available again, I needed to find an affordable alternative.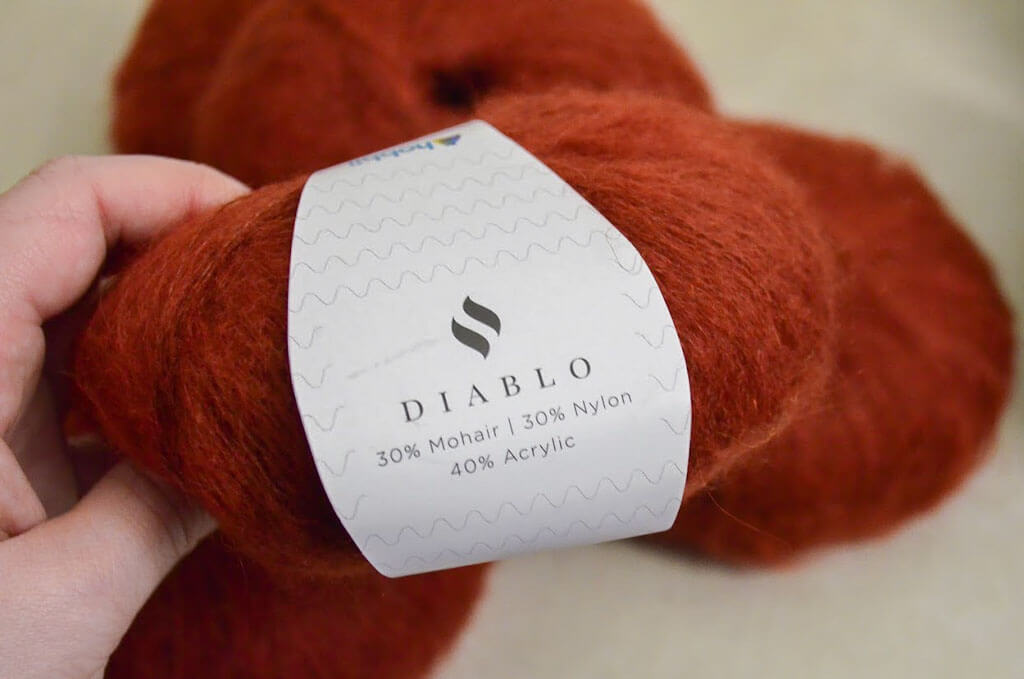 About Hobbii Diablo yarn
Enter Hobbii Diablo. It's a blend of acrylic (40%), mohair (30%) and polyamide (30%), which makes it 70% synthetic and 30% natural fiber from the mohair (angora goat hair or wool).
A ball weighs 25 grams and has about 225 meters of fluffy yarn. It's classified as a lace-weight yarn, at 900 meters per 100 grams.
The fact that it's very fluffy for such a small weight means that a little goes a long way.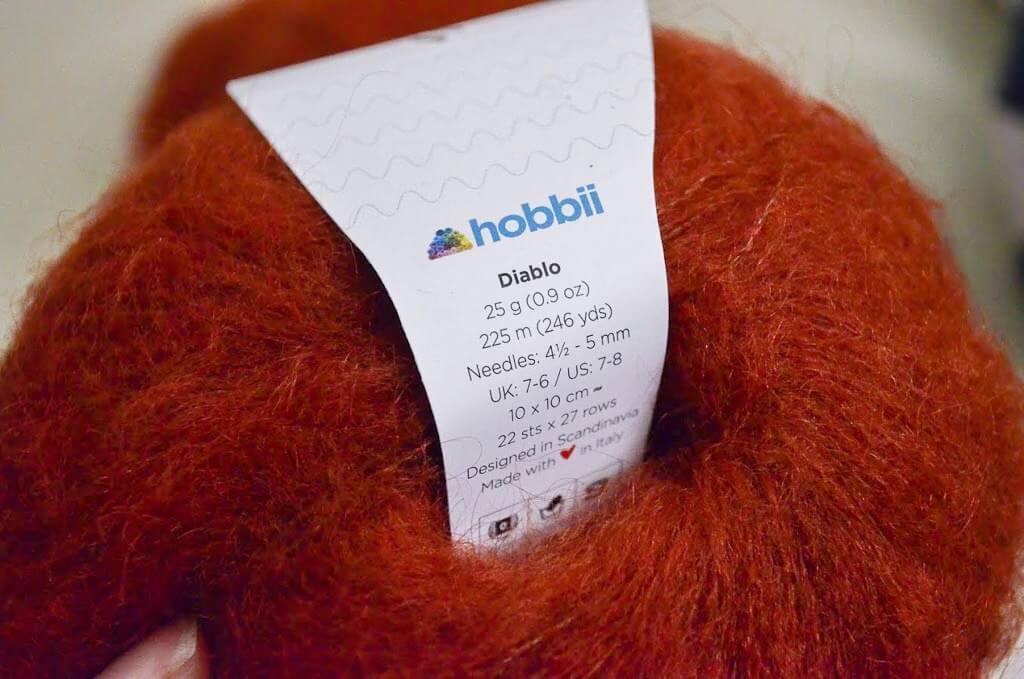 The label says it's a size 0 yarn and should be worked with 4.5 or 5 mm needles (no mention of crochet, which is sad, you'd think Hobbii knew that half or more of their customer base are crocheters).
A knit swatch of 22 stitches by 27 rows should give you a 10 by 10 cm square. Now you can vary a lot in what hook size you use if you want to try crochet with Hobbii Diablo yarn, especially Tunisian crochet.
For Tunisian crochet you can go up to 9 mm and you'll still get a beautiful (if very airy) fabric.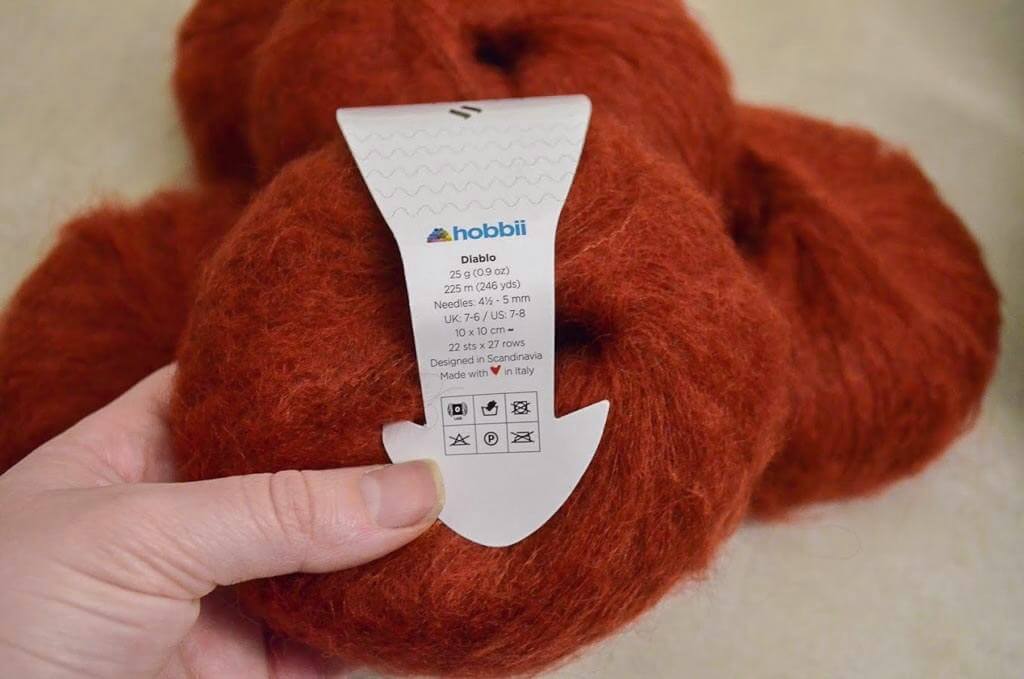 As you can see from the attached photos, the care instructions don't mention a temperature at which to wash your items, so I'd say don't go above 30 degrees C (86 F) to make sure there's no bleeding or felting.
We don't know if the mohair would felt, but I'd always go with caution and expect that it would (I should do an experiment and update this article with the results).
You should obviously not iron this yarn because it's 70% synthetic, but steam is great and you should use it to block your items if you feel like wet blocking didn't work properly enough.
This yarn doesn't wet block very well due to the bounciness of the synthetic component, which tends to spring back into its original shape after wet blocking.
Alternatives to Hobbii Diablo
Hobbii Diablo is an "affordable" alternative (see below for price comparison) to regular kid silk yarns and similar yarns have been produced for decades.
The main alternative, though, is kid silk, a combination of about 75% mohair and 25% silk, with variations of 70-30 or 80-20, depending on the yarn manufacturer's production process.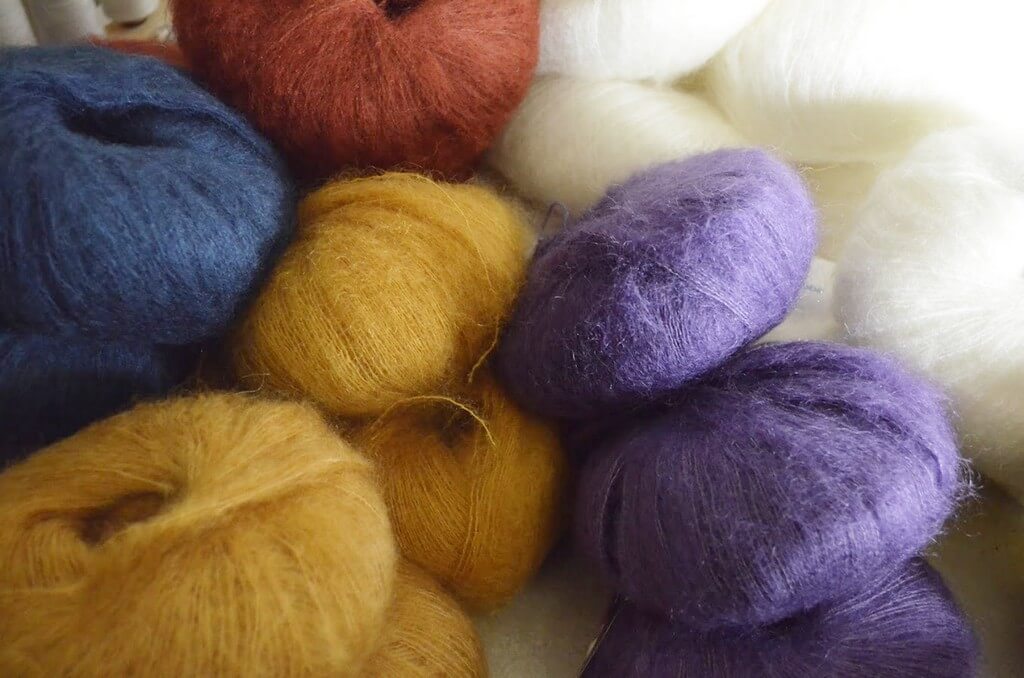 Kid silk, just like Hobbii Diablo, is regularly used alongside other yarns to give projects a halo and extra warmth.
It can also be used on its own and makes wonderful lacy projects that can be blocked to reveal the lace.
But kid silk, unlike Hobbii Diablo, has some amazing properties that we'll explore in another yarn review (the yarn in the photo above is Austermann Kid silk that I got from my local yarn store at around the same time as the Hobbii Diablo yarn).
My projects using Hobbii Diablo
I've used Hobbii Diablo yarn for both types of projects – alongside another yarn to give it extra volume and halo, as well as on its own to make a lacy fabric.
Both used Tunisian crochet stitches, but I am sure that the same experience translates into regular crochet and knitting as well. The properties of a yarn will influence the properties of a finished object, regardless of chosen craft.
Diablo as a companion yarn for garments
The first project where I used Hobbii Diablo was my Wild Pear sweater that I started at the end of 2019 (I'm working on the pattern and plan on having it tested this fall!).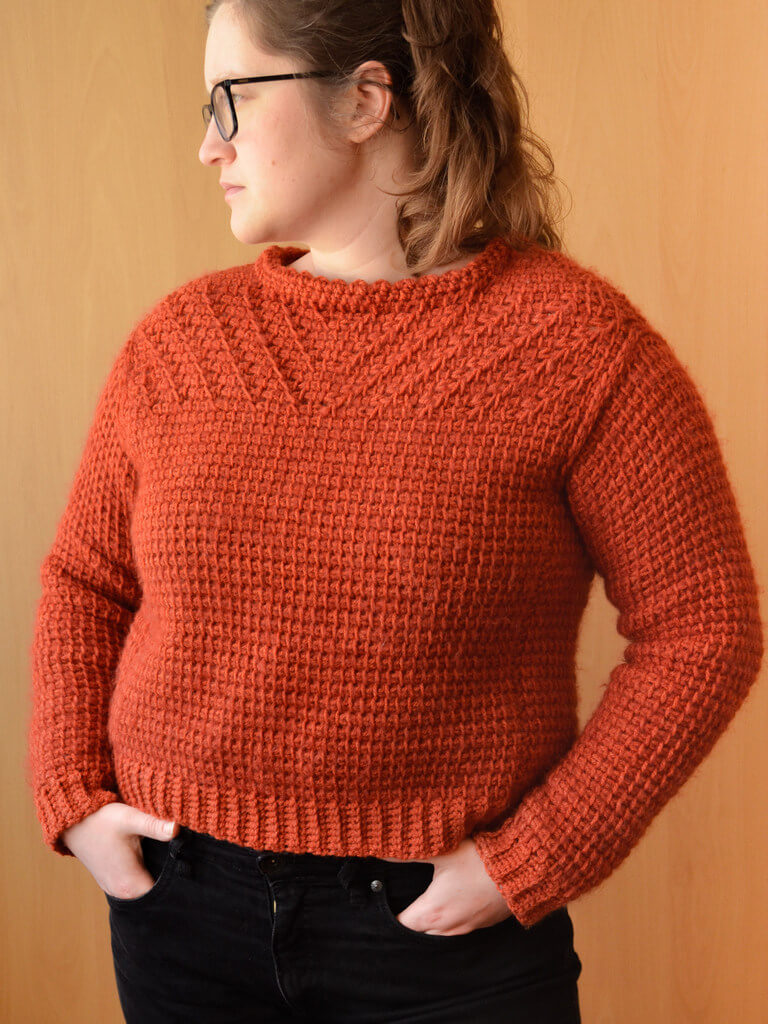 I held the yarn alongside a DK weight acrylic yarn (yes, now I know better than to make sweaters with acrylic yarn) and used an 8 mm Tunisian crochet hook to make the panels of the sweater.
The addition of the mohair yarn helped the acrylic glide smoothly over my bamboo hook and it gave the pretty tame yarn some more volume, so the stitches weren't as limp as they would be without the companion yarn.
I know this because I made the cuffs and the bottom rib in the acrylic yarn only and they didn't come out as nice as the rest of the sweater.
That being said, after two years or pretty intense wear, the companion yarn pilled. A lot, which is unfortunate, since this is one of my favorite me-made sweaters (it fits well and has no holes due to it being made with Tunisian simple stitches).
Getting the pills out is a challenge, as when I pull on one I feel like I'll break the whole companion yarn, so I try to refrain from pulling on them.
Cutting them with a depilling tool is not a great idea because of the texture of the fabric, which makes it difficult for the machine to reach the pills.
So I have to do it manually for the bigger ones at the under-arm area and other similar areas with lots of friction and leave the rest just be.
The sweater isn't as pretty as it was when I made it, but it's 100% functional and doesn't stink, which is unheard of when it comes to sweaters made of acrylic (acrylic + sweat + deodorant/antiperspirant is not a pretty mix).
Once I find the sweater (I put it away *somewhere* in spring and I can't find it, but it will probably surface in September), I will take a couple of close-up photos of the current state of the sweater and add them here.
The good news is that I did machine wash the item and it did not shrink or felt because it's mostly synthetic (but I should probably wash it by hand going forward).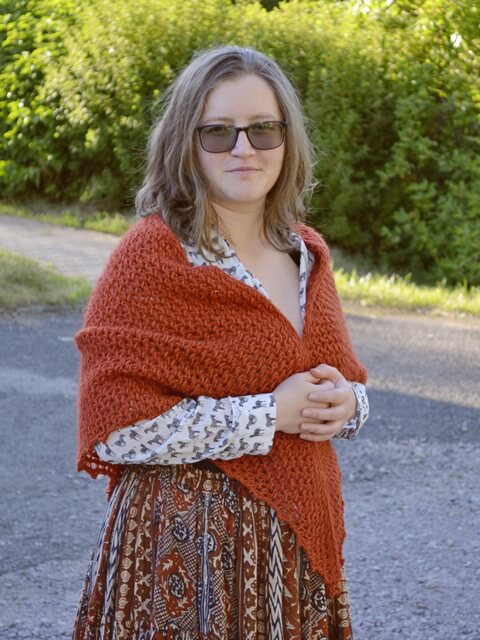 I used the same yarn combination to make a shawl for a friend from the yarn that was left over and I really loved how it came out.
Since it's not a garment and won't get the same kind of wear, this one should not pill as much and keep its beautiful halo for a long time.
In conclusion, despite the pilling, I'd still recommend that you do use Hobbii Diablo as a companion yarn for garments.
I have yet to use an actual kid silk yarn as a companion to say whether that would be a better fit for this kind of projects, given the price of this yarn (see below for price discussion).
Hobbii Diablo as a lace weight yarn on its own
Another type of project where I used Hobbii Diablo and have lots of experience with is lace.
I made a lace wrap in Tunisian crochet using only Hobbii Diablo yarn and a large hook (8 mm).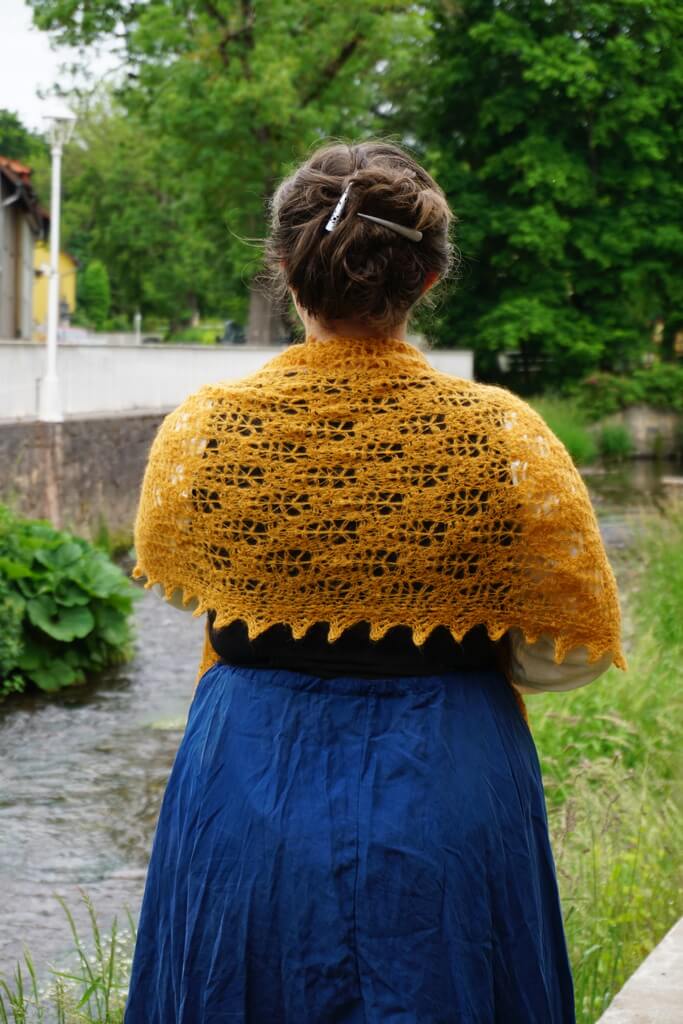 The pattern is available in my shop, you can read more about it on the dedicated page here.
Here I want to tell you about the experience of working with this yarn on its own, as compared to kid silk yarn, which I've also used in the same type of project, even though I don't have a pattern yet that uses kid silk (I frog a lot…).
When it comes to working with this yarn on its own with bamboo hooks, it works relatively easily. It glides on the hook and doesn't stick to itself, so there are no issues with picking up loops.
The core of the yarn is visible, so you can easily see where to insert the hook.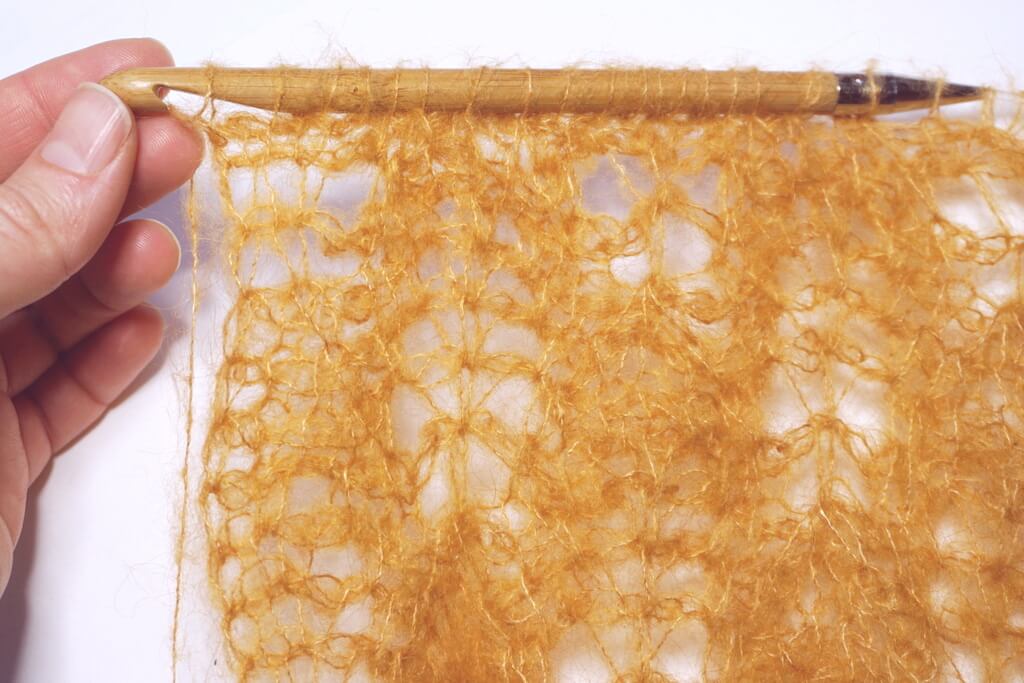 I tried multiple sizes of hook and they all work. In this project, I used an 8 mm bamboo hook with a cable for the body and a 6 mm regular crochet aluminum hook for the lacy border.
The fabric created by this yarn is quite flat and opens up nicely with a little steam.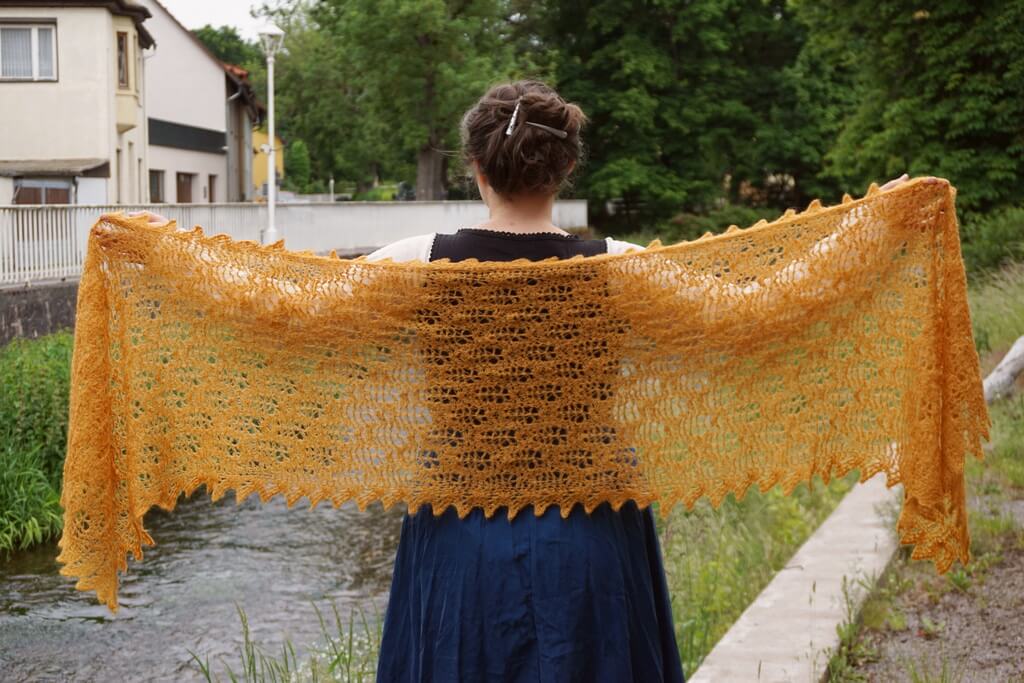 After steam blocking, you can see how well the eyelets show in the fabric and how much drape it has.
I will use the blue and white yarns for this kind of projects as well, since they work very well in a single strand with lace patterns.
Overall, I can recommend making lace projects with Hobbii Diablo even with an 8 mm hook, 3 mm larger than recommended on the label, which is well within the recommended hook size interval for Tunisian crochet.
Price of Hobbii Diablo versus kid silk yarn
When it comes to kid silk and other mohair yarns, the price is very important.
Usually the yarns come in small balls of 20 or 25 grams and you should calculate the price per length or weight rather than comparing yarns directly.
Hobbii Diablo varies in price depending on the day of the month. The base price is 6 euros per ball in Europe (that's 24 euros per 100 g or 900 meters).
Hobbii have such frequent price changes (they call them "sales", but it's all a marketing gimmick), that they send out a new sale for each type of yarn they carry almost every week.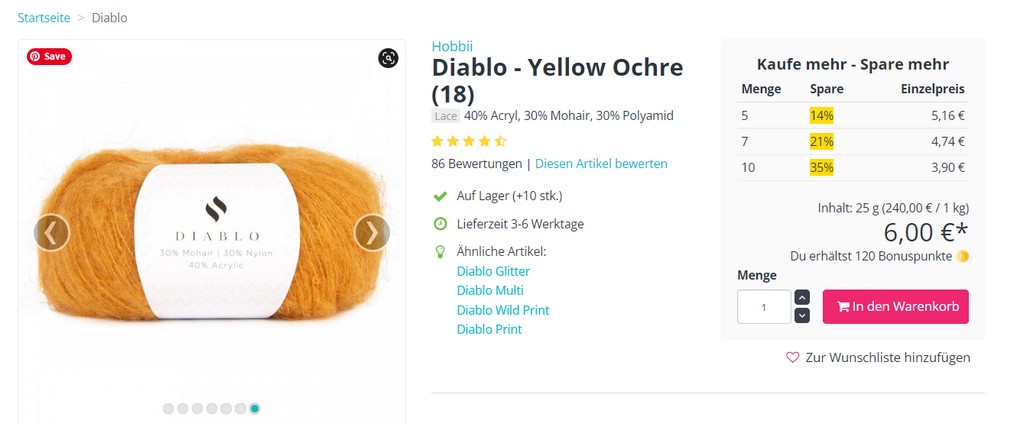 If you want to make a larger project that would require several balls, the good news is that you get a volume discount at 5, 7 or 10 balls, getting down to 3.9 euros per ball if you buy 10 of the same (that's 15.6 euros for 100 g or 900 meters).
If you wait for a sale, you might get it down to about 3 euros per ball (12 euros per 100 g), but you won't have the bulk discount anymore, so buying more will not drive the price down.
When I started writing this article, there was a sale, but I forgot to take a screenshot, I will do it next time it happens.
I will assume that the 3 euros per ball is the actual price that they are happy to sell at, so you should probably subscribe to their newsletter to know when the "sales" happen, if you want to buy this yarn.
As for a comparison between Hobbii Diablo and kid silk yarns, here is the reality.
Drops Kid Silk, a mix of mohair and silk, is available in 25 g balls at a little over 3 euros per ball. It has slightly less length, at 210 meters, but the difference is small. That's 12 euros per 100 grams or 840 meters of this 100% natural yarn.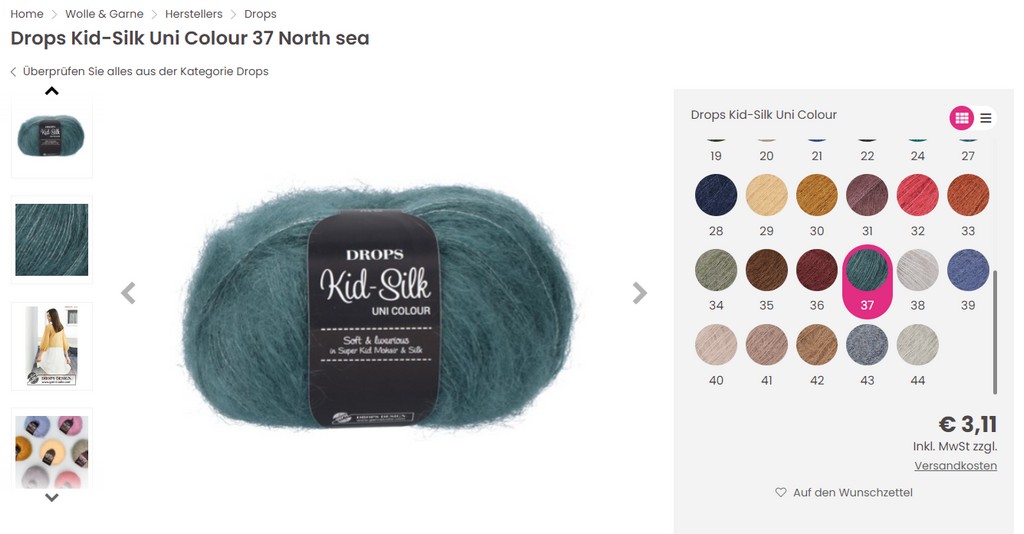 So if you can afford to buy Hobbii Diablo, I don't know why you wouldn't just get the kid silk.
Sure, there are more expensive kid silk yarns out there, like the Austermann (see above) that I bought from my LYS before knowing any better (no regrets, though, that's one of my most favorite yarns to work with, ever).
There are also fancy kid silks at upwards of 40 or more euros per 100 g, and hand-dyed versions, but those are luxury yarns that you buy for the brand, not the product.
If you want a mohair yarn with beautiful halo, large color palette and a good price, you're better off with Drops kid silk.
I honestly won't be buying Diablo again because it's just not worth it for now, but who knows what the future brings.
I will use up what I have in stash, though, don't you worry. In this household, nothing goes to waste.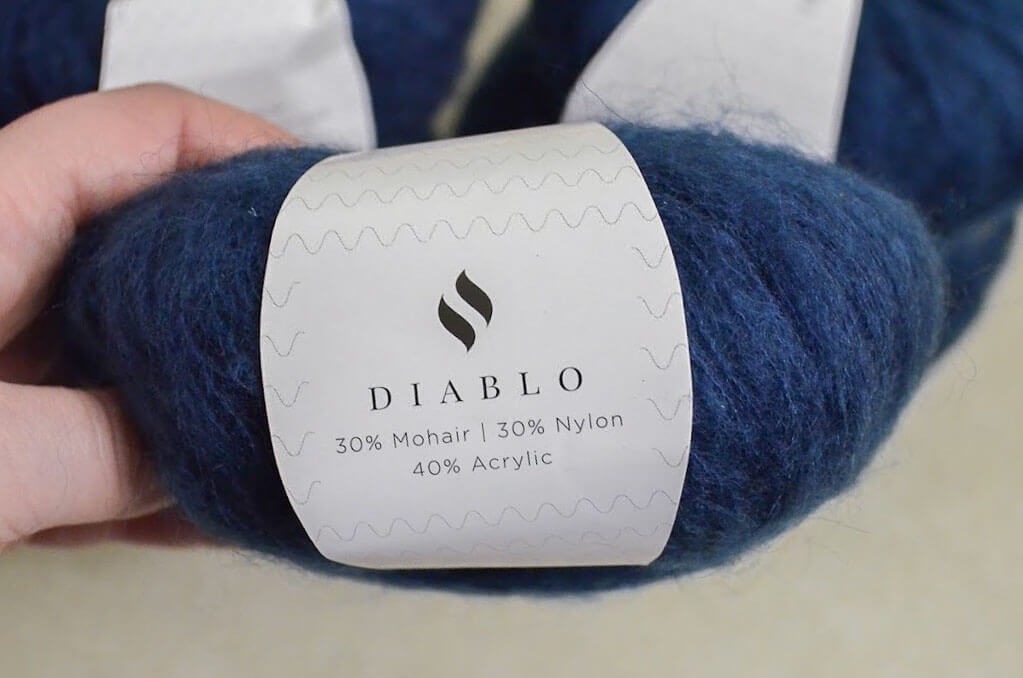 Frequently Asked Questions about Hobbii Diablo
If you still have questions, look through these FAQs and see if you can find your answer.
Does Hobbii Diablo yarn have a halo?
Yes, Hobbii Diablo yarn has a halo due to its 30% content of mohair or angora goat fiber.
What weight is Hobbii Diablo yarn?
Hobbii Diablo yarn is size 0 or lace weight, at 900 meters per 100 grams.
What hook size should I use with Hobbii Diablo yarn?
You can use multiple hook sizes with Hobbii Diablo yarn, from the recommended 4.5 to 5 mm up to 6 or 7 mm for a very airy fabric in regular crochet.
What Tunisian crochet hook size should I use with Hobbii Diablo yarn?
Depending on the type of project, you can use between a 6 mm and 8 mm Tunisian crochet hook with Hobbii Diablo yarn.
Does Hobbii Diablo yarn smell like animals?
Hobbii Diablo yarn doesn't have an animal smell, as far as I can discern. It is a highly processed yarn and mohair should not have a sheep smell, since it comes from angora goats.
Is Hobbii Diablo yarn vegan?
Hobbii Diablo yarn is not vegan, since it contains 30% animal fibers.
Is Hobbii Diablo yarn made of natural fibers?
Hobbii Diablo is only partially made of natural fibers, 30% animal fibers (mohair).
Can I machine wash items made with Hobbii Diablo yarn?
You should not machine wash projects made with Hobbii Diablo yarn, but rather gently hand wash without pulling or stretching too much and without wringing the project.
You can use the gentle cycle on the washing machine at 30°C or 86°F if you use the yarn as a companion to a stronger, thicker yarn, but expect pilling or felting.
Can I crochet with a single strand of Hobbii Diablo yarn?
Yes, you can crochet or knit with a single strand of Hobbii Diablo yarn, as it has a strong core.
Does Hobbii Diablo yarn come with variations?
Is Hobbii Diablo yarn affordable for low budget projects?
Yes, Hobbii Diablo yarn is affordable and a good choice for low budget projects.
Wrapping up
Now I hope you enjoyed this very thorough Hobbii Diablo review based on my experience on working with this yarn.
If you want to check out some more interesting articles from this blog, here's a list with crochet tips and tricks. Once the "yarn review" category grows with several more articles, I will link those from here.
Make sure you sign up to my email updates (see below) if you want to know when I publish the next pattern using mohair yarn, when I post the next review, when the next video is up or when there's the opportunity to get some free patterns (we all love free patterns).
I'll see you soon!
Hugs,
Andrea