Learn how to make stunning Tunisian crochet mosaic projects and how to read a mosaic Tunisian crochet chart.
A little about mosaic crochet in general
There are so many methods for working mosaic patterns in crochet, that you may be wondering why I'd even mention mosaic in Tunisian crochet. Well, the more methods we have for reaching similar results, the better, in my opinion.
Besides, with Tunisian crochet you don't have to worry about turning or cutting yarn at the end of every row. You don't have to overthink things and you also end up with a beautiful and soft fabric.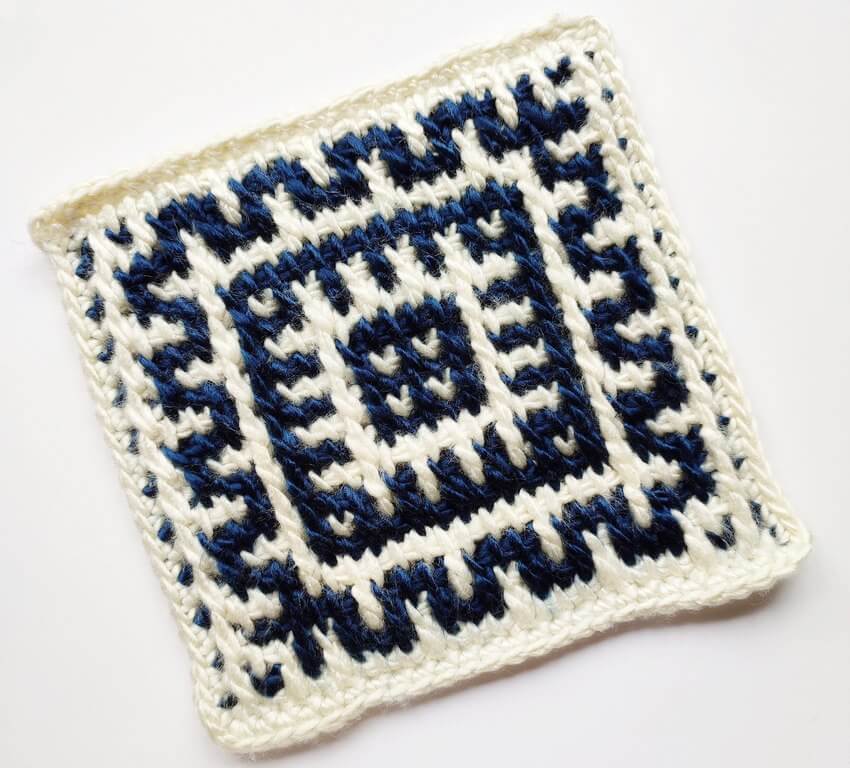 Mosaic crochet is known for being somewhat chunky and some methods require you to cut the yarn at the end of every row.
I really don't like that, as I feel it's a waste of time and yarn, plus you have to hide all of those ends somehow, which means you either have a bulky border on your projects, or you have to weave in an innumerable amount of ends.
Not for me, thank you. I did actually develop a method for working mosaic regular crochet without cutting the yarn, I'll have to refresh my memory and write another article all about that.
But this article is about mosaic patterns in Tunisian crochet.
A bit more about mosaic Tunisian crochet
You can use multiple colors for mosaic patterns, but you usually have two. The main color and the background. They are worked in alternating rows.
You could mix the up the colors in these two to add a bit of extra funkiness, but I recommend starting small, with two colors, or one color and a gradient.
The pattern can be either fully detailed or a chart. The chart can be made up of pixels, like in the case of most graph patterns, or they can be made up of symbols, which is what I prefer to use after I make the chart.
It is much easier to read a chart with symbols than a graph, as you can know instantly whether you should make a regular stitch or a tall stitch.
To read one of these charts, you start from the lower right corner. You have a plain row of MC (main color) and a plain row of CC (contrast color).
Then you continue with a second row of MC, where you may have tall stitches.
These tall stitches are worked two rows below. In Tunisian crochet, you may choose to use double stitches or front post extended stitches, which are worked around both vertical bars of the row of the same color, below.
The front post extended stitch was first proposed by Richard Gartland (Ravelry link) in our Advanced Tunisian Crochet group on Facebook and I really recommend it.
Here's a practical example, complete with a simple chart.
Work along with me on this little sample and you will get the hang of the technique.
Abbreviations
CC – contrast color;
Ch – chain;
FpTEs – front post Tunisian extended stitch;
Ls – last stitch;
MC – main color;
R – regular Tunisian crochet return; Ch1, YO and pull through 2 loops on the hook until 1 loop remains;
St – stitch;
Tss – Tunisian simple stitch;
How to read a mosaic Tunisian crochet chart
Refer to this chart throughout this tutorial.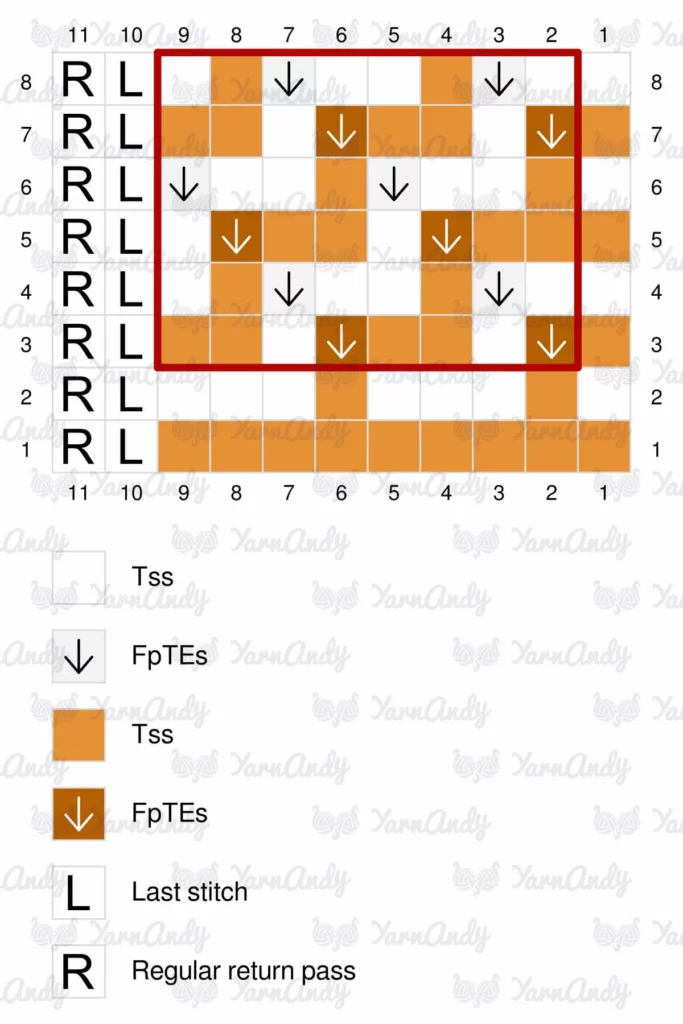 Row 1. Start with your favorite foundation, making 10 stitches (9 Tss and a Ls) in MC. Alternatively, Ch10, pick up 10 loops on the hook, going through the back bumps of the chains, R. Before making the last return stitch, switch to CC and finish the return pass with CC.
Row 2. Working with CC, make 9 Tss and Ls, R. Finish the return pass with MC.
In the photos below, MC is orange, CC is gray.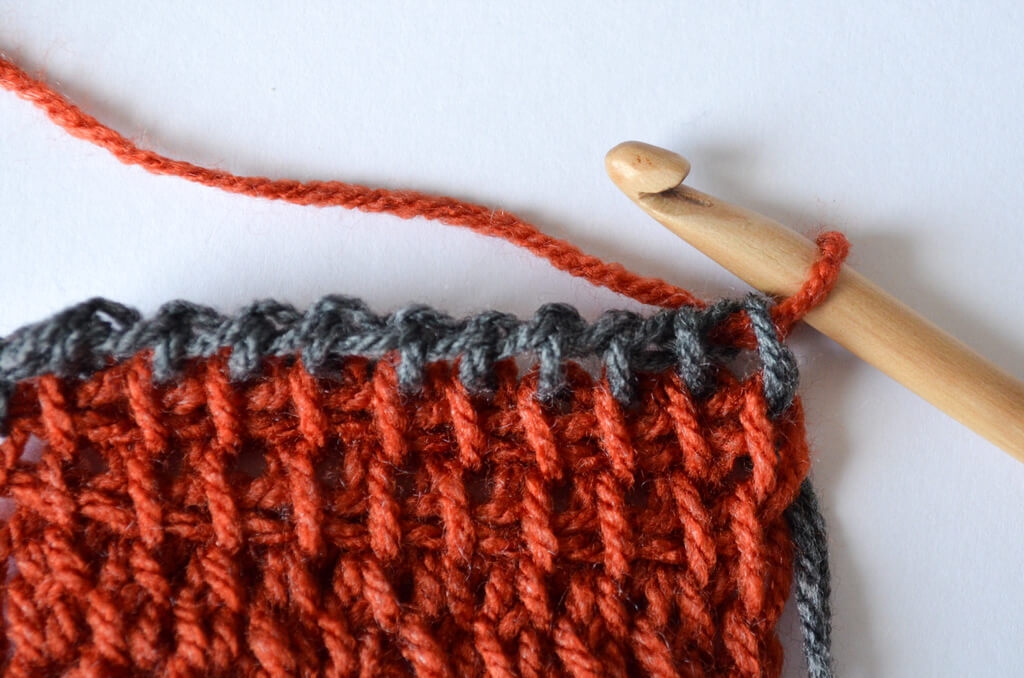 Row 3. Pick up a loop in the first stitch, to make 1 Tss.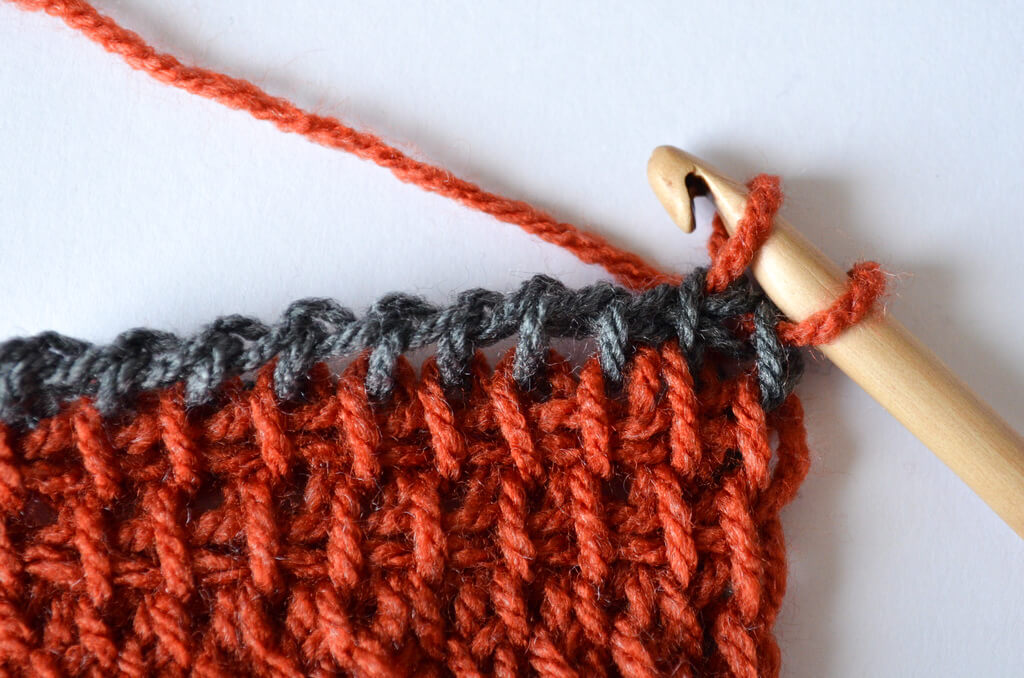 To make the tall stitch (FpTEs), insert the hook behind the two vertical bars of the next stitch, two rows below, not in the row directly under your hook.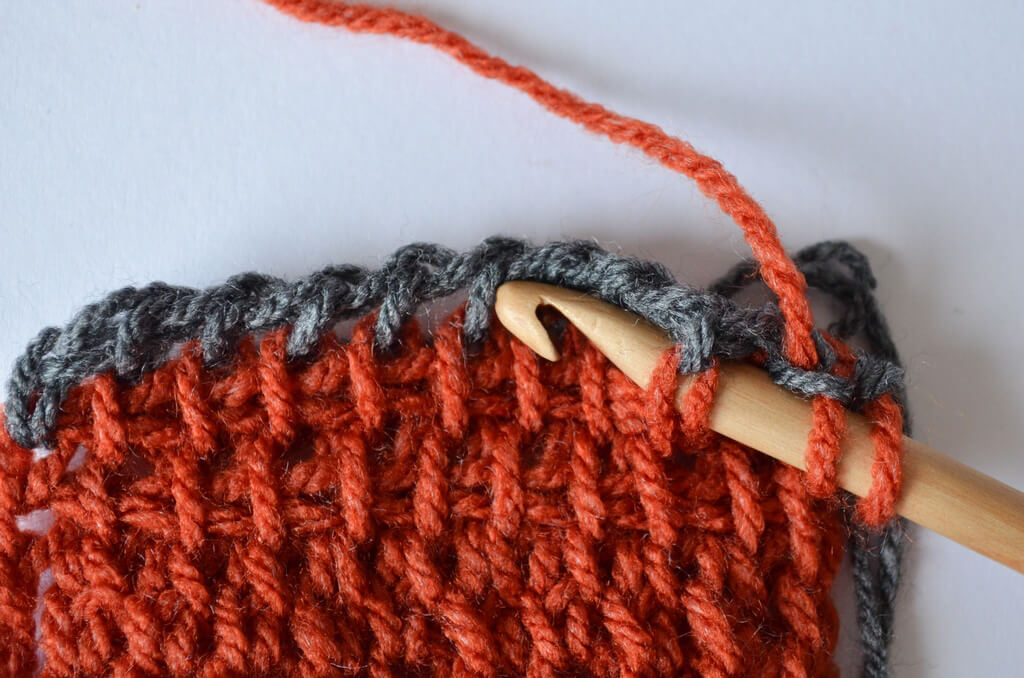 Pick up a loop, Ch1. Keep this loop on the hook. Tall stitch (front post extended simple stitch) made.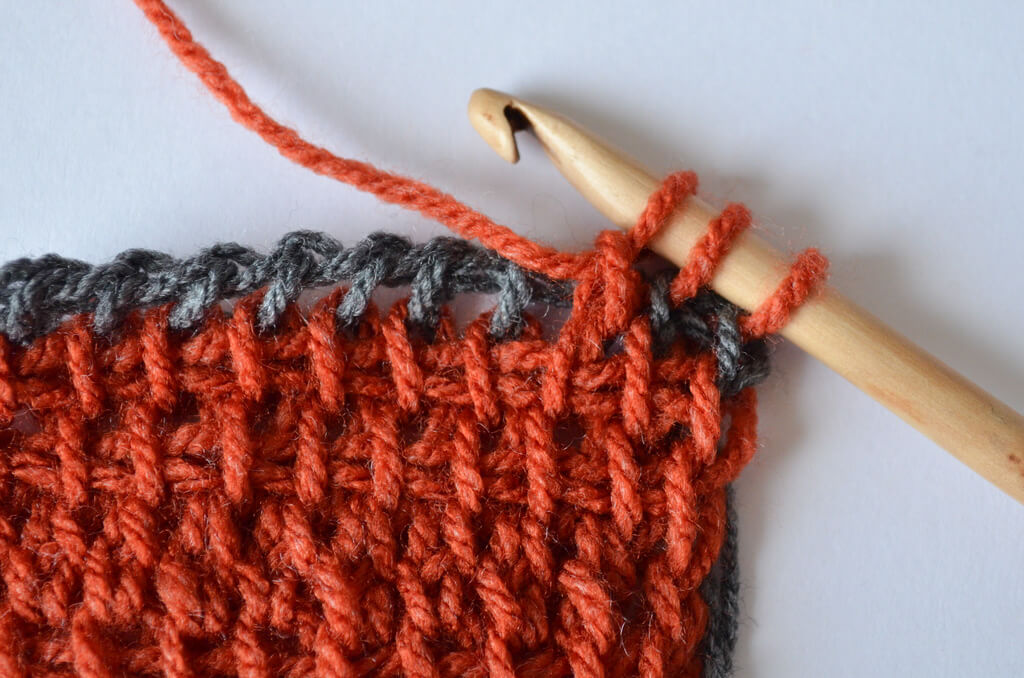 Pick up 3 more loops in the row directly under, to make 3 Tss, then one more tall stitch two rows below, then the last stitch as usual. R, with the last loop made in CC.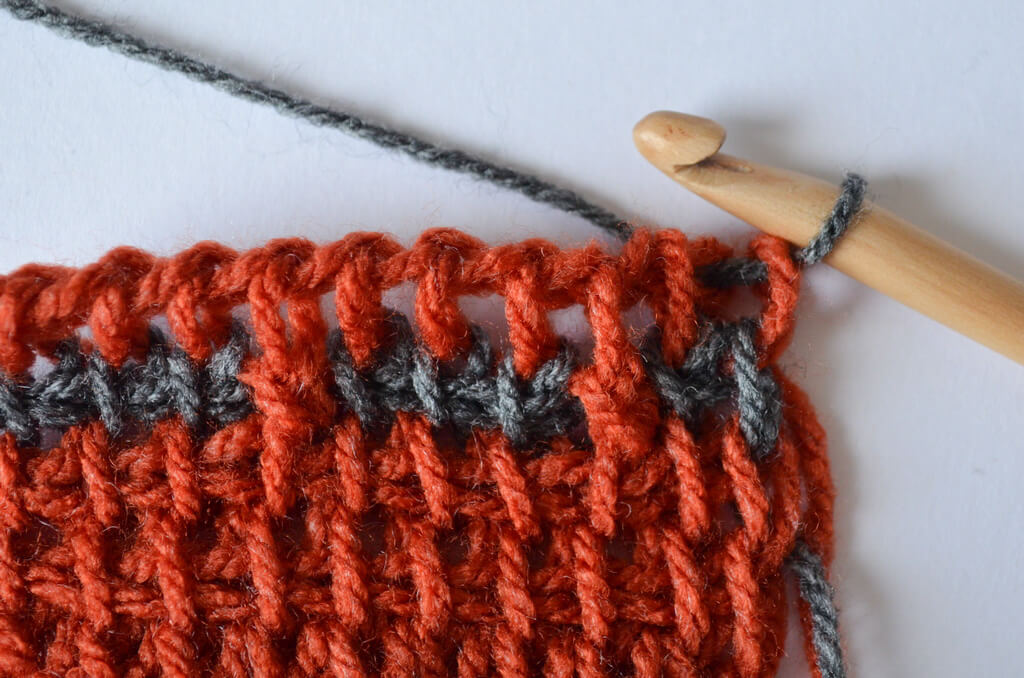 Row 4. Working with CC, pick up two loops.
Insert the hook behind the two vertical bars of the next stitch two rows below, Ch1.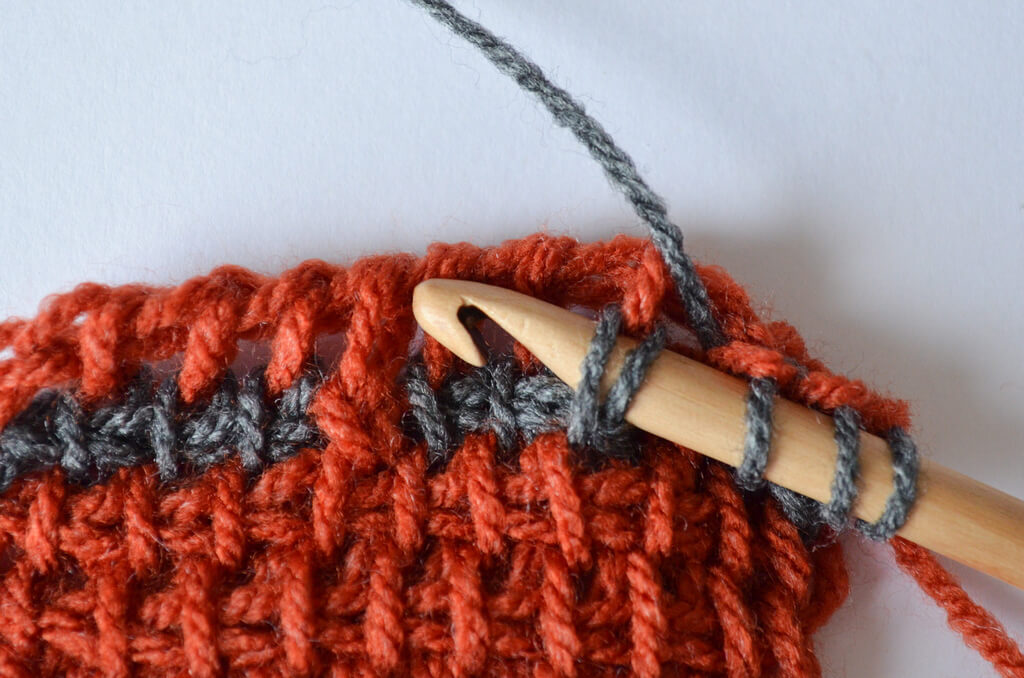 Front post extended simple stitch made.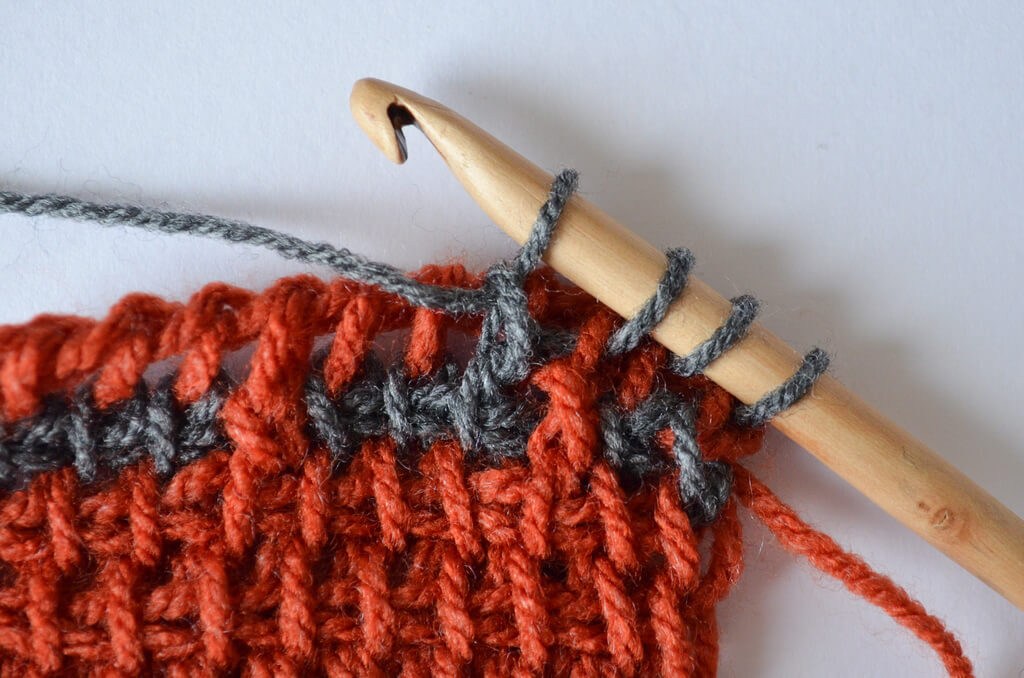 Continue in pattern: 3 Tss, 1 FpTEs, 2 Tss, Ls. R, finishing with MC.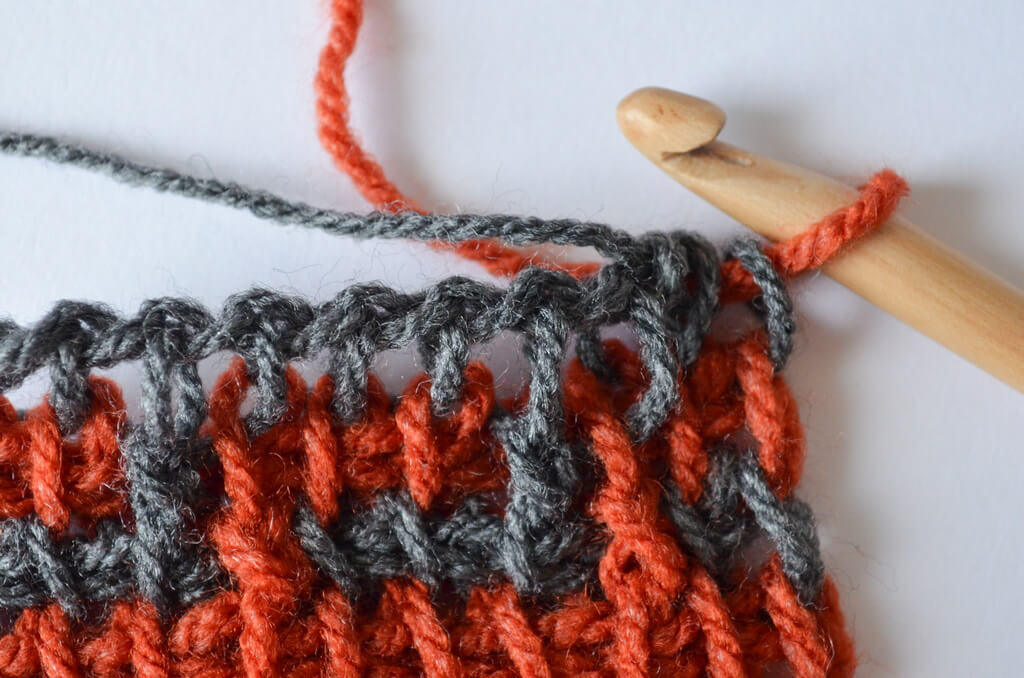 Row 5. Repeat [3 Tss, 1 FpTEs] 2 times, 1 Tss, Ls, R, finishing with CC.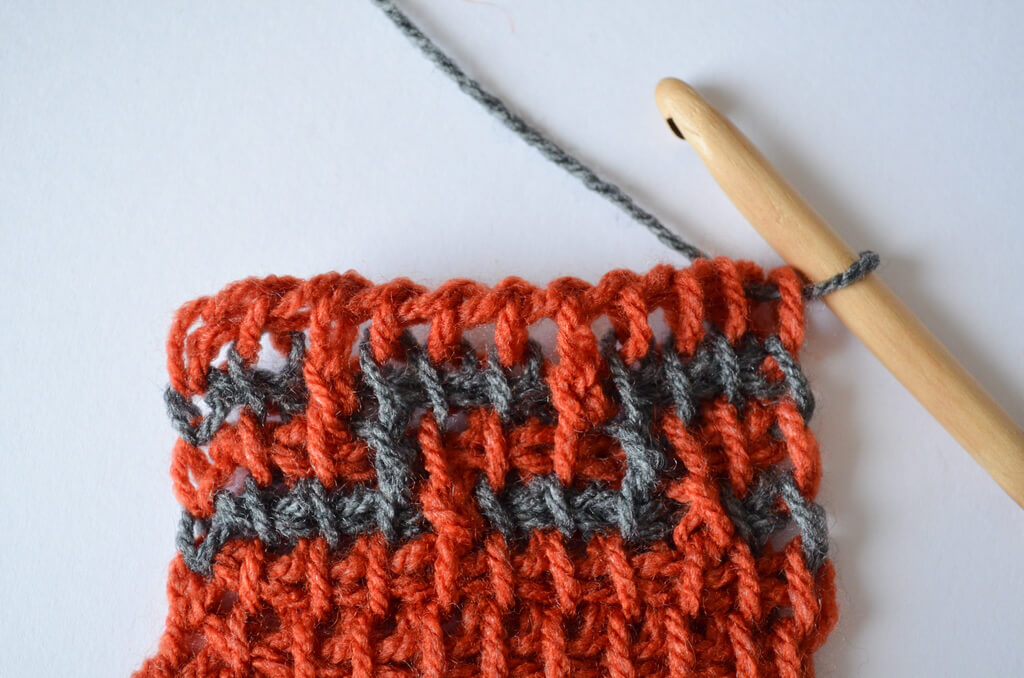 Row 6. 1 FpTEs, repeat [3 Tss, 1 FpTEs] 2 times, Ls, R, finishing with MC.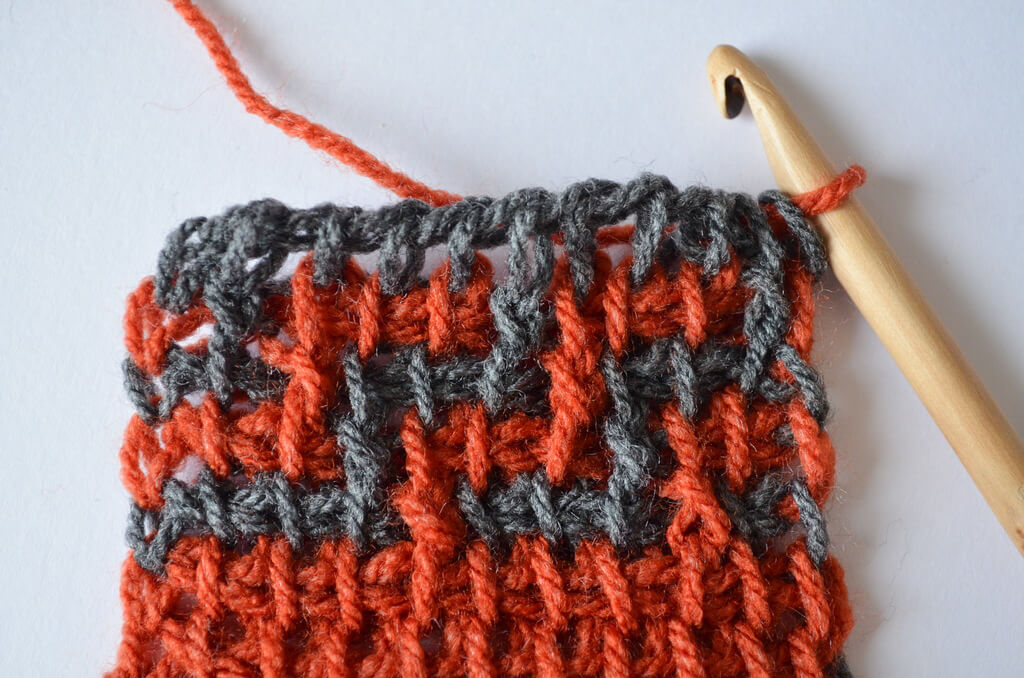 Row 7. 1 Tss, repeat [1 FpTEs, 3 Tss] 2 times, Ls, R, finishing with CC.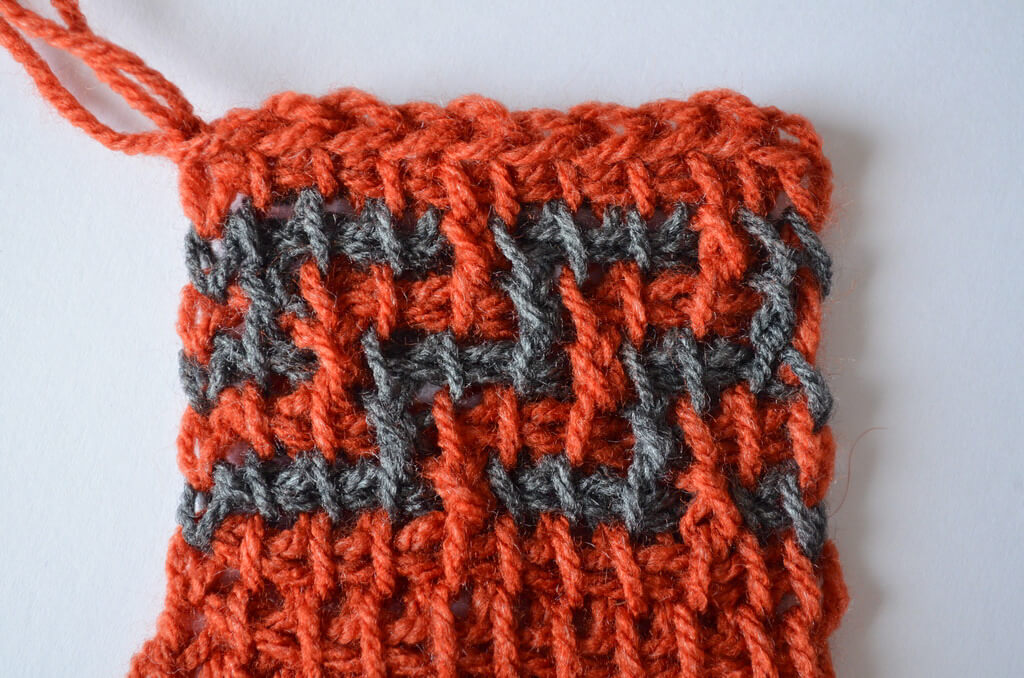 Row 8. 2 Tss, 1 FpTEs, 3 Tss, 1 FpTEs, 2 Tss, Ls, R, finishing with MC.
Repeat Rows 3-8 until you are satisfied with the length of your project.
In the photo above, I cast off after Row 7 to show you what the fabric looks like.
Video on how to make Tunisian crochet mosaic
I've prepared a video tutorial as well so you can learn how to read charts in Tunisian crochet mosaic.
Here's the video and below you can use the chart to follow along with the video.
Here's the chart, with the legend attached and a watermark too because folks like to share my work without attribution.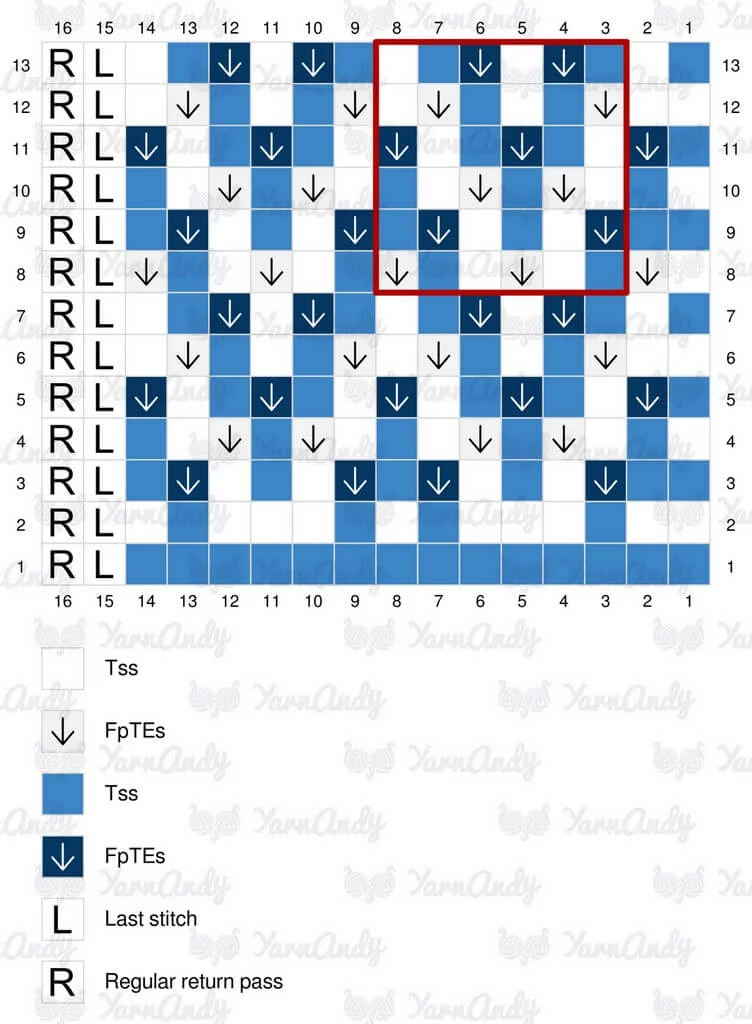 Final thoughts
I hope you enjoyed this tutorial on how to make mosaic Tunisian crochet projects and that you'll try your hand at making a few projects in this wonderful technique.
I'll be working up a few patterns and will let you know when they are available via my email updates, for which you can sign up here and get a PDF pattern too.
If you want to check out some more patterns and other Tunisian crochet techniques, here's a selection of the latest blog posts.
That's it for now, take care and I'll see you soon!
Hugs,
Andrea