Get ready for your next favorite pattern
How would you like to feel hugged by a wonderfully soft shawl this winter? Find some lovely DK or worsted weight yarn in your stash, pick up a Tunisian crochet hook and get busy making this wonderful Tunisian crochet shawl that will teach you the basics in Tunisian.
Come along with me on a journey to discover one of the most beautiful Tunisian crochet stitches, the honeycomb stitch.
It's as beautiful as it sounds and the best part about it is that it will make a flat fabric, one that doesn't curl on itself, as Tunisian simple stitch does, for example.
Once you make a few rows, the rest will flow on their own and you'll be able to enjoy this pattern as it works up into a gorgeous shawl.
Make one for yourself and make many for your friends, as this is a perfect gift for the coming winter season.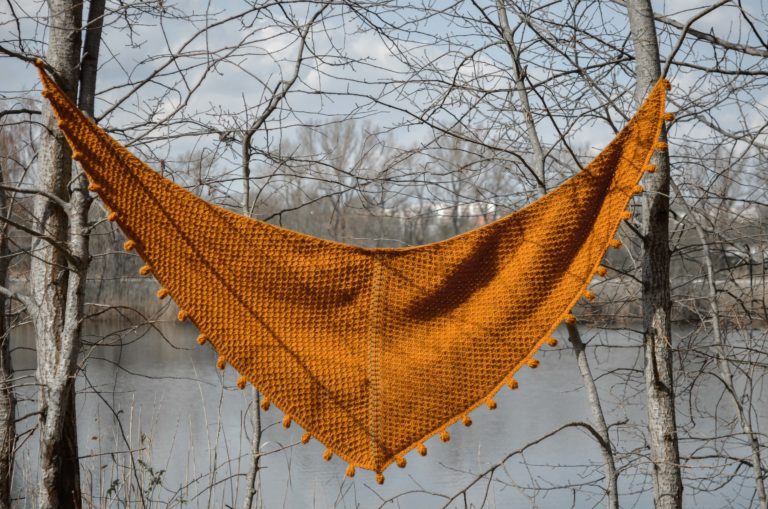 Materials
Yarn Any yarn in your stash, preferably a DK or worsted weight, with about 200 meters per 100 grams, wool or acrylic – about 650-700 meters for a shawl as big as the sample. Choose a yarn with at least a little bit of merino, alpaca or mohair in it, for a soft and luxurious shawl.
Hook Tunisian crochet hook with a cable – 8 mm or hook 3 mm larger than the one recommended for your yarn – longer cables are better for this pattern (60-100 cm).
Others Scissors and tapestry needle for binding off.
How to wear your Limonite shawl
There's no limit to how you can wear your Limonite shawl.
You can just wrap it around your shoulders, like a typical shawl.
You can also wrap it around your waist and tie a knot at the back, to free your hands and wear it as a wrap.
When out and about, you can wear this shawl as a regular triangle scarf, wrapped around your neck with the point in the front. The long sides can come to the front or wrap around once more for extra warmth and comfort.
Learn how to make this shawl by following the video tutorials
Right-handed video
If you've never done Tunisian crochet before or are unfamiliar with increasing in Tunisian crochet, you can follow along with the video instructions.
You'll learn how to set up the shawl, how to make the increases, how to create the textured pattern in the shawl and how to bind off, including the popcorn edging.
Left-handed video
If you are left-handed, a video is even more useful, since there are not many video resources available on Tunisian crochet for left-handed crocheters.
In this video, I've got you covered, as you can see how to make everything as in the right-handed video.
You'll find the Ravelry pattern page here, if you want to link your project to the pattern page.
If you have any questions or suggestions, please use the form below to write me an email. I'm always happy to help. 
If you want to explore other Tunisian crochet patterns, check them out here:
I very much hope you'll enjoy this pattern.
Hugs,
Andrea