How much do you like Tunisian crochet on a scale from 1 to 2?
Did you say 10? Me too!
Which is why I've been turning this idea of mine from the beginning of summer into countless things.
Use this Tunisian crochet coaster pattern to fill your house with little suns, to have a shiny little bit of sunshine under every cup.
Today I launch the second pattern in the series that should culminate in a sweater pattern (if I ever get to grading that beast) and it's meant to introduce you to the world of color-changing Tunisian crochet.
Every time I lift my teacup, there it is, a happy little sun shining out at me.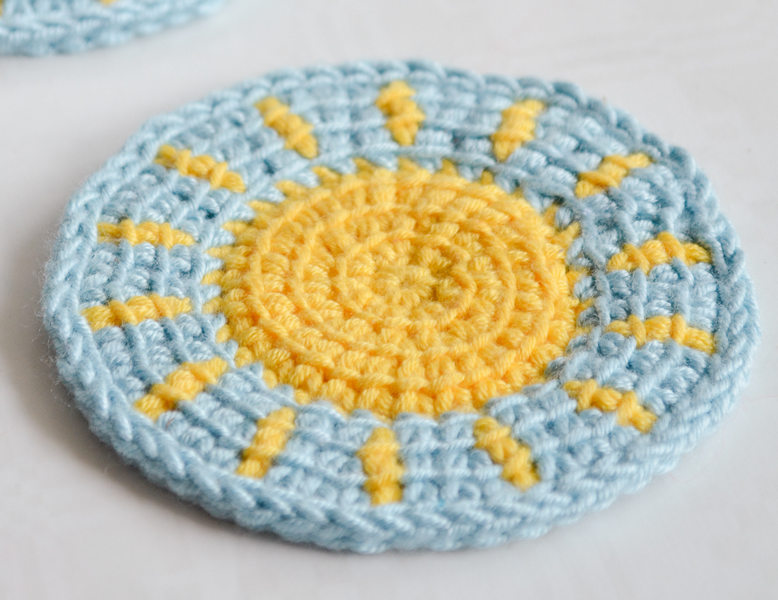 Development of this Tunisian crochet coaster pattern
We start easy, like in the face scrubby pattern, then we get on to the more complex, but also much more fun, colorwork.
It has taken me many hours and many prototypes until I could confidently release this specific pattern, as making a flat circle in multiple sections in Tunisian crochet is complicated business.
Get the numbers of rows wrong, you end up with a little hat (as in, not wide enough at the edges). Make the rows too long, the same. Use yarn that's too thick or a hook that's too small… you get the picture. It's a delicate balance of row numbers, row lengths, yarn weight and hook size.
So if you want to play around with the hook size for this pattern, I will not stop you, just be aware that most things will not work (trust me, I've tried them all).
And if you're ready to start making these babies, grab the pattern, some cotton scraps (I know you have them in your stash for just such projects) and a hook and let's get started!
You'll find the pattern PDF here:
You can also just follow along with the video, if you prefer that:
You'll notice the PDF version of this pattern isn't free any more.
What's going on?
Nothing much is going on, but since you can make the whole thing by following the instructions in the video, the PDF is a little bit superfluous.
Which means that you don't necessarily need it, but you could buy it if you want to support my work. That's all.
There will, of course, be other patterns and some will have the free option too, so keep in touch and sign up to my emails if you haven't already, that's where you'll be notified every time I publish something new (social media is pretty, but also mostly useless, as most of my posts there only reach 30% of my audience at best).
Check out below what Tunisian crochet patterns are already available:
See you soon with another pattern.
Hugs,
Andrea