Matching cowl and headband sets made with these Tunisian crochet patterns are great gifts for loved ones, be they little or not so much. The patterns come with 9 sizes for both a cowl and a twisted headband in the delicious Tunisian crochet honeycomb stitch. Videos and low vision versions are available as well. See below for the link to the pattern, free for 24 hours.
About the manna cowl and twisted headband Tunisian crochet patterns
What's the perfect winter accessory for people who like to be active, out and about in the cold and windy air? Shawls and hats might sometimes slip or move around, but headbands and cowls are sure to stay in place.
A cowl is great for wearing with winter jackets, as you can tuck it in or wear it over the collar. Make it shorter so there's no bunching for people who don't like thick layers of fabric around their necks, or make it longer so it can double as a hood on windy days.
The headband protects your ears, but is not as bulky on top as a hat, so it fits well under the hood of a winter jacket, keeping your ears toasty, while your head is free to move under the hood.
The beautiful Tunisian crochet honeycomb stitch creates a smooth fabric that doesn't curl, but has subtle and elegant texture. It's thick and insulating, like most Tunisian crochet stitches. It is perfect for this project, as it creates and strong, but pliable fabric.
Pair it with a size 4 or Aran weight yarn and you have a pair of quick projects that work up in a few hours.
The pattern comes with measurements and stitch counts for 9 sizes, from very little heads of 40 cm (15 3/4"), all the way to 64 cm (25 1/4"), so you can make this set for toddlers, kids of all ages, as well as adults with little or large heads.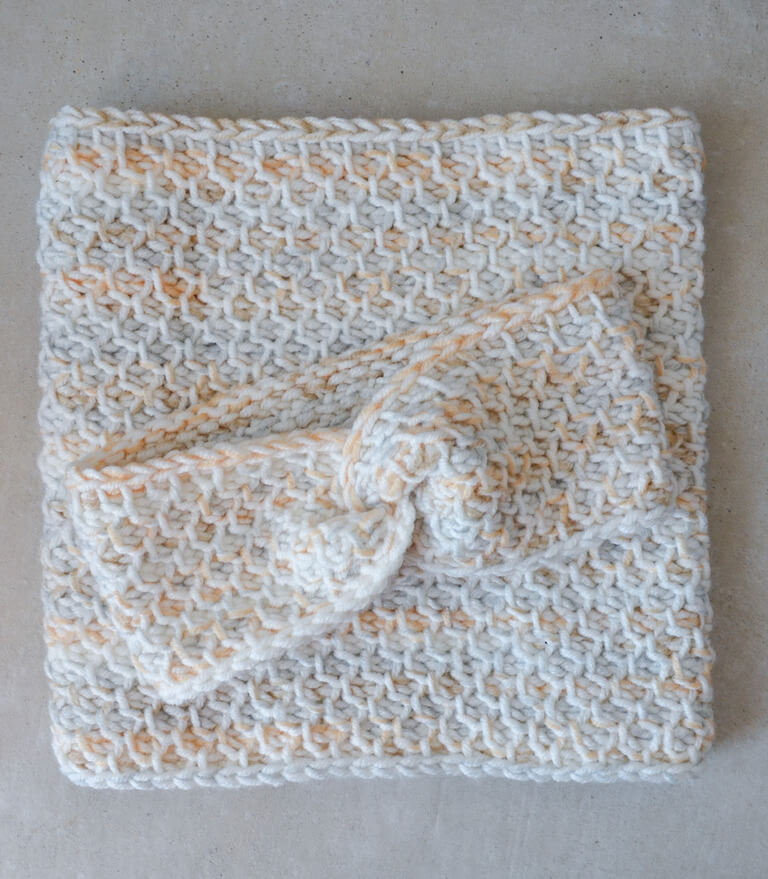 Skill level
Beginner in Tunisian crochet.
Observations
The PDF file includes two patterns with two different gauges for two items that are made from the same yarn.
All the items are worked flat and seamed at the end using one of two methods. Leave a long tail for seaming.
The cowls are worked with a looser tension and a larger hook to achieve a softer fabric that drapes and is comfortable around the neck.
The headbands are made with tighter tension and a smaller hook to achieve an elastic fabric that fits snuggly around the head.
If you want to substitute yarns, keep in mind that even the same hook will give a smaller gauge swatch with thinner yarn. This is the nature of Tunisian crochet. You can calculate the numbers needed for your size using the tables and the rule of three after you make a swatch.
The seaming methods are demonstrated in the videos linked above and in the photos on pages 9 and 10.
Repeat instructions can be found in [square brackets].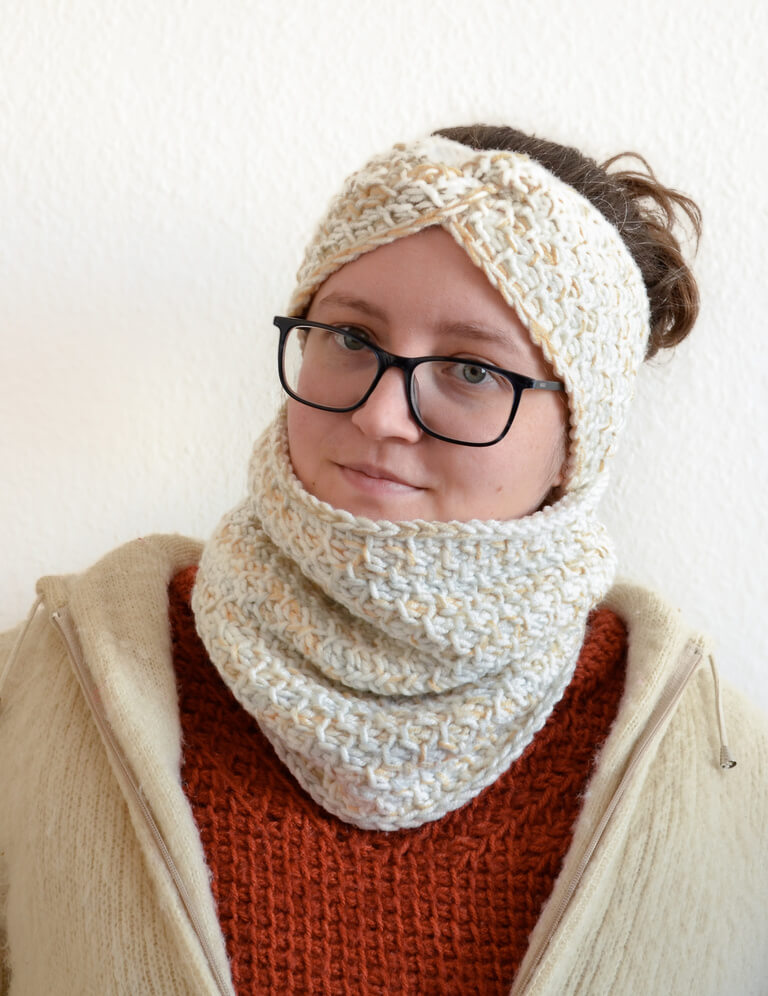 Size
Check out the two tables for head sizes and finished sizes for both cowls and headbands. The sizes range between head sizes of 40 and 64 cm (between 15 3/4″ and 25 1/4″).
Gauge swatch
Gauge measurements are provided for each pattern, at the beginning of the instructions. Only horizontal gauge is important here, since you work the height based on what you need (taller or shorter items).
Notions
Yarn: worsted weight or Aran weight yarn, with 120 meters per 100 grams or about 131 yards per 3.5 ounces; between 50 and 80 meters for headbands and between 100 and 240 meters for cowls (or more, if you intend on making them taller);
Hook – 8 mm and 9 mm Tunisian crochet hooks with cables or long hooks;
Tapestry needle;
Scissors.
Low vision version available
I'm happy to announce that I've been able to update the This pattern comes with a low vision version, which I prepared specifically for crocheters who need a specific format in order to use crochet patterns.
Here are the specifications in case you want to try out this pattern:
the main text is written in 24 point Arial font; 28 point and bold is used for headings;
black text on white background;
left justified text, 1 inch margins;
no columns;
page numbers on the bottom left part of the page;
no charts;
all abbreviations are explained in the list.
If you have any feedback regarding the low vision version of this pattern, I'm always happy to receive it.
If you'd like another one of my patterns in a low vision format, please let me know which. I'm trying to go through them all, but it will take a while.
Video tutorials
There are two video tutorials available for the two items.
One shows you how to make the Tunisian crochet honeycomb stitch pattern, which is used for both the cowl and the headband, while the other shows you how to seam up the headband with the pretty twist in the middle.
Here's how to make the cowl (follow the chain numbers in the pattern to get your desired size).
And here's how to finish up the headband. First make it following the instructions in the pattern for your desired size. When you want to seam it, follow along with the tutorial.
How to get the pattern
These Tunisian crochet patterns are available in my shop and on Ravelry (see buttons below). If you want other options, please let me know and I'll upload the files in other shops as well.
Here are other posts from my blog about Tunisian crochet.
Please subscribe to my emails also if you want to know when I publish more patterns and blog posts, to participate in testing calls, or to participate in other events where you can win free patterns or crochet supplies.
Happy crocheting and happy new year!
Andrea