Use this free Tunisian crochet pattern to make an autumn-inspired, soft and bubbly pillowcase for the pillow that you will never let go of in the cold seasons. I promise!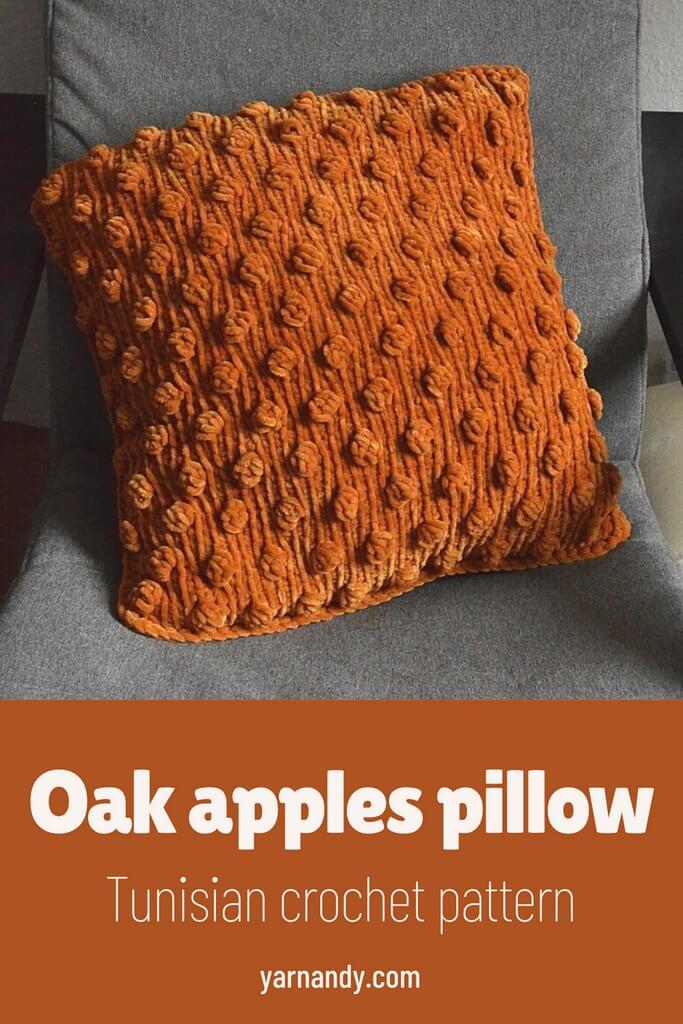 How much velvety texture do you need in your life?
If you're like me, then the answer is "All of it." and you would not even regret it.
This pillow brings together the velvety softness of baby chenille yarn the textures of bobbles and simple Tunisian crochet stitches.
It's a delight to touch and hug and pet, so it's the perfect throw pillow case for your armchair or couch. It's especially good for sensory seekers who need to touch soft things and yet have a bit of a three-dimensional texture.
Who is the Oak apples pillow for?
Just like other patterns that I've created before, this pattern is dedicated to those of us who need sensory input to relax. I made it because I loved the mix between the soft velvet yarn and the absolutely delicious texture of the bobbles.
I made it after trying out the same bobbles for a pumpkin pattern. I loved petting that pumpkin, so I knew I had to have a pillow-sized version (check out that pattern here).
One side is textured, the other one is soft and smooth. You can switch sides that you play with.
Make this as a present to an autistic or otherwise sensory seeking person and you will make their day/month/year. I'm not kidding. I even ended up sleeping for a while on this pillowcase.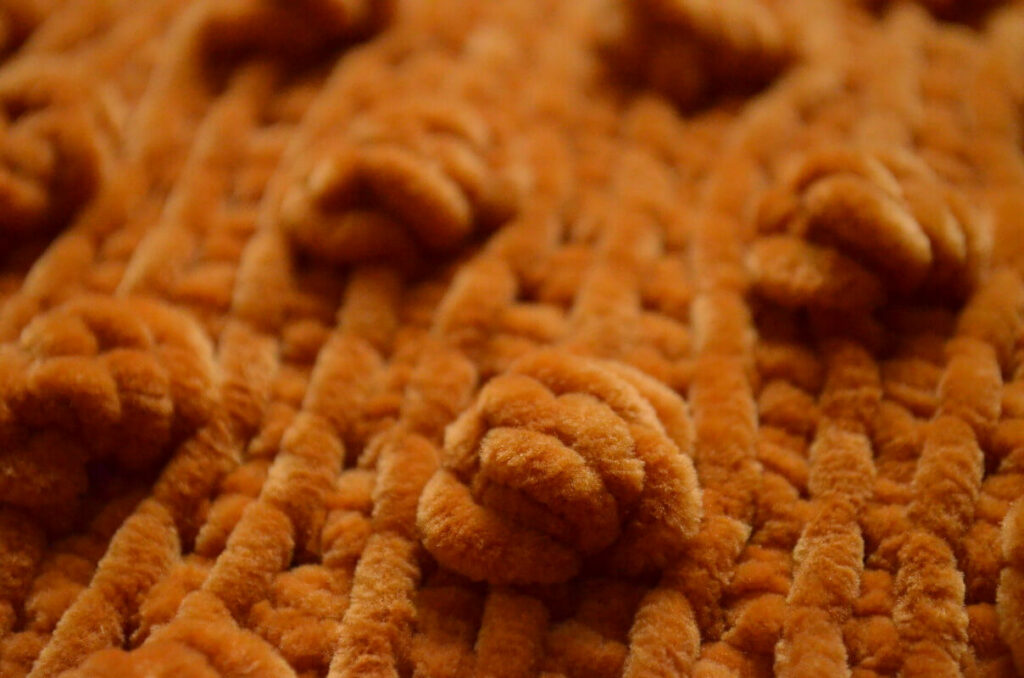 Size
The finished pillowcase fits a 50 cm by 50 cm pillow or 19.5 by 19.5 inches, with 5 cm or 2" negative ease (for fluffing up the pillow).
Skill level
Experienced beginner or intermediate, due to popcorn stitches.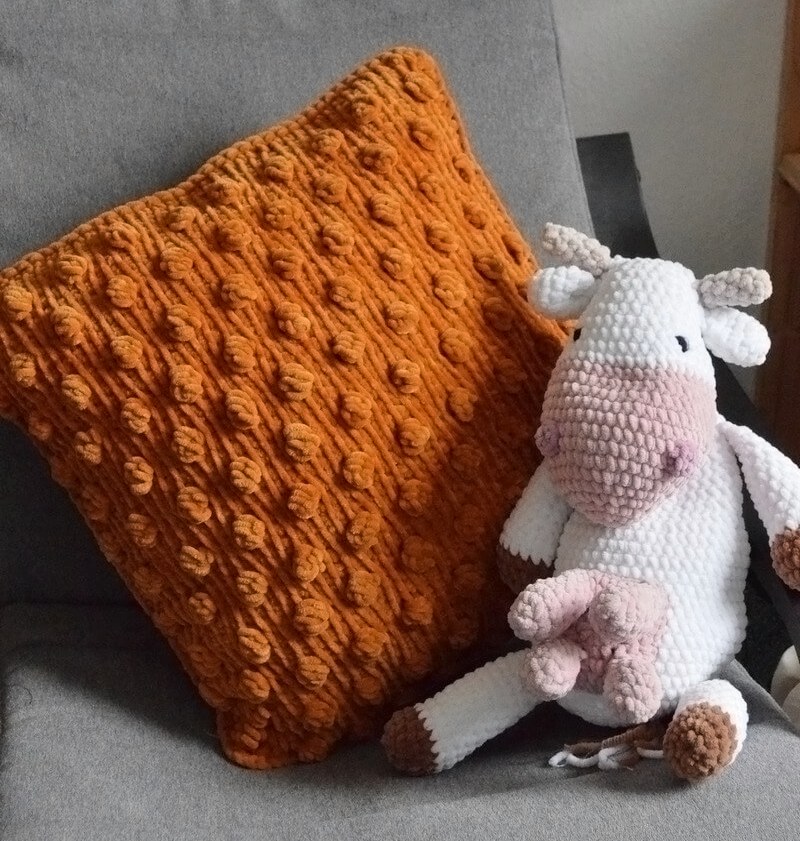 Notions
Yarn: chenille yarn such as Himalaya Dolphin Baby or an alternative (find yarn substitutes here: https://yarnsub.com/yarns/himalaya_yarn/dolphin_baby); the yarn weight is 6 or super bulky/super chunky, at 120 meters per 100 grams; the recommended hook on the label is 4.5 mm; about 300 grams or 360 meters;
Hook – 7 mm hook – straight Tunisian crochet hook or hook with a cable;
Pillow – 50 by 50 cm or 19.5 by 19.5 inches pillow insert;
Tapestry needle;
Scissors;
Optional: 3 pairs of snaps, sewing thread and needle.
Gauge
Make a swatch to ensure that your pillowcase will fit your pillow. The swatch consists of 6 rows of 9Tss (including the last stitch). The resulting rectangle should be 10 cm by 8 cm or about 4 by 3 inches.
Stitches and other abbreviations
Tunisian crochet stitches
Ch – chain;
Ls – last stitch – put hook through the 2 vertical loops at the end of the row, YO and pull up a loop;
Pop – Tunisian popcorn stitch – work 4 extended simple stitches or 4 double stitches in the same stitch; YO and pull through 4 loops on the hook or wait until the return pass, where you YO and pull through 5 loops on the hook when you reach the popcorn stitch;
R – regular Tunisian return: Ch1, repeat [YO and pull through 2 loops] until 1 loop left on hook;
Sl St – slip stitch;
TDs – Tunisian double stitch – YO, insert hook behind vertical bar of next stitch, pull up a loop, YO and pull through 2 loops on the hook;
Trs – Tunisian reverse stitch – insert hook behind the back vertical bar of the next stitch and pull up a loop;
Tss – Tunisian simple stitch – insert hook from right to left behind the next vertical bar, YO and pull up a loop;
YO – yarn-over.
Regular crochet stitches
| | | |
| --- | --- | --- |
| US term | UK term | instructions |
| Sc – single crochet | Dc – double crochet | pull up a loop, YO and pull through 2 loops on hook |
Observations
The pillow is worked in one piece and seamed all around with regular crochet stitches.
The regular crochet instructions are written both in UK and US terms.
There are photo instructions for assembly on the last pages of the pattern.
The abbreviations list includes links to specific Tunisian crochet stitches that you may be unfamiliar with.
Instructions
Row 1. Ch 41, 40 Tss, Ls, R
Row 2. 40 Tss, Ls, R
Repeat Row 2 another 34 times.
Row 37. Ch1, 40 TDs, Ls, R
Row 38. 40 Tss, Ls, R
Row 39. Repeat [3 Tss, 1 Pop] 10 times, Ls, R
Row 40. 40 Tss, Ls, R
Row 41. 40 Tss, Ls, R
Row 42. 1 Tss, repeat [3 Tss, 1 Pop] 9 times, 3 Tss, Ls, R
Row 43. 40 Tss, Ls, R
Repeat Rows 38-43 another 5 times.
Row 74. Ch1, 40 TDs, Ls, R
Row 75. 40 Tss, Ls, R
Repeat Row 75 4 more times.
Row 80. 40 TRs, Ls, R
Add more rows if you want the flap to be longer.
Cast off by making slip stitches in the back vertical loops of the stitches, as if to make TRs, but instead of keeping the loops on the hook, you slip them.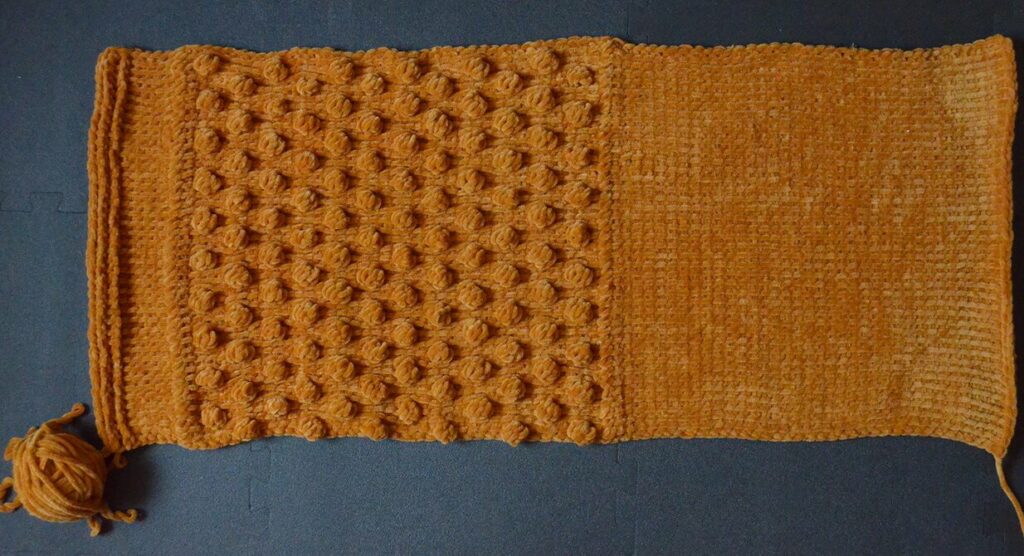 Do not cut the yarn once you reach the end of the row, as you will use it to seam up the pillowcase.
Weave in any ends that you have from adding yarn, making sure they can't worm out (work over at least 5 cm forwards and backwards 3 times).
Fold up the piece along the two rows of double stitches. Use safety pins to keep the layers in place until you finish the assembly. Using the same hook, make Sc stitches around the edge of the pillowcase, going through either 2 or 3 layers, picking up both loops of each stitch.
When you reach the edge with double stitches, make Sc stitches in the horizontal loop between the stitches.
This will create a beautiful edge along all the sides of the pillow.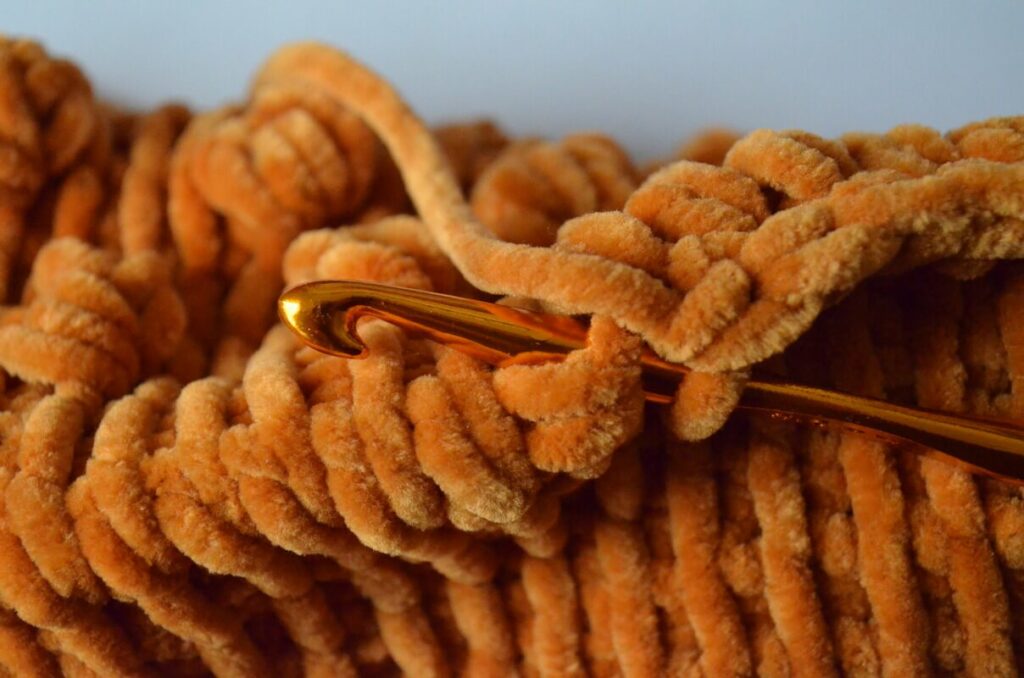 When you reach a corner, make 1Sc, Ch1, 1Sc in the same corner spot.
When you reach back to the beginning, all around the pillowcase, cut off the yarn and make an invisible join, then weave in the last end.
Optionally, sew three pairs of snaps, spaced 10 stitches apart, to keep the pillowcase closed.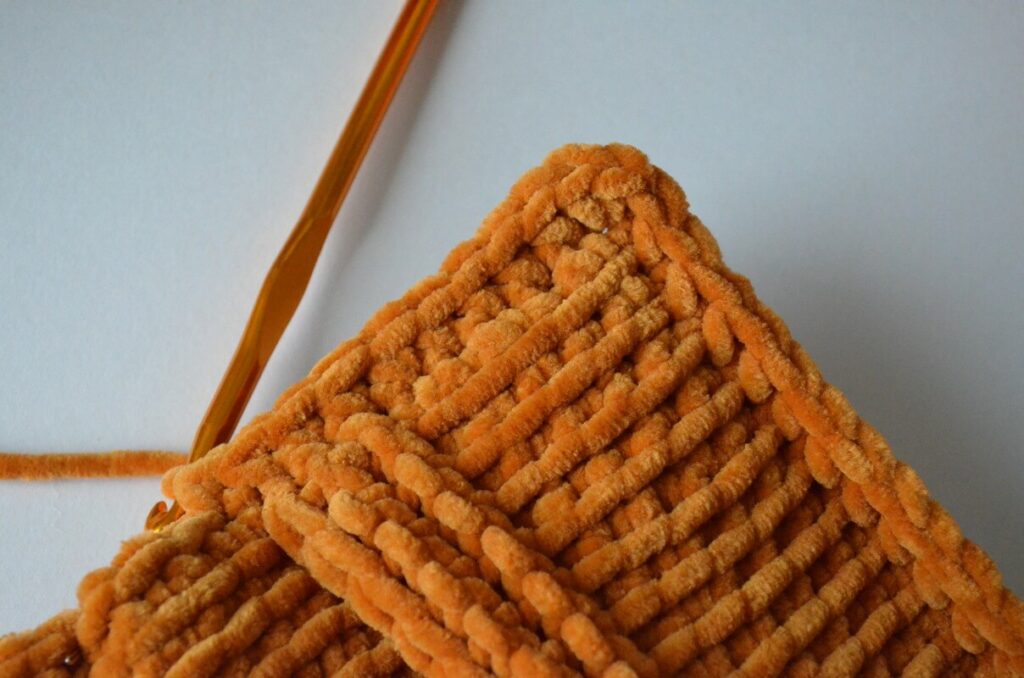 Sew each snap side 10 stitches apart from the others and from the edges, like in the image.
The snaps on the bottom are sewn on row 6 and the snaps on the top on row 80.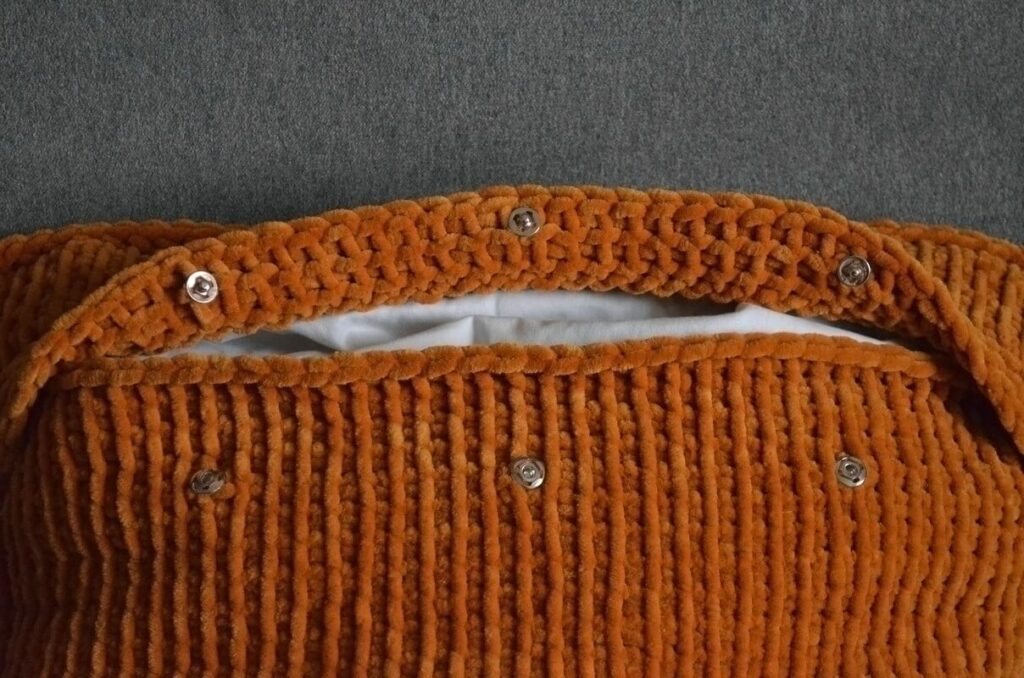 Now your pillowcase should be finished and you can insert the pillow. It should fit snuggly and make the pillow fluff up.
Video for the Tunisian crochet bobble stitches
You can also follow along with the video tutorial, if you prefer it. Click on the thumbnail to go to YouTube and follow along with the tutorial.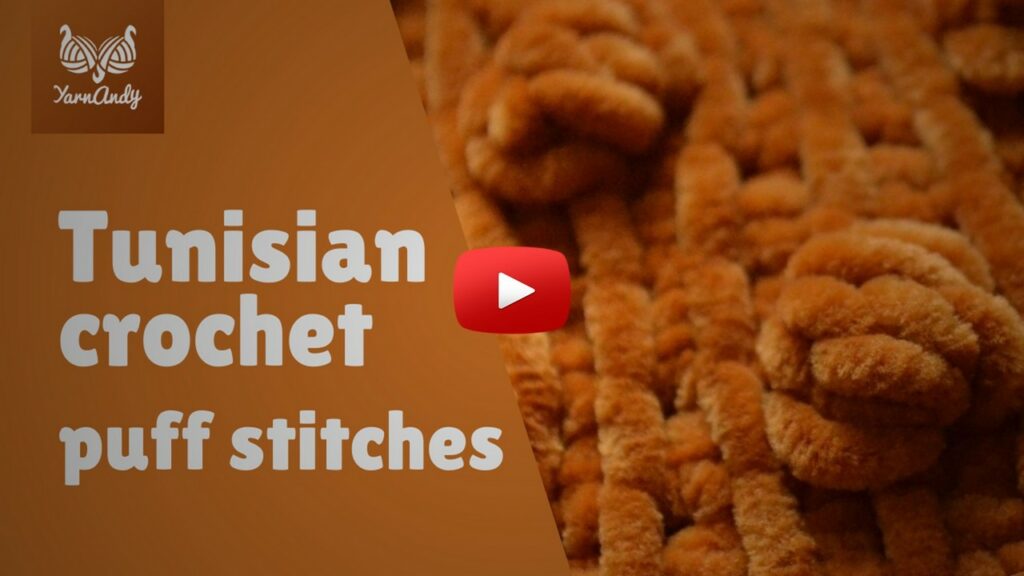 Final thoughts
If you like this pattern for a Tunisian crochet pillow and would like to support me in creating more patterns, please consider buying a PDF copy from the product page (or from Payhip, Etsy or Ravelry).
If you use Ravelry, you can add it to your project queue or make a project page and link it with the pattern page, so I can see what you make.
Keep close and sign up to my emails if you haven't already (you'll get a nice pattern too).
If you want more Tunisian crochet patterns, check these out:
I'll see you soon.
Hugs,
Andrea