Do you like making crochet wings? This Tunisian crochet feathered capelet is for you. Read on about the design process and where to find the pattern.
This article includes affiliate links, which may make me a small commission at no cost on your part, if you make any purchases using my links.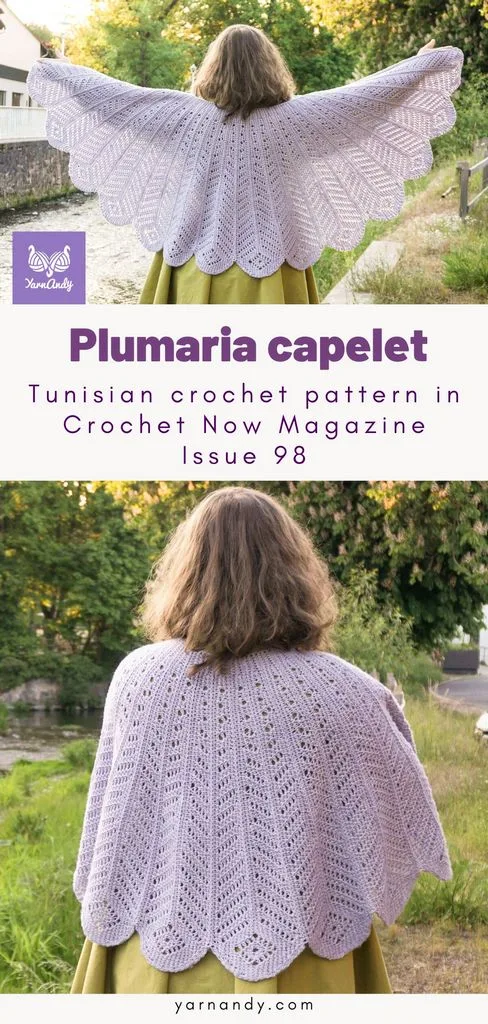 Why Plumaria?
You know I like wings, feathers, plumes.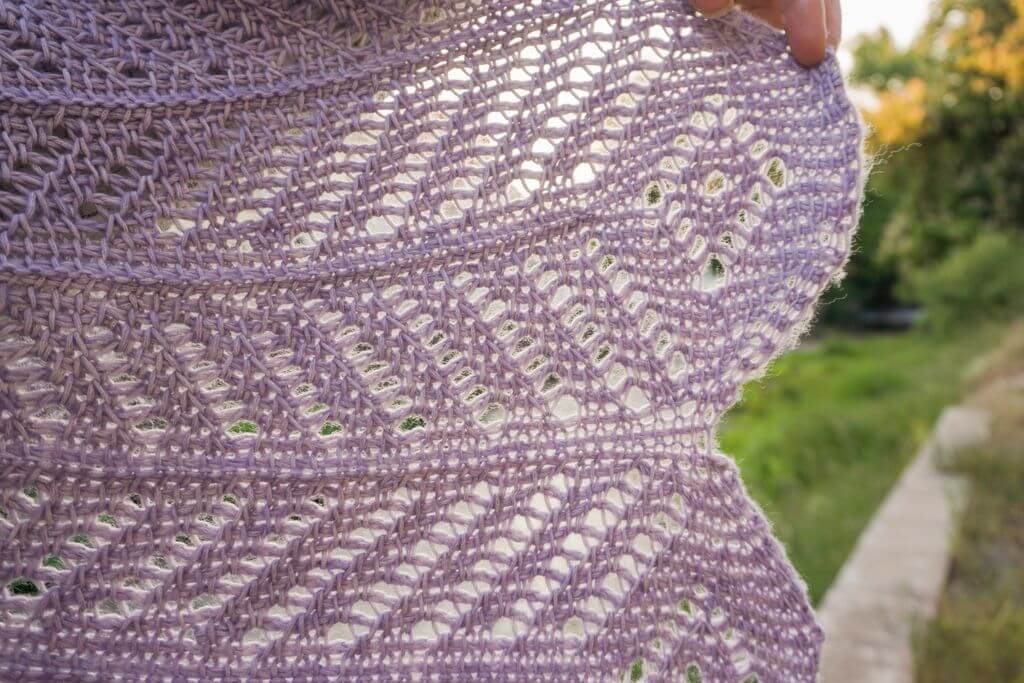 Creating designs that are inspired by the shapes of feathers and wings is something that started for me several years ago and it's still going strong.
Here are some examples of my already published designs inspired by wings and feathers: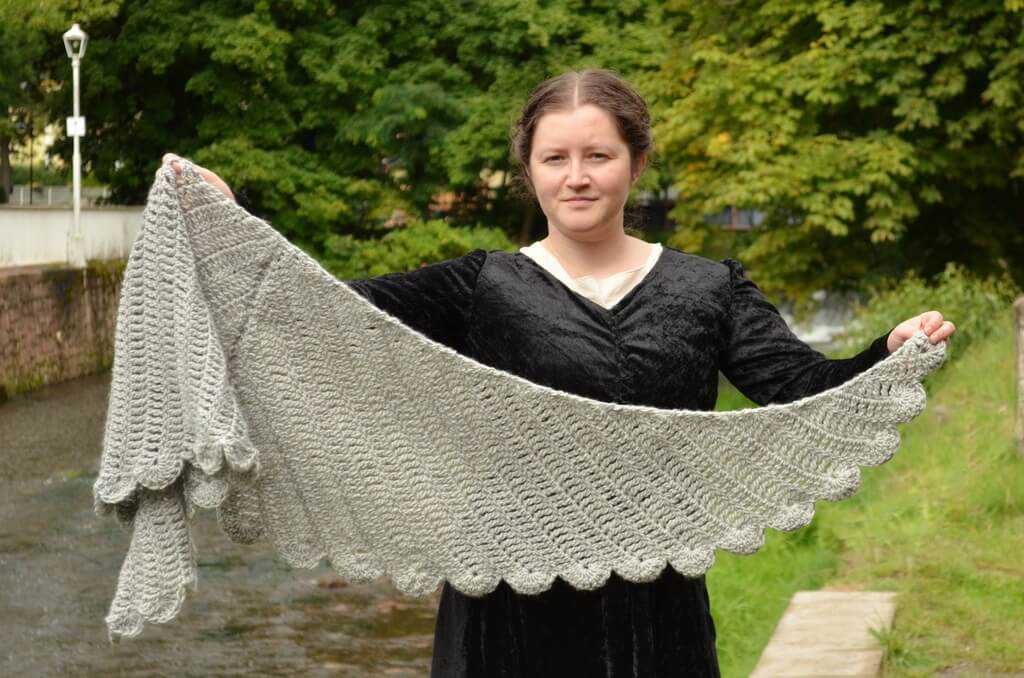 This is the latest installment in what will hopefully become a large collection of wing-shaped shawls and other accessories, both in regular crochet and Tunisian crochet.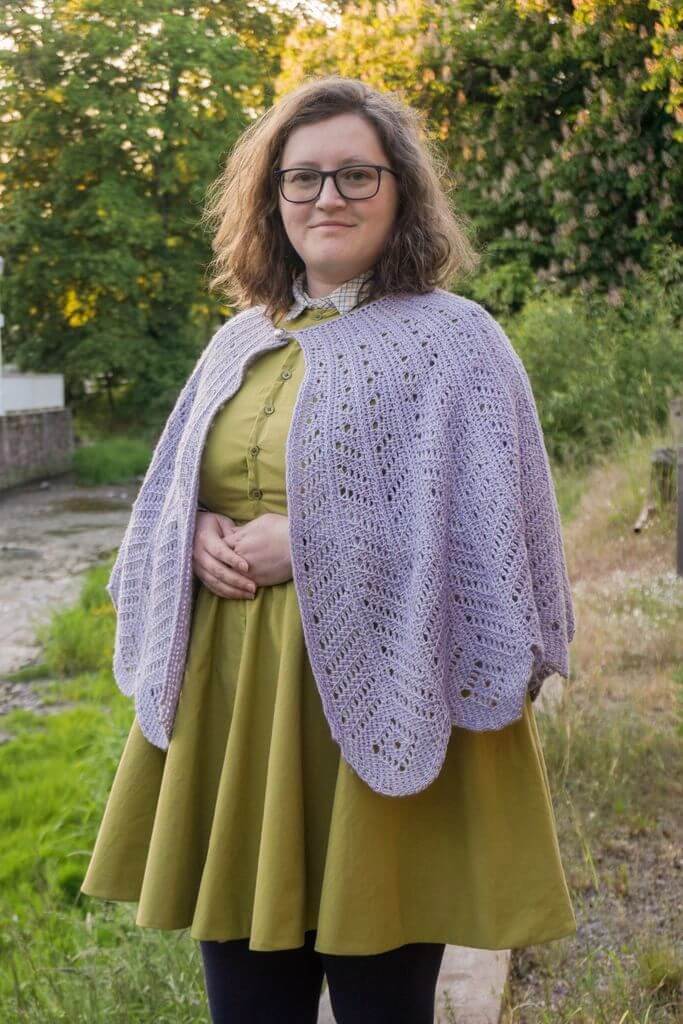 It's called Plumaria because it is made of wide, light and lacy feathers, and I wanted it to rhyme with Fragaria, my other design that was featured in a magazine this year.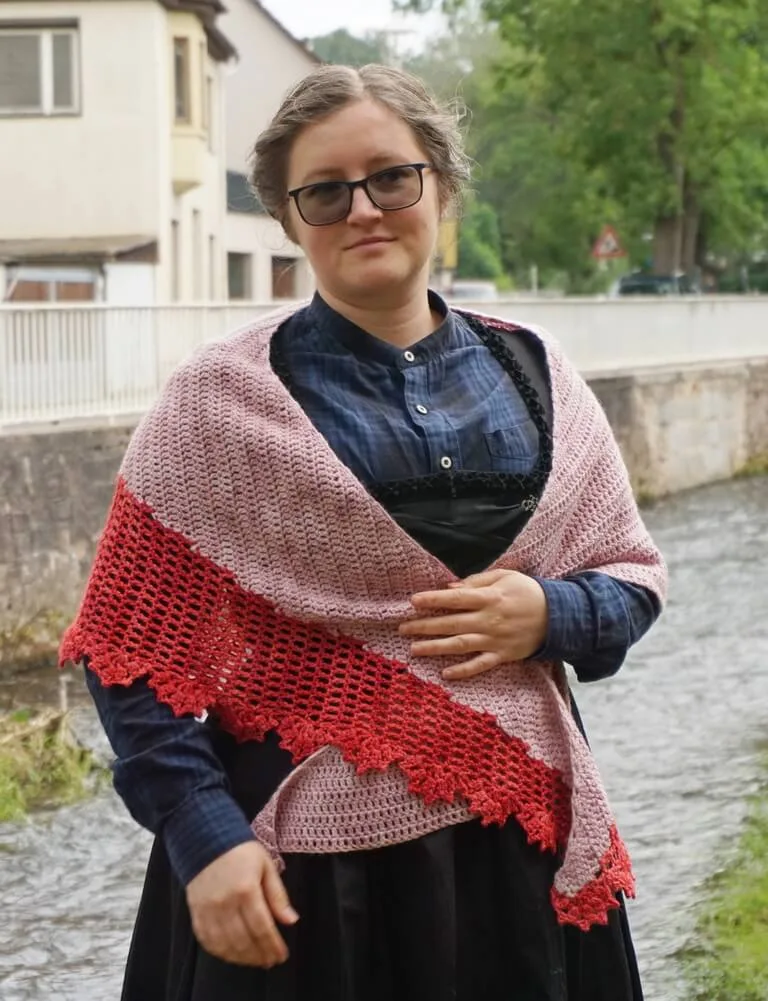 I should probably write a blog post about that one as well.
Besides them both being designed for magazines that originate in the UK, there's nothing else they have in common.
Plumaria is an intermediate Tunisian crochet pattern with a sideways construction and short rows used for shaping.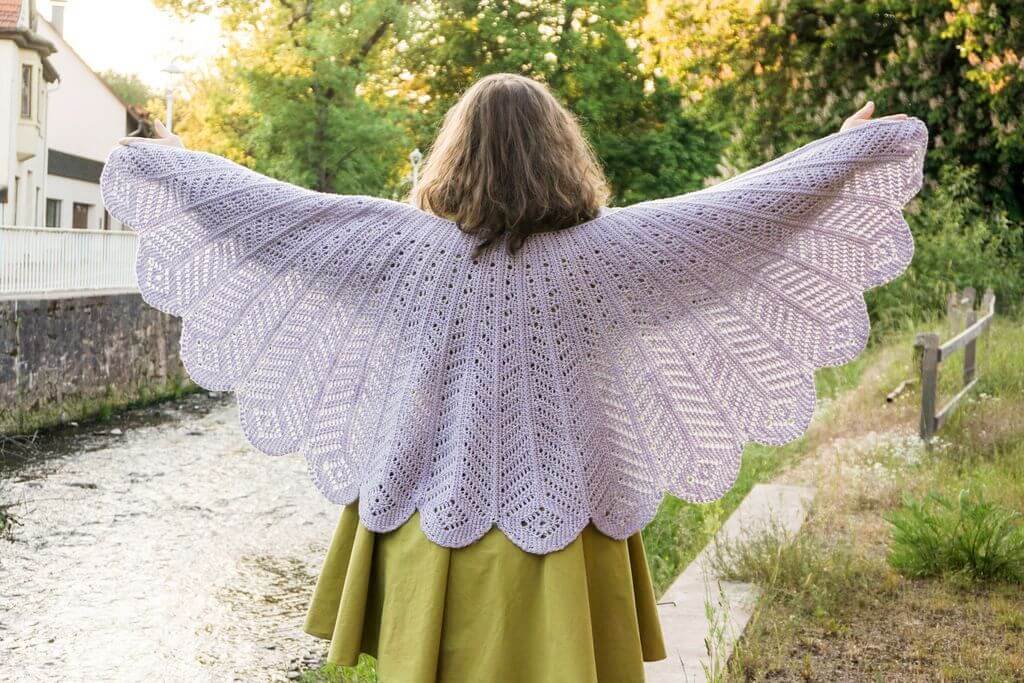 The feathers are all identical and can be repeated more of fewer times, depending on how wide you want to make your capelet.
The capelet I'm showing you in these photos has 14 feathers and is perfect for covering the back and front of the body.
Basic concept and design process
One of the themes for for Issue 98 of the Crochet Now magazine, where the pattern is now published, is "ethereal aesthetic" and I knew from the moment I saw those words that this idea would be perfect for the magazine.
I had been toying around with the concept of a capelet made of identical feathers, unlike the Macaw wings shawl, where each feather is different from all the others.
I made a concept sketch and worked up a little swatch using some cotton yarn I had on hand.
Of course the yarn doesn't look as good in the swatch as the final sample, but it was an illustration of the idea.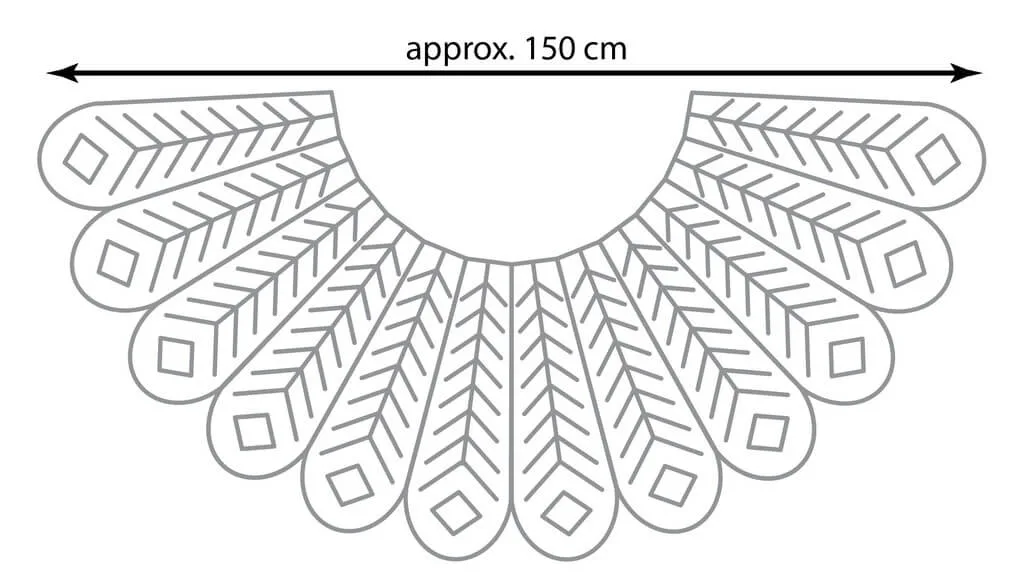 The editor chose this idea among many others to be published in the magazine, so I started the actual work.
I already had a kind of chart from my previous experiments with the concept, but after I got the gorgeous yarn I played around a bit with construction, as different ways of building an object out of short rows will result in different outcomes.
You can see below two samples I made from the yarn, one using the same construction as the Macaw wings and the other using an opposite construction, where the short rows start out longer and go shorter towards the middle.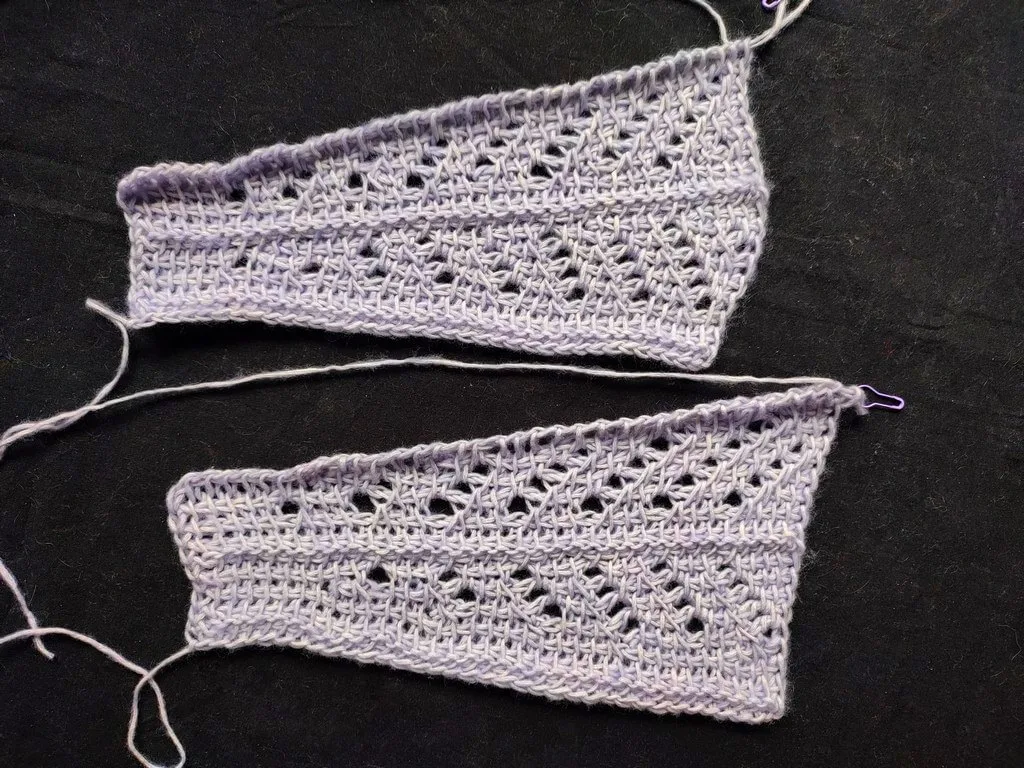 Can you guess which is which?
I selected the version that gives a rounded edge, so the end of the feather would stick out more naturally.
I also employed some tricks to make the ends of the feathers stick out from each other more than in previous iterations.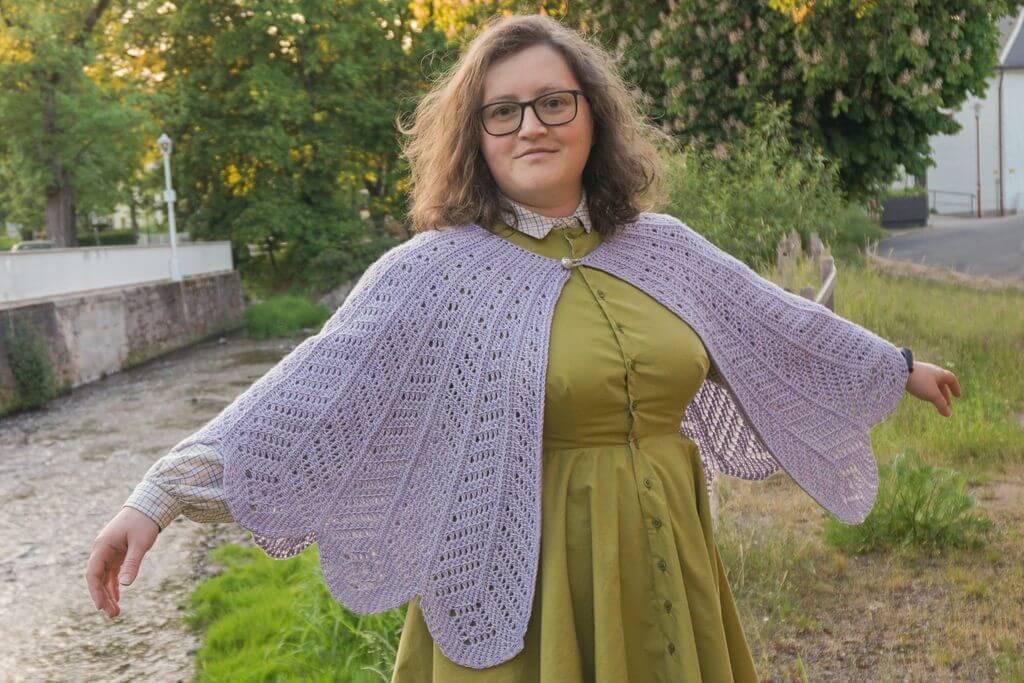 I think I could go even further with how independent the ends of the feathers are for future designs, but I think for this one there's a good balance between the length of the feathers and how much they stick out from the body of the capelet.
Jenny, the editor, also wanted this to be oversized, so I made the feathers extra long and wide, so they'd give this feeling of loftiness.
Details about the capelet
When using the same yarn (Katia Concept Cotton-Merino Fine) and making the same amount of feathers as in the sample (14 feathers), the capelet measures about 70 cm around the neckline and 250 cm along the outer edge.
It features an optional button at the neck so you can keep the capelet closed, but you can also wear it without a button, as the shape allows the capelet to stay on your shoulders without any extra help.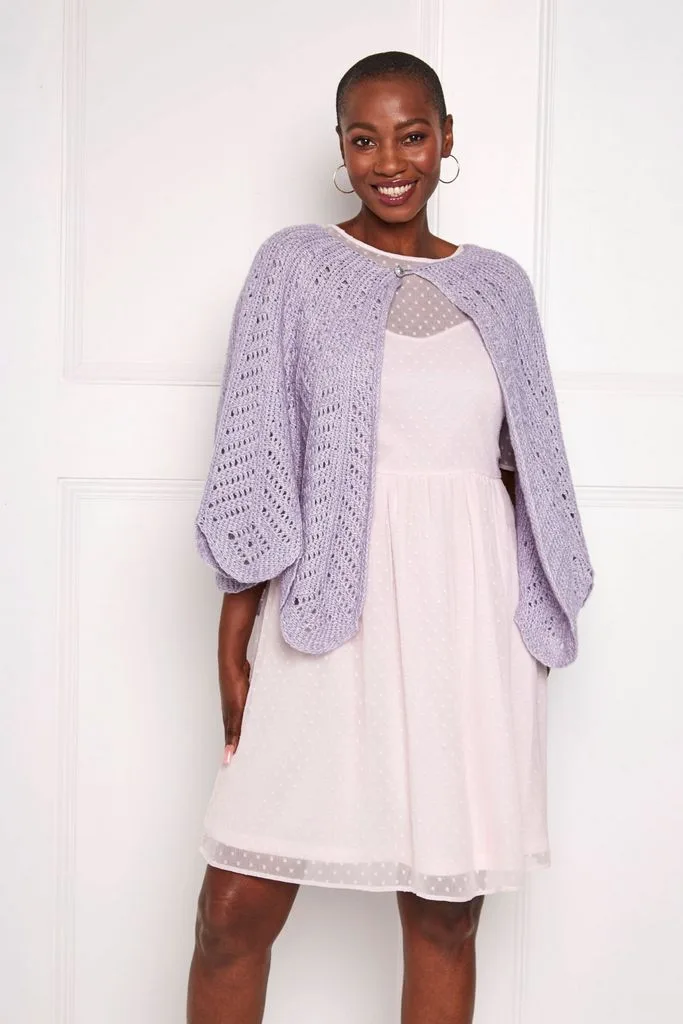 It has great movement and drape because of the yarn choice (see below).
The light lavender color was also chosen to reflect the ethereal aesthetic, but you can definitely have fun with choosing deeper, more saturated colors or even a symmetrical gradient, like those in some Advent calendar sets.
About the yarn for this design
The editor of the magazine chose the yarn for this design and I think it was an excellent choice.
It's called Katia Concept Cotton-Merino Fine and comes in cute and tiny balls of 25 g and 75 meters long.
You can find this yarn on Amazon UK here and on Amazon Germany here (affiliate links). You can also find the yarn in many online yarn stores in Europe. I'm not sure about other parts of the world.
In the US I've found a similar yarn (slightly heavier) here, with acrylic instead of merino. Alternatively, you could use two cakes of either one of these gradient yarns:
The yarn chosen for this design has a chained or blown construction, with the cotton forming an elastic tube into which the merino fibers are blown.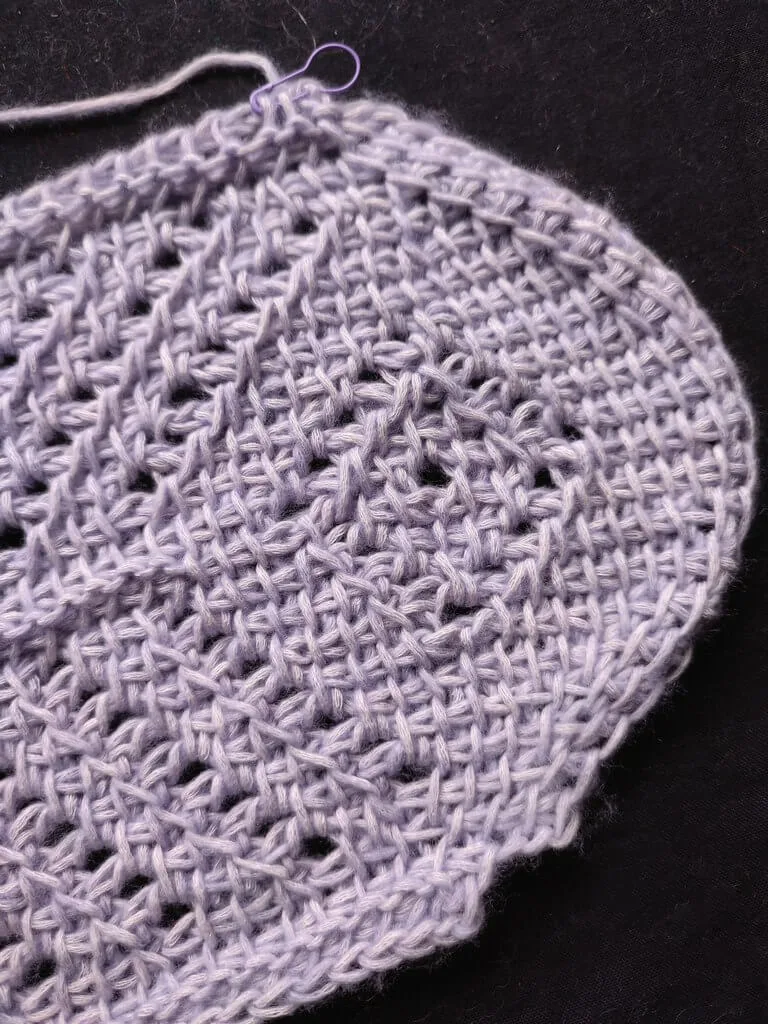 This makes it have a slight fuzz or halo and it makes it extra soft and very easy to use for a yarn that's 70% cotton.
Because of the cotton, it has a little more weight to it than you'd expect for such a soft yarn, so the finished project has great drape and blocks beautifully.
For this particular colorway, the cotton chain base is white and the merino is colored, which gives the yarn a slightly marled and shiny appearance.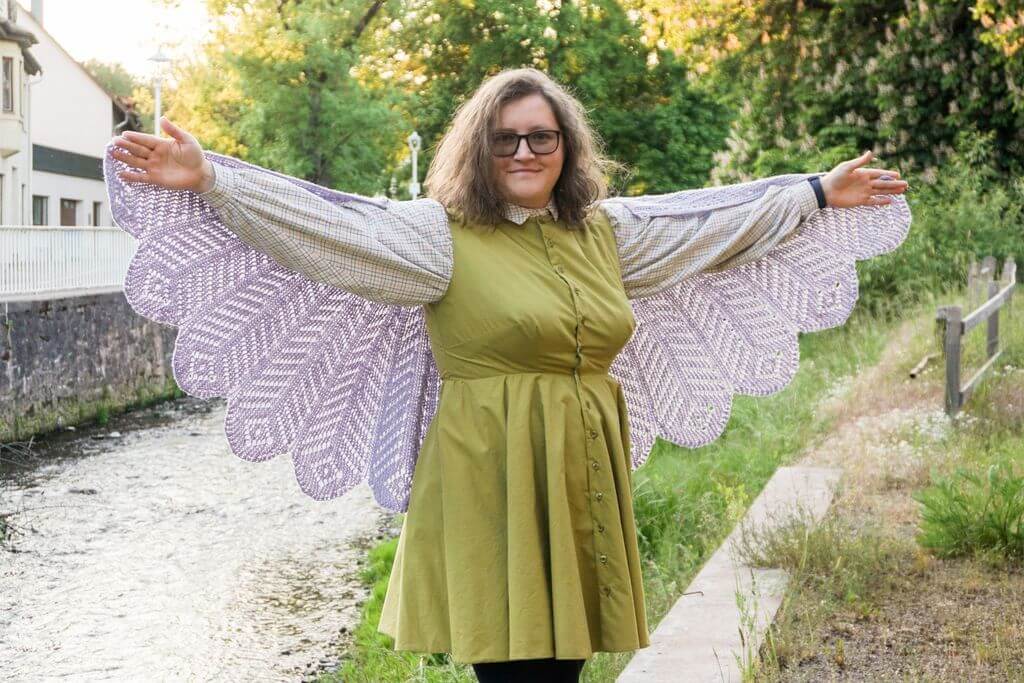 Where you can find the pattern
The pattern is now available in Issue 98 of the Crochet Now magazine, sold throughout the UK wherever you find magazines and online (see the two pink links in the page I linked above).
You can also find the magazine in the US as a Kindle eBook (affiliate link) and it might be included in your subscription if you have Kindle Unlimited. Keep in mind that Amazon will stop sending out subscriptions after September 4th 2023, so get your copy before then.
Please keep in mind that the pattern uses the Crochet Now pattern writing style, so it's not written in my usual style that you may be used to when buying patterns from me.
The good news is that there's a chart included in the magazine as well, which I think is great, given how it's such a large chart.
Here's some more beautiful patterns you can find in this issue: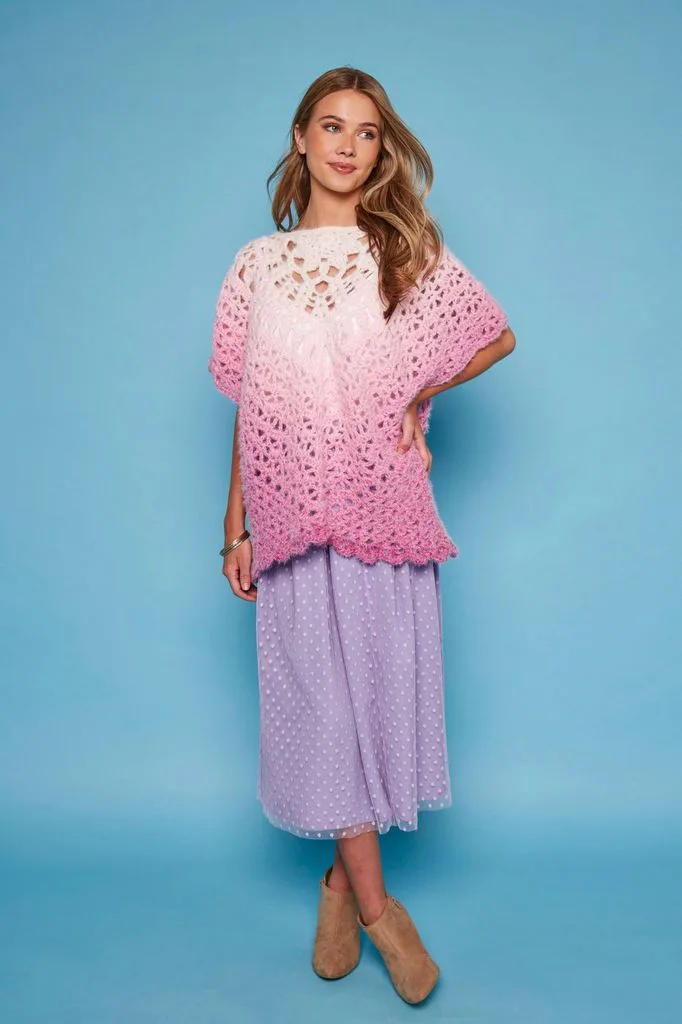 The PDF formatted in my style will we available 4 months after the launch of the magazine, which happens on August 17th 2023.
I will announce that in my weekly email updates, so make sure you open those emails if you want to buy only this pattern after it's available as a digital version in my pattern writing style.
Final remarks
I really hope you like this pattern and that you'll try it out, whether from the magazine or as a standalone.
If you want to try out other Tunisian crochet patterns from me, scroll through the posts below. Or check out the pattern shop under the "Tunisian crochet patterns" tag.
With that, I thank you for your visit and I hope to see you soon with more news!
Hugs,
Andrea
I hope, however, that you'll have fun with the pattern and try out other Tunisian crochet patterns that I've put out so far.
If you're interested in more bandana patterns, I've got a few lined up that will be published soon, so sign up to my email updates here if you want to know when those are ready.
Also if you want to see what this pattern looks like knit.
Hugs,
Andrea