In this Pook Yarns DK Yak silk merino review, I present my personal experience with this yarn, its strengths, weaknesses, color, how it changes over time and what projects I recommend it for. The base is called Tibetan DK from Bluefaced and a lot of its properties will influence this review as well.
About this Pook Yarns review
This in honest review of the Pook Yarns DK Yak silk merino base, which I had the opportunity to try in a long gradient cake of 740 meters in 350 grams.
The yarn was sent to me to make a sample for a pattern that will be released soon. I did not pay for it, but I would buy it for a future project because it's so pleasant to work with.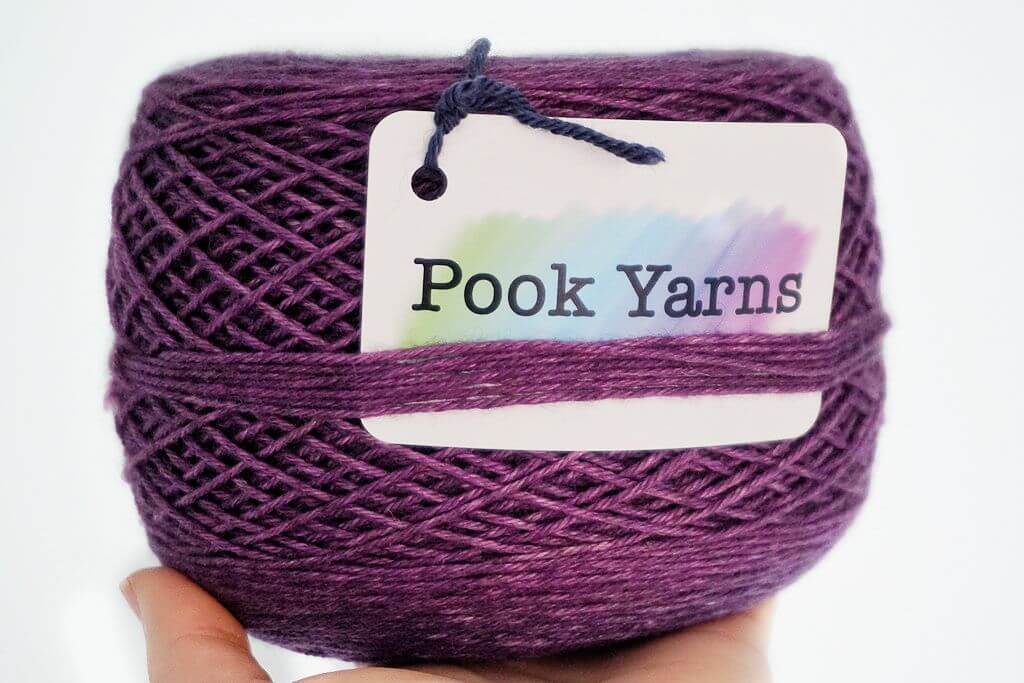 The review of this yarn was my idea because I loved working with it so much and I consider the owner of Pook Yarns, Rachel, to be a great person with an awesome business.
I also believe that her products should get greater recognition and to reach their intended audience.
My audience overlaps with hers, knowing that you are probably just as passionate about long gradients like I am, so if you've never heard of this yarn before, it's really time to check it out.
About Pook Yarns DK Yak silk merino yarn
In this review I will be referring strictly to the gradient cake dyed by Pook Yarns from the Tibetan DK base offered by Bluefaced in the UK.
This yarn is dyed in large batches of 350 grams, which should be sufficient to make a good size of shawl.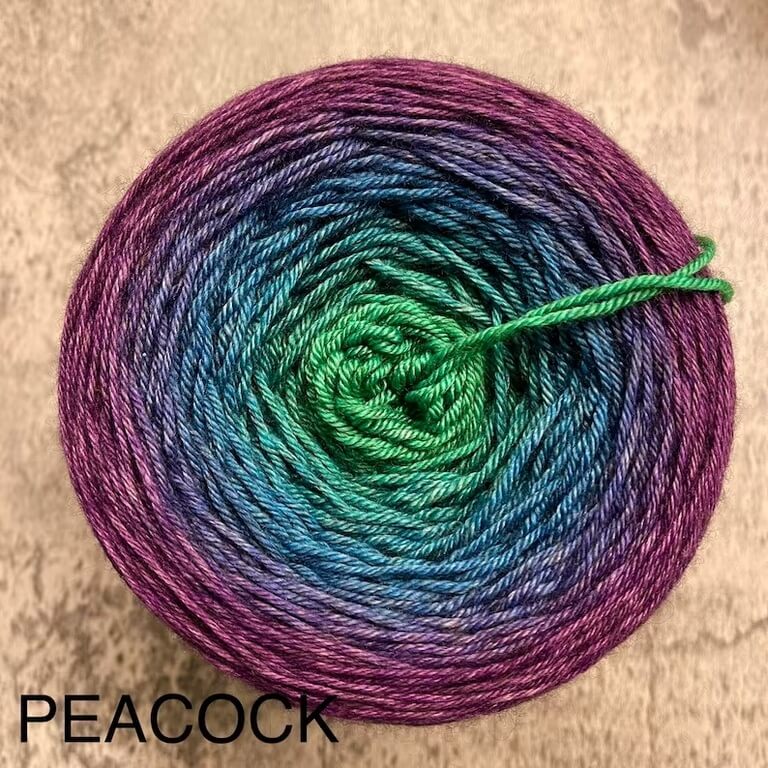 The yarn is dyed specifically to make a regular sized shawl with the pattern I am about to publish (sign up to my updates if you want to find out when the pattern is published).
If you use a similar, but less textured pattern, such as the Blueberry Popsicle or Raspberry Croissant shawl patterns, you will get a much larger shawl.
The gradient is continuous and is dyed in one piece.
The yarn is first knit by the dyer in a strip and then dipped by hand in different dye baths to give it the smooth color grading that is so unique to hand-dyed gradients.
Keep in mind that the whole 350 grams of yarn are dyed at the same time and transferred between dye vats, so the process is very labor intensive.
To get the whole 350 gram fabric, Rachel has to tie 4 pieces of yarn together, as the base comes in hanks of 100 grams.
That means that there will be 3 knots in each cake, but you can easily remove them and weave in the ends while working with the yarn, as they do not impact the long gradient at all.
The yarn also smells wonderful. I'm not sure if it's the wool wash that Rachel uses for all her yarns, but the smell remained even after I washed my sample with my own detergent for delicates (I use Perwoll, the kind for silk and wool).
There is no sheep smell in the yarn at all, although other merino yarns have the specific sheep smell from lanolin.
I am writing this while alternatively sniffing both the shawl made in this yarn and another project with merino where you have that specific smell.
You can trust me on this, I have a very sensitive autistic nose.
A little background on Pook Yarns
With permission from the owner, of course.
Pook Yarns is a small business run by Rachel Sharman for 7 years now and its main shop is found on Etsy, under the Pook Yarns brand name.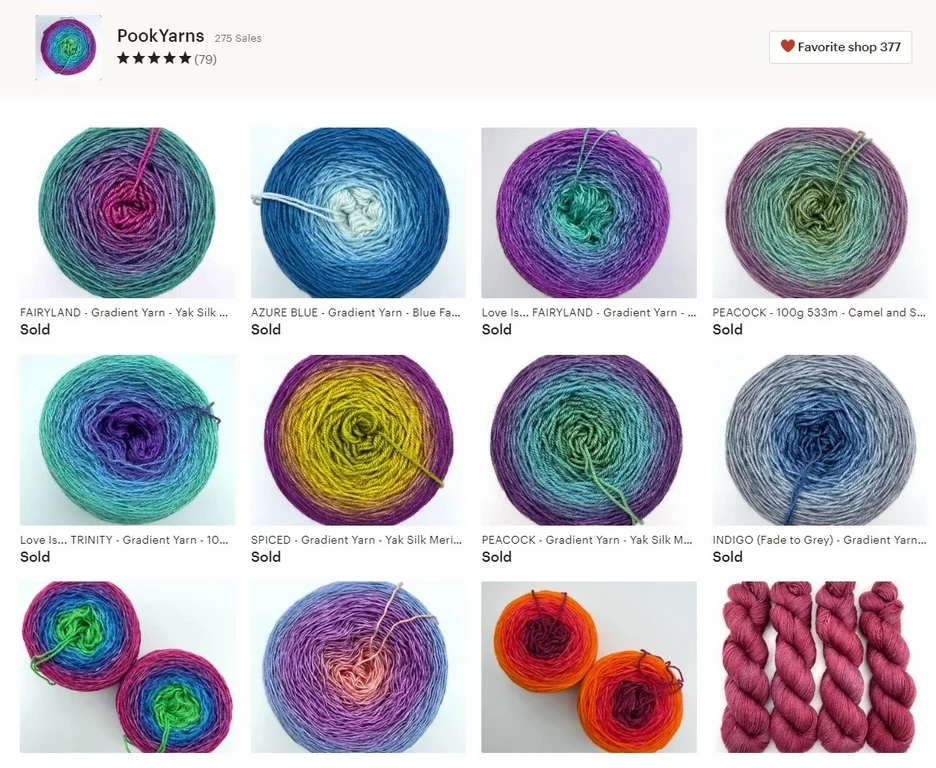 It also has a Facebook page and an Instagram page where you can see updates on yarn colorways, events, as well as projects worked in Rachel's custom colorways in a variety of crafts, including knitting, crochet and Tunisian crochet.
The Pook Yarns Ravelry page also shows the yarn bases Rachel has dyed and people have used in their projects over the years.
During the first 4 years, the business was based in Manchester in UK and since 2019 it has moved to Southern Denmark, which is great for us Europeans because it's within the EU.
Rachel has a series of gradients in her collection, but also offers custom gradients and puts out gradients on new yarn bases consistently.
If you want a custom gradient on this base or any other, use one of the links above to contact Rachel and ask for a custom gradient.
Details about the Tibetan DK yarn base
This yarn base is produced in the UK by the Bluefaced company, using superwash merino from Argentina and Uruguay and with the source of silk and yak fibers unspecified for now.
The undyed base has a light brown natural color, due to the yak fibers, which are naturally dark brown.
Weight and composition
The yarn base has a composition of 60% superwash merino, 20% yak and 20% silk. That means that it's extremely soft and has a lot of shine, which is perfect for showing off the texture of crochet stitches.
The yarn is round with a high twist. It is made of 4 well twisted strands, so it's 4 ply, but the overall weight is DK, at 212 meters per 100 grams and 12-13 WPI.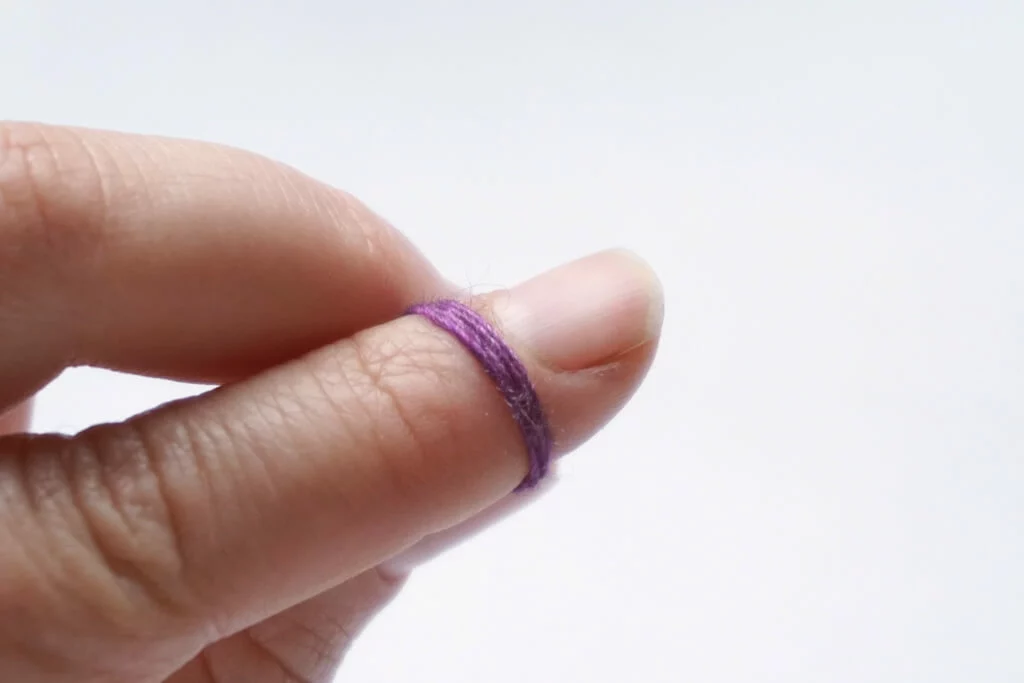 Since 60% of the yarn composition is superwash merino, it also doesn't felt, so you can wash your item many times without it changing its shine or its texture.
Ideally, though, you still want to wash your project by hand and handle it gently, as it might warp from the heavy weight of the soaked yarn.
Splitting
It does not split easily and I never had trouble frogging it because it's so smooth.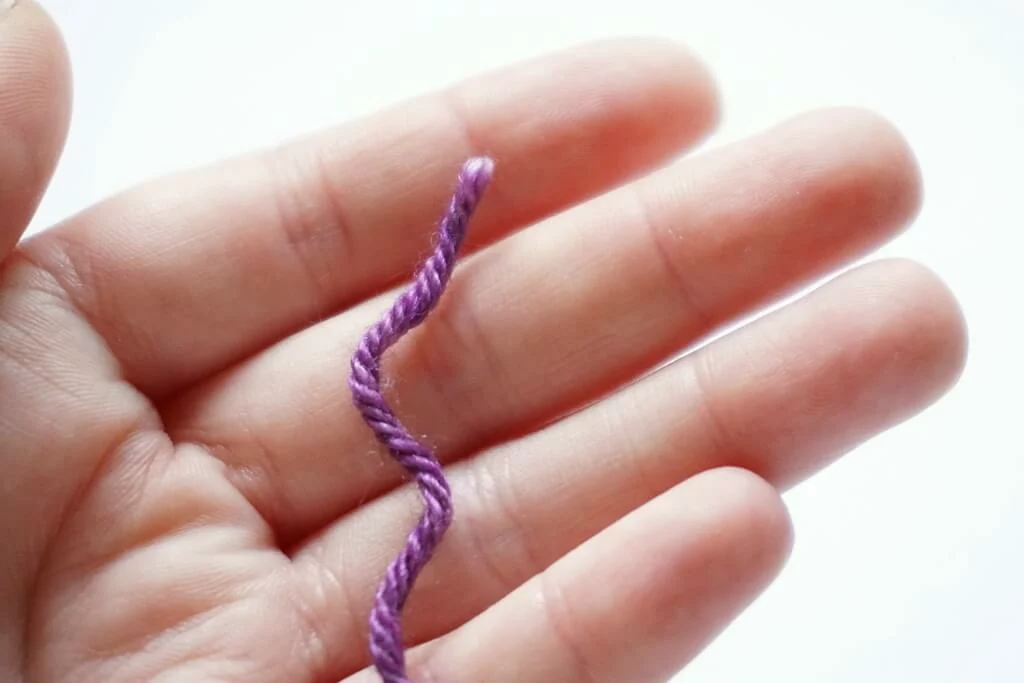 If you need to frog your blocked swatch, you can return the yarn to its initial bouncy rounded shape by wetting the yarn and laying it out to dry or by steaming the yarn if you have a smaller amount.
I used steam to get the yarn back to its initial shape after making the swatch and you can see the result in the photos below.
Where to get this yarn base
Currently the base (or any other yarn base) is unavailable for purchase in Europe from the manufacturer, as per their shipping page, but Pook Yarns is based in Europe and can ship the dyed yarn internationally, which I think is great for us who love gradients.
Alternatives to this yarn
So far I have not found alternatives with the same composition and weight anywhere, but I have found many dyers who use this base without disclosing the name of the base.
None of them dye long gradients, though, so this yarn is unique in composition and color, as far as I can ascertain.
My projects using Pook Yarns DK Yak silk merino
So far, I have only made one project in this yarn. I love the dark gradient that Rachel chose for me because it goes to the root of my soul and speaks to me more than any cheerful gradient ever did, despite what my portfolio might tell you.
The yarn has deep, rich colors, going from a dark, blueish purple to a merry, nearly red purple, with a slow transition between the two.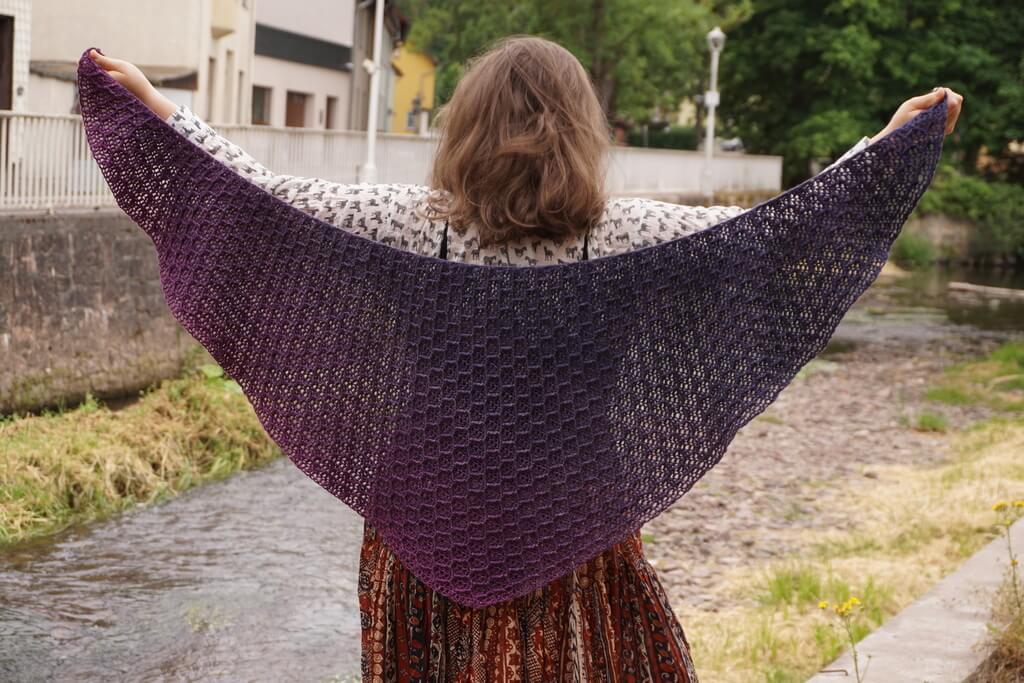 Here and there you can see glimpses of the yarn base, where the color didn't penetrate all the way through the knit fabric during dyeing, but these are not really flaws and they are barely visible due to the shine of the yarn.
They also add dimension to the yarn, like faint reverse speckles.
As for the feel of the yarn, it's like working with butter. It glided through my hands so easily and it was such a pleasure to crochet with that I knew I needed to write a review, more people need the experience of this exquisite yarn in their hands.
It's silky, soft and flowy, so there are no knots when working from the yarn cake, the tension is easy to keep uniform because the yarn glides through fingers without any effort.
I first made a gauge swatch and got 17 Dc by almost 11 rows to 10 by 10 cm with a 5 mm hook, which is an ideal gauge for this yarn, not too stiff, not too loose.
You want to preserve the flowiness of the yarn by using a large enough hook, but you also don't want gaps. This is why I chose the 5 mm hook.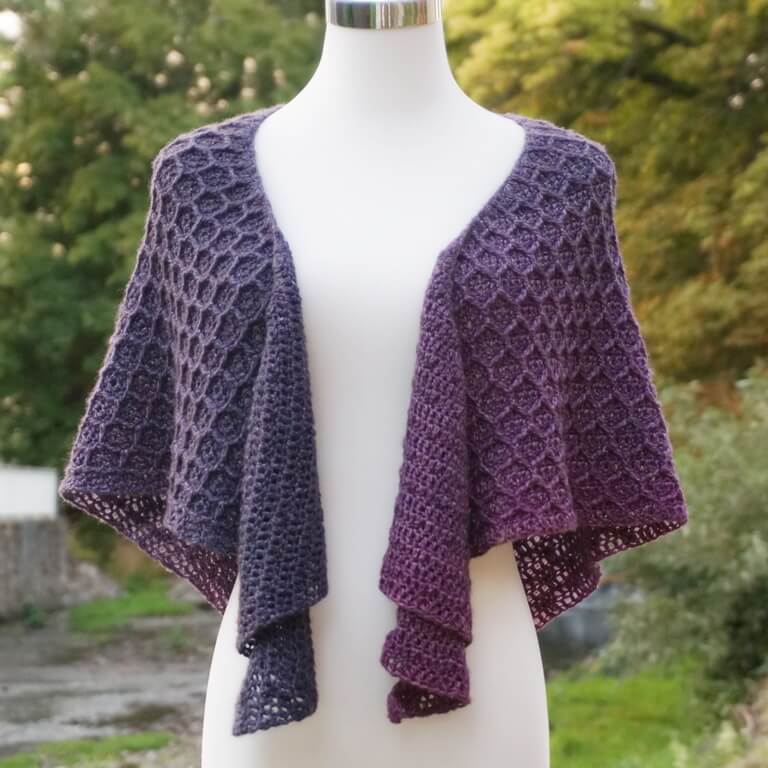 After making the swatch, I unraveled it and steamed the yarn to return it to its original shape so I could start working on the shawl.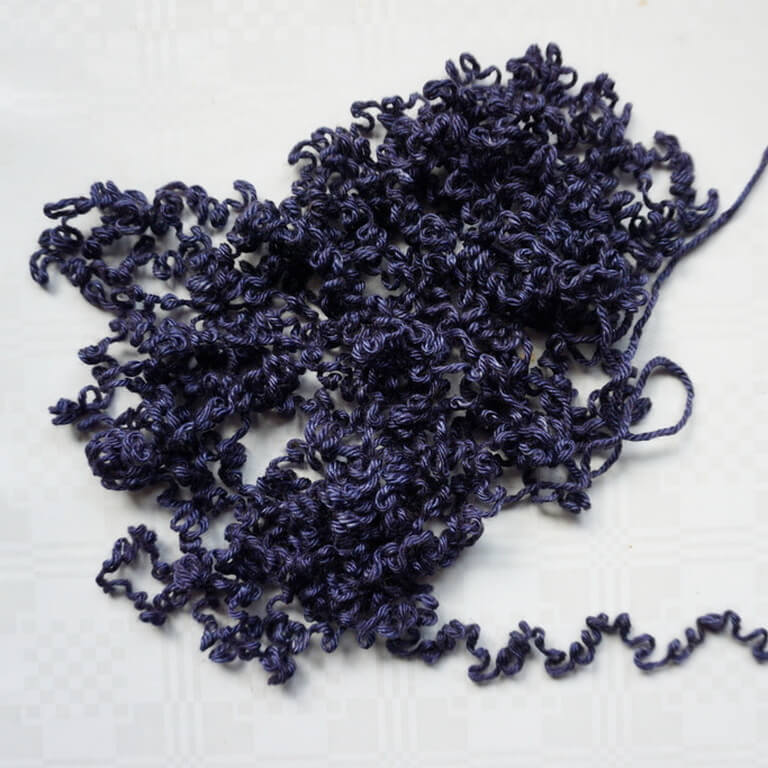 I've finished the shawl a couple of months now and have been wearing it throughout the house, handling it a lot to take photos, to write up the pattern and so on.
It has also been sitting on the back of my office chair for some days, waiting for me to write the review, so it's been through a lot more than my other shawls.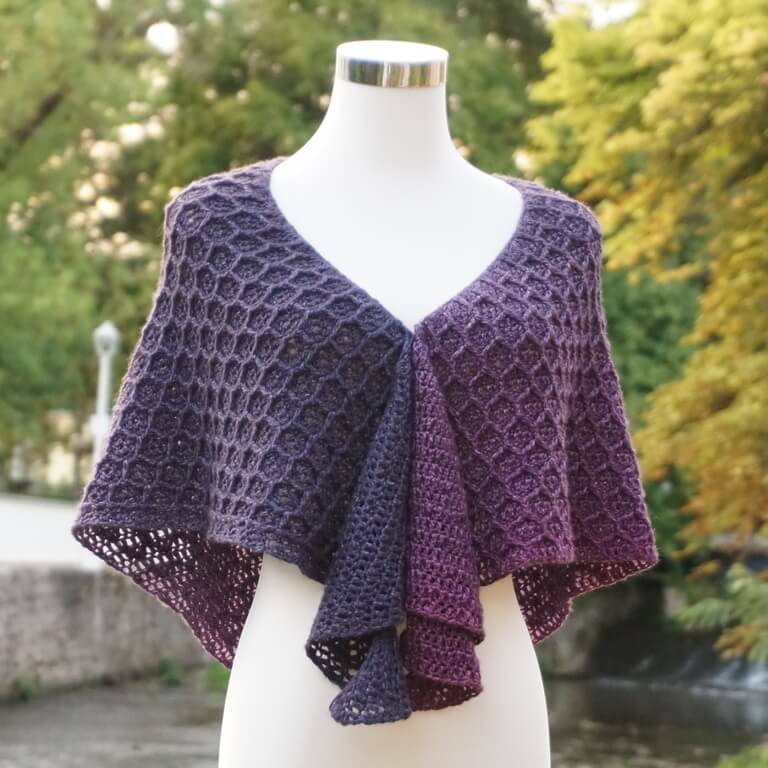 But there is no pilling happening anywhere, the fabric is exactly the same as when I first took it off the blocking mats.
I will get back to you in a year to see whether this yarn pills, but I have a hunch that it pills a lot less than other yarns.
Price of Pook Yarns DK Yak silk merino
This is a luxury yarn with a price that reflects that, both in terms of composition and color.
The price of this yarn per 100 grams is 200 Danish Krone, or about 26.9 Euros/26.7 USD.
The whole cake of 350 grams costs 700 Danish Krone, plus tax, so that's about 94.2 Euros, or 93.5 USD, not including tax.
As an extra bonus, Rachel offers free postage for this yarn until the end of the year (2022).
Since there are no similar yarns available, only the same base, I cannot do a direct price comparison.
There are other dyers who offer this base in their colorways and the prices vary between 25-28 Euros per 100 gram hank, without taxes or transport fees.
Considering the amount of extra labor required to make long gradients, this price is a bargain when compared to other dyers who offer the same base in plain colors.
I have found one other dyer (Bilum Yarns in Hungary) who offers custom gradients on DK weight yarn, at 24 euros per 100 grams, and their base is pure merino.
Frequently Asked Questions about Pook Yarns DK Yak silk merino
If you still have questions, look through these FAQs and see if you can find your answer.
What weight is Pook Yarns DK Yak silk merino?
This yarn is DK or double knit weight, as the name implies, a standard size 3, at 212 meters per 100 grams or 232 yards per 3.5 ounces.
How much yarn is in a cake of Pook Yarns DK Yak silk merino?
A cake consists of 740 meters of hand-dyed gradient yarn, at a total weight of 350 grams per cake.
What kind of projects can I make with a cake of Pook Yarns DK Yak silk merino?
There is enough yarn in the offered gradient cake to make one shawl. Here's a collection of shawl patterns that are perfect for gradient yarn.
Does Pook Yarns DK Yak silk merino pill?
So far, based on two months of rough handling of a shawl made in this yarn, there are no pills either on the front or back of the shawl, where the front is more rugged and theoretically more prone to pilling.
What colors does Pook Yarns DK Yak silk merino come in?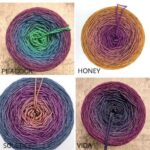 There is a range of gradients that Rachel offers, as well as custom gradients that you can request. The currently available colorways are Honey, Vida, Peacock and Solstice.
Does this Pook Yarns DK Yak silk merino yarn smell like animals?
Even though it has a 100% animal fiber content, the Pook Yarns DK Yak silk merino yarn I have tried so far doesn't smell like animals. There is no trace of the lanolin smell typical for merino.
Is Pook Yarns DK Yak silk merino vegan?
No, this yarn is entirely made of animal fibers, specifically merino from sheep, silk from silkworms and yak fiber from Tibetan yaks.
Is Pook Yarns DK Yak silk merino made of natural fibers?
Yes, this yarn is entirely made of natural fibers, 60% merino, 20% silk and 20% yak.
How should I wash items made with Pook Yarns DK Yak silk merino?
I recommend soaking your project in warm water with a low amount of a special detergent for silk and wool, letting it sit for about 20-30 minutes, rinsing it with cool/lukewarm water without lifting the project, letting it drain for several minutes and then gently squeezing out the remaining water using a big, soft towel.
Then lay out to dry, pinning it in the desired shape to block on a flat surface, either blocking mats or a large towel.
Is Pook Yarns DK Yak silk merino yarn affordable for low budget projects?
This is a luxury yarn, the gradient hand-dyed on a luxury base, so it is not for a low budget.
It is the perfect gift for a special occasion for a person you know who loves high quality yarn and who appreciates the process of crochet or knitting, more than just the finished item. It is also perfect for making into an heirloom or for a special occasion, such as a wedding.
Wrapping up
Now I hope you enjoyed this very thorough Pook Yarns DK Yak silk merino review based on my experience on working with this yarn.
If you want to check out some more interesting articles from this blog, here's a list with crochet tips and tricks. Once the "yarn review" category grows with several more articles, I will link those from here.
Make sure you sign up to my email updates (see below) if you want to know when I publish the next pattern, including the shawl pattern using this yarn, when I post the next review, when the next video is up or when there's the opportunity to get some free patterns (we all love free patterns).
I'll see you soon!
Hugs,
Andrea