If you've ever wanted to be a fairy, now is your chance. Use this new whimsical and lacy crochet pattern to create a large and airy capelet that will transform you into a fairy. Check out the tester photos as well.
This article includes affiliate links, which may make me a small commission at no cost on your part, if you make any purchases using my links.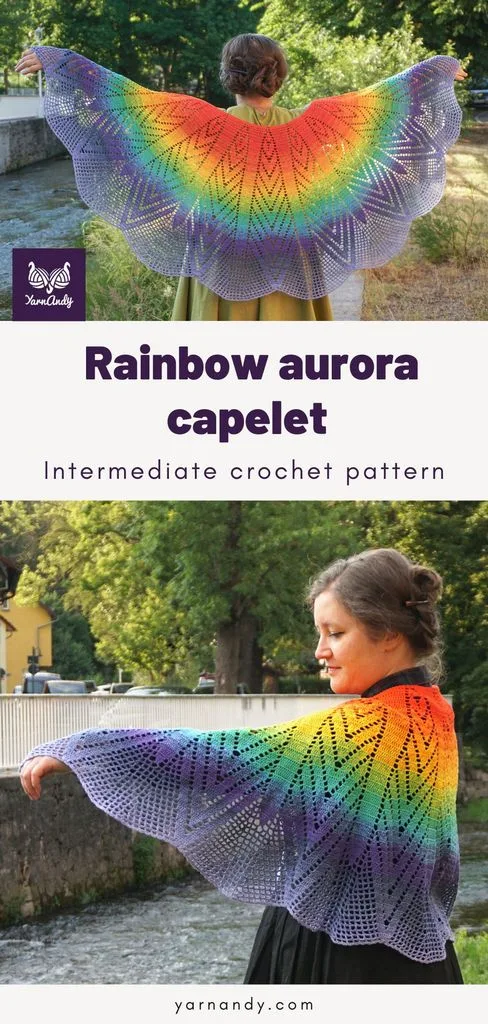 The story of the Rainbow aurora
It started from a cake of rainbow yarn. I'd bought it several years ago, back when the yarn was still called Cotton Kings Twirls.
It was very bright and had such strong colors, that I never knew what to make with it.
I would usually use a companion yarn with gradient yarns and I thought I'd do the same with this one, like I did for the Rainbow shawl.
Then again, I also like to use gradient rainbow yarn on its own, as demonstrated in the Rainbow love wrap, both seen below.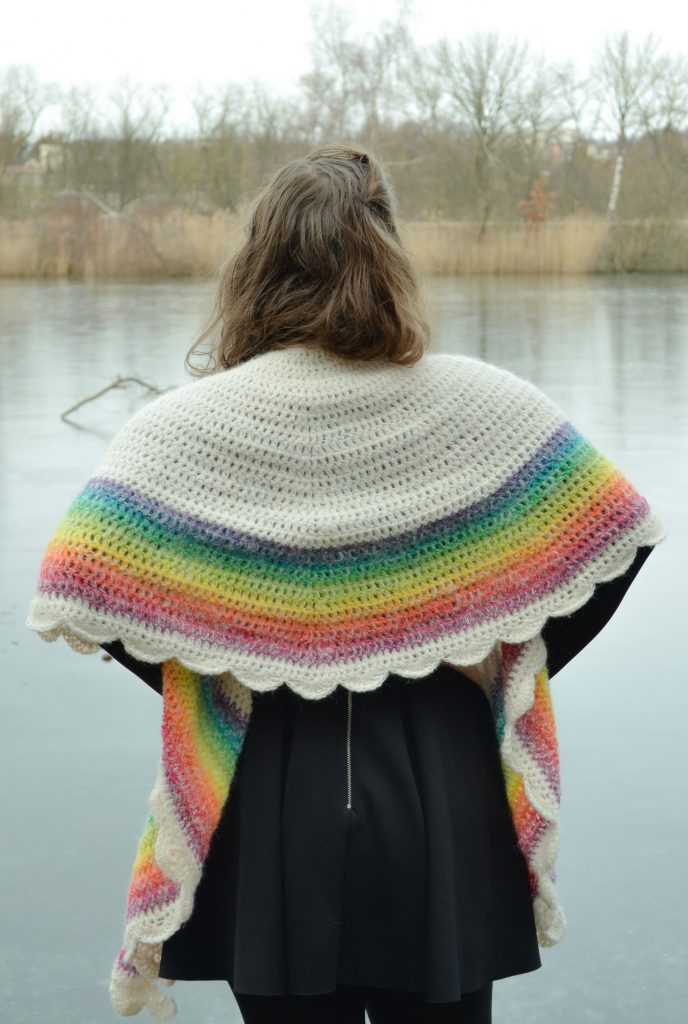 But I ended up taking it with me on a long train trip and playing with the yarn and a 3 mm hook (that's the size that gives me the best fabric when using this kind of 4-ply gradient yarn).
Since I'd recently completed the Plumaria capelet pattern for a magazine commission, I had the idea of a capelet in mind.
It started as a long strip and the lace pattern grew by itself, until something established itself as a rhythm in the pattern and I knew that was it.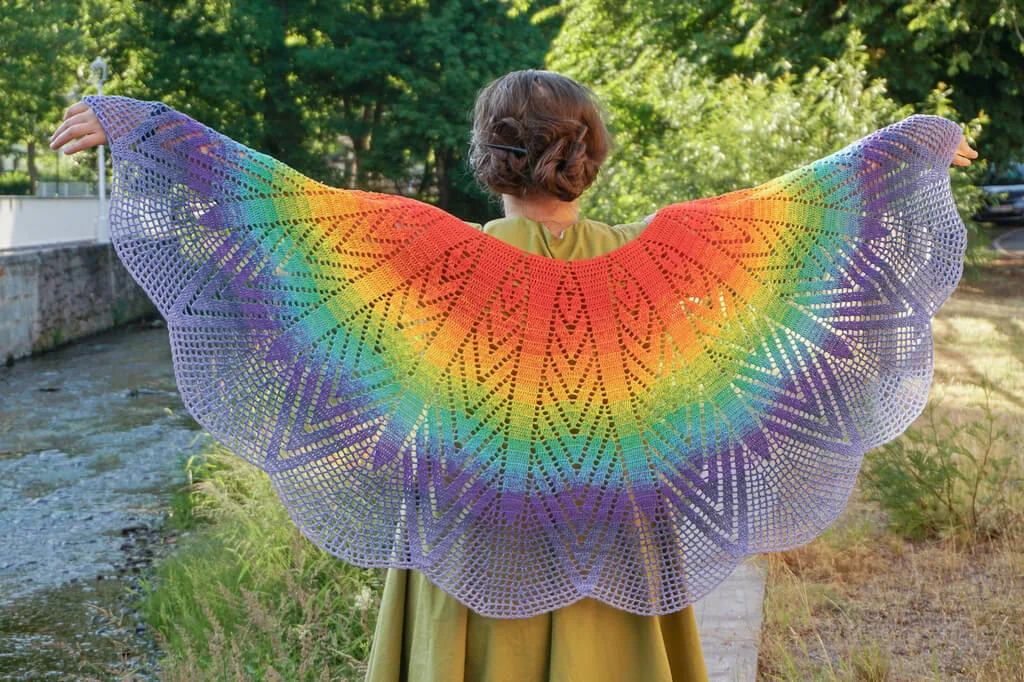 The yarn in one cake wasn't enough, however, to complete the pattern, so I added another half of a different cake, left over from when I'd used the other half to make a doily.
It came out quite large and while blocking I was able to draw out the lace into this wonderful scalloped edge that creates the illusion of fairy wings.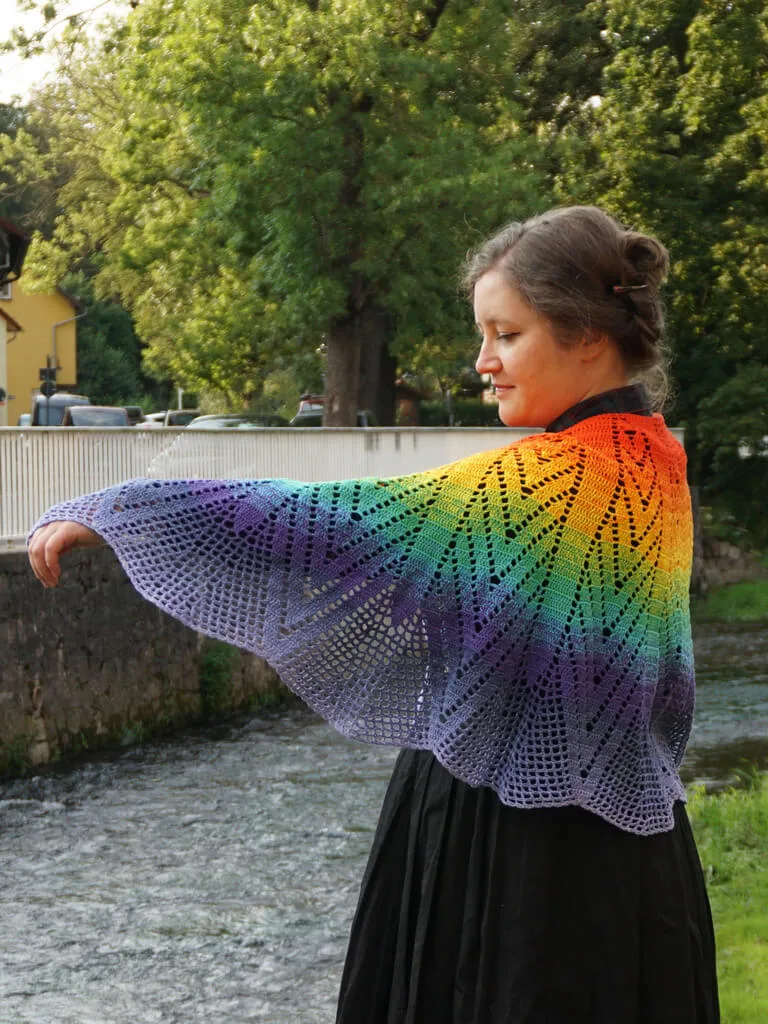 Tester projects
The tester had a lot of fun with this pattern over the past two months and created such beautiful capelets.
See them below in all their beauty. First laid out flat, so you can enjoy the lace.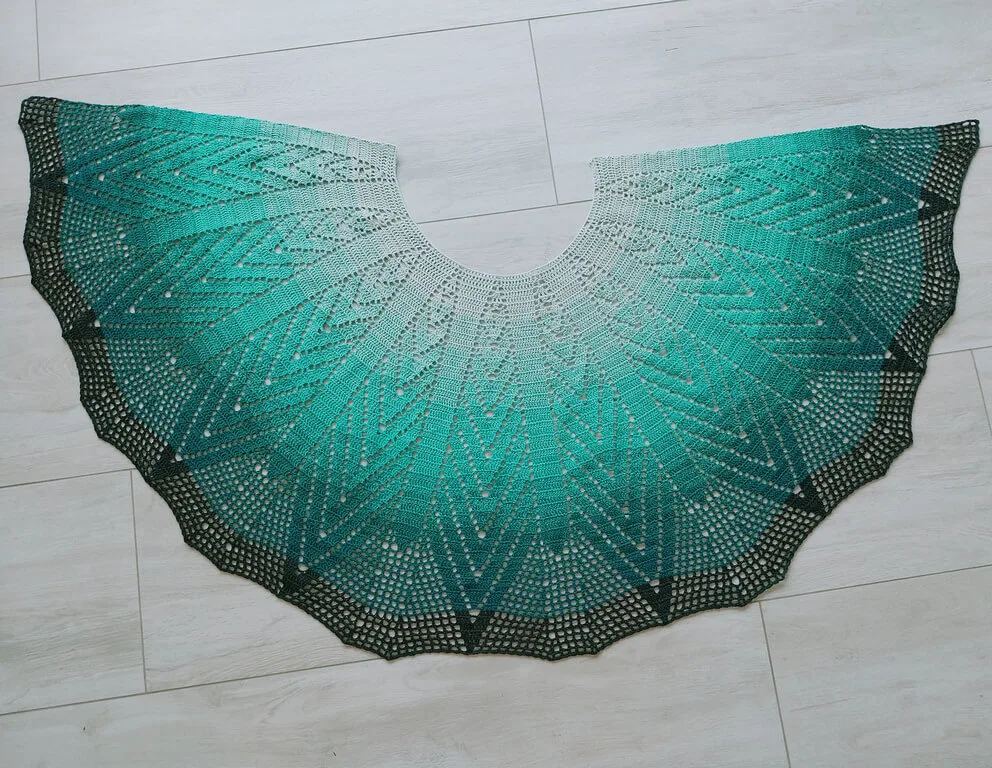 And now worn, so you can see how nicely their capelets sit on them.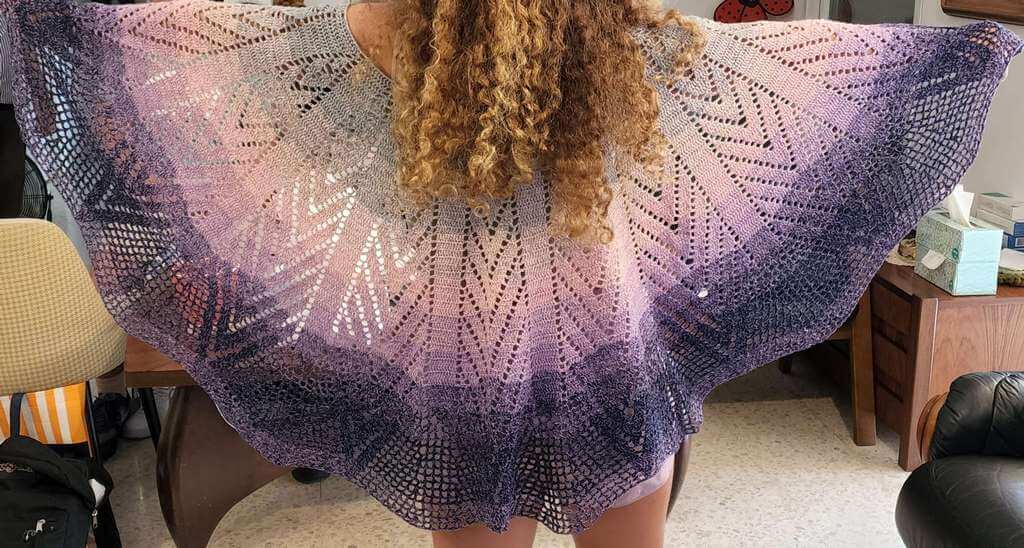 It seems like they all chose to go with purples blues and greens, which I find goes perfectly with this pattern.
They used a variety of hook sizes between 2.5 mm and 3.5 mm and a length of yarn between 1150 and 1400 meters.
Dara has made adjustments in size for her Petite version and you can find her notes on her Ravelry project page.
All of them found the pattern relaxing and meditative to work on, so I'd highly recommend it if you use crochet for mindfulness and meditation exercises.
Technical details of the capelet pattern
The capelet is constructed from the neckline towards the lower edge, in repeating lace wedges separated by plain columns of stitches.
The lace wedges have a stack of V-shaped elements that grow as the capelet gets larger.
They reach the edge of the shawl, but after the last V you fill the space with eyelets that create a scalloped edge.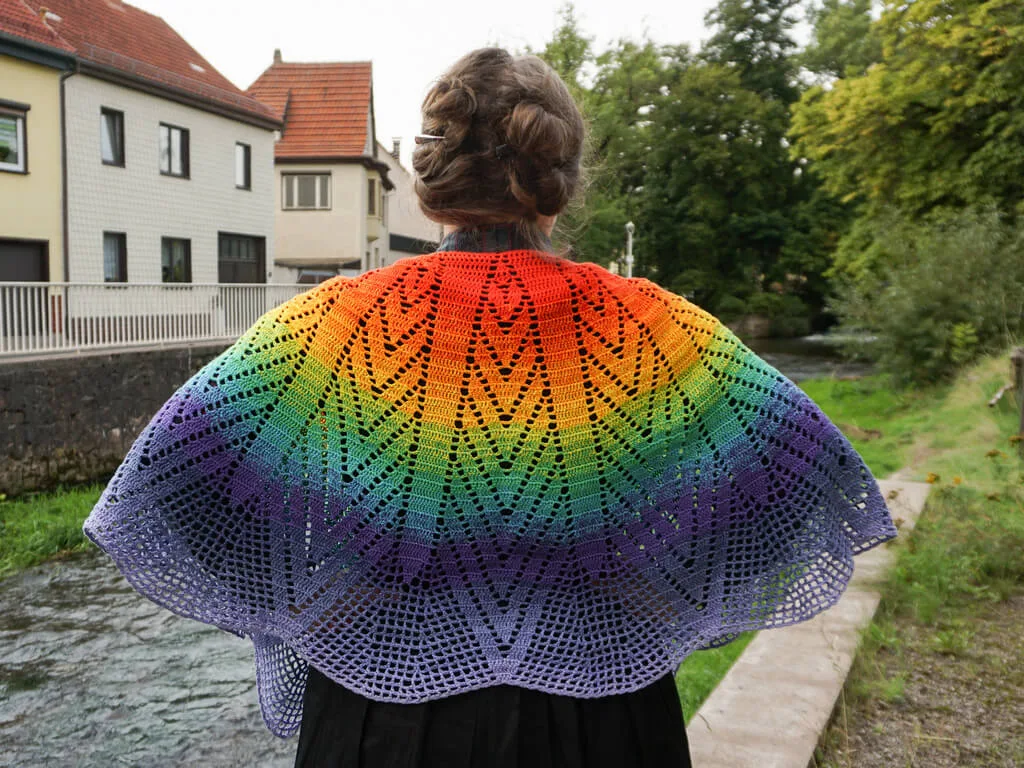 You can make it either in a long gradient or a single color. Blocking reveals the lace panels and the scalloped lacy edge.
Choosing yarn for your capelet
As you can see from the tester projects, a gradient yarn would go perfectly for this yarn.
You can use 1.5 cakes of a shorter gradient yarn like Hobbii Sultan or any of the Alize Ombre cakes, or 1.2 cakes of Hobbii Sultan Deluxe or Twister, Yarnart Flowers or Rosegarden, Scheepjes Whirl.
Some of these come with mini cakes in a single color, such as the Twister and the Whirl, so you can use a gradient cake and a mini cake in matching yarn.
Or you could get a custom 1200 meter cake made by one of the many sellers of custom gradient yarns.
Here are some links to some of these yarns on Amazon in the US:
I don't have affiliate links for other yarn sellers, but you can easily find them if you search for the names.
This makes it have a slight fuzz or halo and it makes it extra soft and very easy to use for a yarn that's 70% cotton.
For a 20% discount coupon until the end of 2023, subscribe to my email updates.
Final remarks
I really hope you like this capelet pattern and that you'll try it out to make your whimsical fairy wings.
If you make one and post photos on Instagram, be sure to tag me @yarnandy and use the #RainbowAuroraCapelet so I can see and share your project.
If you want to try out other crochet patterns from me, scroll through the posts below. Just be aware that most are Tunisian crochet.
With that, I thank you for your visit and I hope to see you soon with more news!
Hugs,
Andrea