This rainbow shawl crochet pattern was born from darkness. There's not much to say about the months I spent waiting to get this design from sample to finished pattern because I don't remember much from them.
I created this design to celebrate life, diversity, love, equality, love of life and love of nature and colors. It embodies all the things that I have not been able to feel or experience for the past few years, deep in depression, anxiety and burnout.
No, it was not pretty, but I had something nice to look forward to wearing and to sharing with you. It is a project of love and dedication even in spite of my lack of energy.
Rainbows have always been special to me and they will always be. Not just because of what they symbolize, but because they exist in my internal and external world. I see them everywhere.
I love watching light diffract in all walks of life, be it on a rainy afternoon or in a puddle, beside a roaring fountain or a rapid waterfall, in ice crystals, through thick panes of glass, or through mushroom spores.
Rainbows are truly magical and healing for me and I hope I can communicate even a little bit of that magic to you through this pattern.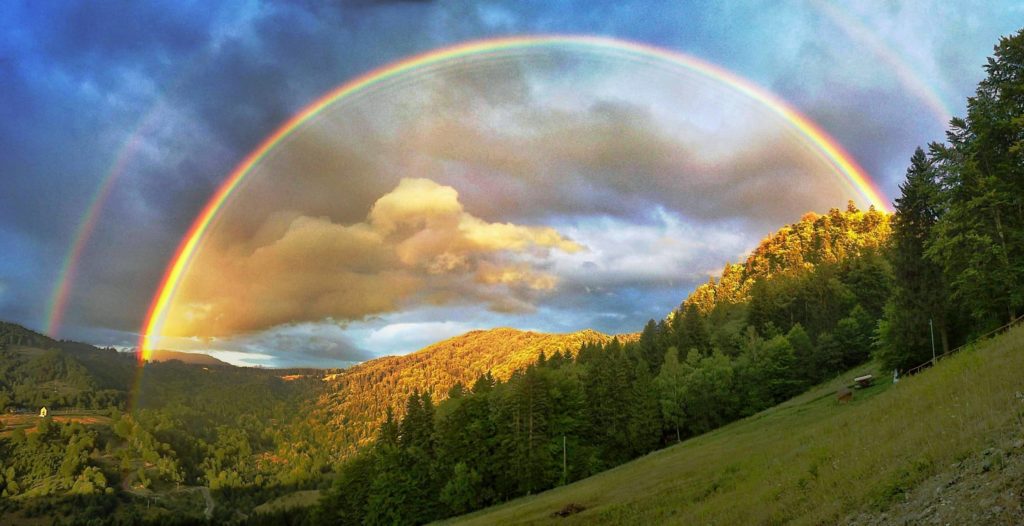 Exploring rainbow colors
Take this magical double rainbow above. It only fits in this photo because it's in a panorama. Thankfully, it was bright and stable enough for me to take multiple snaps of it to make a panorama. It was beautiful beyond words.
The photos for this image were taken way back in 2012 while I was attending a summer camp with fellow high-achieving students (yeah, we were the ones they called nerds… but hey, we got to visit the mountains for free, so that's a plus in my book).
You'll notice that the rainbow above has multiple internal replicas. The main rainbow has red on the outside and violet on the inside. The replicas are identical. The double is reversed, however. Maybe it's a Kouda Mushi 😆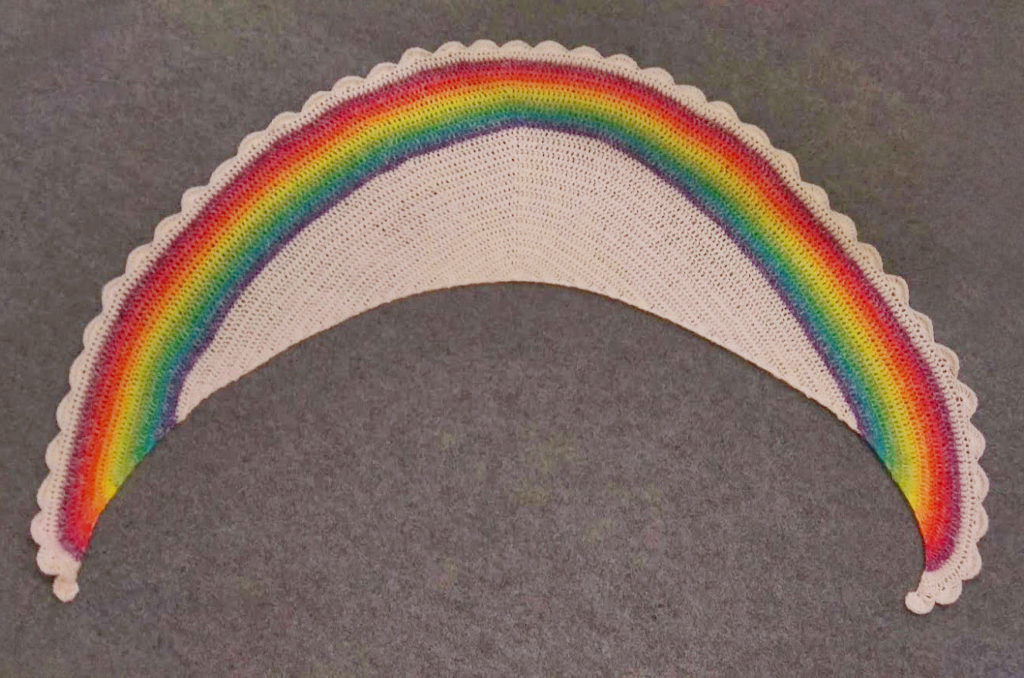 I know the rainbow in this pattern is upside-down, but that's because of the overall shape of the shawl, which is a crescent. I wanted to have the rainbow sit across the crescent and, since we wear shawls with the long edge across our shoulders, this rainbow ended up upside-down.
But you'll notice that the colors are correct if you flip the shawl. On the outside, the rainbow has the longest wavelength color, red, while on the inside it has the purple/violet.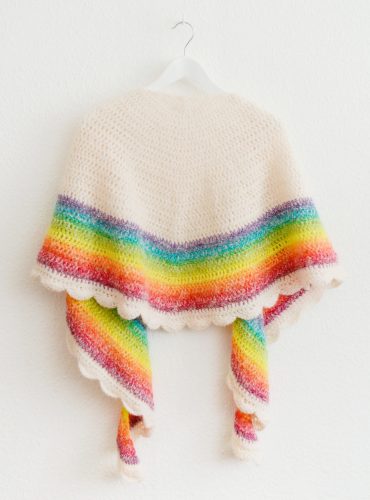 Trying the rainbow shawl crochet pattern
If you want to try out the new rainbow shawl crochet pattern that I've just finished testing and you've been waiting for this for the past several months, like I have, today is the day.
Fully tested in both US and UK terms, with a clear diagram and written instructions for all the rows, this is the most comprehensive pattern that I've published to date.
You can get it from my shop using the button below or from Ravelry. You can also get the pattern from Etsy here.
In both places you have coupons to pay what you want for the pattern. This is my way of making my patterns available to people from all around the world.
Because I really want you to make this shawl, I even made a video. You can watch it below after getting the pattern and preparing your yarns and hooks and whatnot.
Rainbow shawl crochet pattern details
It's not complicated, in fact it's so simple that even a beginner can make it, but the process of creating a pattern is much more than simply writing down the stitch combinations.
The best part about this pattern is that the shawl isn't a half-circle like you're used to. You could very easily take the pattern for half a circle, increase it until you get something big enough and call it a day.
I've seen countless patterns for such simple half-circles and it always makes me laugh when I find yet another pattern using the same-old basic circle shape.
Sure, there are not many who take it to the extreme size of a shawl, because then you'd end up with half a dodecagon (a shape with 12 sides). You could vary the placement of the increases and get an actual circle, which would actually lead to a pretty decent rainbow shape.
But when you try to wear that half circle on your shoulders, or when you drape it around your neck, it doesn't feel right. It doesn't want to sit on the odd shape that is the human body because it's a straight line and the human body is anything but made of straight lines (yes, it would be perfect as a window decoration).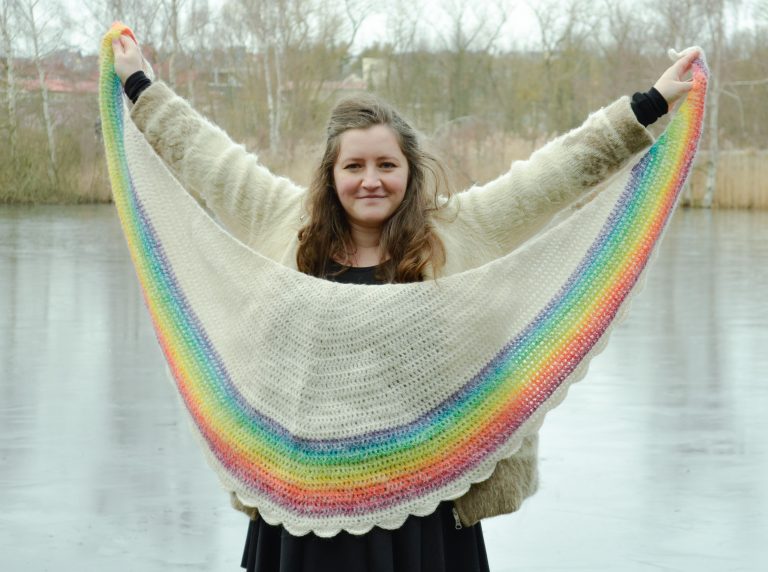 This is where working on the bias comes in. In this particular pattern you won't notice the bias construction as much as in the Blueberry Popsicle shawl pattern, for example, but trust me, it's there.
By increasing a lot at the two corners and a little bit in the central wedge, you create a crescent shape that doesn't resemble a half circle any more and sits very nicely on your shoulders. You can't get this effect from triangular shawls either, as they also have the same straight edge as the half circle.
Pattern details
These instructions are offered for free in US terms.
You will find a separate file with UK terms if you buy the PDF pattern.
Notions
Yarn
MC (main color) – about 100 grams/500 meters of any fingering or DK yarn in your stash in a neutral, pastel color like light gray, off-white, light blue (or make it your version with darker hues like black, dark gray or navy) – speckled yarn is perfect for this, as it mimics the water droplets – the exact yardage will depend on your tension, the desired size of the shawl, how much yarn is available to you;
SC (secondary colors) – up to 10 grams each of yarn of similar weight as MC in all colors of the rainbow (six or seven) 1 through 6/7 – abbreviated SC1 to SC6 or SC7 – or check out what I used for the sample;
Optional – companion yarn – about 70 grams of a fluffy mohair or alpaca lace-weight yarn – the same length as MC and all SC combined – this will give the shawl a cloud-like consistency – this will increase the recommended hook size, making fewer rows necessary for the same size of shawl.
For the sample I used:
MC – main color – about 100 grams of beige (color code 11499) Nako Angora Luks, which is about 500 meters
SC – secondary colors – about 50 grams of Nako Angora Luks Color, divided into the constituting 12 colors – one row for each color, at a total of about 250 meters
Companion – about 75 grams/750 meters of off-white Alpaca Superfine Comfort from Ice Yarns (discontinued) – slightly elastic lace weight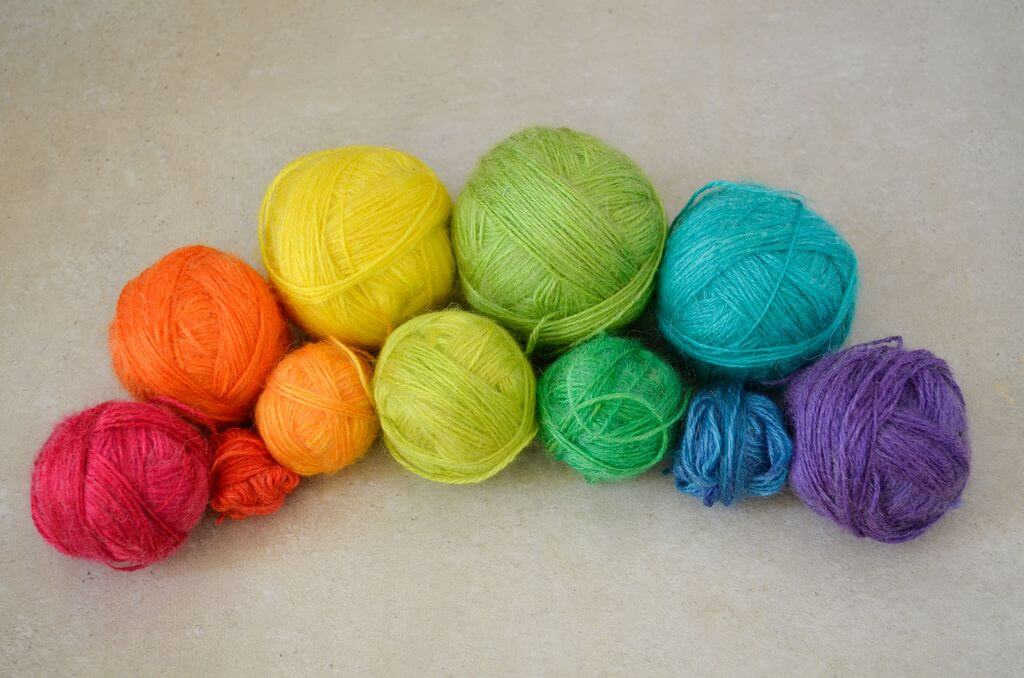 Hook & other things
Use a 5.5-6 mm hook for the doubled yarn (colored yarn and companion) or the hook recommended for your yarn if you use a single yarn. Keep in mind that you will need more yarn and to make more rows to reach the size of the sample shown.
Prepare a tapestry needle and a pair of scissors for binding off.
Observations:
You can replace the EDc stitches at the beginning of each row with Ch4 if you are not comfortable with making standing Edc stitches.
Instructions for increasing the pattern beyond the detailed rows are found in the PDF pattern on page 8.
Instructions for making the rainbow rounder are also found on page 8 in the PDF.
Turn at the end of each row. Stitch counts are provided at the end of each row in brackets (x).
If you are more comfortable working from a chart, you will also find one in the PDF.
Stitch abbreviations (in alphabetical order)
Ch – chain;
Dc – double crochet;
Edc – extended double crochet – YO, pick up a loop, Ch1, repeat [YO, pull through 2 loops on hook] 2 times;
MR – magic ring;
St – stitch;
Pattern instructions
First section, worked using MC.
Row 1. 10Dc in MR (10)
Row 2. [Edc, 3Dc] in first St, 3Dc, *2Dc in next St* 2 times, 3Dc, [3Dc, Edc] in last St (18)
Row 3. [Edc, 3Dc] in first St, 6Dc, 2Dc in next St, Dc, 2Dc in next St, Dc, 7Dc, [3Dc, Edc] in last St (26)
Row 4. [Edc, 3Dc] in first St, 9Dc, 2Dc in next St, 2Dc, 2Dc in next St, 11Dc, [3Dc, Edc] in last St (34)
Row 5. [Edc, 3Dc] in first St, 12Dc, 2Dc in next St, 3Dc, 2Dc in next St, 15Dc, [3Dc, Edc] in last St (42)
Continue in pattern, making 3 increases at the beginning of the row, two in the middle section of the row, 3 at the end of each row, with 8 increases in total on each row.
Work until you reach the end of row 24.
At this point, the shawl should be large enough for you to start using the multicolored yarn to make the rainbow.
While finishing the last St of R23, pick up SC1 as you bind off MC, leaving a tail that you will weave in.
Continue in pattern, using the same technique to switch colors at the end of each row if you are using the 12 colors or at the end of every two rows if you are using only 6 or 7 colors (to get a wide enough rainbow).
Bind off the last color and switch back to MC for two last rows of background and then a scalloped border, if you want even more of a cloudy feel. If not, add a row of backwards Sc after the next two rows (or however many rows you want to add).
Last row or bind-off.
The last row consists of simple shells that follow the rounded shape of the long side of the shawl.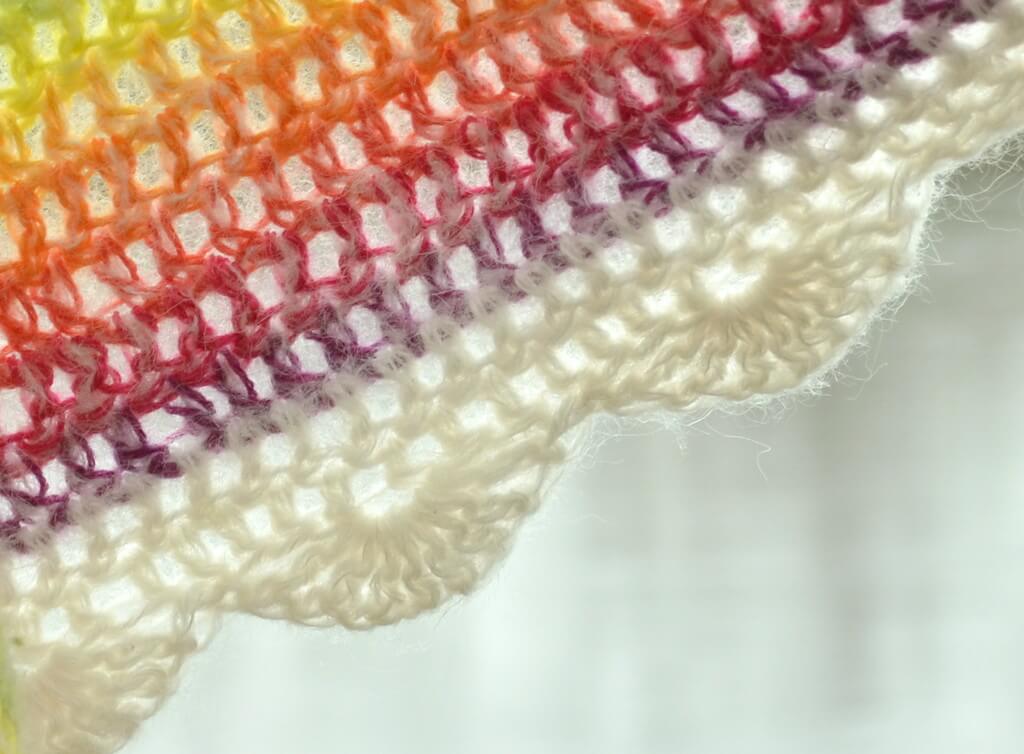 Each shell will be made along 7 stitches, meaning that unless you make 3 more rows (which you can totally do), you'll end up with extra stitches that you need to incorporate into a few of the shells.
Depending on what row you stop, calculate the number of extra stitches with a division with remainder. If you don't remember how to do it, I'll walk you through it for the current case, where the last row was R37 and the total number of stitches is 298.
For other rows, keep in mind that the number grows with 8 stitches per row.
298 divided by 7 equals 42.57. Multiply 7 by 42 and subtract the result (294) from 298. You get 4 as a remainder. Use the same method for any other stitch count.
Row 38. [Edc, 8Dc] in first St, [Sk 3St, Sc, Sk 2St, 8Dc in next St] repeat to end of row, Edc in last St (43 shells).
Remember to make 4 of the shells one stitch wider, so you cover all of your stitches.
Bind off and weave in all the ends.
How do you wear this shawl?
It's very simple, you just put it on your shoulders and maybe tie it at your back to create a soft, warm hug that stays with you the whole day.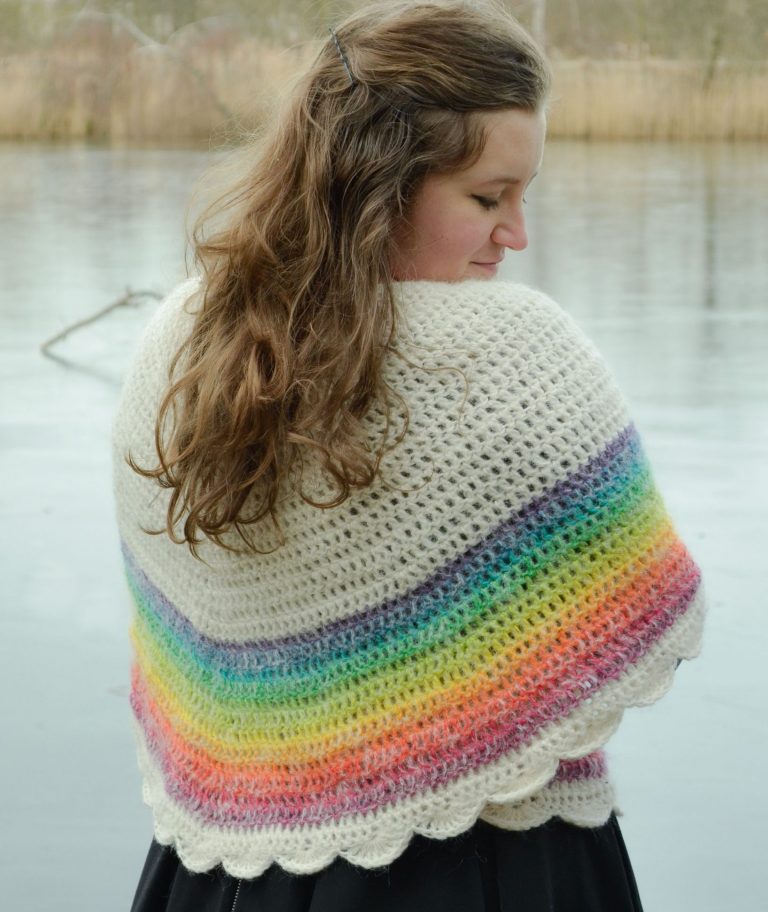 Or you wear it just like any triangular shawl, as a scarf around your neck, The compliments are sure to come. At least from your LYS owner (happened to me).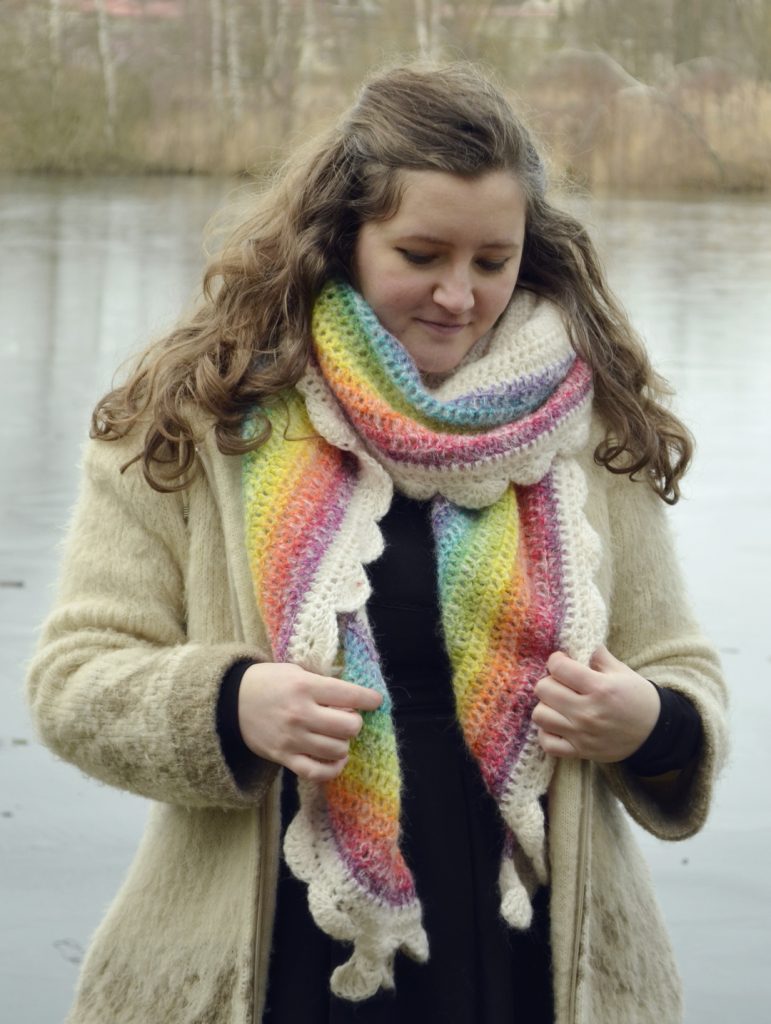 Of course I'm joking, there is no right way to wear your shawl, I just really like how these photos came out and I needed a reason to show them off.
If you want to explore some more crochet patterns, here they are:
Now go forth and make your own and be sure to tag me @yarnandy on Instagram if you post any photos of it there.
Lots of love and lots of hugs,
Andrea