Rainbow shawl – new crochet pattern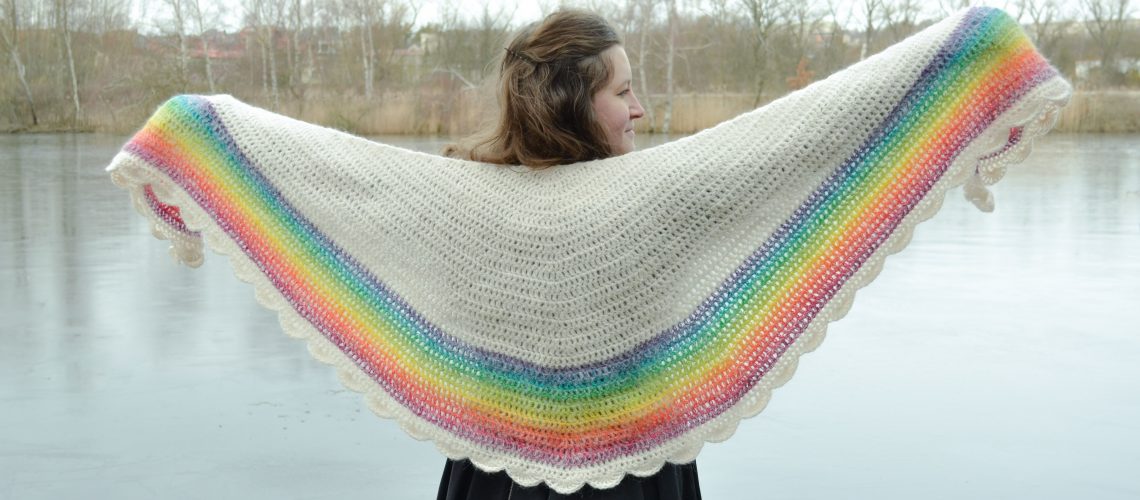 If you've been waiting for this for the past several months, like I have, today is the day.
Fully tested in both US and UK terms, with a clear diagram and written instructions for all the rows, this is the most comprehensive pattern that I've published to date.
Because I really want you to make this shawl, I even made a video (I'll update the captions soon, I promise). You can watch it below after getting the pattern and preparing your yarns and hooks and whatnot.
It's not complicated, in fact it's so simple that even a beginner can make it, but the process of creating a pattern is much more than simply writing down the stitch combinations.
The best part about this pattern is that the shawl isn't a half-circle like you're used to. You could very easily take the pattern for half a circle, increase it until you get something big enough and call it a day.
I've seen countless patterns for such simple half-circles and it always makes me laugh when I find yet another pattern using the same-old basic circle shape. Sure, there are not many who take it to the extreme size of a shawl, because then you'd end up with half a dodecagon (a shape with 12 sides). You could vary the placement of the increases and get an actual circle, which would actually lead to a pretty decent rainbow shape.
But when you try to wear that half circle on your shoulders, or when you drape it around your neck, it doesn't feel right. It doesn't want to sit on the odd shape that is the human body because it's a straight line and the human body is anything but made of straight lines (yes, it would be perfect as a window decoration).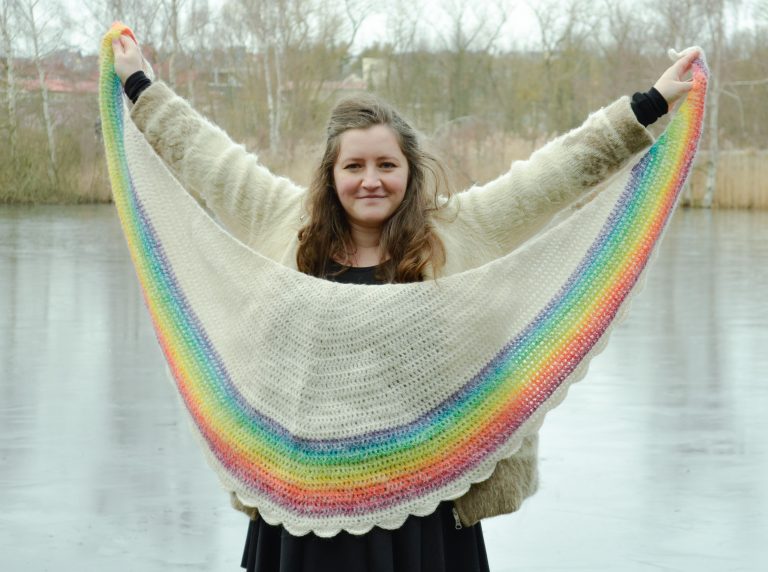 This is where working on the bias comes in. In this particular pattern you won't notice the bias construction as much as in the Blueberry Popsicle shawl pattern, for example, but trust me, it's there.
By increasing a lot at the two corners and a little bit in the central wedge, you create a crescent shape that doesn't resemble a half circle any more and sits very nicely on your shoulders. You can't get this effect from triangular shawls either, as they also have the same straight edge as the half circle.
How do you wear this shawl?
It's very simple, you just put it on your shoulders and maybe tie it at your back to create a soft, warm hug that stays with you the whole day.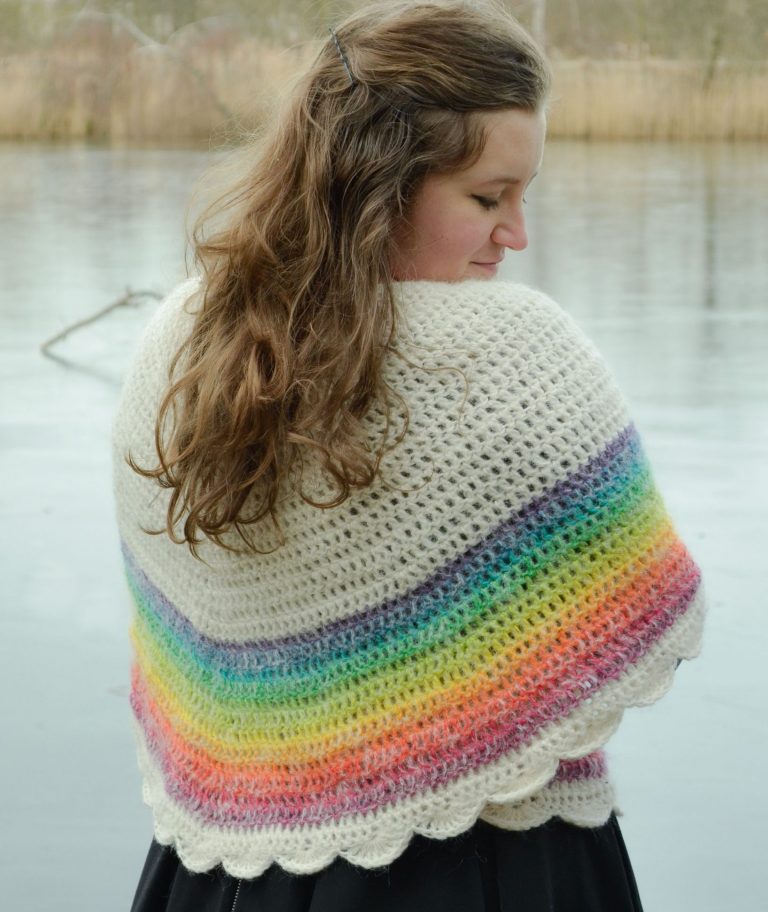 Or you wear it just like any triangular shawl, as a scarf around your neck, The compliments are sure to come. At least from your LYS owner. 
That's also something.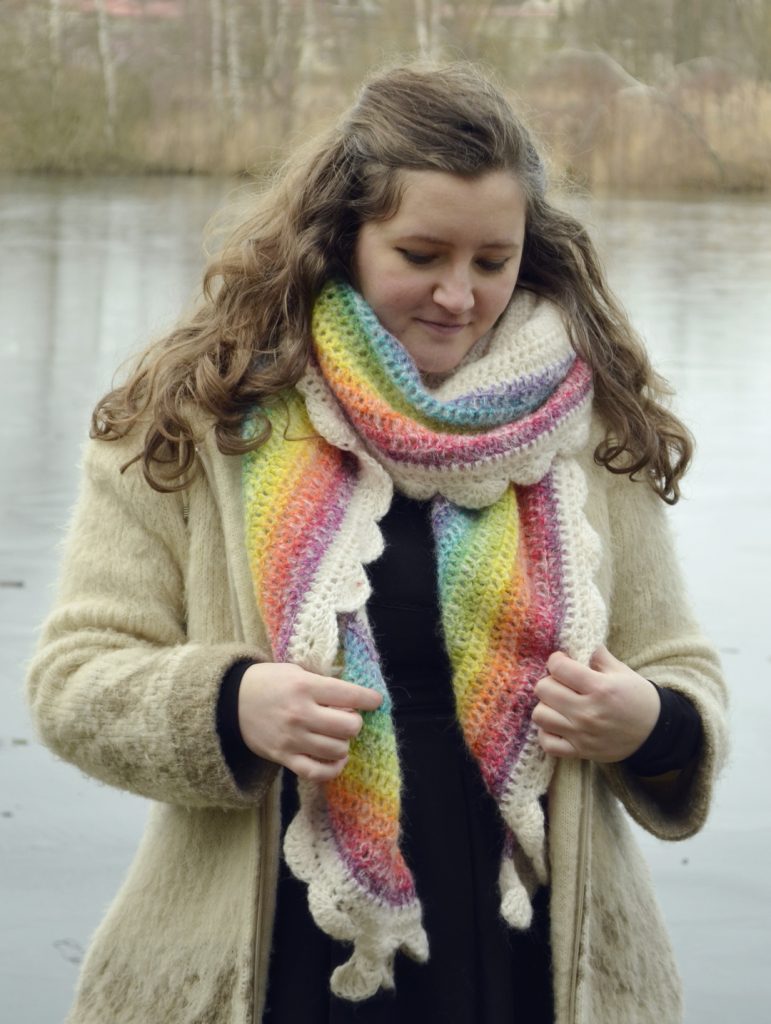 Of course I'm joking, there is no right way to wear your shawl, I just really like how these photos came out and I needed a reason to show them off.
Now go forth and make your own (did I mention that the pattern is free?) and be sure to tag me @yarnandy on Instagram if you post any photos of it there.
Lots of love and lots of hugs,
Andrea