Have you ever tried to make Tunisian crochet granny squares? Here's a new method that I created to make two types of Tunisian crochet granny squares, both based on the same easy to make Tunisian crochet circle that I used for scrubbies before.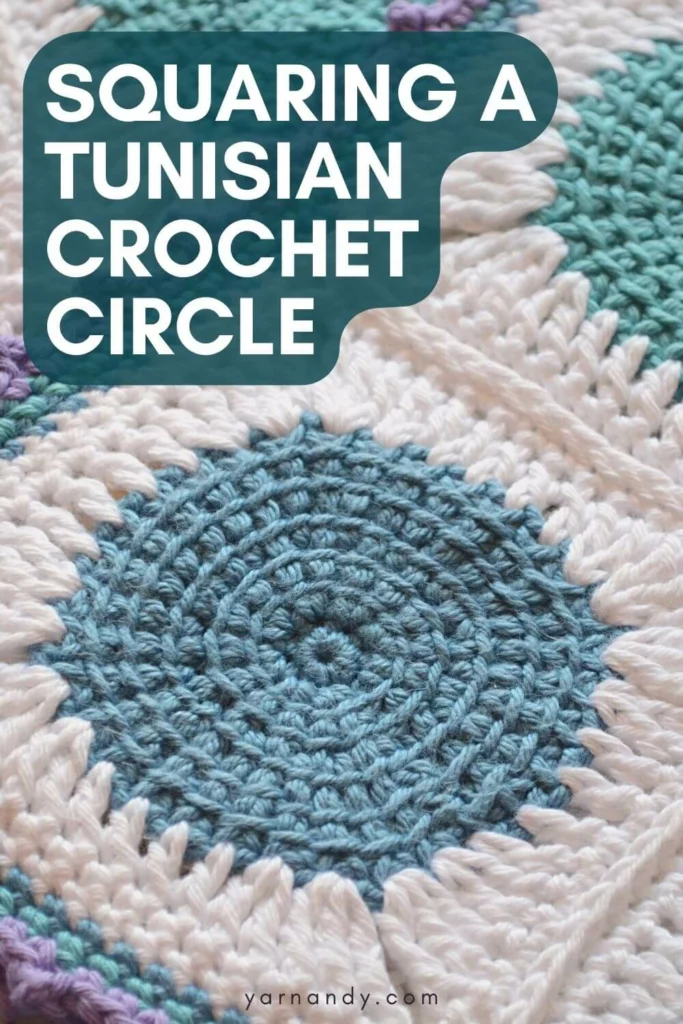 About this Tunisian crochet granny square pattern
I started making the squares for the baby blanket for my youngest nephew about a year and a half ago.
I had a stack of pretty colorful dots that I'd made for the citrus slice pattern and I decided I'd make a blanket with them.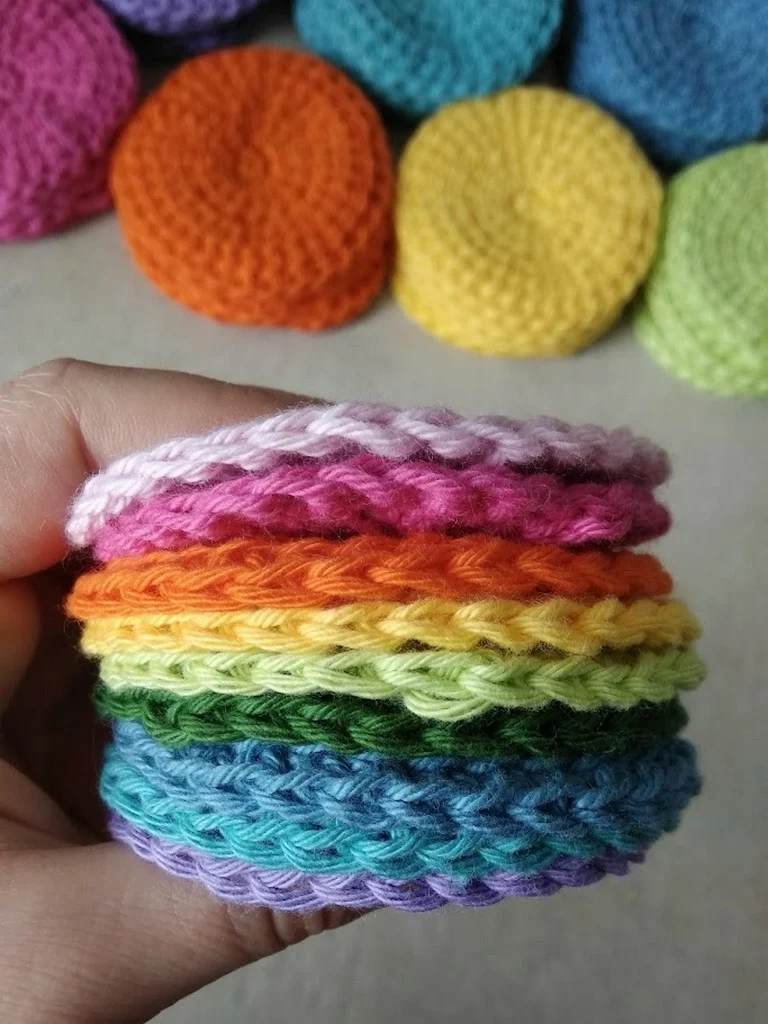 It was such a good idea, in my mind at least, that I made up a plan for the layout and started working. You can see in the photo above the stacks of dots in each color.
The pattern includes these layouts that you can try for yourself if you decide to use similar colors. In the Notions section I linked some yarns that have a large selection of colors.

So here's a way to make a fun and colorful baby blanket out of Tunisian crochet granny squares. For extra whimsy, sew on eyes or other little details to turn the dots into curious or happy creatures.
This blanket is intended to be used as a play mat, swaddling blanket or stroller blanket, not as a crib blanket. Adding a backing makes it extra sturdy.
Use cotton, linen or a bamboo-acrylic mix for a soft and easy to care for blanket. Customize the size and color of the blanket to suit your tastes.
Use many colors mixed together or a few colors and a common contrasting color, use a variegated yarn for the dots and a neutral, single color for the squaring, the possibilities are endless.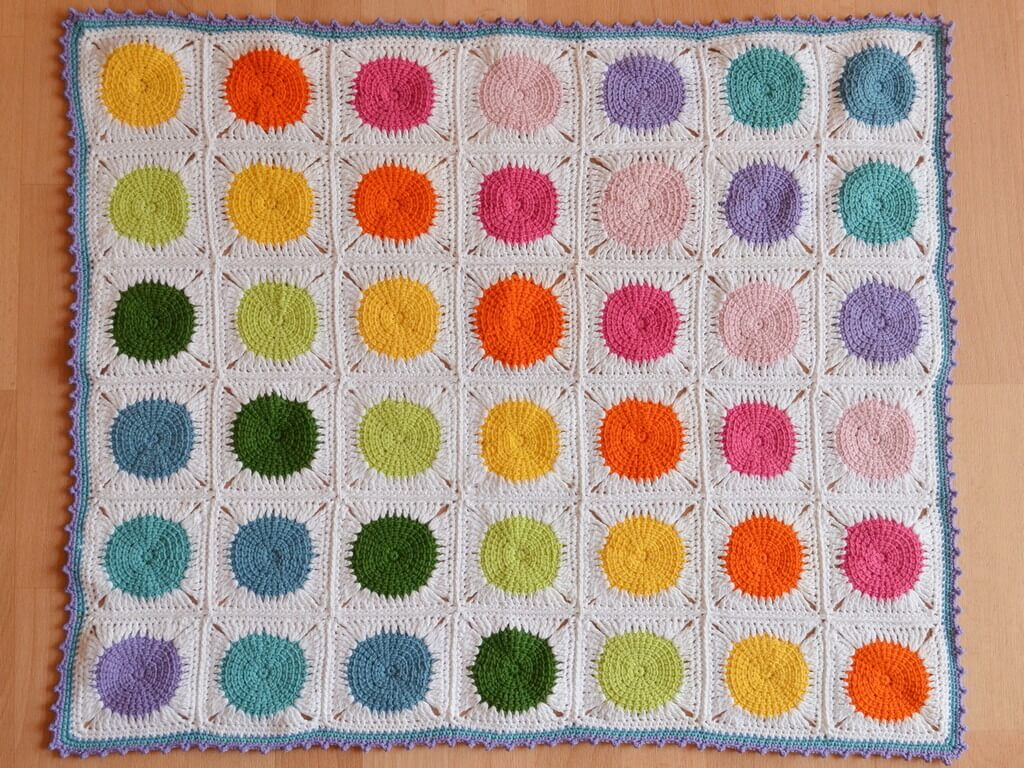 This pattern has been tested and it includes:
full written instructions;
a photo tutorial for making the circle and two ways of squaring the circle;
video tutorials for making the circle, two ways of squaring the circle, seaming the blanket;
color planning graphics and printable/fillable graphic;
US terms and UK terms in separate files;
easy read versions for both.
The blog version includes color layouts and all the video tutorials. For the full pattern, see below links to my shops.
Skill level
Beginner in Tunisian crochet.
Notions
Yarn – for one square: about 8 grams or 20 meters of 4-ply or 5-ply or size 3 cotton yarn; here's some yarn that might work well with this pattern (affiliate link), with an amazing range of colors; here's another one (affiliate link); about 4 grams or 10 meters for one dot, 4-5 grams or 10-12 meters for the squaring; total length will depend on the number of squares you decide to make; add an extra 10-15% of total required yarn for the border;
Hook – 5 mm crochet hook or size close to 5 mm, 3.5 mm hook for squaring;
Blocking mats and stainless steel pins for blocking;
Optional: fabric, thread and sewing needle or sewing machine for backing; the fabric should be 2-4 cm or 1-2″ wider on both sides than the blanket without the border;
Scissors and tapestry needle for weaving in ends.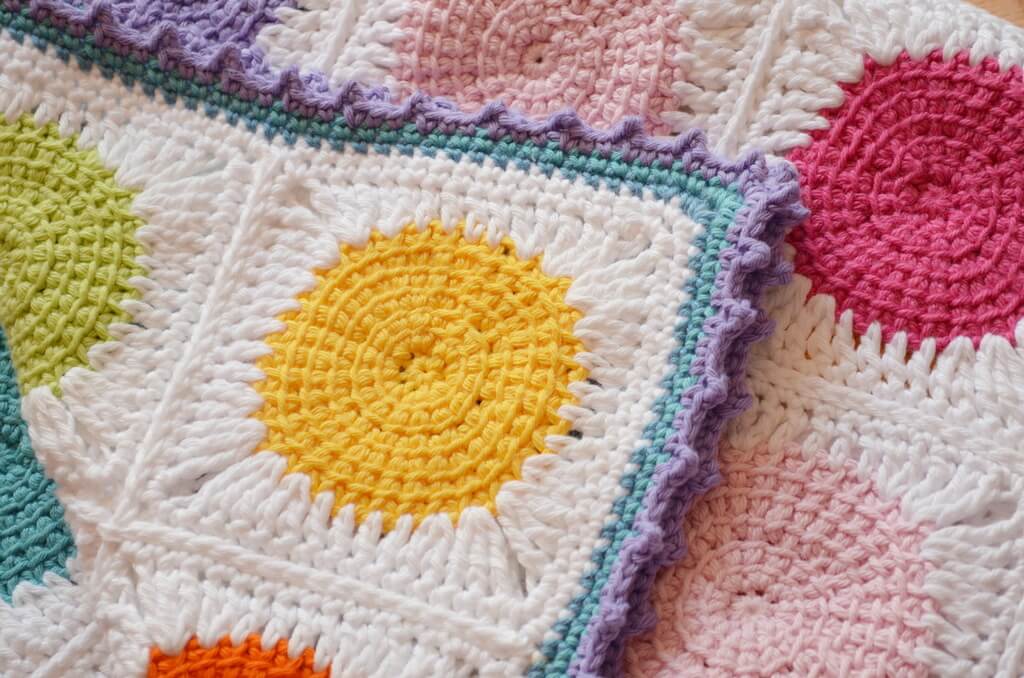 Sizes and measurements
The instructions are provided for making squares that measure 9.5 cm by 9.5 cm or 3.75″ by 3.75″. The circle or dot measures 7 cm or 2.75″ in diameter.
The border measures about 2 cm or 0.75″ in width.
The sample, made up of 7×6 squares, measures about 70 by 61 cm or 27.5″ by 24″. Use the graphs below to choose a color combination or color in your own.
PDF versions of this mosaic Tunisian crochet pattern
You can find the print-friendly PDF pattern here:
The photo tutorial is separate, so you don't need to print it. Here's a preview of the pattern layout with all the pages.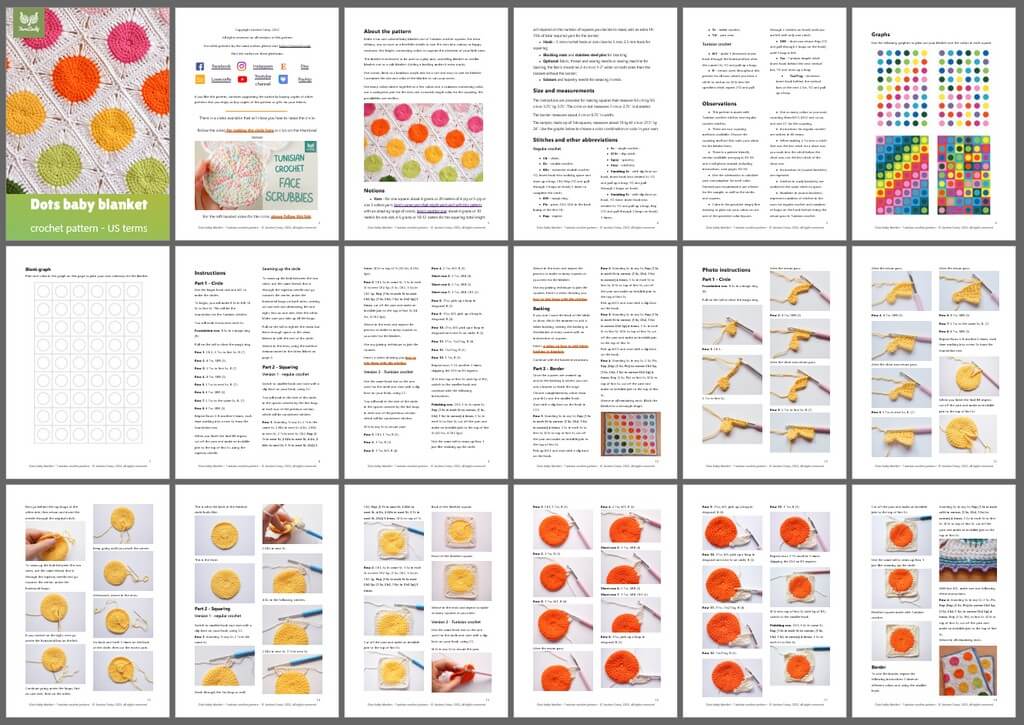 Video tutorials for this Tunisian crochet granny square
Making the Tunisian crochet circle base
First we must make the base circle. I've got video tutorials for you below and a full written and photo tutorial in a separate blog post here.
Right-handed video tutorial for Tunisian crochet circle.
Left handed video tutorial for Tunisian crochet circle.
Squaring the Tunisian crochet circle
After you made at least one circle, it's time to square it up.
In the following tutorials I share two methods of squaring these circles.
The first uses regular crochet stitches and this is what I used for the baby blanket sample. The video uses US crochet terms.
The second uses Tunisian crochet stitches.
Right-handed video tutorial for two ways of squaring a small Tunisian crochet circle.
Left-handed video tutorial for two ways of squaring a small Tunisian crochet circle.
Weaving in the ends
Before seaming the squares together, you need to weave in the ends in all your Tunisian crochet granny squares.
If you don't know how to weave in the ends in your project, here's a video in which I demonstrate different ways of doing this.
Seaming the squares
After you made enough squares, it's time to put them together and here's a video in which I show you how to seam these squares into a blanket.
This method is called the flat zipper join and looks great with these Tunisian crochet granny squares.
Final remarks
I hope you enjoyed this pattern and that you will make many pretty baby blankets or even other projects with this innovative Tunisian crochet granny square pattern.
If you want to share your project with me, I'm always glad to see it and give it a share at @yarnandy on Instagram. You can also tag me Andrea Crețu in groups, if you share the project in a group I'm in.
Here are some more Tunisian crochet patterns for you to try out and make sure you subscribe to my emails if you want to know when I publish new patterns, videos, testing calls and so on. Email subscribers also get exclusive coupons.
Hugs,
Andrea