Use this textured Tunisian crochet video tutorial to learn a crochet stitch pattern that creates the perfect spring cowl and use up that gorgeous hand dyed yarn that you've been keeping for a special project. PDF pattern also available.
About this Tunisian crochet stitch pattern
This is a cowl pattern with 6 sizes from child to adult.
It is inspired by the tiny wild violets that bloom in early spring, as it is the perfect accessory for hiking, biking or gardening during the spring, while temperatures are still chilly.
It uses sock yarn or sock weight yarn, and is perfect for that special single skein of hand-dyed sock yarn you got on a trip or at a craft fair.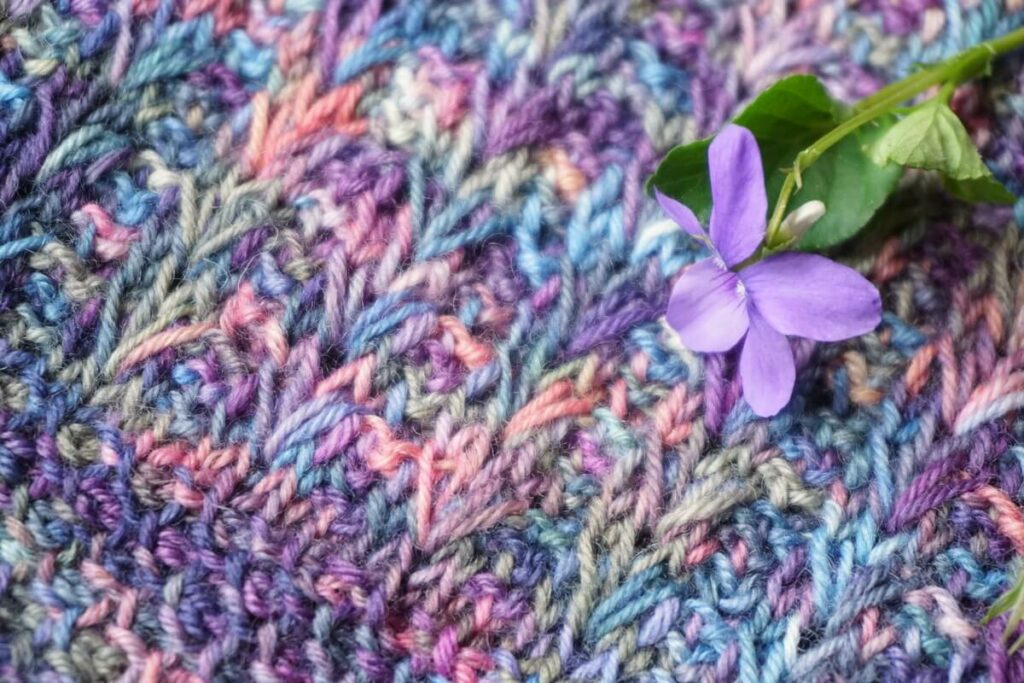 A little background
It's early May. The sun is shining a little, warming up the countryside, lush green buds bursting on trees.
Tiny wild violets bloom along footpaths and in the grass in front of old wooden fences, among daffodils and dandelions.
It's a perfect day for biking, but there's a chilly wind blowing, bringing clouds that come and go.
You put on your Wild violets cowl, a headband for those sensitive ears, and off you go. Well, at least that's what I did last Sunday.
If you want your own Wild violets cowl or just a project that features these pretty Tunisian crochet stitches that create so much texture, check out the videos and use the size table or buy the PDF pattern for the full instructions.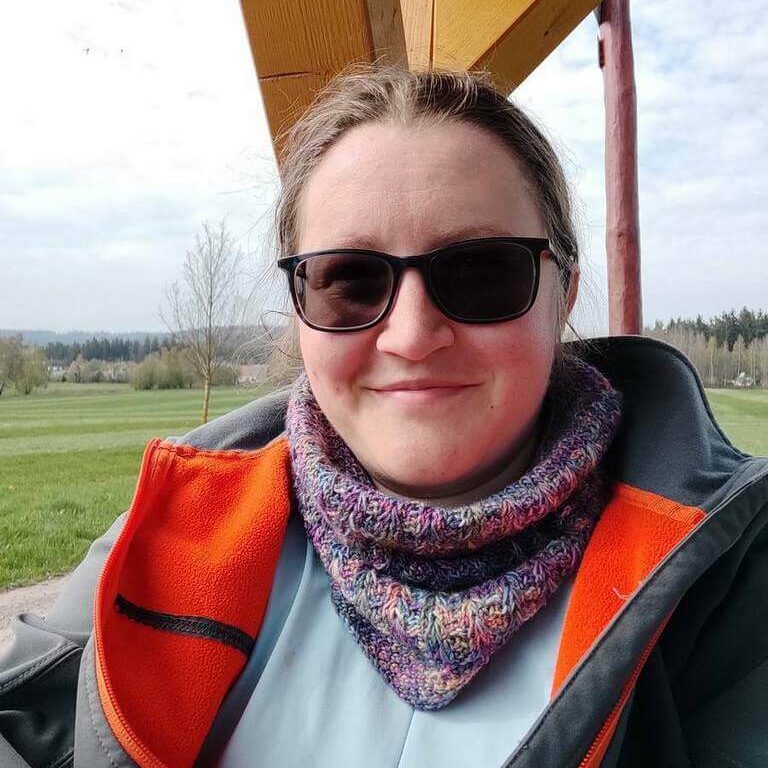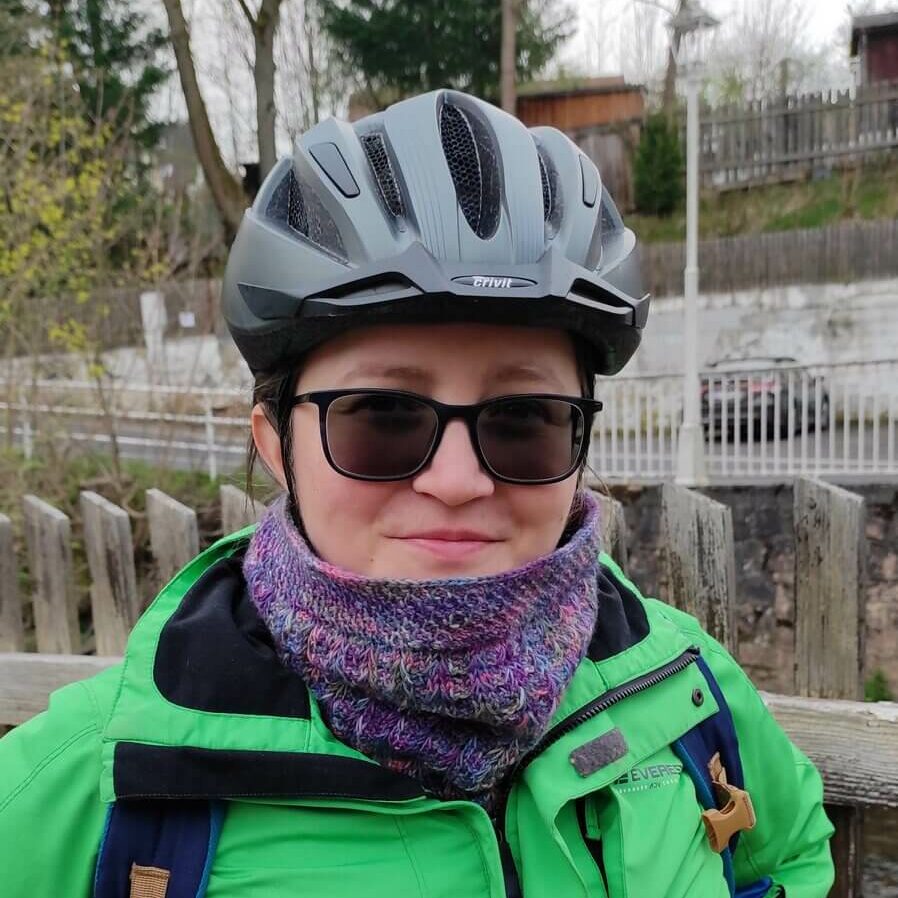 I had the idea for this pattern a while ago, after seeing a tutorial for a similar stitch in knitting.
It was just a spark, but I'd had this beautiful yarn in my stash since the winter of 2018 and never found a suitable pattern for it.
It's a hand dyed sock yarn that I bought in Erfurt from a tiny yarn shop when we went to the local Oktoberfest. I saw it and could not resist.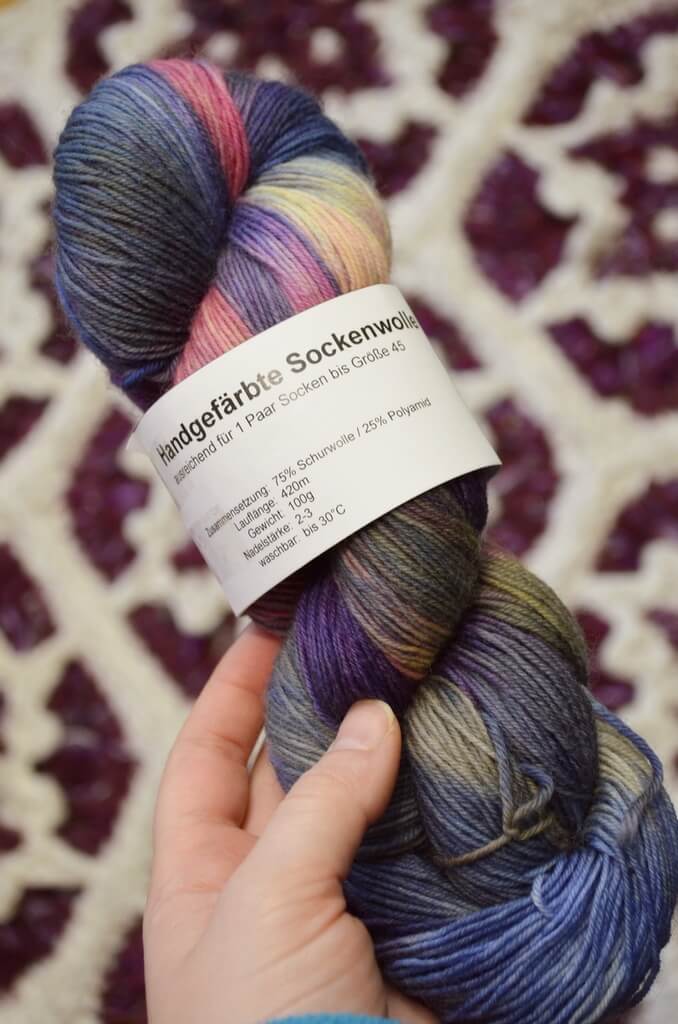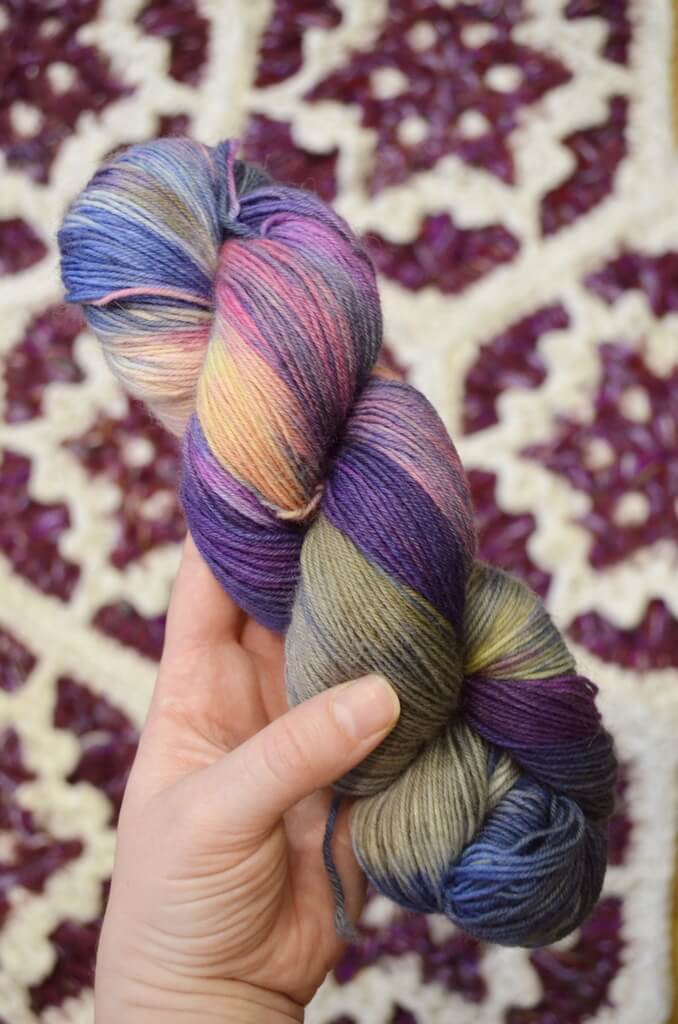 You know me, I'd much rather support a local yarn dyer, than a beer maker. There are plenty of people who buy beer to keep those businesses open.
But regardless of how beautiful the yarn is, I just could not find a pattern to show it off. I tried knitting a mosaic shawl with it and a matching white yarn, nope.
I tried crocheting with it, holding it double with some mohair. It was a disaster.
I'm glad to say that this Tunisian crochet stitch pattern works perfectly for this yarn, from showing off the short bursts of color, to getting the right weight and feel of the fabric.
It did take me about 5 tries to get the Tunisian crochet pattern right, though, so this yarn has seen a lot of frogging. And yet it's still beautiful.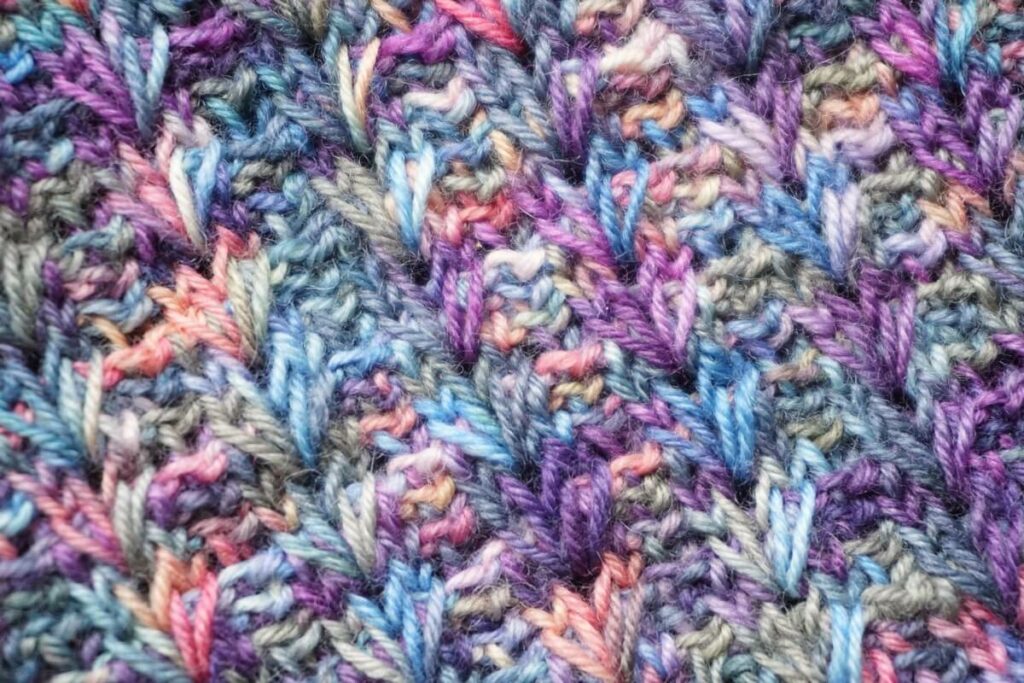 If you have a similar skein (or a bunch of them, I'm not one to judge with all my unused precious yarns!), maybe try out this pattern.
Even if you don't want to make a cowl, you can use this stitch pattern to make a hat by gathering up the top, or for a bag if you use cotton.
PDF version of this Tunisian crochet cowl pattern
If you want to get the full written pattern, not just the videos, including a chart, check out the buttons below to buy a PDF copy (including a regular version and an easy read version that is also mobile friendly.
Here is where you will find the PDF pattern on different platforms.
Size table
Pick your cowl size based on your measurements and desired ease.
| | | | | | | |
| --- | --- | --- | --- | --- | --- | --- |
| Size | A | B | C | D | E | F |
| Head (cm) | 41 | 46 | 52 | 58 | 63 | 69 |
| Cowl size (cm) | 45 | 50 | 56 | 62 | 67 | 73 |
| Head (") | 16 1/8 | 18 1/8 | 20 1/2 | 22 7/8 | 24 3/4 | 27 1/8 |
| Cowl size (") | 17 3/4 | 19 7/8 | 22 | 24 1/4 | 26 3/8 | 28 1/2 |
| Beginning chain | 97 | 109 | 121 | 133 | 145 | 157 |
| Cast on loops | 98 | 110 | 122 | 134 | 146 | 158 |
| Cowl height (cm) | 20 | 22 | 25 | 27 | 29 | 31 |
| Cowl height (") | 7 3/4 | 8 3/4 | 9 3/4 | 10 3/4 | 11 2/4 | 12 1/4 |
Use the stitch counts in the table to make a cowl out of sock weight yarn or use the stitch counts from the previous pattern that uses thicker yarn and a larger hook to make a winter version of this cowl.
Skill level
Intermediate in Tunisian crochet, due to working in different rows and using extended stitches.
Crochet terminology
This pattern uses Tunisian crochet terminology. All abbreviations are explained below. There is no difference between US and UK terminology in this case.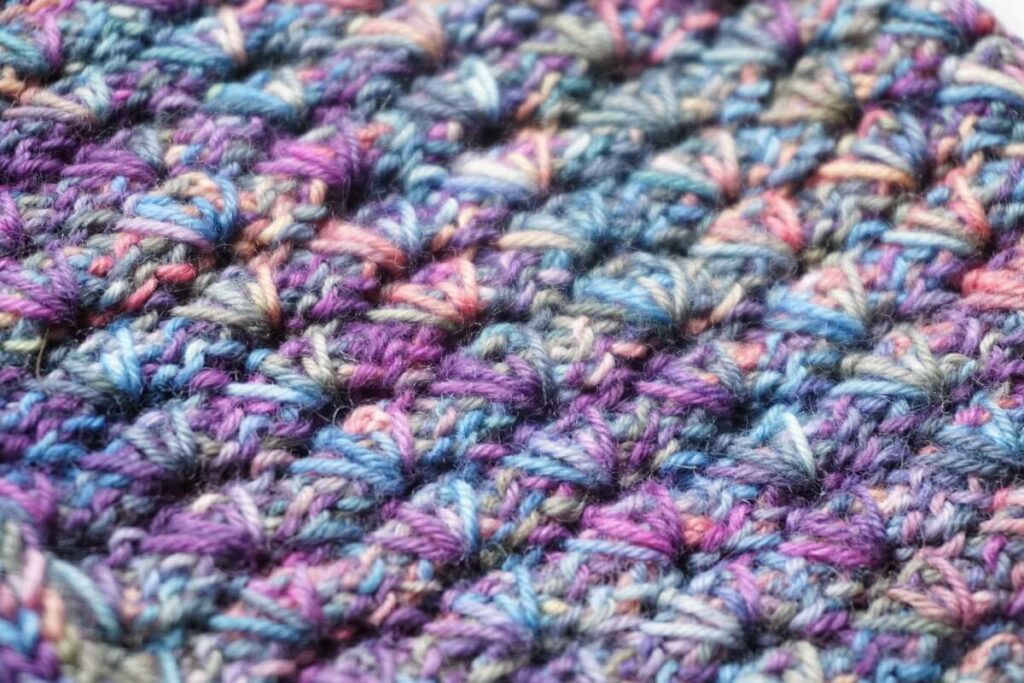 Gauge
22 TKs and 25 rows for a 10 cm by 10 cm square (4″ by 4″). Keep in mind that TKs are shorter than Tss.
Size
Check out the table for head sizes and finished sizes. The sizes range between head sizes of 41 and 69 cm (between 16″ and 27″) with about 4 cm or 1.5″ ease.
The table provides approximate sizes for the height of the cowl, but you can work more or fewer rows of the main pattern to change the height to your liking.
Notions
Yarn: sock weight or size 2, with 400 meters per 100 grams; per size: 260, 320, 400, 480, 560, 660 meters (or more, if you intend on making your cowl taller);
Hook – 4 mm Tunisian crochet hook with cable or long hook;
Tapestry needle;
Scissors.
Wild violets Tunisian crochet video tutorial
Check out the video tutorials I created for this stitch pattern. Follow along to make a swatch and learn the stitch pattern.
Right handed video
Left handed video
Final thoughts
If you enjoyed this tutorial and would like to make it again, please pin or bookmark this page.
If you want to try out other Tunisian crochet patterns, check out my other Tunisian crochet stitch patterns that are also free on the blog, some more difficult than others, but all of them unique.
There are more interesting stitch patterns coming up in the near future, so make sure you follow my email updates.
Stay safe and I'll see you soon!
Hugs,
Andrea