In this article, we're exploring the strengths and weaknesses of Stitch Fiddle when it comes to drawing charts and graphs for crochet. This article is part of a series for crochet designers. Read more articles here.
If you've ever tried searching for software to create charts for crochet, knitting or cross stitch, you've definitely stumbled upon Stitch Fiddle. But what is it good for and how can you make the best of it for your crochet design business?
Today we're exploring all that Stitch Fiddle has to offer (and what it doesn't), its features, some snapshots, and a big list of pros and cons.
If you are interested in finding out more about other types of software you can use to create crochet charts, check out the rest of the articles in this series about software for drawing crochet charts.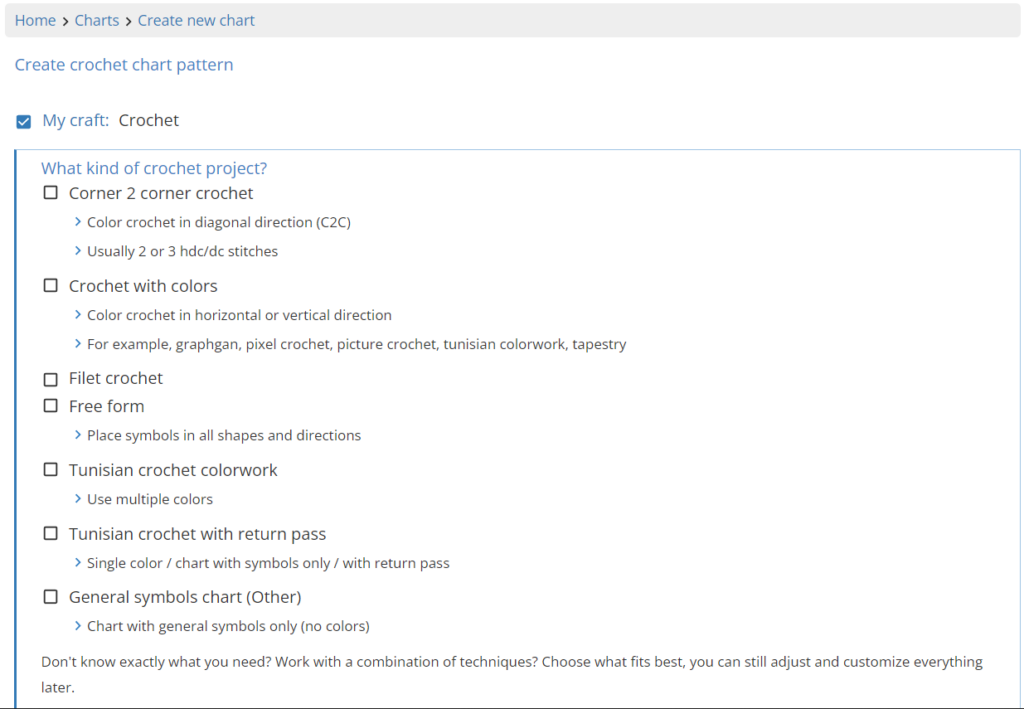 Did you know I also offer charting services for designers? If you don't want to spend the time and the money to learn how to make your own charts, you can also hire me.
Here's my full portfolio of services for drawing crochet charts and schematics for crochet patterns:
About Stitch Fiddle
Stitch Fiddle is an online software for designing multiple types of charts. It's free and you can create an account to save up to 20 documents that you can return to when you have time to work on them.
When you select one of the crafts you want to make a chart for (crochet, in this case), you'll be presented with a lot of options: C2C (corner-to-corner), colorwork, Tunisian crochet, freeform (where you build up the colors yourself), filet crochet and other (where you still get a grid, but I'm not sure exactly what for).
If you want to make colored charts for colorwork, you'll find some excellent tools in Stitch Fiddle.
It also has a large library of stitches for both regular crochet and Tunisian crochet.
Colored charts with Stitch Fiddle
If you want to make a colored chart, you will use the pixel art software component of Stitch Fiddle.
You can make one from scratch or it can take a photo of your choosing, the number of colors you want to use, and the size of your finished piece (how many squares per side), then generate a colored chart.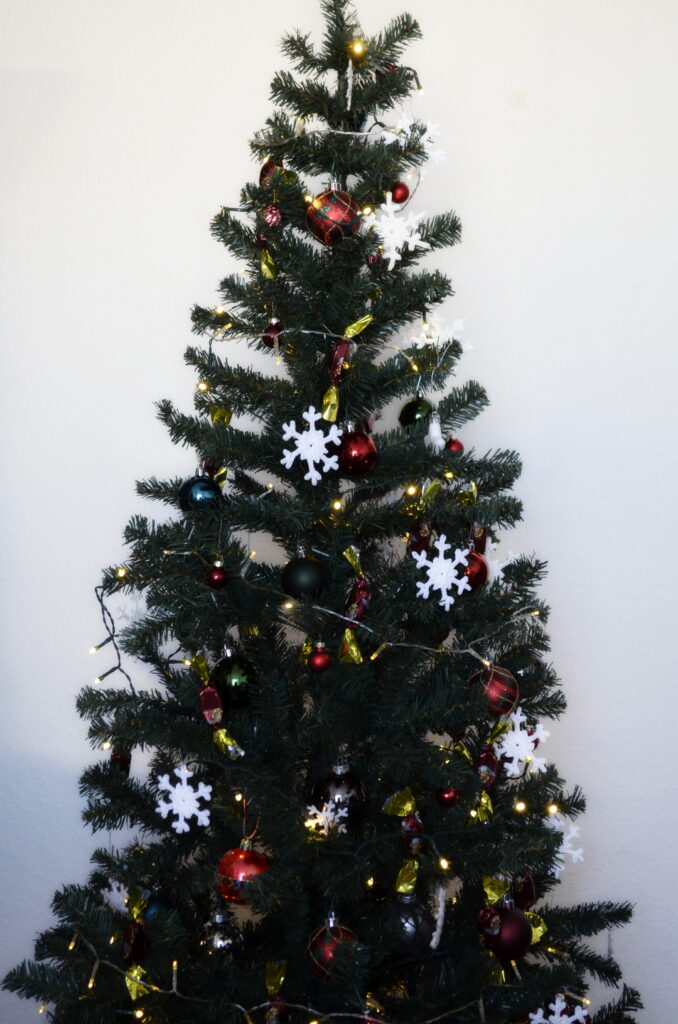 Here's an example based on a photo of our Christmas tree from this year, made with 5 colors (the generated grayscale ones and the modified green ones).
You can customize the chart colors to make them as easy to follow as you want.
You can also clean up the chart to make it as nice as possible. You can recolor any pixel before you export your final chart.
For example, I'd remove the snowflakes from the chart, since they look nothing like snowflakes and take away from the overall feeling that this is a Christmas tree.
This feature is excellent and I highly recommend it, especially if you like creating colorwork patterns from scratch.
I've made a few of these charts for some patterns (one for a double-knitting pattern and one for a wrap pattern that I'll soon publish). They are fiddly, but the results are worth it, especially since this whole feature is completely free.
These are the two faces of the double-knitting pattern worked up, before felting.
Creating stitch charts with Stitch Fiddle
If you want to use the actual stitches to build your charts, however, it gets more complicated.
You start off with a blank page (or a grid, if you choose "other"), where you have to build your pattern.
It helps to have a hand-drawn sketch ready, so you know where to place each stitch.
You'll be placing on this page the various stitches that you select from the panel to the left.
You can customize this panel by adding colors and symbols.
You can add the basic stitches or some more complex stitches.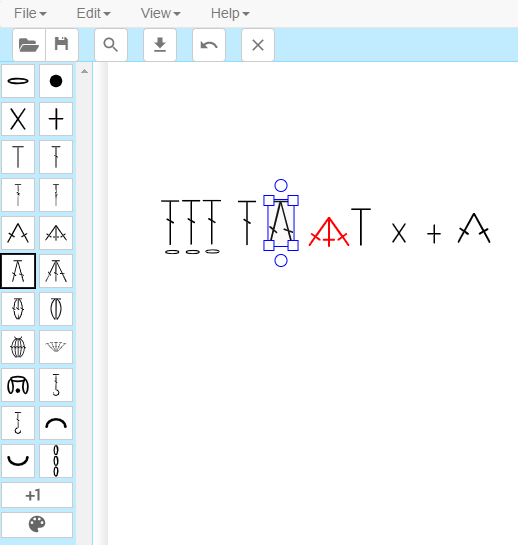 If you hover with your mouse above the stitches in this pop-up, you'll get the names of these stitches.
It's a bit cumbersome to use, because you cannot change the colors of the symbols after you place them.
You need to add the same symbol in different colors to your panel before you start drawing, if you'll have banded rows or stitches of different colors, for legibility purposes.
Adding a new stitch
To add a new stitch to your working panel, click on the "+1" you see in the screenshot above and it will open this dialog box.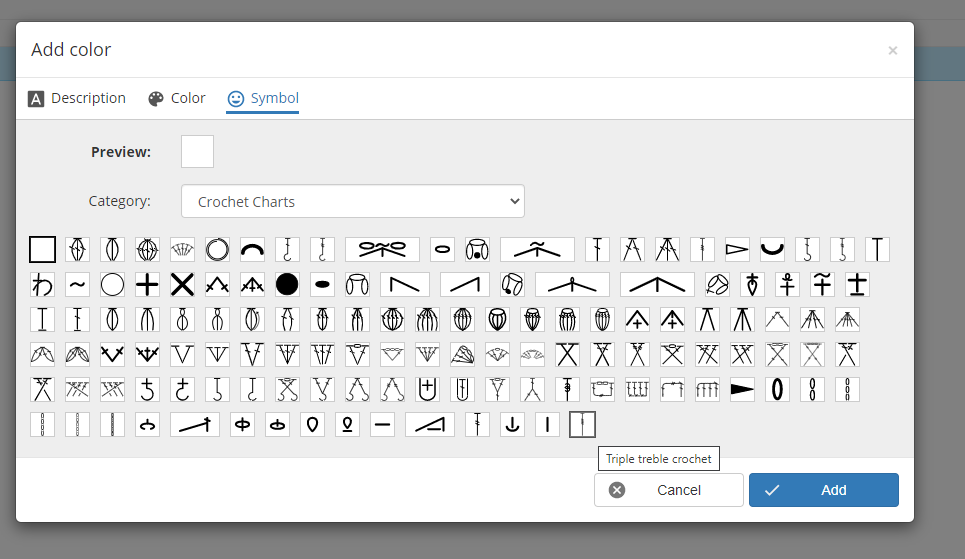 Select the set of symbols you need from the "Category" (I selected "Crochet Charts") and pick your symbol.
Change the color and description and click on "Add" to add the new symbol to the panel.
You can also remove unwanted stitches from the panel with a right-click on the stitches and pressing the "Remove" button.
You can only remove unused stitches, so if you already used a stitch in your chart, you'll only be able to change the color and the description of that particular stitch.
It saves a lot of work if you only have your working stitches set up in that panel, so do this before you start any work on your chart.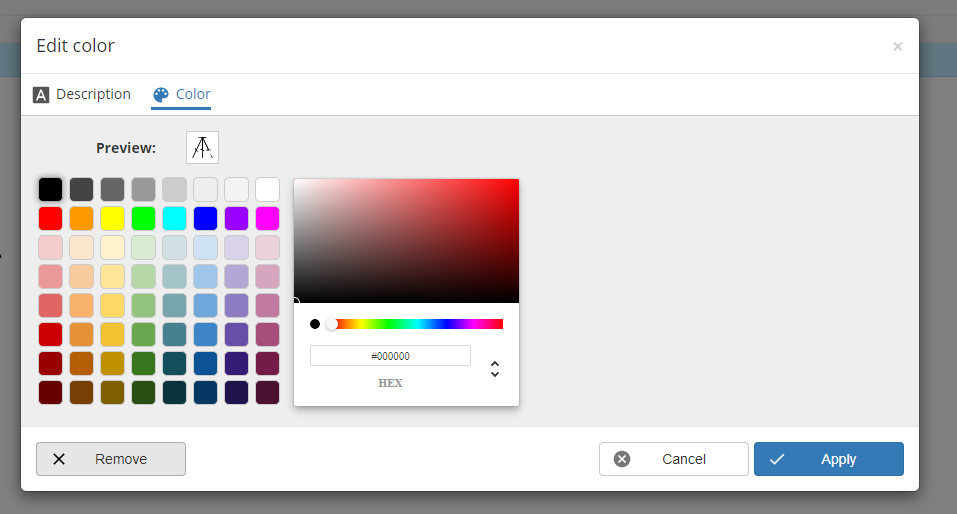 If you are not sure about the colors yet, don't worry, as you'll be able to change it for all stitches after you are done drawing, but you need to have two different stitches of each kind (in different colors), from the beginning, if you want to make banded rows, there's no workaround.
Drawing in Stitch Fiddle is fiddly (ha ha, that's not a fun pun), since you don't have a "select" cursor, so you have to learn that, if nothing is already selected, every time you click on an empty space (or even on top of a stitch when it's not red, which means your cursor is right above that particular stitch), you'll place a stitch that's currently selected in the panel.
Isn't that annoying? Well, it is, at least for me.
But you can't place multiple of the same stitch one after the other either, as you need to first click to place a stitch, then click again anywhere to unselect the stitch, then click again to place the second stitch and so on. It is a pain.
But hey, at least now you have align features (they weren't there a couple of years ago when I tried working in this software – it's slowly getting better).
You can also copy and paste stitches, but they'll be pasted in random places, not where you expect them to be pasted.
You now also have the awesome feature of aligning things in the round, which is nice if you only have one round in your chart…
There's no option of grouping stitches, but that would make this feature a great competitive advantage for the software.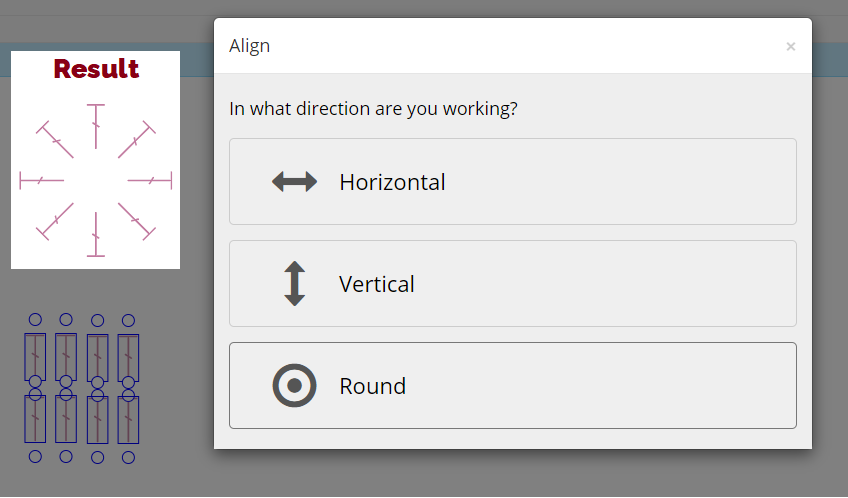 You also can't align horizontally/vertically stitches that are on multiple rows and columns because they'll get superimposed in a single row/column. This could also be fixed with grouping.
Still, for your basic crochet chart needs, Stitch fiddle is a robust software that can help you churn out simple patterns quickly and relatively easily.
An example of a crochet chart made with Stitch Fiddle
If you're curious to see what a chart may end up looking like when using Stitch Fiddle, just sign up to my updates and you'll get my Kizilkaya shawl pattern for free.
This was the first pattern that I wrote with an included a chart along with the written instructions.
I'm very proud of the pattern and how popular it has become, not so much of the chart, which is the best I could do with this software, but not nearly as good as I could have wished for.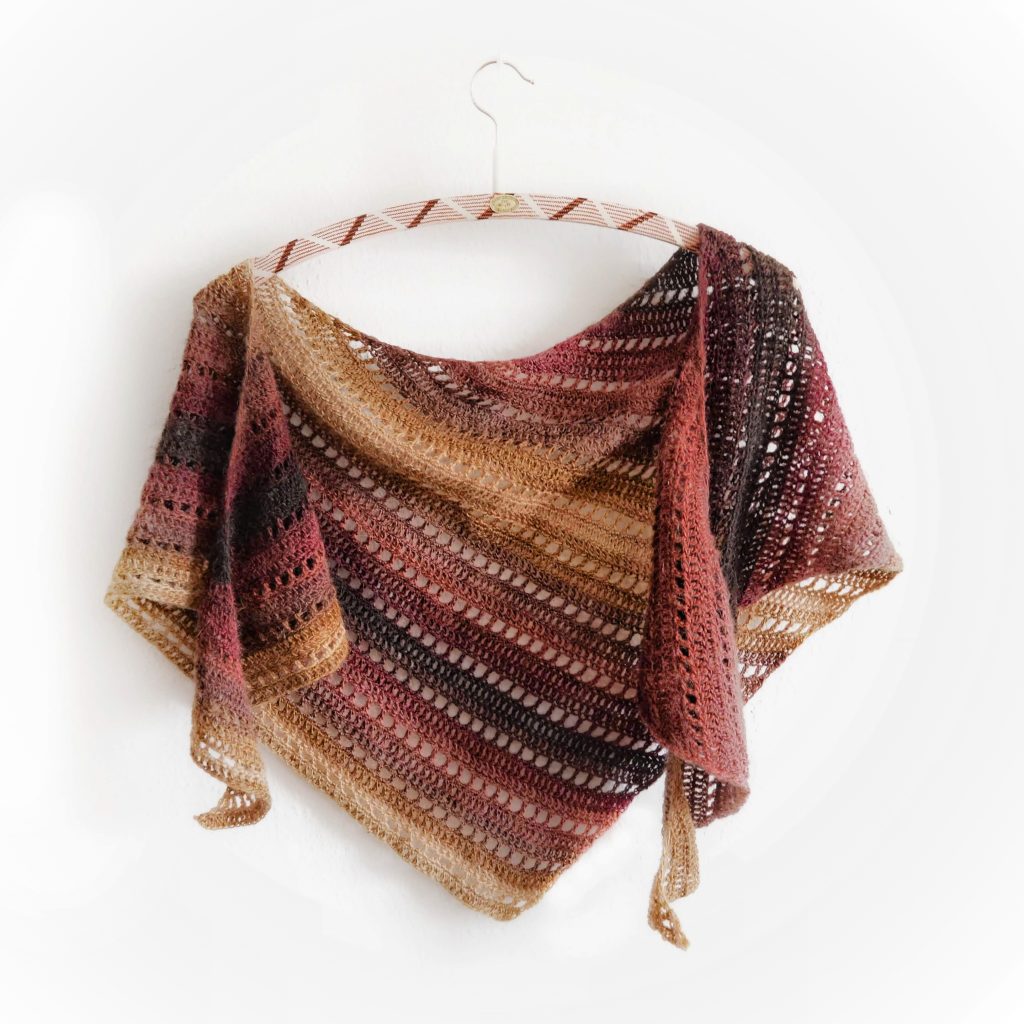 Pros and cons of Stitch Fiddle
Pros:
You don't need to draw your stitches, just find them in the stitch library;
You can make charts, as well as color graphs with multiple gauges;
You can turn an image into a color chart;
It's mostly free and the premium features are really affordable (4 bucks per month for premium features is really cheap, but then again, I have no idea if you really need those features for small businesses);
You can add multiple colors and edit them as you work;
You have some handy align tools;
You can rotate individual stitches and several selected stitches at the same time (although I have no idea how to use this feature, it's very confusing to me);
You can select multiple stitches by dragging or by using the Ctrl key (not the Shift key too, for some reason);
You can navigate on the page by holding down the Alt key and clicking on the page.
Cons:
Cumbersome to use for stitch charts, you need to click several times to place a stitch;
There's no select tool, which means that the mouse turns from select to stitch stamp to select whenever you're not paying attention;
You can't change colors of individual stitches – you need to do that before placing the stitches;
The align features are limited and take multiple steps for simple things;
There's no grouping of stitches, so copying and pasting is difficult, plus you can't rotate groups of stitches as a whole;
The stitches don't have consistent heights and thicknesses – HDc2Tog doesn't have the same height or thickness as HDc, for example;
You can't edit the absolute size of the stitches in the panel, nor the size of multiple stitches selected at the same time;
There's no way to edit the thickness of any stitch;
You can't edit or create new stitches – what you get is what you can use, so if you want to use some more complicated stitches, you need to find something else.
Wrapping up all this talk about Stitch Fiddle
As you already know a lot about the software by now, you should check it out and see if it's suitable for you.
If you're planning on making colored charts, I highly recommend it. If you want to create stitch charts, I'd rather recommend another application. You could try Crochet Charts or Inkscape, also free applications that I've written about in the series about software for crochet charts.
Did you know I also offer charting services for designers? If you don't want to spend the time and the money to learn how to make your own charts, you can also hire me.
Here's my full portfolio of services for drawing crochet charts and schematics for crochet patterns:
You can see an overview of all of these and more in the dedicated article once it's finished. Here are other blog articles about the design process.
I hope all of this information is useful to you in your design journey and please let me know if you have any questions or pros and cons to add to the lists.
Happy hooking!
Andrea
If you want to keep up with news only for designers, with articles just like this one, sign up here.
Otherwise, you can sign up to the general list and get a free pattern.
If you sign up to the general list, you'll also get updates for designers.