Follow these advanced Tunisian crochet lace pattern video tutorials to create a flowing, lacy Tunisian crochet fabric with the yarn of your choice.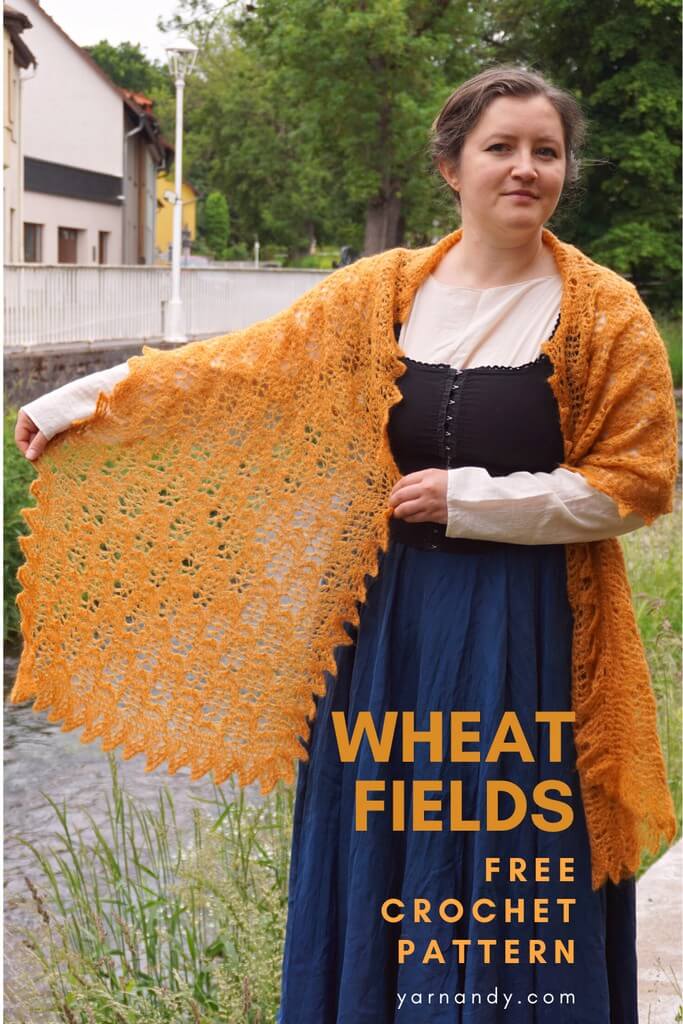 About this Tunisian crochet lace pattern
Inspired by fields of wheat and lovely Shetland lace, when made in lace-weight mohair yarn, this Tunisian crochet wrap envelops you in warmth and softness on chilly summer evenings.
Make it in white as a wedding wrap, or in jewel tones, then wear it for a special event in your life. Change the numbers in the foundation row to make the wrap wider or narrower to suit your needs.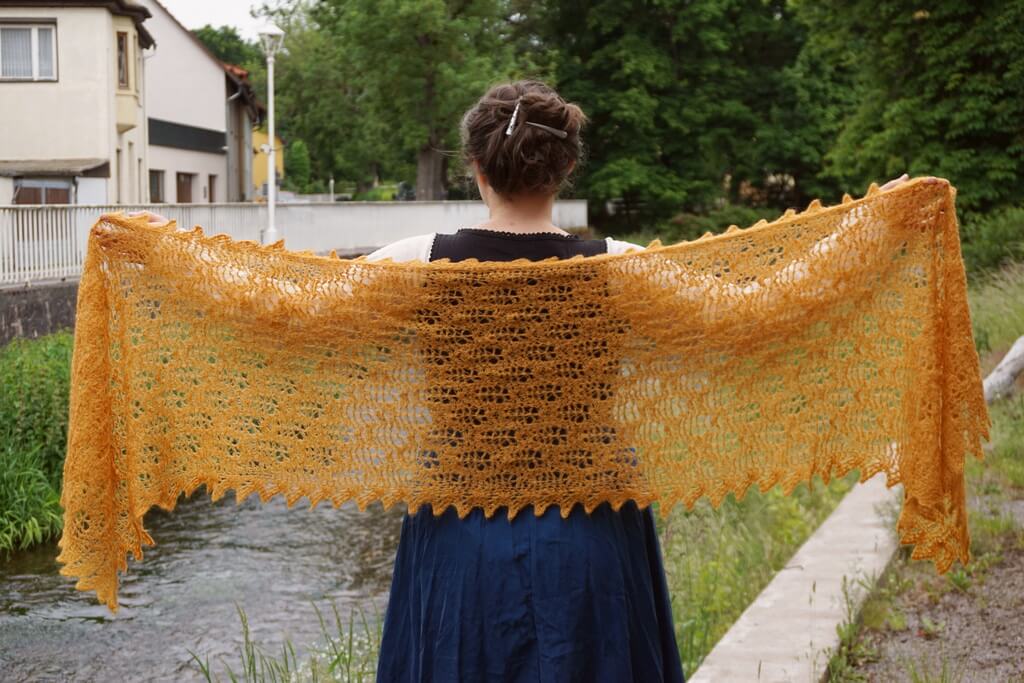 Skill level
This pattern is suitable for intermediate to advanced crocheters with experience in Tunisian crochet lace, increases, decreases and eyelets.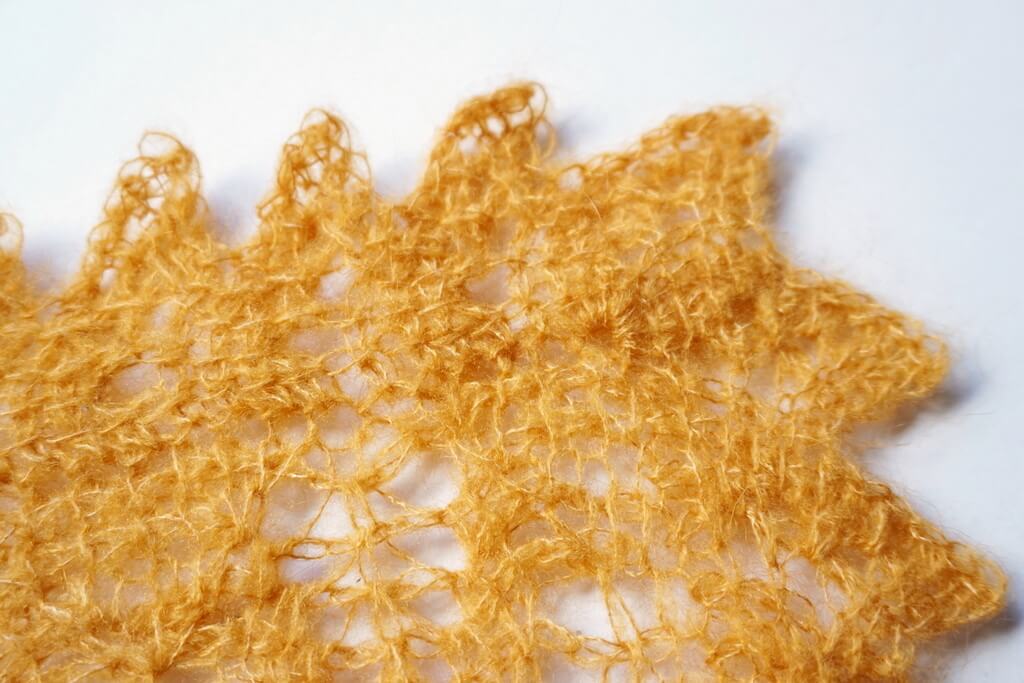 PDF version of this Tunisian crochet rectangle shawl pattern
If you want to get the full written pattern, not just the videos, including charts and an easy to read or mobile friendly version, check out the buttons below to buy a PDF copy.
Here is where you will find the PDF pattern on different platforms (Etsy link to be updated).
Size and measurements of the lacy Tunisian crochet wrap
The sample, using 75 g of yarn for the body and 25 g for the border, measures about 220 by 55 cm or 86.5″ by 21.5″.
Adding more repeats at the beginning will make the wrap wider, making fewer row repeats will make it shorter.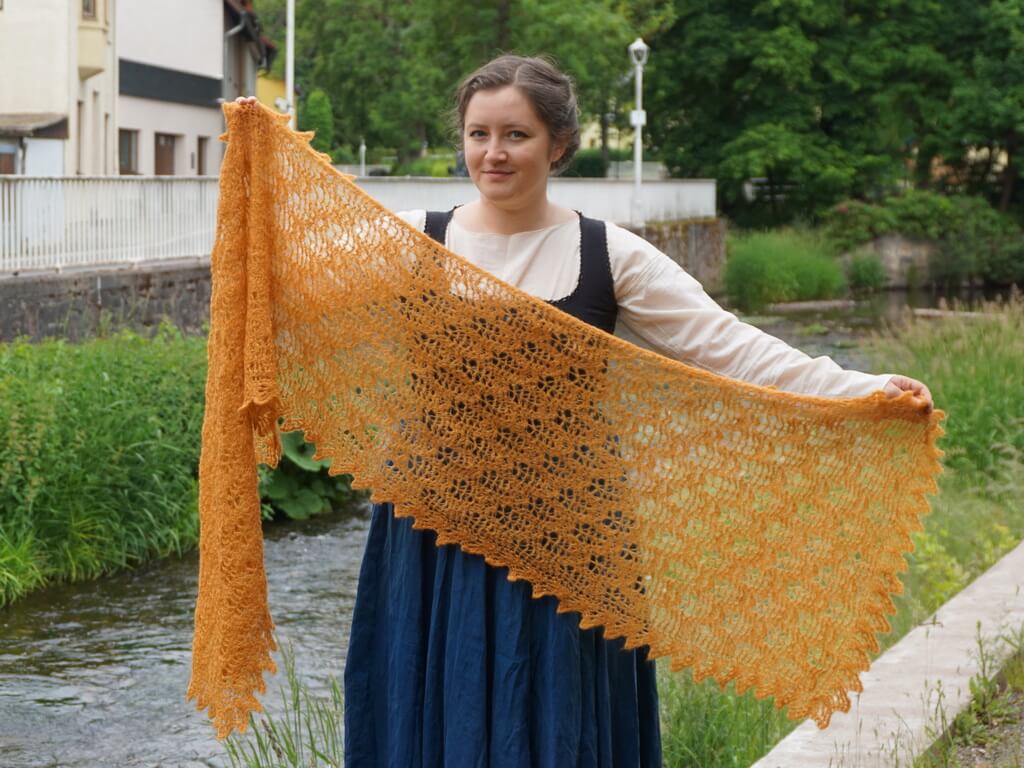 Skill level required for this crochet pattern
Intermediate in Tunisian crochet, due to working in different rows and using extended stitches.
Crochet terminology used in this pattern
This pattern uses Tunisian crochet terminology. All abbreviations are explained below. There is no difference between US and UK terminology in this case.
How to make the gauge swatch
Make a gauge swatch, block it and count the stitches over a square of 10 cm by 10 cm or 4″ by 4″.
Foundation row. Start with a slip knot on the hook. Ch 17 and pick up 17 loops on the hook, R (18)
Row 1. 16 Tss, Ls, R (18)
Repeat Row 1 another 13 times. Bind off the top edge by doing 1 Sl St in each St. Block and count stitches in the middle of the swatch.
You should have 16 Sts and 12 rows in a 10 cm by 10 cm square (4″ by 4″).
Notions for this Tunisian crochet wrap
Yarn – 100 g or 900 m of lace-weight or size 1 mohair or silk mohair yarn in the brand of your choice – about 210-230 m per 25 g ball (in sample: Hobbii Diablo, color Yellow Ochre, 40% acrylic, 30% mohair, 30% Polyamide, 225 m per 25 g).
Hook – 8 mm crochet hook or size close to 8 mm, 6 mm hook for border.
Blocking mats and stainless steel pins for blocking.
Scissors and tapestry needle for weaving in ends.
Wheat fields Tunisian crochet video tutorial
Check out the video tutorials I created for this stitch pattern. Follow along to make a swatch and learn the stitch pattern.
Right handed video for the main body of the wrap
Use the following two videos if you are right handed to make this Tunisian crochet lacy wrap.
Right handed video for the border
Left handed video for the main body of the wrap
Use the following two videos to make the wrap if you are left handed.
Left handed video for the border
Final thoughts
If you enjoyed this tutorial and would like to make it again, please pin or bookmark this page.
If you want to try out other Tunisian crochet patterns, check out my other Tunisian crochet stitch patterns that are also free on the blog, some more difficult than others, but all of them unique.
There are more interesting stitch patterns coming up in the near future, so make sure you follow my email updates.
Stay safe and I'll see you soon!
Hugs,
Andrea