Have you ever participated in a crochet-along? Because I'm inviting you to the first such event that I'll be hosting, the Strawberry Cupcake CAL.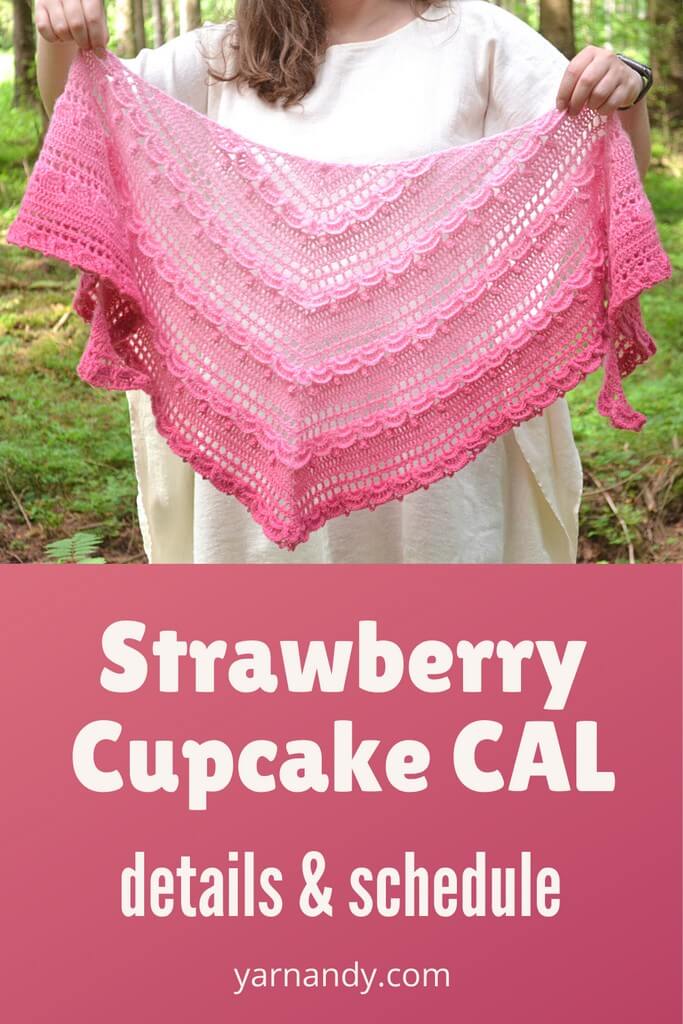 About the crochet-along
I'm very happy to invite you to participate in the Strawberry Cupcake CAL, where we'll crochet a textured shawl together with other people from all around the world.
This will be my first-ever self-hosted crochet-along, so I am a bit apprehensive about it. But you can't learn without applying yourself, right?
This will be a learning opportunity for us both. You'll get to experience textured crochet in an unusual shape and I'll get to experience organizing an event for you online. Win-win, right?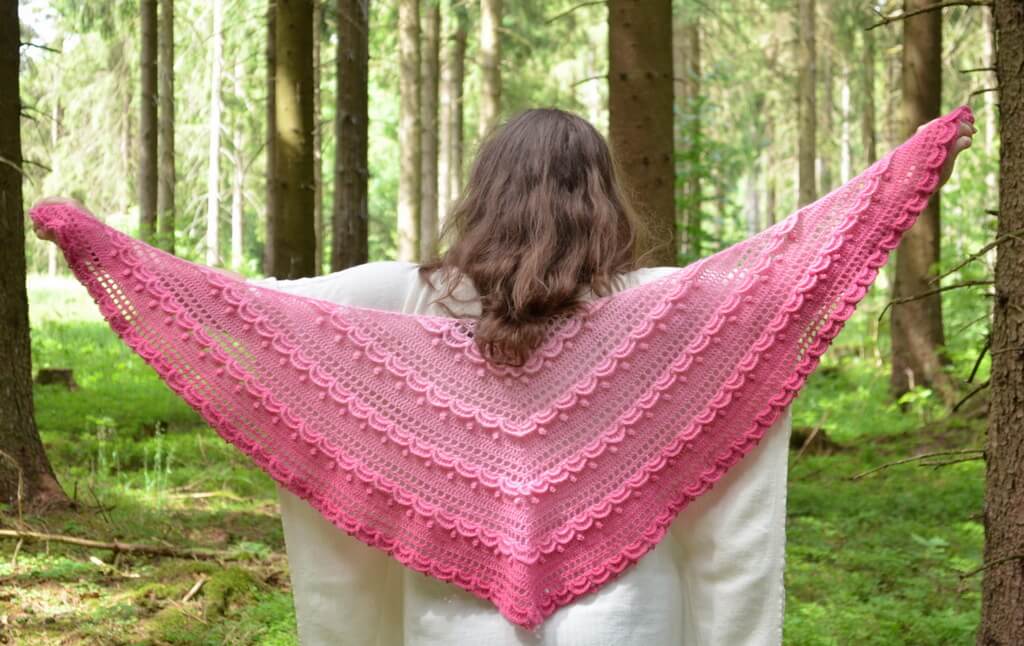 Every week I'll be publishing a new part of this pattern on the blog, as it is quite detailed and takes up 12 pages in the PDF version (which you can find in the shop throughout the event, if you don't feel like waiting for the new part every week).
All the parts will be linked from this blog post, so make sure you bookmark this page or to pin the graphic above on a safe board, so you know how to return at the beginning of every week.
The crochet-along itself, where you get to share progress pics, ask questions, or just hang out with other crocheters, will happen in the Two Redheads Crochet group on Facebook.
The moderators have kindly accepted hosting this event in their group and I'm really grateful they did, I really feel at home there. I know you will too.
Go now and join the group if you're not there already, as during the month of the CAL I'll also be sharing other goodies in the group.
If you don't want to use Facebook for any reason (I completely understand), you can also participate in the prize draw at the end of the event if you show me photos of your completed shawl or add and complete a project on Ravelry, with photos (there will be links for that soon).
You can leave comments here on this page as well, I'm always happy to answer questions in the comments.
Oh, and don't forget to invite your friends! Any CAL is nicer when your friends join you.
Schedule of the Strawberry Cupcake CAL
The event will start on Sunday, August 1st. That's when I will publish the first part of the pattern and the first video.
It will end on August 31st, when your shawl should be completed and we'll draw prizes.
Part 1. 1 August 2021 – Beginning section
Part 2. 8 August 2021 – First part of pattern repeat
Part 3. 15 August 2021 – Second part of pattern repeat
Part 4. 22 August 2021 – Second pattern repeat
Part 5. 29 August 2021 – Finishing touches – blocking and the like
Part 6. 30 August 2021 – Project gallery with your beautiful creations
Part 7. 31 August 2021 – Prize draw and wrap-up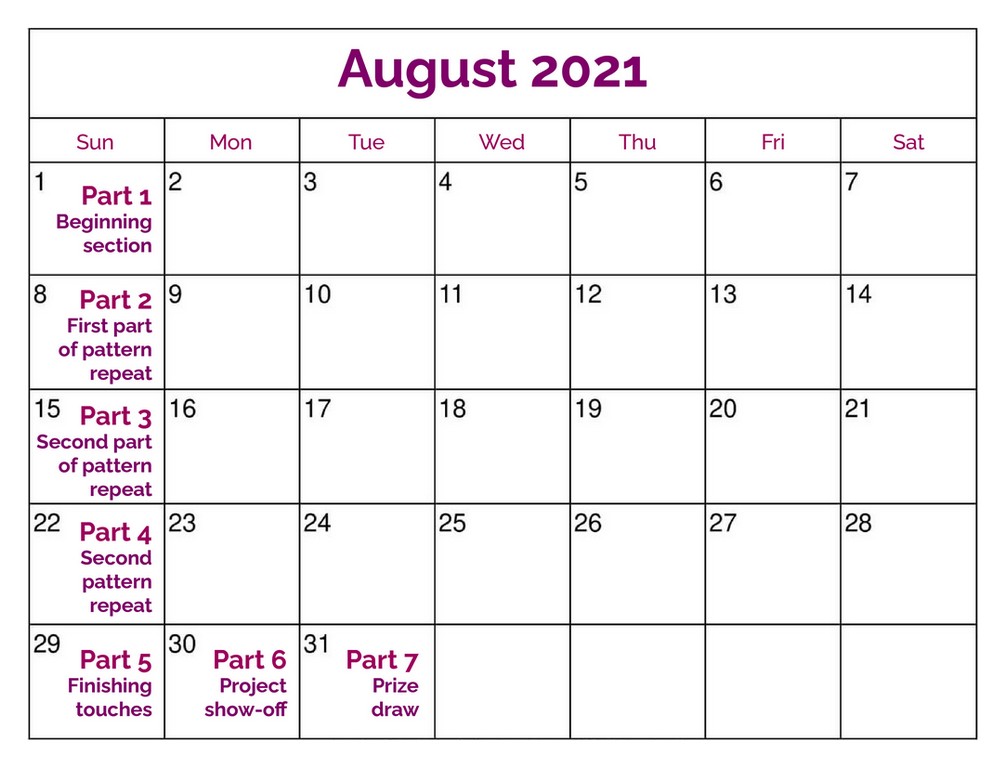 Once we reach part 4, you should be able to finish your project and get some nice photos. I might move up part 5, to give you this information a bit earlier.
The shawl itself takes between 10-15 hours of actual crochet time (more if you are less experienced), so it will be a good project to work on vacation, during the evenings, while hanging out with friends or family.
If you don't want to wait, you could also get the PDF pattern from my shop and work at your own pace.
Or you can find the pattern on these platforms.
Prizes
At the end of the CAL, all participants who complete their shawl will be part of the prize draw.
The prizes comprise of one four cakes of Alize Angora Gold Ombre Batik yarn, which I used to make the sample shawl (gradient cake yarn with 825 meters per 150 grams).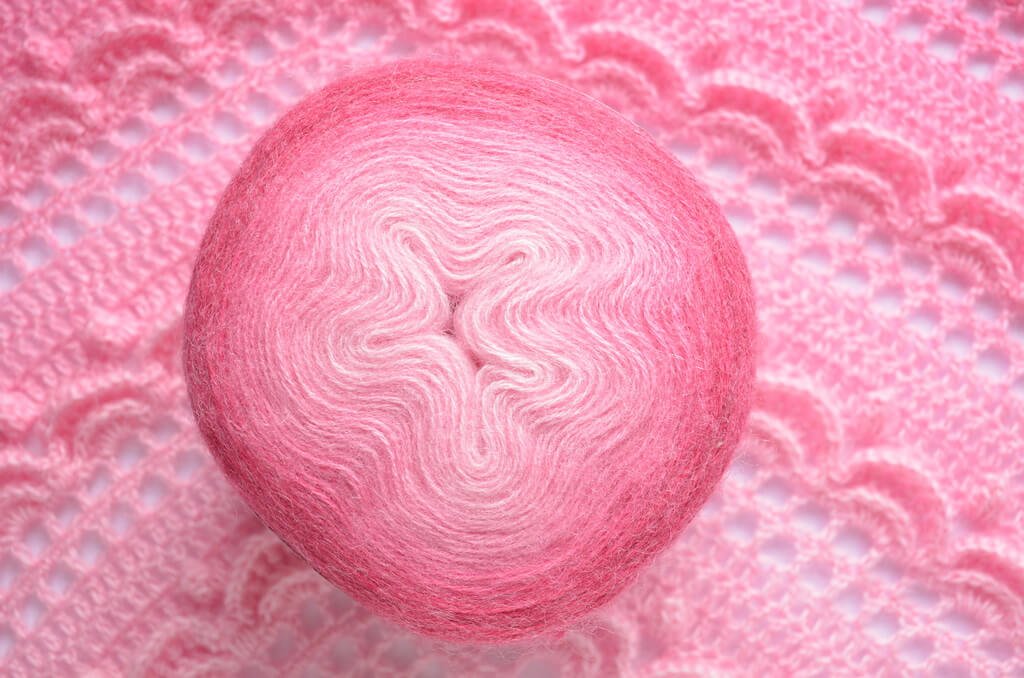 There will also be coupons for any pattern you want from my shop. Explore the patterns and choose the one you'd like to win.
There will be 4 bundles of yarn + pattern available. For these, we will organize a random draw for all participants who complete the shawl during the month of August. I will send the yarn anywhere in the world (that is accessible by DHL).
I might have to rewind the cakes to get them to fit into a box, I hope you don't mind.
Plus, every person who completes the CAL gets one free pattern from me as a prize.
There are no outside sponsors, this is all from me, but maybe in the future events we'll have sponsors as well (if you wish to sponsor this event, please let me know).
Skill level
The experience level recommended for this pattern is intermediate, as you will be working front post stitches and popcorn stitches.
You will also work off of detailed instructions. Hopefully I'll be able to find a way to include a chart as well, at least for parts of the pattern.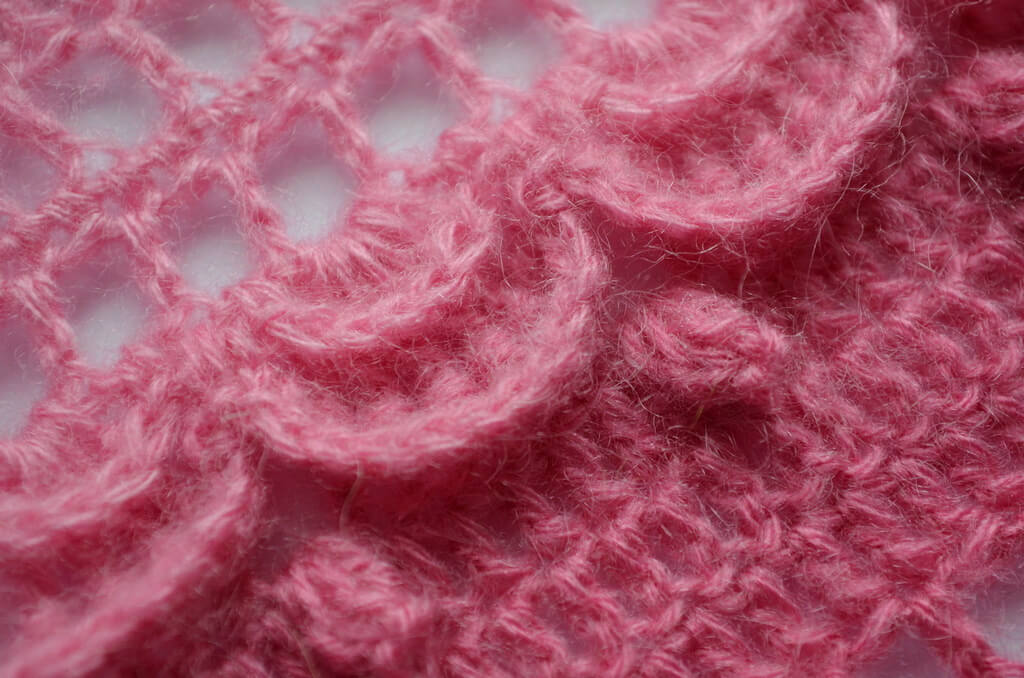 If you are a beginner, you are also welcome, as there will be detailed videos for each part of the pattern. I and everyone in the group are here to support you.
Notions
Yarn – a cake of gradient yarn in size 2 – 800 meters per 200 grams for given size, or a larger cake for a larger shawl; you can substitute with any yarn weight, but I recommend keeping it in the fingering-DK range;
Hook – 3 or 3.5-mm crochet hook or hook that goes with your chosen yarn;
Scissors and tapestry needle for weaving in ends.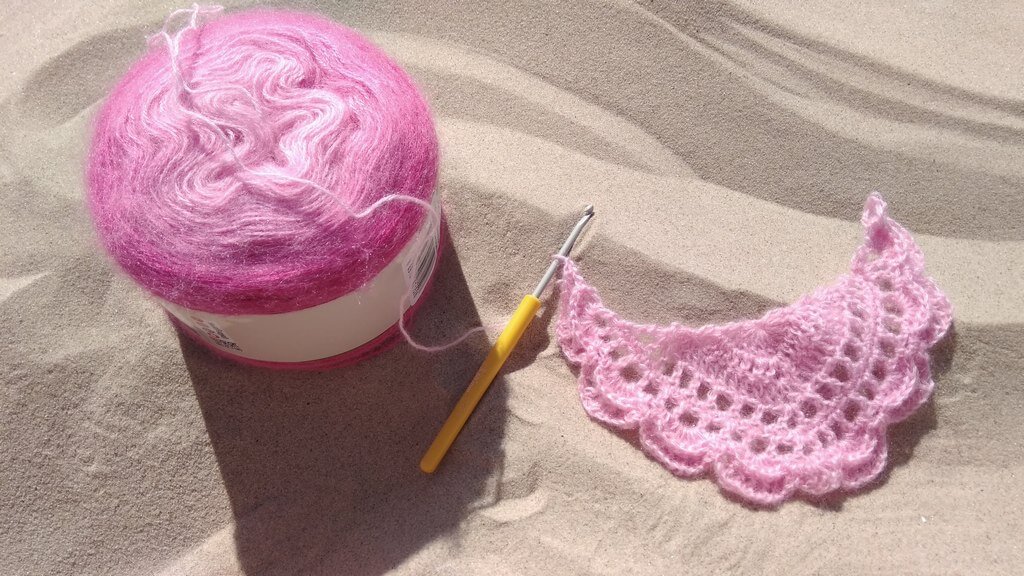 Size
The finished shawl sample made using the recommended yarn measures about 160 cm or 63" in length and 50 cm or 19.5" in depth.
To make the shawl larger, use a thicker yarn or make more pattern repeats, following the instructions in the second pattern repeat.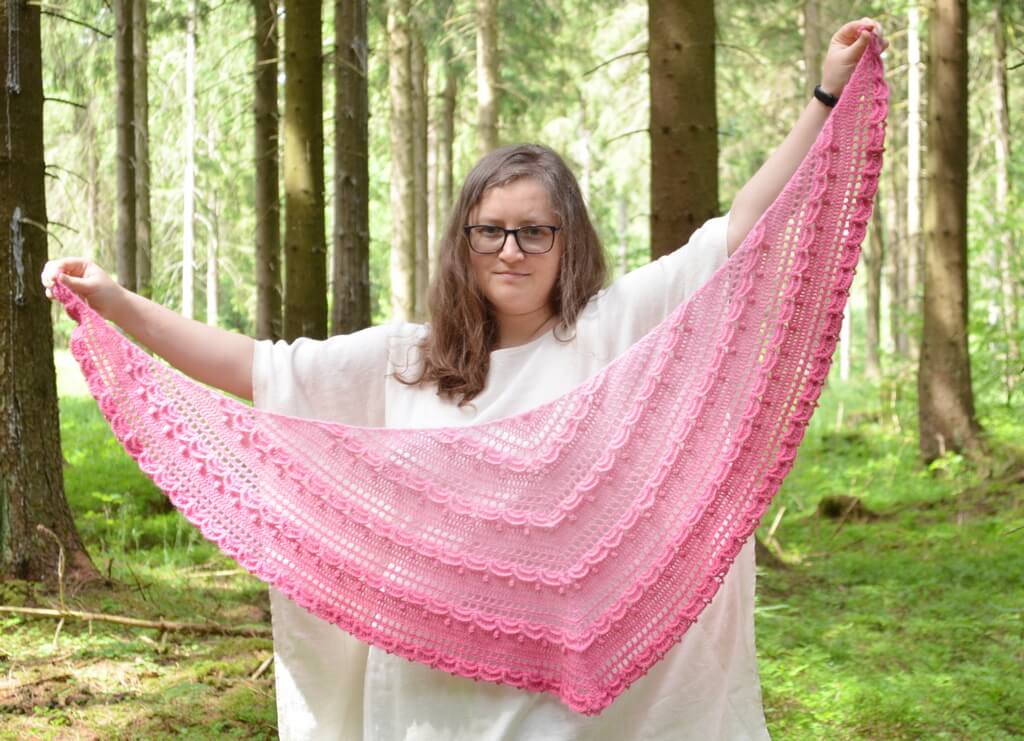 Gauge
If you want to make sure your chosen yarn is sufficient to follow the whole pattern and make a shawl identical to the sample, make a gauge swatch.
Adapt your hook size to reach the recommended swatch size.
18 Dc stitches per row and 10 rows should give you a 10 by 10 cm or 4" by 4" square.
Make the gauge swatch as soon as you get your yarn.
Final remarks
The observations and stitch abbreviations will come with the first part of the pattern, in the second article in this series. Read them carefully before starting to work on the shawl and you'll have no issues.
Sign up to my email updates if you want me to send you an email every time I publish a new part of this CAL, as well as other patterns and useful articles about crochet. You also get a PDF pattern for free when you sign up.
I'm looking forward to seeing you in the group and to see what beautiful shawls you make in the Strawberry Cupcake CAL.
Hugs,
Andrea