Use this free crochet Kindle case pattern to make a soft and sturdy case for your electronics. You can adapt the size for any eBook reader or other tablet.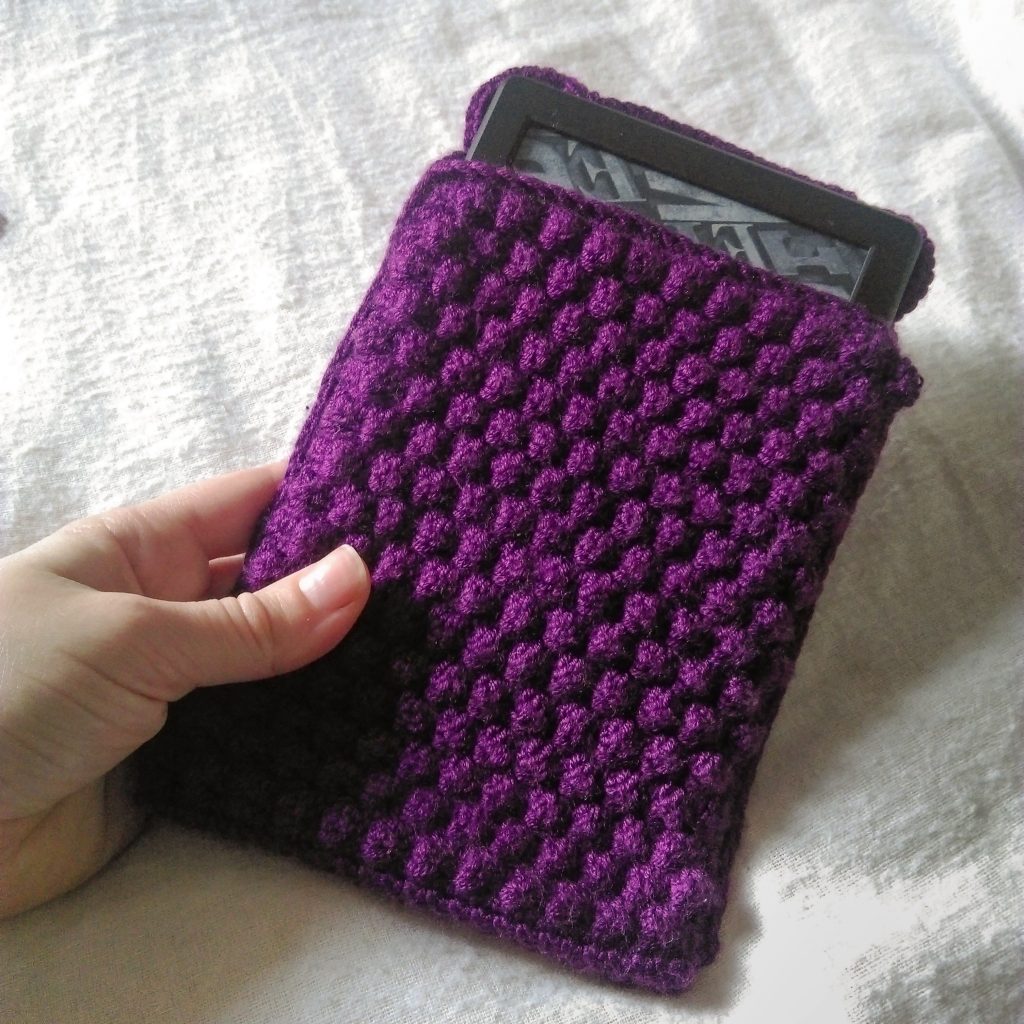 Why crochet a Kindle case?
As I've said before, pampering your electronics is not a bad thing and could be even beneficial for them over time.
I should know, I always try to take care of my items, to make them last as long as they can, even though today I completely shattered my new thermos. I feel terrible, since I've only used it for one week and had brought it to the office today to inaugurate it with a liter of hot tea. Too bad that I'm sometimes so clumsy that I manage to drop things and smash them to bits…
This kind of event (oh, trust me, there have been more) makes me appreciate even more the care that can be offered by such an item as a nice and cozy Kindle case.
Since it only takes a few hours to whip up and it's much more durable and protective than one of those hard, plastic cases that offer no padding, I do believe you will not only make this for yourself, but for your lovely friends as well, especially the ones that like to read (even though the pattern can be adapted to any size of flat electronic devices).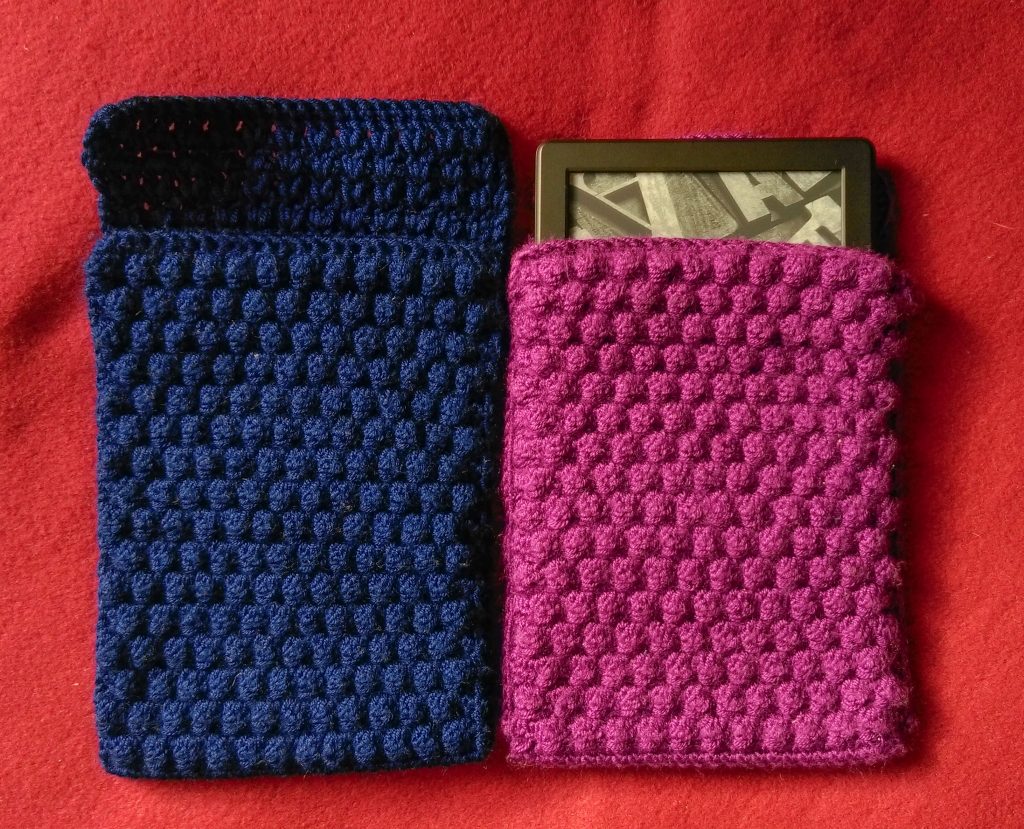 These instructions are written using US terms.
Size and gauge
For a generation 8 Kindle (16×11.5×0.9 cm) the size of a swatch made of 10 Sc and 10 rows should be 5 x 4 cm.
For other devices, using the same basic structure, you can use a larger hook with a thicker yarn/smaller hook with thinner yarn or add/subtract multiples of two stitches per row.
The finished piece is 17 cm x 13 cm (without the flap) and fits the Kindle snugly (the thickness of the device makes it fit properly).
Difficulty
Advanced beginner to intermediate (due to tight tension).
Notions
Yarn: any size 3 or DK weight (11 wpi or recommended for working with 3-3.5 mm needles); around 100 meters (or 110 yards);
Hook: 2.5 mm for a thick and sturdy fabric that will keep its shape (between a B and a C for the US, you can use either one that works for your tension);
Tapestry needle;
Scissors;
Optional: two buttons for closing the top part of the Kindle case.
Stitch abbreviations
Bob – bobble stitch made of a cluster of 3 double crochet (you can increase up to 5, but for me 3 was enough): [YO, insert hook into St, YO and pull up a loop, YO and pull through 2 loops on hook] 3 times, YO and pull through all 4 loops on the hook;
Ch – chain
Dc – double crochet
FSC – Optional – foundation single crochet
Sc – single crochet
Sk – skip
Sl St – slip stitch
Observations
Ch1 or Ch2 at the beginning of rows do NOT count as stitches and you should never work in them.
Every row should have 26 stitches (except the last one in the flap).
Repeat instructions are placed in [square brackets].
If you want an even thicker case, you can increase the number of dc in each bobble, but I find that three are enough to give that feel of bubble-wrap and not be extremely tiring.
You may be used to doing Dc or Hdc instead of Sc in between the bobbles, but this method ensures that the fabric is thick and has a unique texture, since only the bobbles are visible.
If you want to change the size of the finished wrap, for a different e-book reader, you can add or remove multiples of 2 stitches in the first row and subsequent rows.
Instructions for the crochet Kindle case
If you prefer working from a diagram, scroll on to the end of the instructions to see it.
Body
Start with either a chain of 26 or 26 FSC.
If you do FSC, it will be your R1, so skip to R2.
Row 1. Ch1, 1Sc in first stitch, 25Sc, turn (one Sc in every stitch)
Row 2. Ch1, 1Sc in first stitch, repeat [Bob, 1Sc] 12 times, Sc, turn
Row 3. Ch1, 1Sc in first stitch, 25Sc, turn
Row 4. Ch1, 1Sc in first stitch, Sc, repeat [Bob, 1Sc] 12 times, turn
Rows 5-32. Repeat rows 1-4 another 7 times.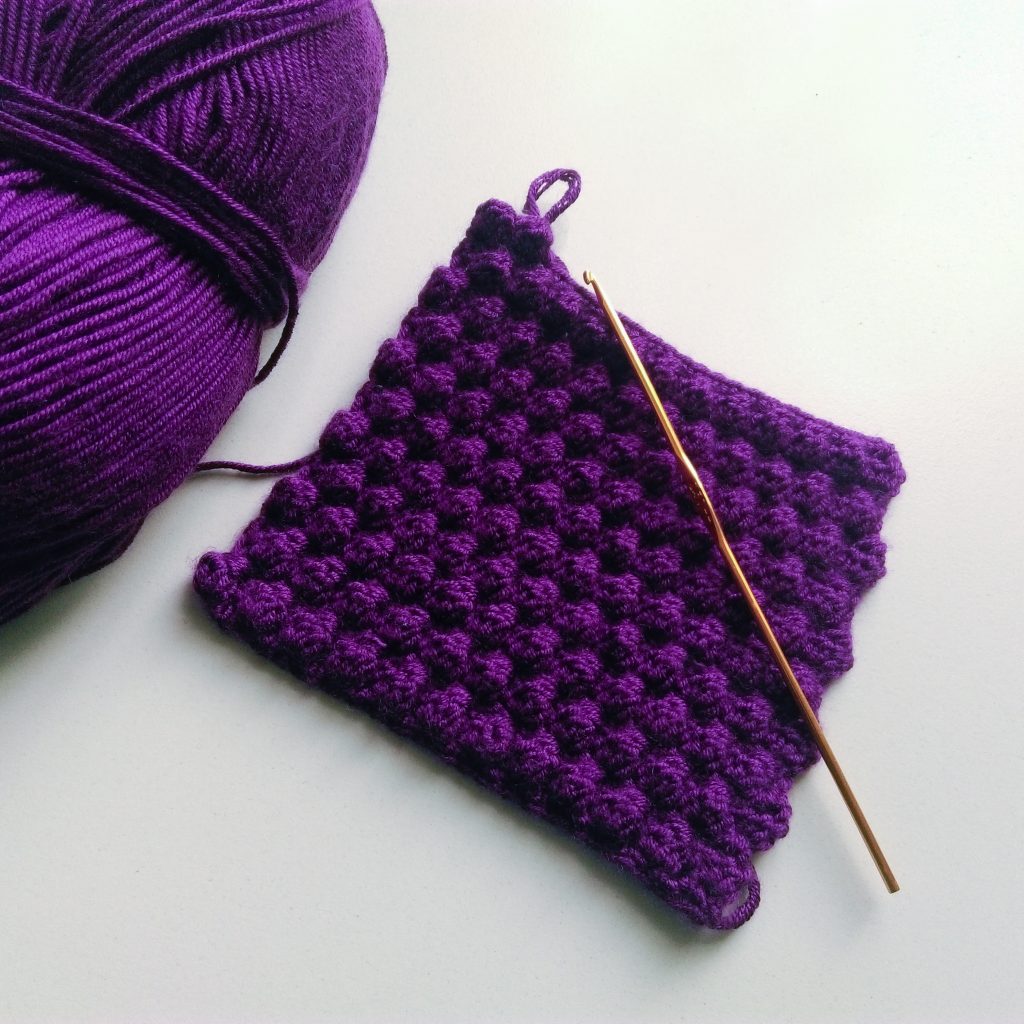 Row 33. Ch1, 1Sc in first stitch, 25Sc, turn
Row 34. Ch2, 1Dc in first stitch, 25Dc, turn
Row 35. Ch1, 1Sc in first stitch, 25Sc, turn
Row 36. Ch1, 1Sc in first stitch, 1Sc, [Bob, 1Sc] 12 times, turn
Row 37. Ch1, 1Sc in first stitch, 25Sc, turn
Row 38. Ch1, 1Sc in first stitch, [Bob, 1Sc] 12 times, 1Sc, turn
Row 39. Ch1, 1Sc in first stitch, 25Sc, turn
Rows 40-68. Repeat rows 36-39 another 7 times
Row 69. Ch2, 1Dc in first stitch, 25Dc, turn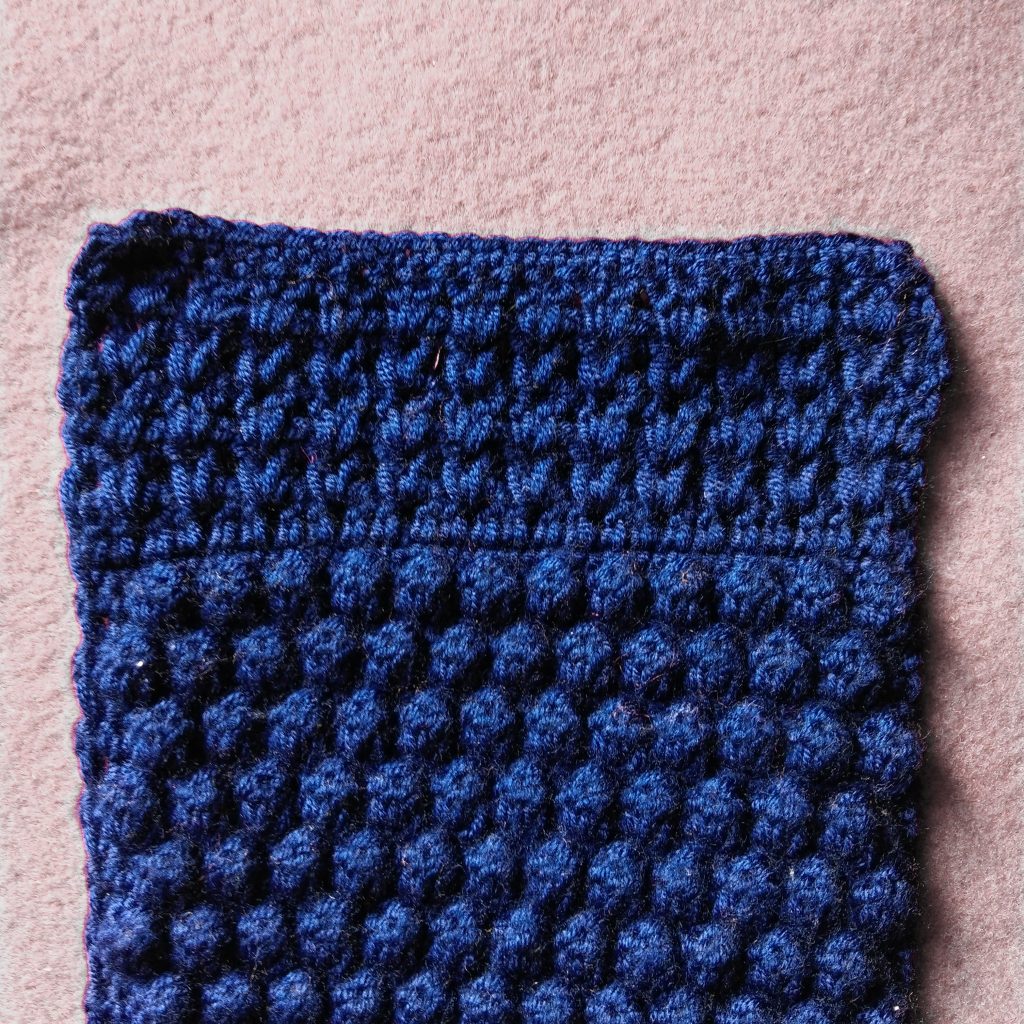 The first row of the flap is created with V-shaped pairs of Dc, using the spaces between the Dc in the previous rows, not the loops. The next rows are worked in the spaces inside the V-shaped pairs of Dc. The last row of Sc is worked in the loops of each Dc.
Row 70. Ch2, 1Dc in first stitch, repeat [Sk1, 2Dc in next space between 2Dc] 12 times, 1Dc, turn
Row 71. Ch2, 1Dc in first stitch, repeat [Sk1, 2Dc in space between 2Dc] 12 times, 1Dc, turn
Rows 72-73. Repeat row 71
Row 74. Ch1, 1Sc in the first stitch, Sc all the way to the last stitch. Cut off the yarn and weave in the ends.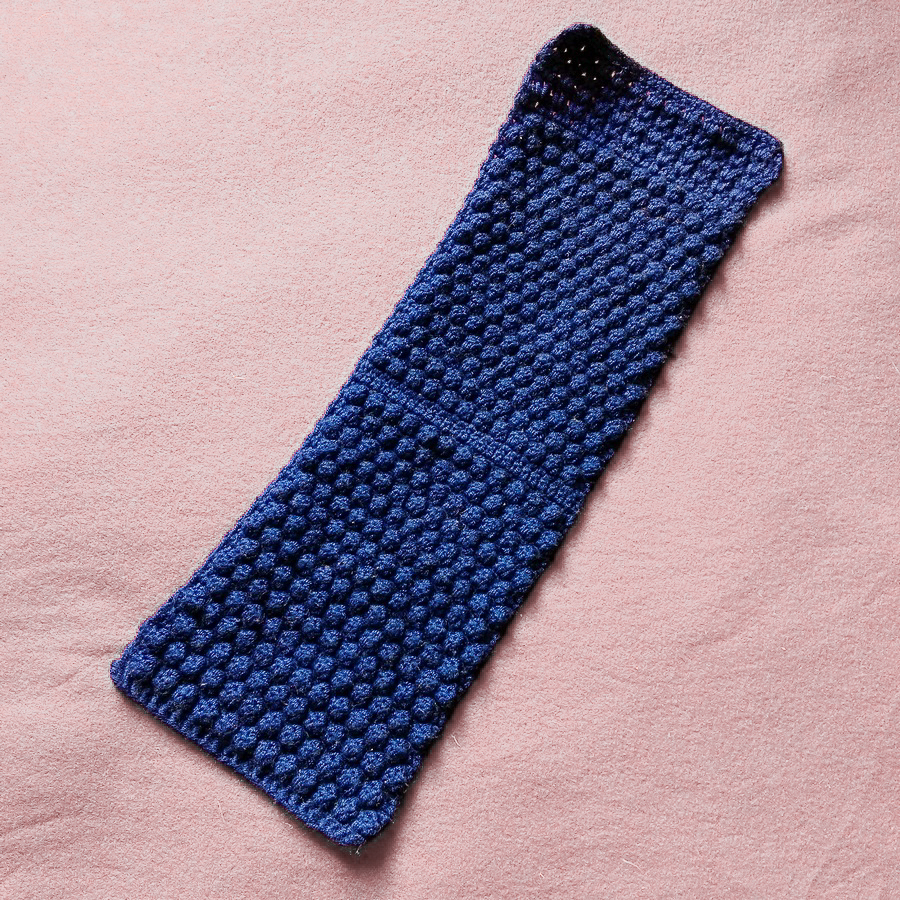 Finishing touches
Starting from the row of Dc that will form the base of the case, using the same yarn, connect the two sides using a slip stitch.
One Sl St in each pair of Sc will give an even, elegant edge.
Connect the two sides all the way to the flap, then Sl St along one of the edges, then connect the two sides on the last edge, returning to the bottom row of Dc.
Wash the item by hand, in warm water, with gentle detergent, to remove any oils from your hands and to freshen it up. Lay on a flat surface to dry.
If you want to, sew on a couple of buttons on the front of the case (sew them to the Sc, not the bobble St).
Otherwise, after putting the Kindle in its new case, tuck in the flap for protection.
That's it! Your Kindle case is finished!
Diagram for this Kindle case crochet pattern
If it's easier for you to follow a diagram, here is one I created for you.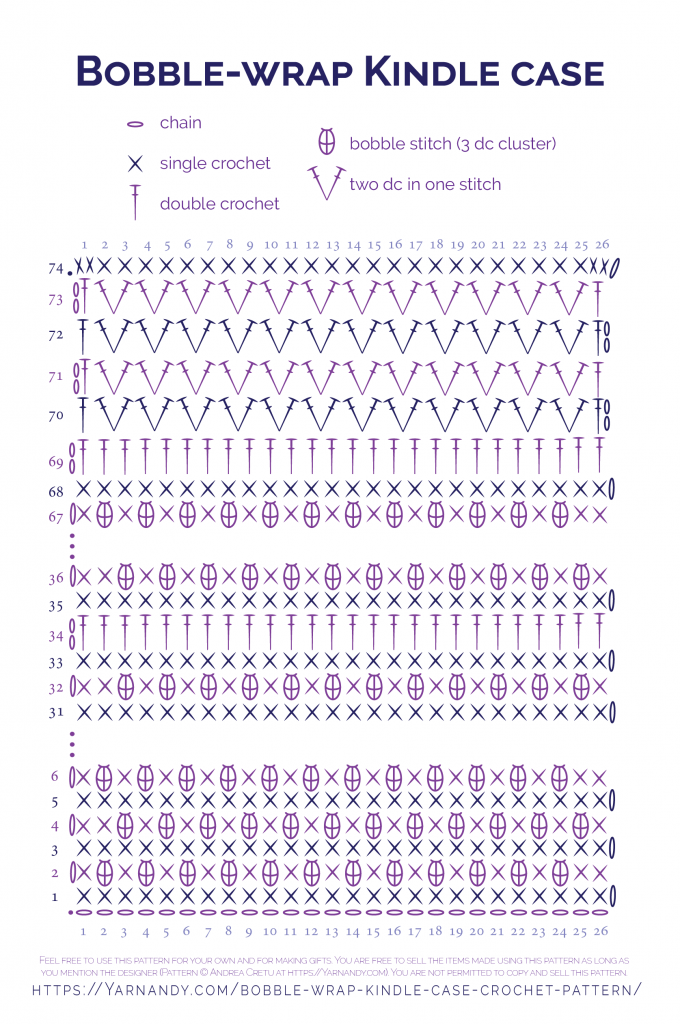 I really hope you enjoyed this pattern. If you have any suggestions, corrections or ideas on how to use this pattern for anything else, please leave them in the comments section.
I would love to see your finished objects made from this pattern. You can connect your project to the Ravelry page for this pattern.
If you want to check out some more free patterns, here they are:
Let me know if you have any questions or suggestions.
Happy hooking!
Andrea